Preserve summer's plump, juicy blackberries in these decadent chocolate blackberry preserves — not quite jam, not quite sauce, but tastes delicious on everything from your morning toast to your after-dinner dish of ice cream.
Today's Sunday Supper, hosted by Stacy of Food Lust People Love and Heather of Hezzi-D's Books and Cooks, is all about preserving summer produce. Last year, I tried dehydrating for the first time. This year, I attempted something I've been wanting to do for a long time: canning.
There are several recipes pinned on my Condiment and Sauce Recipes Pinterest board that I want to make, but once I heard about Chocolate-Raspberry Preserves, I knew that's what I was going to make. I went to buy some raspberries, a basket of big, juicy blackberries caught my attention, so I substituted blackberries for raspberries. Let me tell you, the sauce almost didn't make it to the canning stage. It was THAT DELICIOUS.
To be honest, I was scared of canning. If done wrong, the food can spoil and make someone sick. Reading about the process made it seem intimidating. But really? It's not. There are many resources for step-by-step guides to water-bath canning, and finding out WHY things are done a certain way.
Make sure you have a good-sized stainless steel saute pan for cooking the mixture. The blackberry mixture will stain reactive materials like aluminum. Also, the acidic mixture in a reactive pan will leach a metallic flavor into your preserves. So, cook your blackberry mixture in a stainless steel pan. At first it will feel like you're stirring and stirring and nothing is happening, and then almost instantly, the sugar dissolves and mixes with the blackberry juices to form a thick syrup.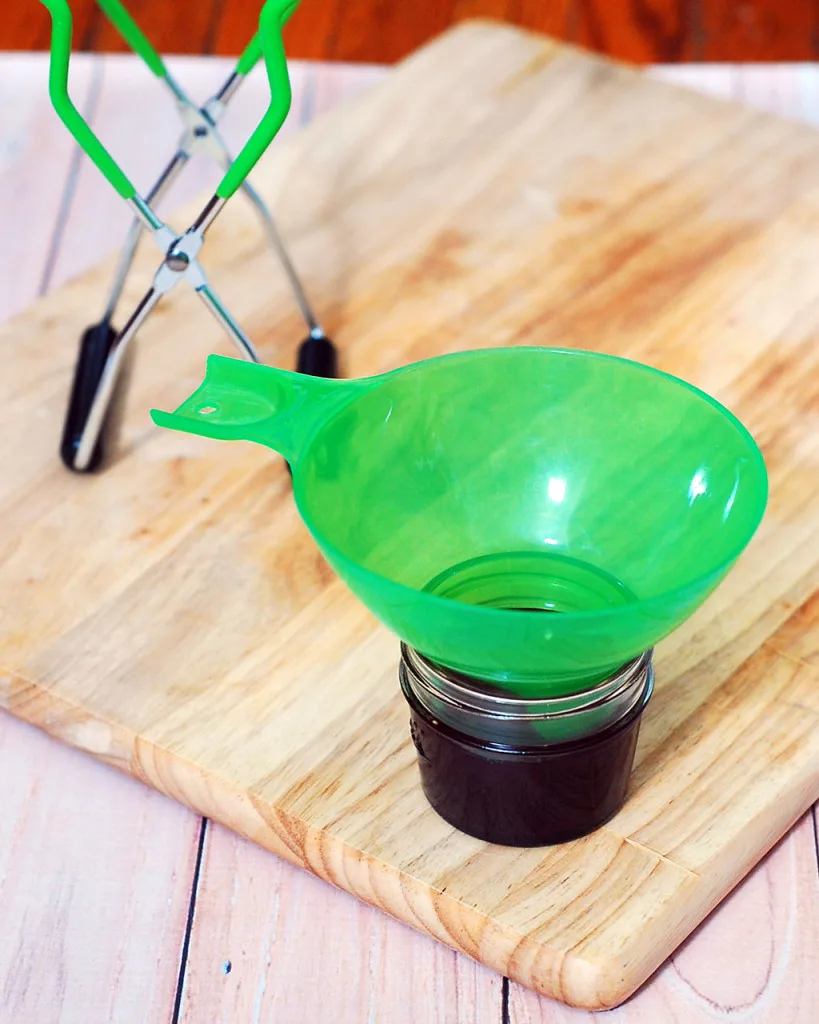 The original recipe suggests running the mixture through a food mill, but I don't own one. Instead, I carefully mashed the mixture in the saute pan with a potato masher (didn't want to splash blackberry juice all over the place). Then, I pressed the mixture through a fine-mesh sieve, making sure to scrape the syrup clinging to to the bottom of the sieve into the rest of the juices. If you're feeling lazy, it's perfectly find to leave the seeds in the preserves. You just don't get to complain when they get stuck in your teeth.
There is some special equipment that's needed for canning — rubber-coated tongs, a wide-mouth funnel, and a magnetic lid-lifter, but if you enjoy cooking, and are interested in canning, it's a small investment, and I bet once you get comfortable doing it, you'll be canning all the time. I plan to make this recipe many more times, using all kinds of berries. I've already spread it on my toast, spread it on a slice of pound cake, drizzle it over ice cream, and heck, eaten it straight from the jar on a spoon.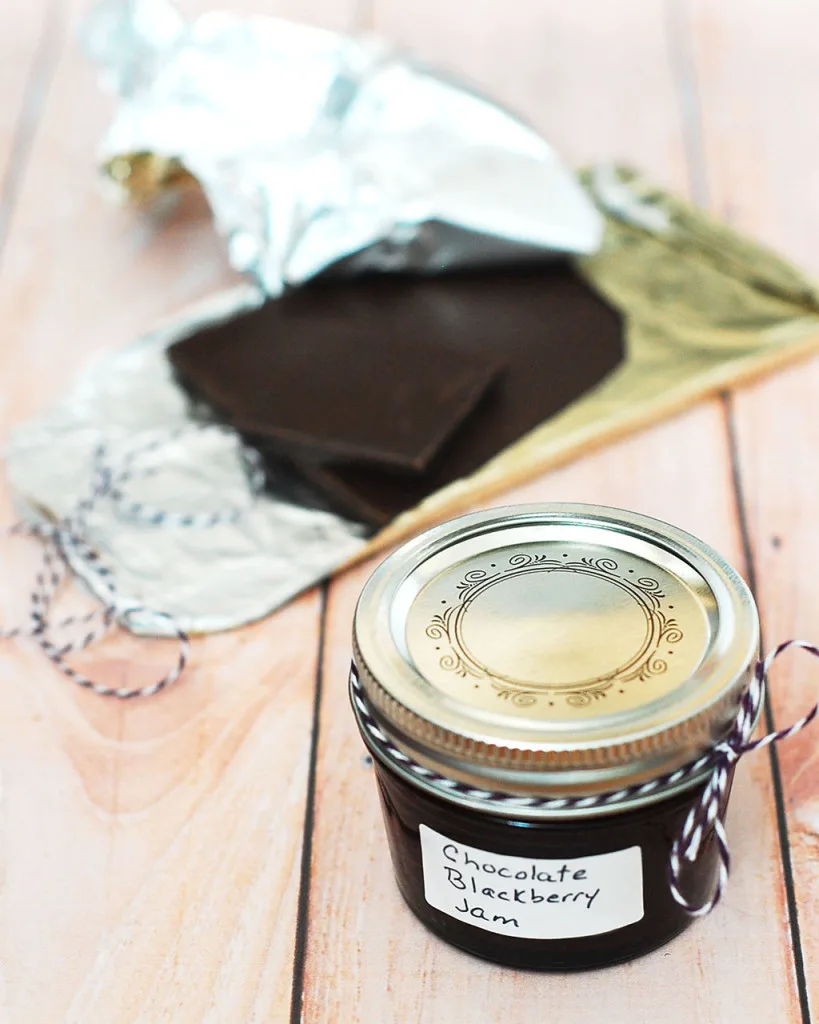 Chocolate Blackberry Preserves
Ingredients
22 oz fresh blackberries
1 ½ cups granulated sugar
Juice of half of one lemon
4 ½ oz good quality bittersweet chocolate, finely chopped
Instructions
Look through the blackberries and pick out any leaves. Wash and very gently dry any that are dirty. Discard any that are past their prime.
Place the blackberries and sugar in a stainless steel saute pan. Cook over medium heat, stirring frequently, until the sugar melts and forms a syrup with the blackberry juices.
Run the blackberries through a food mill (or press through a fine-mesh sieve if you don't have a food mill), and discard any solids.
Return the liquid to the saute pan, and add the lemon juice. Heat the mixture over medium-high heat until just before it boils. Lower the heat and add the chocolate. Stir slowly with a whisk until uniform in consistency.
Let the sauce cool for two hours (or, pour into a storage container and refrigerate until ready to process).
Prepare a stock-pot for canning and wash 3 half-pint mason (or equivalent) jars in hot, soapy water. Keep jars in hot (not boiling) water until ready to use. Warm lids in hot (not boiling) water to sterilize and soften the seal.
Bring the chocolate-blackberry mixture back to a rolling boil and boil hard for five minutes, stirring constantly.
Turn off the heat and let the jam rest for two or three minutes. At that point, if the surface wrinkles when pushed gently, it's ready. If not, return to heat. Boil for two minutes, allow to rest, and re-test. Repeat until the preserves reach the desired consistency.
Ladle hot preserves into jars, leaving ¼-inch of headspace. Wipe jar rims and threads clean with a clean, damp towel. Screw on lids and rings. Process in a boiling water bath for 10 minutes. Remove from water and let cool completely, 12 to 24 hours. Check seals. Any unsealed jars should be refrigerated and used within 3 weeks.
Slightly adapted from Mes Confitures by Christine Ferber
Discover more recipes for preserving the summer harvest!
Canning
Dehydrating
Fermentation
Freezing
Infusing
Pickling
Preserving in oil or butter