Coffee and donuts ice cream sandwiches — your wish for an excuse to eat ice cream for breakfast just came true!
Welcome to Day 4 of Ice Cream Week 2014! Are you having as much fun as I am?
This year the event is hosted by Kim of Cravings of a Lunatic and Susan of The Girl in the Little Red Kitchen. We have teamed up with 25 amazing bloggers to make satisfy all your Ice Cream Cravings.
In a week full of ice cream recipes, I wanted to make at least one outrageous creation. Enter the coffee and donuts ice cream sandwiches. Haven't you always wished for an excuse to eat ice cream for breakfast? Well, here it is!
I've included an incredibly simple no-churn coffee ice cream recipe below, but feel free to use store-bought coffee-flavored ice cream. I used store-bought glazed yeast donuts. Chocolate-glazed could be quite tasty as well. If you're feeling really adventurous, fry your own donuts!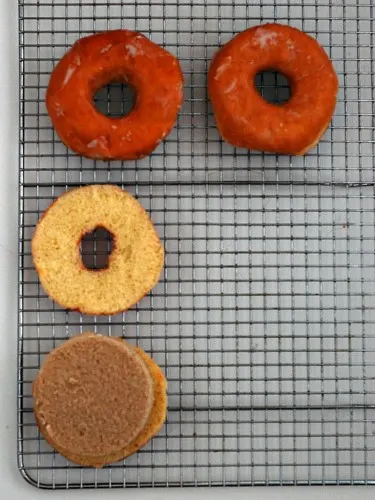 It might seem a little redundant to set the ice cream in the freezer to harden, only to take it out to soften again. However, the mixture that comes out of the mixer is too soft to shape with the cutter, and the ice cream will be too hard to cut straight out of the freezer.
At first bite, to be honest, these were REALLY SWEET, probably due to the glaze. If you're not such a fan of sweet, maybe try an old-fashioned donut instead. But, hey, if you're going to eat something really outrageous, it might as well be outrageously sweet, right?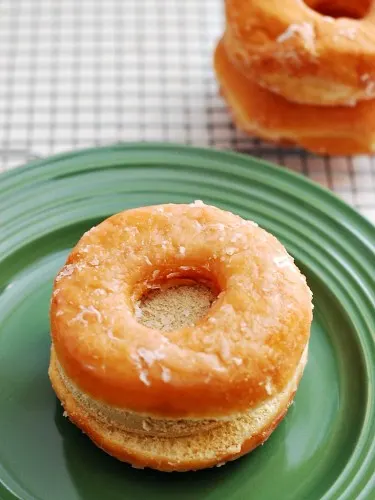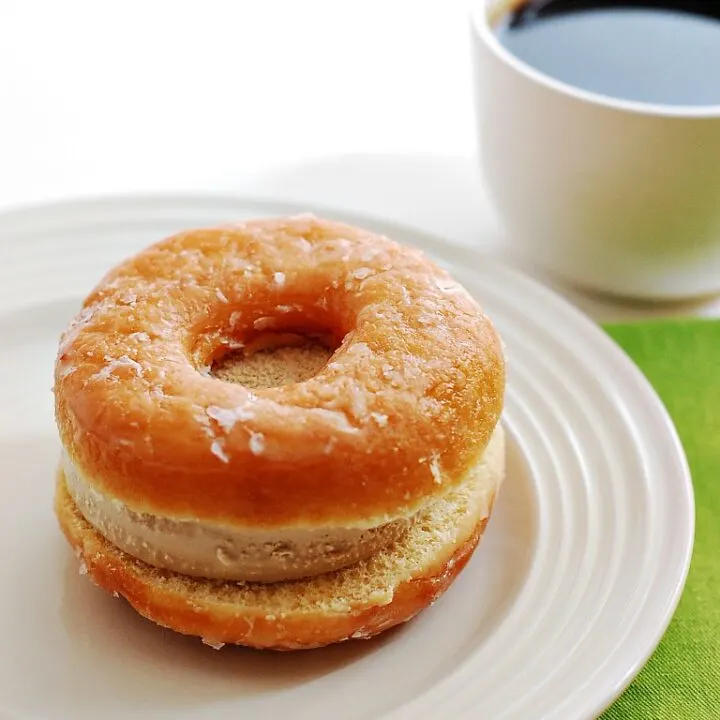 Coffee and Donuts Ice Cream Sandwiches
Ingredients
For the coffee ice cream
1 ¼ cups heavy cream
⅔ cup sweetened condensed milk
2 tablespoons instant espresso powder
2 tablespoons espresso liqueur
For the sandwiches
4 in glazed donuts, cut half horizontally, or your preferred donut flavor
Instructions
Place the heavy cream, sweetened condensed milk, espresso powder and espresso liqueur in the bowl of a stand mixer fitted with a whip attachment. Whip on medium-high speed until soft peaks form, and mixture turns a tan color.
Spread the mixture in an 8x8-inch pan and set in the freezer for at least 4 hours.
Pull the ice cream out of the freezer to soften for 5 minutes. Use a 3 to 3 ½-inch round cutter (depending on the size of your donuts) to cut four circles of ice cream.
Place a round of ice cream between each of the 4 donut halves. Wrap in plastic wrap and place in the freezer if not eating immediately.
Ice cream recipe from Nigella Lawson
Be sure to stop by all of today's Ice Cream Week Participants: