Fool your friends and family with these sweet fake-out sliders and fries! Cupcakes are turned into buns, brownies are the burgers, and pound cake for fries.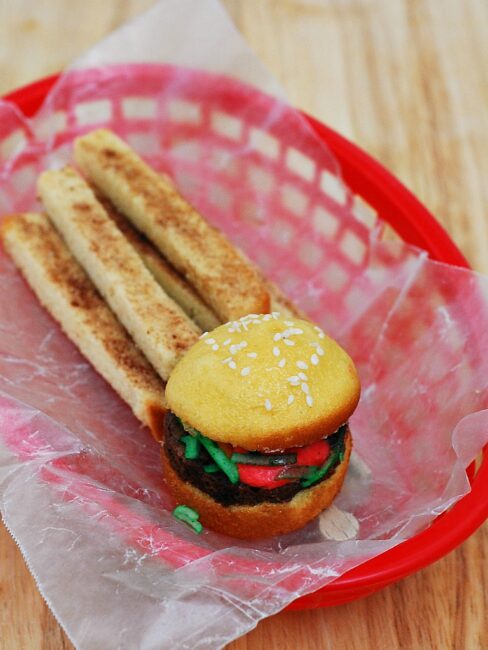 It's almost April Fools Day, and the Sunday Supper Movement is having fun fooling with food! Food that looks like other food, food that contains hidden ingredients — anything that is more than what it seems!
I've never been a big prankster myself. I'm usually the one being pranked. My fiance can tell the wildest story, but because of his deadpan delivery, he always fools me. You'd think I'd have learned by now.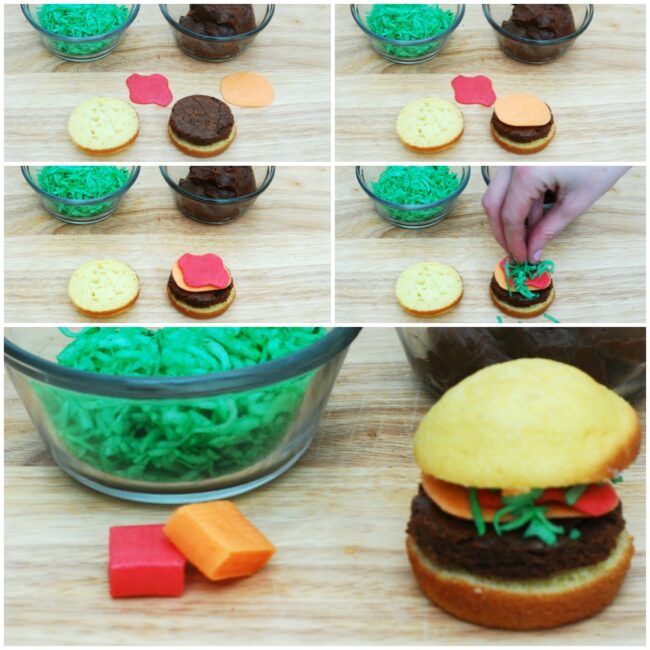 These sliders and fries are laborious, but fun. Vanilla cupcakes become slider buns; dark chocolate brownies become burger patties. Chewy fruit candies and shredded coconut are your toppings. Pound cake loaf slices tossed in cinnamon sugar become your fries.
I've written out the vanilla cupcake, brownie, and pound cake recipes that I used below. Feel free to use your favorite recipes in place of the ones I've used.
Serve these in classic red diner baskets lined with wax paper to really make your friends and family look twice!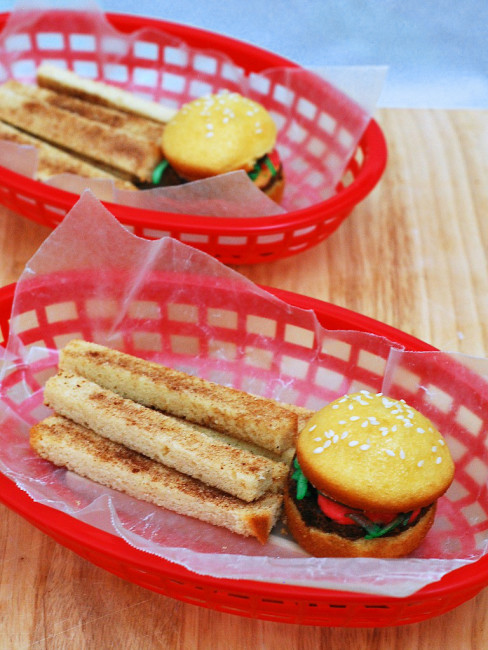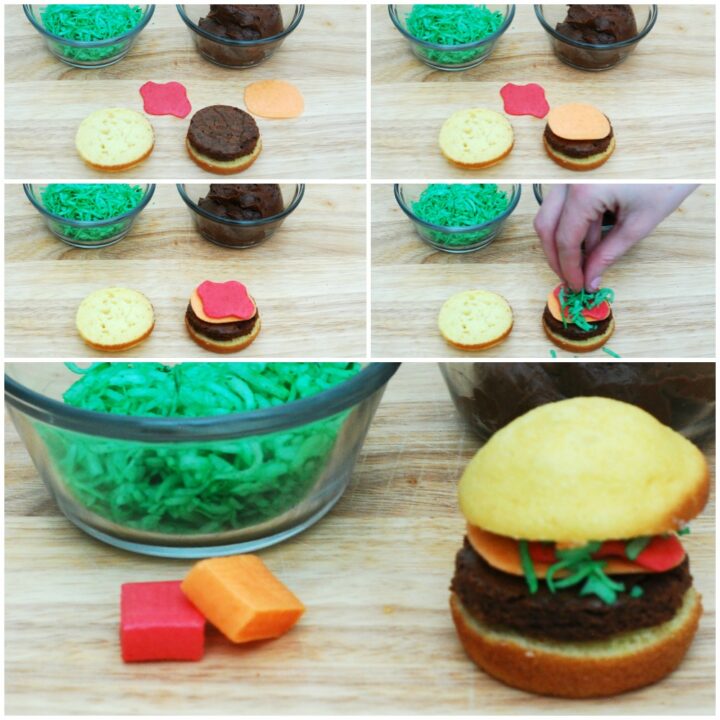 Fake-Out Sliders and Fries #SundaySupper
Ingredients
For the cupcake "buns":
2 1/3 cups all-purpose flour
2 1/2 tsp baking powder
1/2 tsp salt
1 cup unsalted butter, softened, 2 sticks
1 1/4 cups sugar
3 large eggs
1 tsp vanilla extract
2/3 cup milk
For the brownie "burgers":
1 cup unsalted butter, softened, 2 sticks
8 oz bittersweet chocolate, chopped fine
3 oz unsweetened chocolate, chopped fine
3 large eggs
1 1/2 tbsp instant coffee granules
1 tbsp vanilla extract
1 cup + 2 tbsp sugar
1/2 cup all-purpose flour
1 1/2 tsp baking powder
1/2 tsp kosher salt
For the pound cake "fries":
3/4 cup unsalted butter, at room temperature, 1 1/2 sticks
3 oz cream cheese, at room temperature
3/4 teaspoon salt
1 1/2 cups sugar
1 tsp baking powder
2 tsp vanilla extract
1 tsp almond extract
5 large eggs, at room temperature
3 tbsp milk, at room temperature
1 3/4 cups + 2 tablespoons all-purpose flour, 8 ounces
Assembly ingredients:
1 cup chocolate frosting
1 1/2 cups flaked coconut
4 to 6 drops green food color
4 to 6 drops water
24 orange chewy fruit candies, unwrapped
24 red chewy fruit candies, unwrapped
1 cup cinnamon-sugar
1 tbsp honey
1/2 tsp water
1 tbsp sesame seeds
Nonstick cooking spray
Seedless trawberry preserves
Instructions
Make the cupcakes:
Heat oven to 350°F. Spray two 12-well muffin baking pans with nonstick spray. In medium bowl, sift together flour, baking powder and salt; set aside.
In the bowl of a stand mxier, beat butter with electric mixer on medium speed 30 seconds. Add the sugar about 1/4 cup at a time, beating well and scraping the bowl after each addition. Beat 2 minutes longer. Add the eggs one at a time, beating well and scraping the bowl after each addition. Beat in vanilla. On low speed, alternately add 1/3 of the flour mixture, half of the milk, another 1/3 of the flour, the second half of the milk, and the remaining 1/3 of the flour, beating just until blended.
Fill each cup with about two-thirds full. Bake 17 to 20 minutes or until golden brown and toothpick inserted in center comes out clean. Cool 5 minutes; then turn the pans over so the cupcakes fall out, and place cupcakes right-side-up on cooling racks. Cool completely.
Make the brownies
Keep the oven at 350 degrees. Spray a 15x10x1 baking sheet with nonstick spray, then line with parchment, and spray the parchment with nonstick spray. Set aside.
Pour about an inch of water in a large saucepan, and bring to a boil over high heat. Reduce heat to low, and place a mixing bowl over (but not touching) the simmering water. Place the butter, the semisweet chocolate and unsweetened chocolate in the bowl, and melt, stirring frequently. Remove from the heat and set aside to cool for 15 minutes.
In a large mixing bowl, stir together the eggs, coffee granules, sugar and vanilla. Pour the melted chocolate mixture into the egg mixture and stir to combine. Cool to room temperature.
In a medium mixing bowl, combine the flour, baking powder and kosher salt. Stir with a spoon, then sift over the egg/chocolate mixture. Stir to combine. Scrape the batter into the baking pan.
Bake for 30 to 35 minutes, until a toothpick or cake tester inserted in the middle comes out clean. Set the entire baking pan on a wire rack to cool completely.
Make the pound cake:
Keep the oven at 350 degrees. Spray a 9" x 5" x 2 3/4" loaf pan with nonstick cooking spray.
In the bowl of a stand mixer, beat together the butter, cream cheese, salt, sugar, and baking powder. Once combined, add in vanilla extract and almond extract and beat until well combined.
Add the eggs one at a time, beating well and scraping the bowl after each addition. After you've added the last egg, beat at high speed for 3 minutes. Once all the eggs are added, stir in the milk.
Sift the flour into the mixing bowl, then mix at low speed just until combined. Pour and scrape the batter into the prepared pan.
Set the cake on a baking sheet, and bake it for 75 to 85 minutes. Remove the cake from the oven, and set it on a rack. Insert a toothpick into the center; it should come out clean.
After 5 minutes loosen the cake's edges and turn it out of the pan to cool completely on a rack.
Make the toppings:
Place the coconut flakes, green food color and water in a gallon-sized resealable bag. Seal, and shake until coconut flakes are evenly coated in green. Set aside. This will be shredded lettuce.
On a large microwavable plate, microwave about 8 orange chewy fruit candies at a time on high for 5 to 10 seconds to soften. Use bottom of measuring cup to flatten until each is about 1 3/4 inches in diameter. Set aside. These will be your cheese slices.
Repeat with the red chewy fruit candies, but once you flatten these to 1 3/4-inch in diameter, use kitchen shears or a paring knife to cut them into irregular-edged circles. This will be the sliders' ketchup.
Cut each cupcake in half horizontally. Use a 2-inch round cookie cutter to cut out brownie circles. Trim off all of the brown crust from the pound cake. Cut into 1/2-inch slices, then cut each into strips. Arrange all of the strips on a baking sheet and spray with nonstick cooking spray. Bake at 350 degrees for about 10 minutes, turning halfway through. As soon as the strips are done baking, sprinkle with cinnamon-sugar. Set aside to cool.
Assemble the "sliders"
Place a dollop of chocolate frosting on the cut side of each cupcake bottom half. Place a brownie circle on top of each bottom half. Add another dollop of frosting, then place a flattened orange fruit chew on top. Add another dollop of frosting, then add a flattened red fruit chew. Add another dollop of frosting, and attach about 2 tsp of the green coconut flakes. Smear a little dollop of frosting on the cut side of each cupcake top half, and place on top of the green coconut flakes.
Whisk together the honey and water, and brush it over the top of each cupcake. Sprinkle a few sesame seeds on top of each bun. If you choose, you can secure the entire "burger" with a cocktail toothpick.
Serve each slider with a few French fries, with strawberry preserves as ketchup.
Cupcake recipe from Betty Crocker; brownie recipe from Ina Garten; pound cake recipe from King Arthur Flour
Check out all of the #SundaySupper April Fools recipes!
Beverages
Appetizers
Sides & Snacks
Entreés
Desserts
Join the #SundaySupper conversation on twitter on Sunday! We tweet throughout the day and share recipes from all over the world. Our weekly chat starts at 7:00 pm ET. Follow the #SundaySupper hashtag and remember to include it in your tweets to join in the chat. To get more great Sunday Supper Recipes, visit our website or check out our Pinterest board.
Would you like to join the Sunday Supper Movement? It's easy. You can sign up by clicking here: Sunday Supper Movement.