Grill more than just meat at your next barbecue! Corn on the cob grilled in the husk comes out perfectly moist, then gets smothered in flavorful cilantro-lime butter!
Summer is in full swing, which means barbecue season! Welcome to the #SundaySupper Summer BBQ Party!
I live in an apartment, so unfortunately, I don't have an outdoor grill. What I do have is a cast iron grill pan, which can be used on gas ranges, electric ranges, or in an oven.
We go to my parents' at least once a month, where my dad almost always grills. Rain or shine, hot or cold, my dad will grill. Burgers, hot dogs, chicken, steak — it all goes on the grill.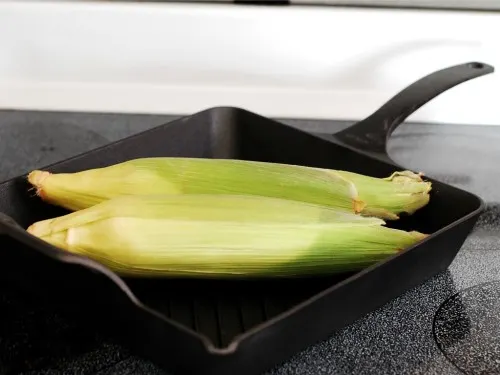 This was the first time I've ever had grilled vegetables. When I saw the theme for this week's Sunday Supper, I knew I wanted to do something different, so I started researching grilled sides, until I happened upon grilled corn on the cob. What a perfect way to cook up some local New Jersey corn!
Some grill their corn in the husk, some husk the corn before grilling. Husking it first will give you those charred grilled marks. But grilling corn in the husk essentially steams the corn, ensuring delicious, juicy kernels.
This is also the first time I've ever had corn with anything other than some salted butter. Let me tell you, lime is a brilliant complement to the corn. I'm a convert. I will always give my corn a quick squeeze of lime juice before eating.
Oh, and in case you're curious — that burger in the first photo is Confections of a Foodie Bride's Texican burgers. So delicious!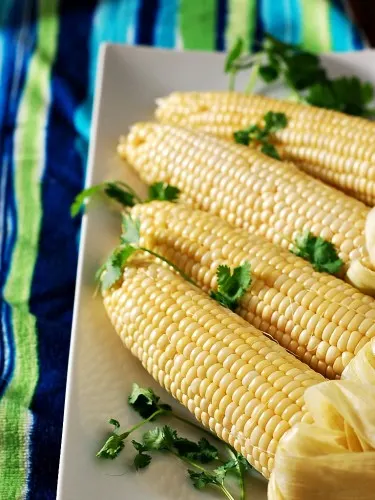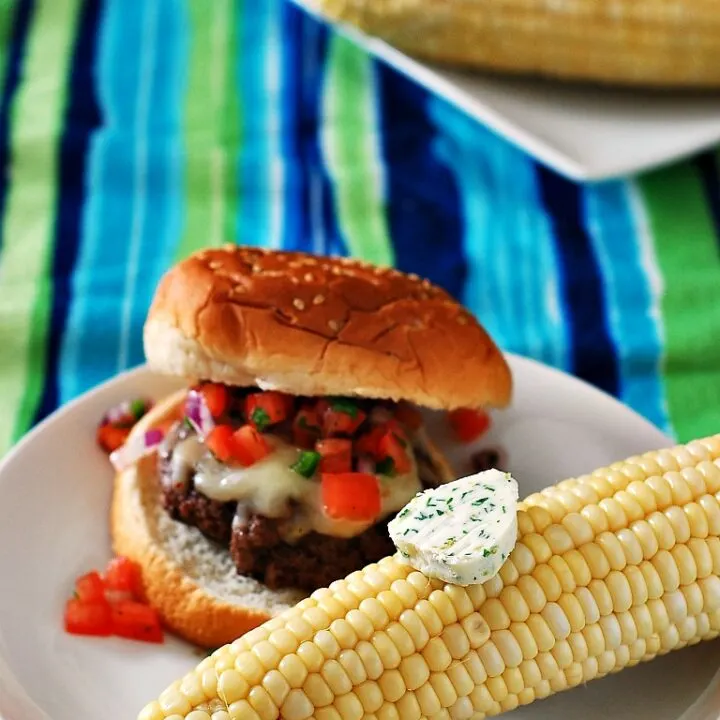 Grilled Corn on the Cob with Cilantro-Lime Butter
Ingredients
1 oz stick salted butter, very soft but not melted, 4
2 tablespoon minced cilantro
Zest of one small lime
Juice of half a lime
8 ears of corn on the cob, unhusked
Instructions
In a small bowl, mash together the butter, cilantro, lime zest and lime juice. Scrape onto a piece of parchment paper and roll tightly into a log. Twist ends to seal closed, and refrigerate until butter is firm. Can be done up to a day ahead of time.
Peel away the first layer of the husk, and trim any silk that's sticking out of the top.
Prepare grill for direct, medium heat (or preheat oven to 425 degrees). Place the corn directly on the grill grates (or in a grill pan). About every five minutes, give the corn a quarter-turn, to ensure even cooking on all sides. Continue turning and cooking for 15 to 20 minutes.
Holding the corn with a towel or oven mitt, peel back the husk and discard the cornsilk. Serve each cob with a pat of the cilantro-lime butter.
Inspired by Fine Cooking
Don't forget to check out the other recipes at the #SundaySupper Summer BBQ Party!
Beverages
Appetizers
Sides and Accompaniments
Main Dishes
Desserts