I resolved to be more organized in 2013, and to also cut down on unnecessary spending. One way to achieve both of those goals is to plan meals for each week.
Meal planning cuts down on food waste, and by shopping with a list, cuts down on (most) impulse spending. Sorry, but pints of Ben and Jerry's were on sale, and I couldn't pass up the Cake Batter. Anyway, I posted a photo of results of my labor on Instagram, and some followers asked for tips.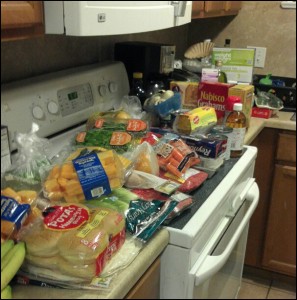 I'd sit down to meal-plan here and there last year, but didn't do it regularly. Sometimes I'd sit down to meal-plan, yet someone Facebook would open (by itself, I swear!) and next thing I know, 2 hours have passed and it's time for bed. Meal planning was intimidating to me.
So, I asked for tips from some other cooking enthusiasts, like Elly Says Opa, Cooking with LT, Taste of Home Cooking, Coffee and Cannolis, The Dainty Chef and The Cookaholic Wife.
The first time you meal plan will probably be the toughest, if like me, it's been a while since you did a sweep of the fridge, freezer and pantry.
First, take a look in your fridge, freezer and pantry. Make note of what you have, and what's close to its expiration date. Plan meals around those things that are about to go bad. In the United States alone, 40% (20 pounds of food per person per month) goes uneaten (source). That's a lot of wasted food AND money.
Second, choose your recipes. I have quite a few sources for recipes, which I think was part of the intimidation I felt toward meal-planning. I was overwhelmed with too many recipes from which to choose.
I have:
I try to choose a variety - some vegetarian meals, some chicken, some beef, some pork. Don't forget to keep breakfast and lunch in mind, too. You don't necessarily need to choose recipes for them, but jot down what you'll need for those meals as well (cereal, bread, lunchmeat, cheese, etc.). Don't forget snacks for the kids, if you have them.
Once I've chosen my recipes, I import them into Pepperplate.com. You can sort recipes alphabetically, or by date added. You can create your own tags (meal, main ingredient, etc.), then filter your list by those tags. Pepperplate has a planner, where you can assign your recipes to particular days of the week. I choose to use Google Calendar for assigning meals to particular days, so that I can set up an alert for the previous day, which reminds me to defrost the protein.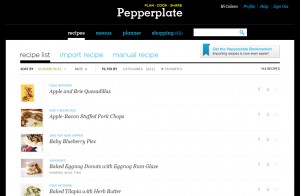 I use Pepperplate, because I can easily add ingredients to a shopping list. Pepperplate will also reduce (or increase) recipes for you, if needed. Choose "Add to Shopping List," and it brings up a checklist of all ingredients. Uncheck the box next to ingredients you already have. Pepperplate arranges all the ingredients into categories (Produce, Meat/Poultry, Dairy, etc.) to make for easy shopping.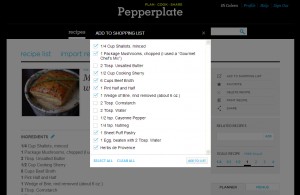 I get the Sunday paper every week, which usually comes with two or three inserts of coupons. I flip through, clipping any that may be useful. It's not often a lot, and more often than not, they are for cleaning, hygiene, or baby products, not food.
I typically stop at two or three stores, depending on what I need. They are all relatively close to each other (one convenience of living in a big city). I toss my reuseable bags and one insulated tote with ice packs in the car (some stores give you a discount for using them, though I've found it hit-or-miss; one Trader Joe's gave the discount, another location did not).
I usually hit Trader Joe's first, and get produce, cheese, frozen waffles, frozen veggies, some meats/poultry/seafood. Then on to the local grocery store chain, SuperFresh, to get everything else. If I need frozen toddler "convenience" meals for lunch (like Dr. Praeger's frozen baked fish sticks, or Earth's Best frozen toddler-sized ravioli, etc), I stop in the Whole Foods on my way home, since they're the only store that carries them.
Some of this week's scores: lean ground beef was on sale at the grocery store, buy one package, get one free. Our store typically packages ground beef in 1-lb or 3-lb packages. I got two 3-lb packages, and divided them up at home. We used one pound for quesadillas, and I have 5 ziptop bags in the freezer, each with one pound of ground beef in them. Perfect for burgers, tacos, more quesadillas (why yes, I do love quesadillas, why do you ask?), bolognese, meatballs . . .
Cheerios were also Buy One, Get One at the grocery store. Liam loves Cheerios for breakfast (with a banana), and we also use them as meal "appetizers" while we're waiting for the main meal to cool down enough for him to eat.
Arnold's bread (pretty much the only brand our store carries that doesn't contain high fructose corn syrup) was Buy One, Get One. We'll use one loaf this week, and freeze the second.
And any shopping trip that ends with me coming home with six different kinds of cheese is a good one.