Brunch isn't complete without a decadent drink, like a mocha frappe: a blended drink with coffee and chocolate, topped with whipped cream.
Welcome to the third annual #BrunchWeek hosted by Terri from Love and Confections and Shaina from Take A Bite Out Of Boca. We are so excited to have you join us this year! Celebrate Brunch with us this week as we prepare for Mother's Day. Thirty bloggers from around the country will showcase their best brunch dishes, from cocktails to casseroles, breakfast breads, sandwiches and salads - there is something for everyone!
I couldn't post about brunch without including something to drink. Now, I love brunch cocktails as much as the next person (pass me a mimosa, will you?), but one "must" at any breakfast or brunch, for me, is coffee. I cannot function without coffee. And I'm a sucker for "fancy" coffee drinks. I think I've tried every beverage at a certain coffee chain — except the plain coffee.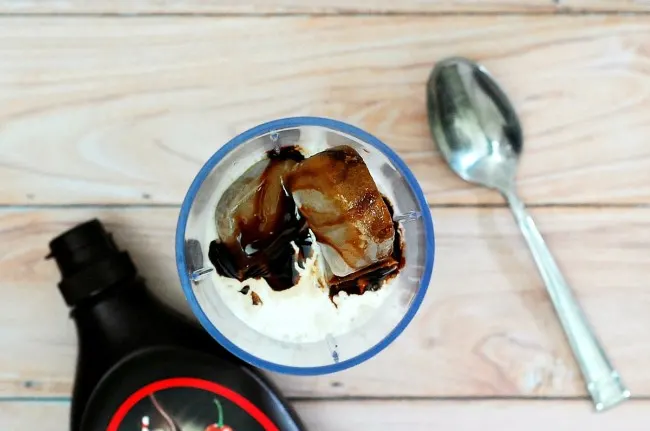 Now, I don't know what the weather near you is like right now. Here in Philadelphia yesterday, it almost hit 90 degrees. Many were complaining, and I can understand that it's not supposed to be that hot in May. Secretly, though, I love it. Hello flip-flops, shorts and iced coffee!
I almost don't think of this beverage as "coffee." The consistency is much more "milkshake." But it's SO delicious. And very easy to make. By using Nielsen-Massey's coffee extract instead of brewed coffee, there's no waiting for the coffee mixture to cool before placing it in the freezer. You can make this decadent blended drink that much faster!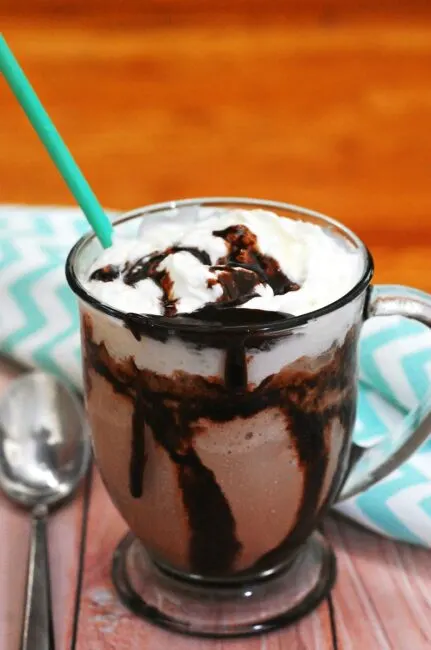 You can double, or even triple the ice cube portion of the recipe, freeze it, and pop the frozen cubes into a gallon-sized freezer storage bag. That way, you'll always have the ingredients on-hand to make refreshing mocha frappes all summer long!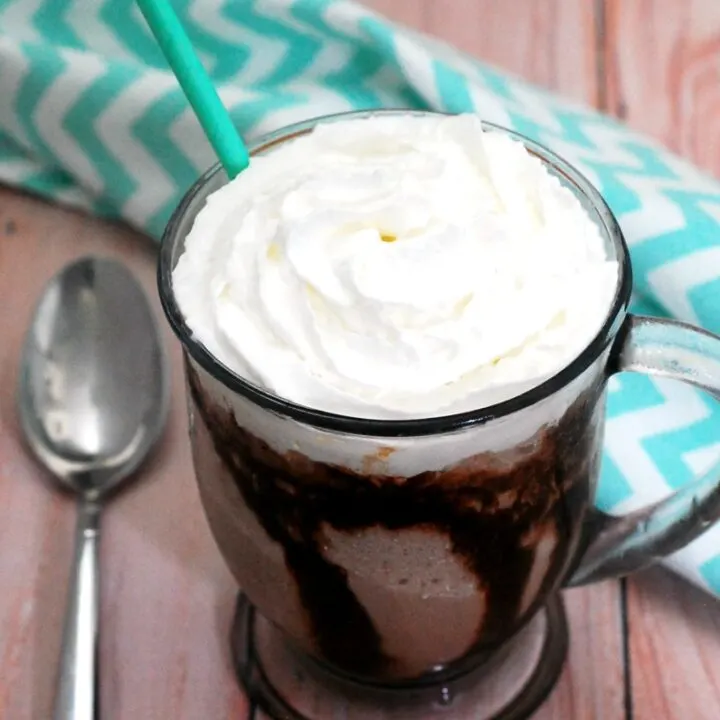 Mocha Frappe #BrunchWeek
Ingredients
4 teaspoon Nielsen-Massey coffee extract
1 cup water
1 tablespoon to 2 simple syrup* or agave nectar
1 tablespoon half-and-half
1 ¼ cups milk
2 tablespoon chocolate syrup
Whipped cream, for topping
Chocolate shavings or chocolate syrup, for topping
Instructions
Combine the coffee extract, water, 1 tablespoon of simple syrup or agave nectar, and the half-and-half. Taste, and add more syrup or agave nectar if desired.
Portion the mixture into an ice cube tray and freeze for at least two hours.
Place the coffee ice cubes, the milk, and chocolate syrup in a blender and process until smooth.
Divide the frappe between two coffee mugs. Garnish each with whipped cream and chocolate shavings or chocolate syrup and serve immediately.
*To make simple syrup, combine ½ cup water and ½ cup Dixie Crystals granulated sugar in a medium saucepan. Set over medium heat and stir constantly until the sugar dissolves. Remove from the heat and cool to room temperature. Transfer to a plastic condiment bottle and store in the refrigerator for up to a month.
Adapted from Southern Living
Thank you for joining us this week - we hope you were inspired by all the #BrunchWeek recipes. Don't forget to see what the #BrunchWeek Bloggers made today!
BrunchWeek Beverages:
BrunchWeek Breads, Grains and Pastries:
BrunchWeek Fruits, Vegetables and Sides:
BrunchWeek Desserts:
Disclaimer: Thank you to #BrunchWeek Sponsors: Bob's Red Mill, Cabot Creamery Cooperative, California Walnuts, Dixie Crystals, Grimmway Farms/Cal-Organic/True Juice, KitchenAid, Le Creuset, Nielsen-Massey Vanillas, Pacari Chocolate, Stonyfield Organic, Vidalia Onions, and Woot Froot for providing the prizes free of charge. These companies also provided the bloggers with samples and product to use for #BrunchWeek. All opinions are my own.