It's time for the Second Annual Redhead Baker reader survey!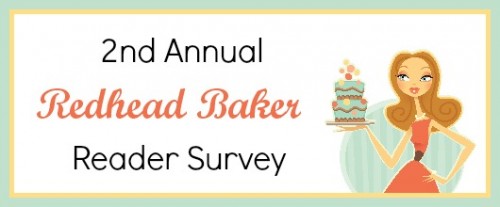 This blog has grown by leaps and bounds since last year, in part because of last year's survey. Why is that?
Well, for one thing, it tells me what you want to see — more recipes, more "How To" posts, etc.
In addition, providing me with demographic data helps me when it comes to sponsorships and giveaways. Brands want to know that they're reaching their target audience, and providing them with demographic data makes them more likely to work with me.
This survey shouldn't take any more than 5 to 10 minutes, and none of the questions are required. In return for your time, anyone who fills out the survey and leaves their email address will be entered to win a $10 gift card to Amazon.com! The survey and the giveaway entry are two separate forms, so your email address will not be connected to your survey answers. Everything is anonymous!
The giveaway will remain open until 11:59 p.m. Eastern Time on Saturday, September 27, 2014. A winner will be chosen and notified on Sunday, September 28, 2014.