Your furry friend will go crazy for these healthy apple oat dog biscuits, dotted with blueberries!
I'm "picky" when choosing food for my family, and I'm just as picky when choosing food for my dogs. I avoid things with high fructose corn syrup for my family, and I avoid ingredients like corn, byproduct meal and brewers rice in my dogs' food and treats.
After I learned about dog nutrition and ingredients to avoid, the results spoke for themselves: most noticeable was their softer, shinier coats. They had fewer ear infections. And there were other benefits that probably shouldn't be discussed on a food blog (let's just say that more nutritional ingredients in = less waste out).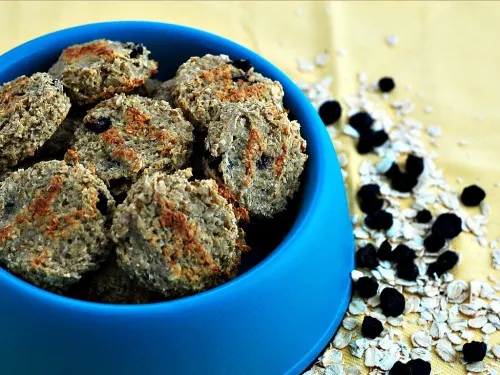 I always buy their kibble at a local pet supply store, and I almost always buy their treats there, too. But every once in a while, I make them homemade treats.
Fruits are very high on my dogs' "favorite foods" list. Sometimes I think I should start using berries as training treats instead of, well, training treats. They love it when Liam eats apples because they know he doesn't eat the peel, which then gets tossed to them.
My pit bull, Carl, is allergic to wheat, so I use oat flour in most of my homemade biscuits. Buying oat flour can get expensive, so I simply process old-fashioned oats in a food processor to fine flour.
If your dog is allergic to all grains, you can substitute garbanzo bean flour (available from Bob's Red Mill), you'll just need to an additional tablespoonful or two of applesauce.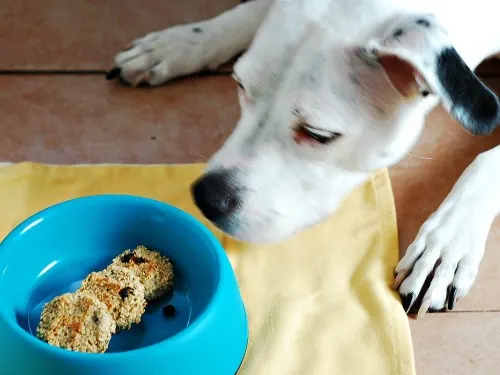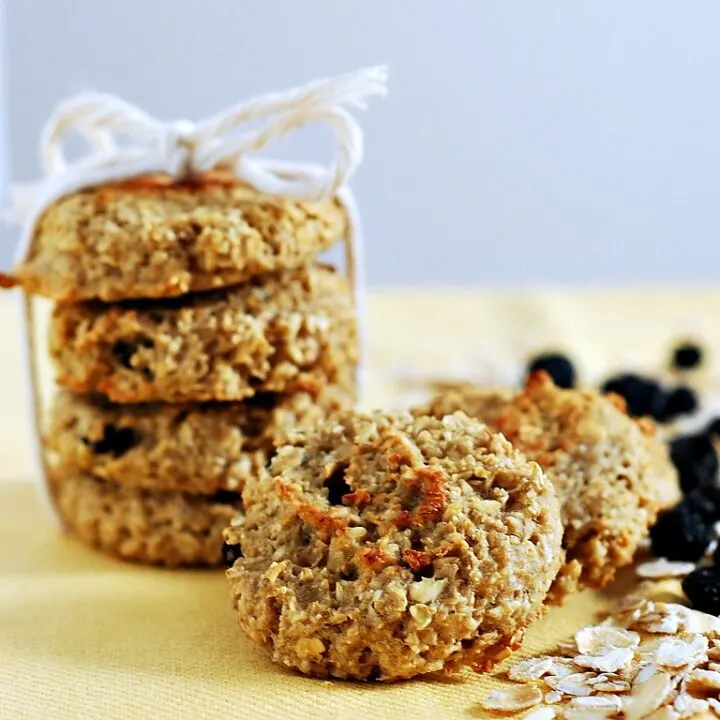 Blueberry-Apple Oat Dog Biscuits
Ingredients
2 ½ cups old-fashioned oats
½ cup unsweetened applesauce
2 eggs
2 tablespoon to 4 water
¼ cup dried blueberries
Instructions
Preheat oven to 350 degrees and line a baking sheet with parchment.
Place the oats in a food processor. Pulse 15 to 30 seconds, until oats are ground to a fine flour.
Pour the ground oats into a medium mixing bowl, and add the eggs and applesauce. Whisk together until all the oat flour is moistened. If the dough is too crumbly, add 2 tablespoonfuls of water and whisk. If dough is still too dry, add more water, a tablespoonful at a time, until dough holds together.
Use a small or medium cookie scoop to form balls of dough and place them on the cookie sheet. Using the flat side of a spatula sprayed with nonstick spray, flatten the balls of dough into discs.
Bake for small biscuits for 15 minutes, or medium biscuits for 20 minutes, until golden brown around the edges. Cool completely on a wire rack.
An original recipe by The Redhead Baker