Lemoncello tiramisu takes the traditional Italian dessert and adds bright, tangy flavor! This easy-to-make dessert has layers of lemon-soaked ladyfingers and lemon cream, topped with fresh fruit.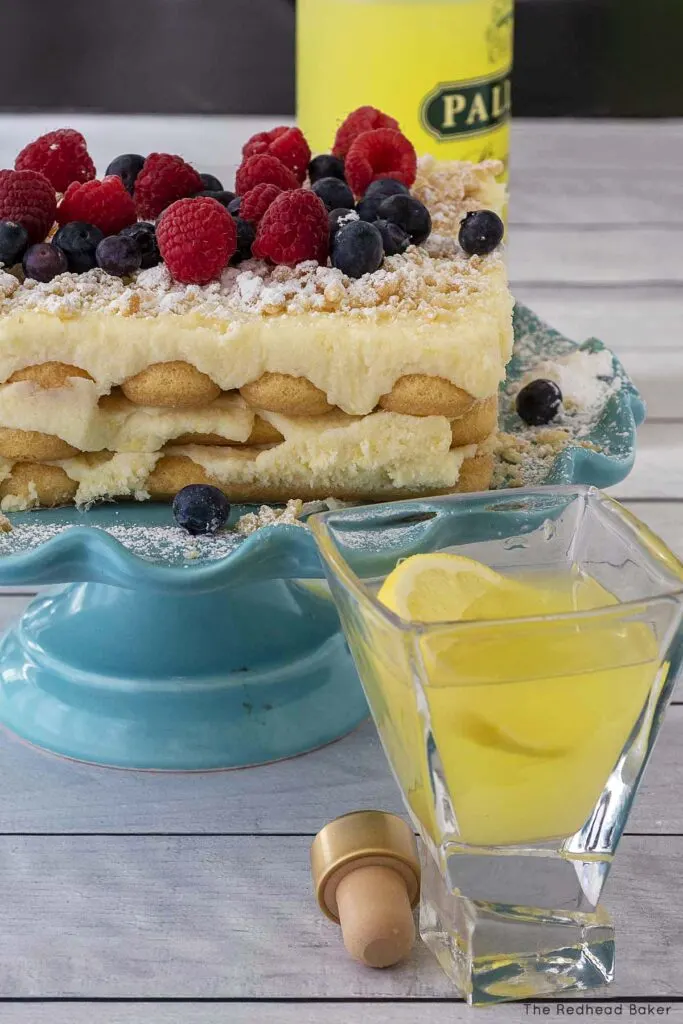 Welcome to #LemonWeek 2021 hosted by Lynn from Fresh April Flours! What better way to welcome summer than with over 50 recipes featuring bright and sunny lemons? Come join me and my fellow Lemon Week bloggers as we bring you recipes from appetizers to drinks to entrées and desserts!
I love classic Italian tiramisu, but sometimes you want something different. Enter lemoncello tiramisu. This easy layered dessert doesn't have raw eggs and only a tiny bit of alcohol, so you can be confident in serving it to the elderly, pregnant women and children.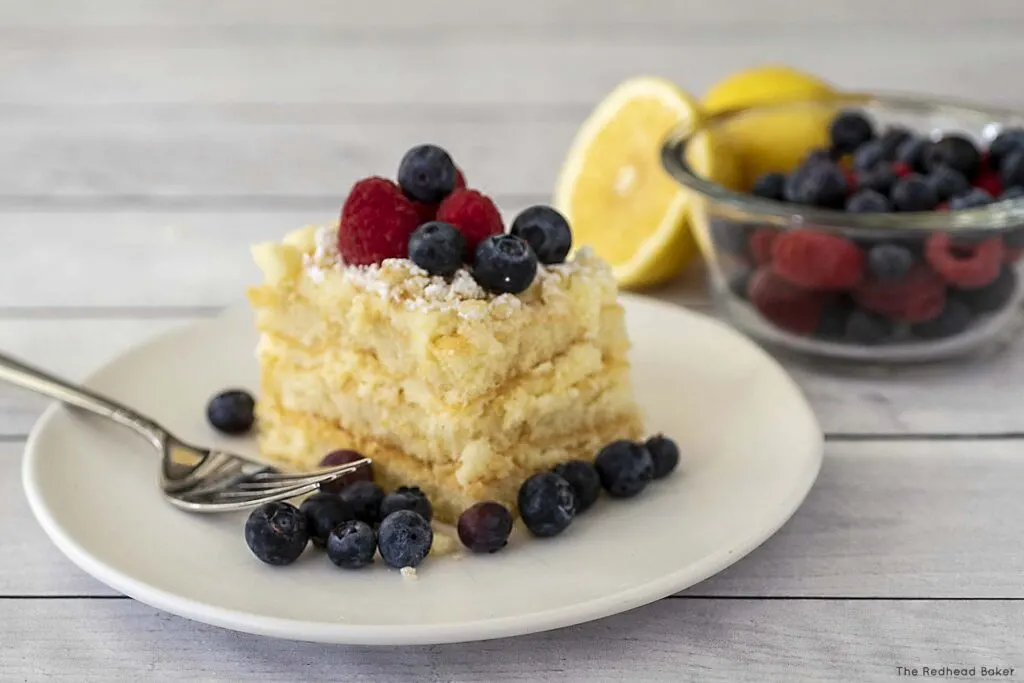 How to Make Lemoncello Tiramisu
Mascarpone — the classic Italian cheese in every tiramisu recipe. Yes, it's a bit pricey, so if needed, use 8 oz of mascarpone and 8 oz of regular cream cheese.
Lemons — meyer lemons would also work well, though you may need one or two more to get enough juice for the syrup.
Lemoncello — an Italian lemon liqueur, made by soaking lemon zests in neutral grain alcohol (also known as rectified spirits).
Ladyfingers— an Italian sponge cookie, sometimes called savoiardi. I prefer using store-bought ladyfingers because freshly baked ones get too soggy when dipped in simple syrup. Some stores have them in the cookie aisle; others have them in the pasta aisle with other Italian specialty ingredients.
This tiramisu is much easier than traditional tiramisu because it doesn't involve separating and beating egg yolks and whites. The hardest part is getting the hang of the "folding" technique when mixing together the mascarpone cheese and the whipped cream. It's a process of incorporating ingredients together without losing the air that's been whipped in. Slide a spatula through the middle of the bowl, then flip the spatula so the ingredients fold over the top, give the bowl a quarter-turn and repeat until the mixture looks even.
FAQs
Q: Mascarpone is pricey. Can I use something else?
A: Can you really call it tiramisu if you omit the mascarpone completely? I would recommend using 8 oz of mascarpone and 8 oz of cream cheese.
Q: Can I use homemade lemoncello?
A: Of course!
Q: I know it's only a little bit of alcohol, but I'm still wary of serving this to children and pregnant women.
A: When making the simple syrup, add the lemoncello in the beginning with the lemon juice and sugar and bring to a boil. It'll cook most of the alcohol off.
Q: I want to make this for a crowd!
A: Double all of the ingredients, and use a 9x13 baking pan instead of a 9x9 square.
Q: Can I use homemade ladyfingers?
A: I don't recommend it. Freshly baked, they will become soggy when dipped in the lemoncello syrup. Store-bought cookies will be crisper and will more easily absorb the syrup without falling apart.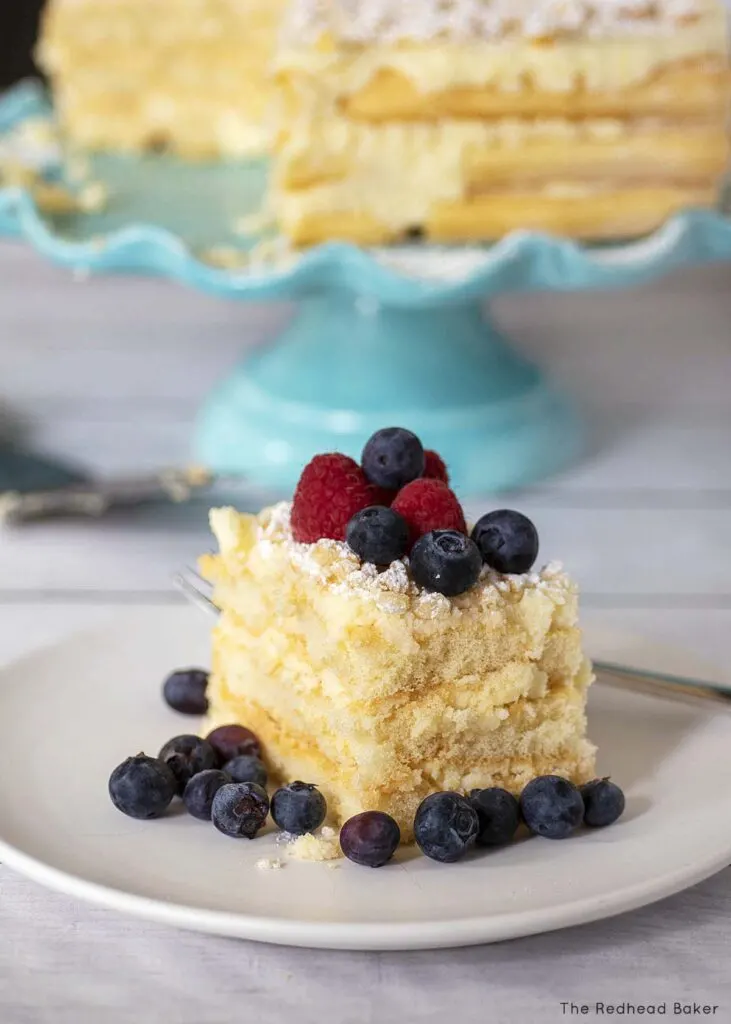 This is such a refreshing dessert that feels light, not rich, in your mouth. Garnished with fresh berries, it'll satisfy even the strongest chocoholic.
Refrigerate any leftovers by covering the tiramisu with plastic wrap, pressing it directly onto any cut surfaces to prevent them from drying out in the fridge. Leftovers can also be frozen! Wrap in two layers of plastic wrap and then wrap in either aluminum foil and place in a freezer-grade zip-top plastic bag.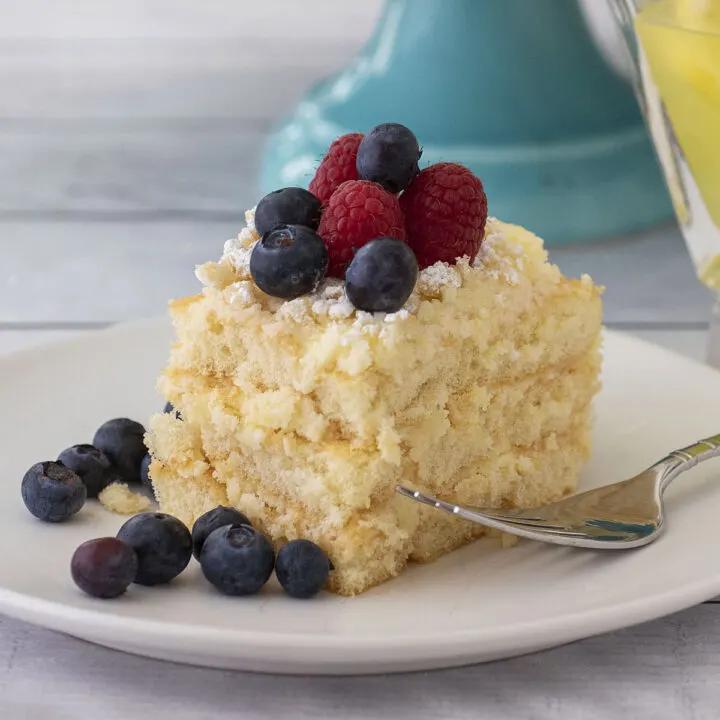 Lemoncello Tiramisu
Total Time:
2 hours
30 minutes
Lemoncello tiramisu takes the traditional Italian dessert and adds bright, tangy flavor! This easy-to-make dessert has layers of lemon-soaked ladyfingers and lemon cream, topped with fresh fruit.
Ingredients
For the syrup:
⅓ cup (80 mL) freshly squeezed lemon juice
⅓ cup (2.75 oz/80 g) sugar
2 tablespoon (30 mL) lemoncello liqueur
For the cream:
16 oz (450 g) mascarpone cheese
1 cup (4 oz/115 g) powdered sugar
Zest of 2 lemons
½ cup (120 mL) heavy whipping cream, cold
For layering:
Optional lemon crumb topping:
⅓ cup (2.75 oz/80 g) granulated sugar
Zest of 1 lemon
4 tablespoon (2 oz/56 g) unsalted butter, melted
¾ cup (3.5 oz/100 g) all-purpose flour
1 tablespoon (15 mL) freshlly squeezed lemon juice
Powdered sugar, for sprinkling
Instructions
Line a 9x9 baking sheet with parchment paper or tinfoil, letting it hang over the edges on two sides.
Zest two of the lemons. Set the zest aside. Juice the remaining lemons until you have ⅓ cup of juice.
Make the lemon simple syrup: Place the lemon juice in a small saucepan, and add the sugar. Bring to a boil, then turn off the heat. Add the lemoncello and set aside to cool.
In the bowl of a stand mixer, beat the mascarpone cheese with the powdered sugar and lemon zest until light and fluffy, scraping down the bowl once or twice to ensure the ingredients are evenly mixed.
In a separate mixing bowl, beat the heavy cream until stiff peaks form.
Gently fold the whipped cream into the mascarpone cheese mixture.
One at a time, dip the ladyfinger cookies into the lemon syrup, and arrange in an even layer in the prepared baking dish.
Spoon one third of the mascarpone cheese mixture onto the ladyfingers and spread in an even layer.
Repeat with more ladyfingers, and another third of the mascarpone cheese mixture, the remaining ladyfingers, and the remaining mascarpone cheese mixture.
Cover the baking pan with plastic wrap and refrigerate for at least two hours, or overnight.
If making the lemon crumb topping, in a small food processor, combine the sugar and lemon zest and pulse until the mixture turns yellow. Add the melted butter and lemon juice, and pulse to combine. In a small mixing bowl, pour the lemon sugar/butter mixture over the flour and use a spatula to combine. Using your fingers, drop lumps of the dough onto a parchment-lined baking sheet. Bake for 15 to 20 minutes, until just starting to brown at the edges. Let cool for 10 minutes, then use your fingers to crumble the baked dough.
When ready to serve, use the parchment paper or foil overhang to lift the tiramisu out of the baking pan and onto a cutting board. Sprinkle the crumb topping over the tiramisu and dust with powdered sugar. Cut into 6 portions. Garnish with fresh berries. Refrigerate any leftovers.
Recommended Products
As an Amazon Associate and member of other affiliate programs, I earn a small percentage from qualifying purchases.
Nutrition Information:
Yield:

8
Serving Size:

1
Amount Per Serving:
Calories:

634
Total Fat:

33g
Saturated Fat:

18g
Trans Fat:

1g
Unsaturated Fat:

12g
Cholesterol:

189mg
Sodium:

509mg
Carbohydrates:

64g
Fiber:

2g
Sugar:

20g
Protein:

20g
I am not a certified nutritionist. This nutrition information is automatically calculated by third party software and is meant as a guideline only.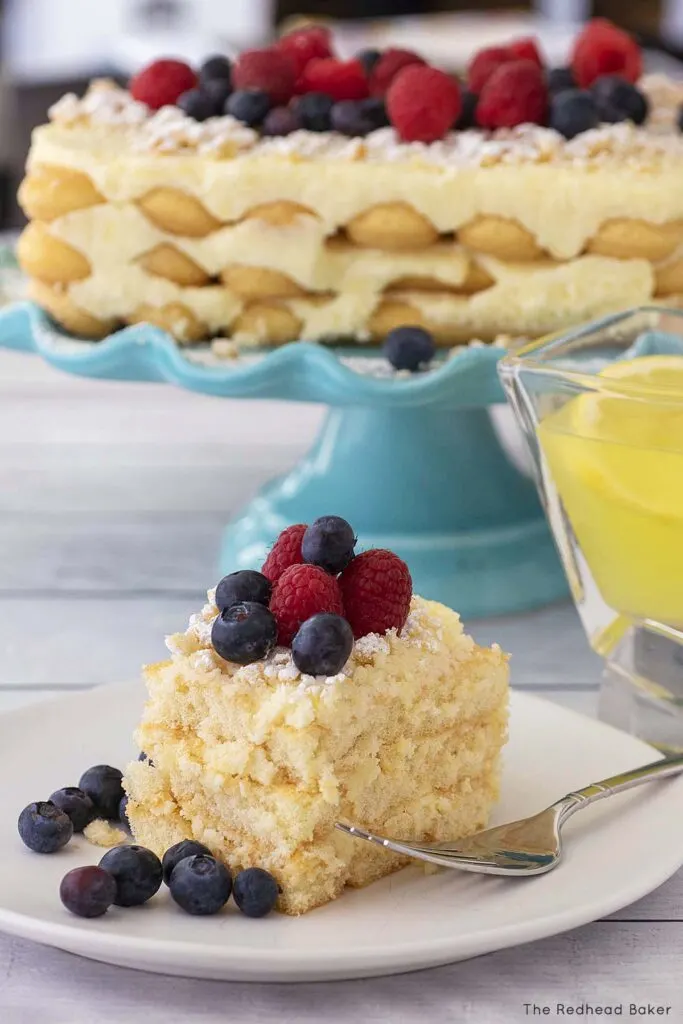 Friday #LemonWeek Recipes