Embrace your Irish side with this heart-healthy Irish oatmeal bread. Steel-cut oats and whole wheat fiber provide you with 3 grams of fiber and 5 grams of protein per slice!
St. Patrick's Day is around the corner, and being Irish myself, I'm quite happy to see everyone embracing their Irish side. Shepherd's pie, colcannon, champ, soda bread, and Irish coffee recipes permeate my blog reader feed.
They probably permeate yours, too, which is why I decided to go a slightly different direction for Saint Patrick's Day. I made oatmeal bread with Irish steel cut oats.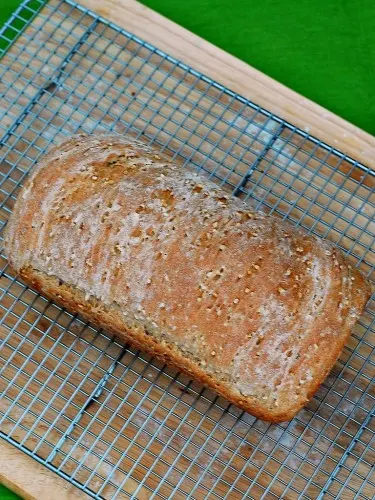 Steel cut oats don't differ all that much from traditional rolled oats. They have 20 fewer calories per quarter cup of uncooked oats, hardly any sugar, and they're slightly slower on the glycemic index (meaning they have less of an effect on your blood sugar level than traditional rolled oats). Combined with the whole wheat flour in the recipe, just one slice of this bread provides a heart-healthy 3 grams of fiber.
They have a nutty flavor, and are slightly chewier than rolled oats. Both of these features make for delicious, tender bread. Have a toasted slice with fruit preserves for breakfast, or use the bread to make a sandwich for lunch. It's very versatile, and stands up very well to being frozen.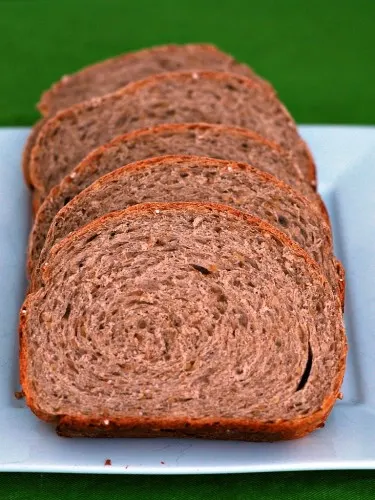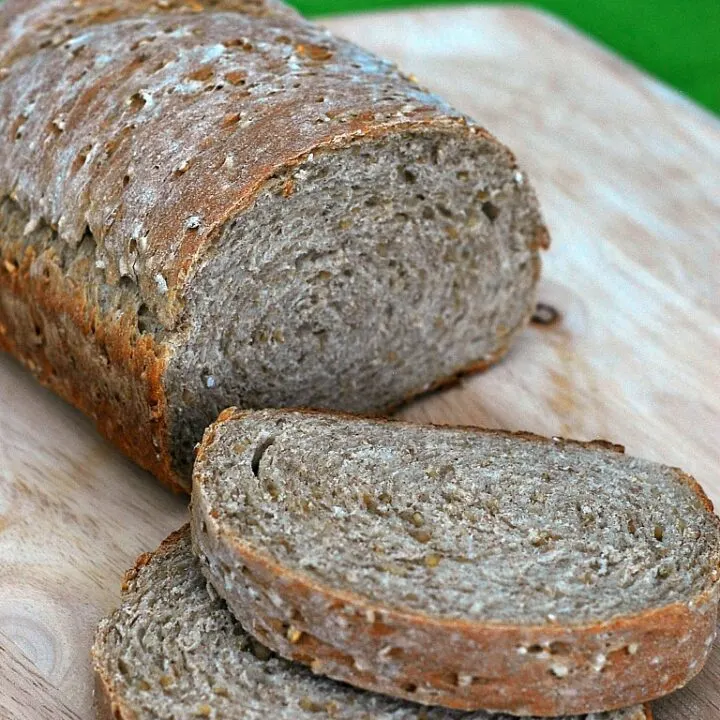 Irish Oatmeal Bread
Ingredients
1 cup + 2 tablespoon boiling water
1 cup steel-cut oats, not quick-cooking
½ tablespoon salt
1 ½ tablespoons butter
1 ½ tablespoons light brown sugar
Pinch of granulated sugar
2.25-oz pkg instant yeast,
¼ cup warm water, 100° to 110°
1 ½ cups all-purpose flour, divided
1 ½ cups whole wheat flour
Cooking spray
Instructions
Combine the first 5 ingredients (boiling water through light brown sugar) in the bowl of a stand mixer, and let stand 25 minutes.
Dissolve the granulated sugar and yeast in warm water; let stand 5 minutes or until foamy. Add to the oat mixture. Combine 1 ¼ cups of the all-purpose flour and all of the whole wheat flour. Gradually add the flours to the oat mixture. Beat at medium speed until well blended. Turn dough out onto a floured surface. Knead until smooth and elastic (about 8 minutes), adding enough of the remaining all-purpose flour, 1 tablespoon at a time, to prevent dough from sticking to hands if necessary (dough will still feel moist).
Place dough in a large bowl coated with cooking spray, turning to coat top. Cover with plastic wrap, then a clean kitchen towel, and let rise in a warm place (85°), free from drafts, 1 hour or until doubled in size.
Punch the dough down; cover with plastic wrap and let rest 5 minutes. Roll the dough into a 14 x 8-inch rectangle on a floured surface. Roll up the rectangle tightly, starting with a short edge, pressing firmly to eliminate air pockets; pinch the seam to seal. Place the loaf, seam side down, in a 9-inch loaf pan coated with cooking spray. Cover with plastic wrap and let rise 30 minutes or until doubled in size.
Preheat oven to 350º.
Uncover dough and bake at 350º for 45 minutes or until loaf is browned on bottom and sounds hollow when tapped. Remove from pan, and cool on a wire rack.
Recipe barely adapted from Cooking Light