Originally published Feb. 11, 2015. Photos updated 7/18/2017.
Chicken tacos are spiced with ancho chile powder and topped with cilantro slaw and avocado cream. This delicious meal is ready in under 30 minutes!
We're finally getting settled into our new apartment, and getting into a routine. I have finally started meal-planning again. Even though I'm not working, I still rely on quick and easy weeknight meals to get dinner on the table Monday through Friday.
I try to get Liam involved in prepping dinner when possible. I've heard that letting kids help cook makes them more likely to eat the final meal. So far, we haven't hold a whole lot of luck with that theory. But the adults in the house LOVED this meal.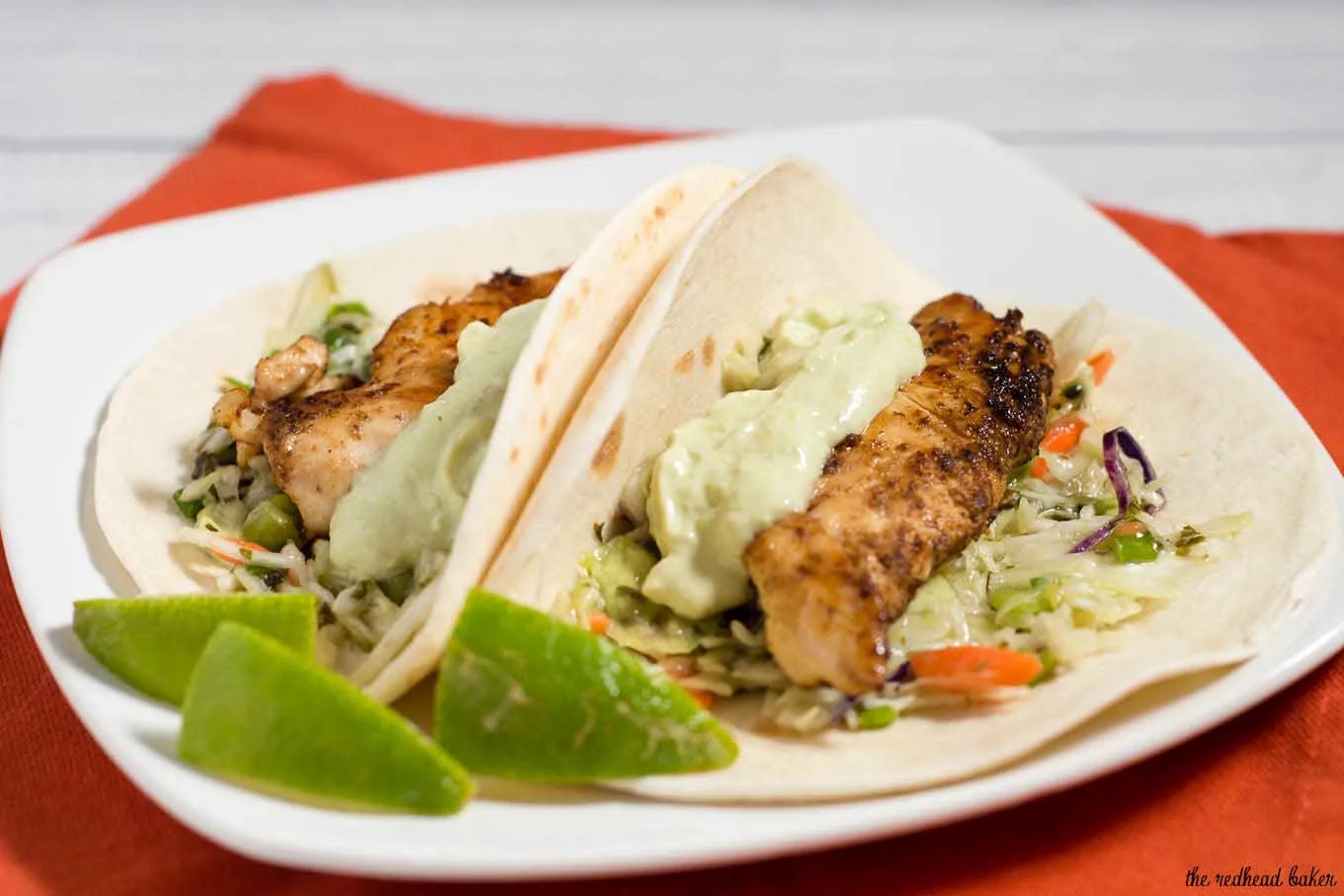 These are pretty simple, but they pack a whole lot of flavor. The chicken is smoky from the ancho chile, and tanginess from the slaw and the avocado cream.
The slaw and the cream can be made earlier in the day and refrigerated until ready to serve. And the chicken is done in under 10 minutes — this really is one of the quickest meals I've ever cooked. It will certainly be making many repeat appearances on our table.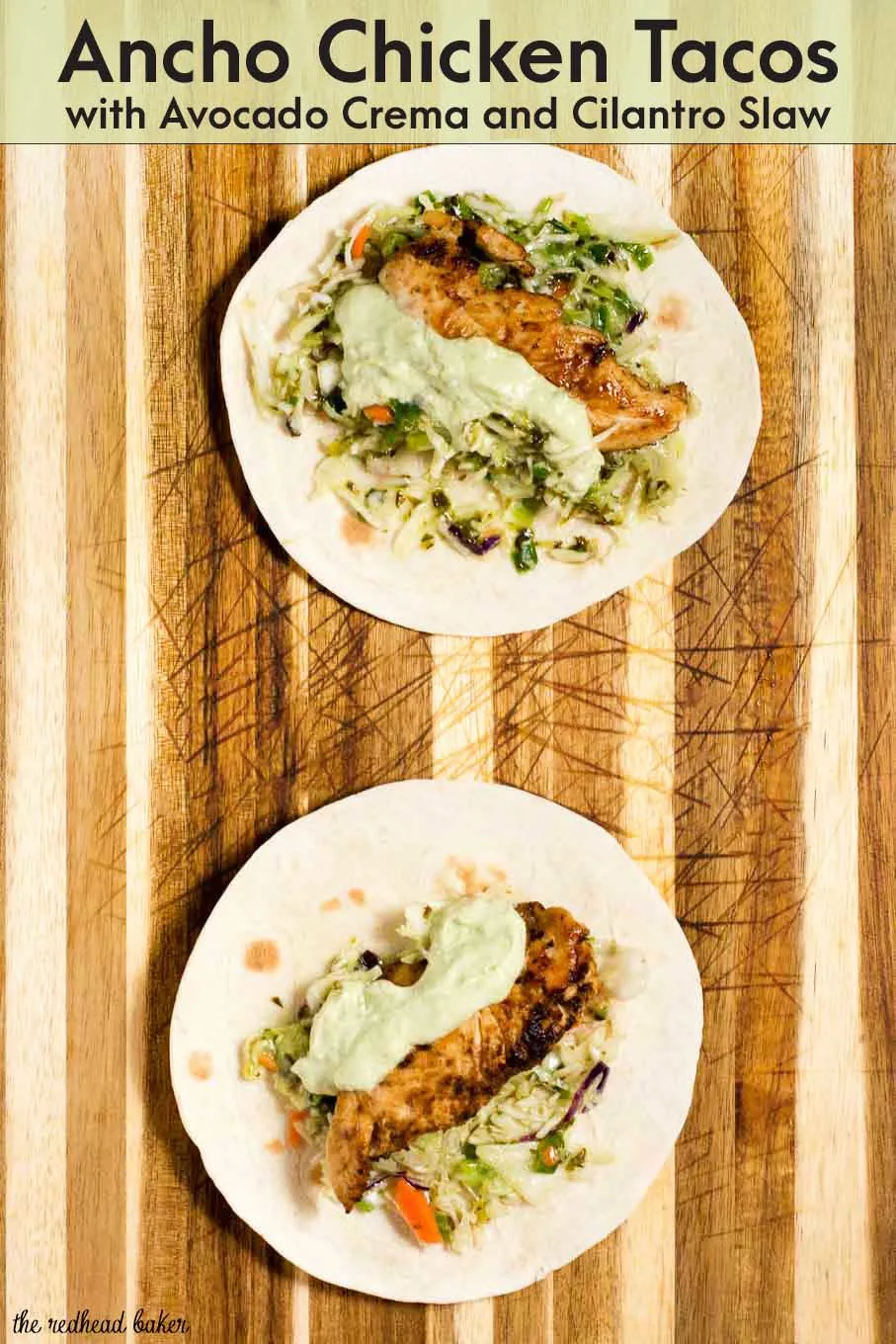 [amazon_link asins='B00X4WQMAS,B0019MLLCO,B000CBOTQ8,B001T4MEPU' template='ProductCarousel' store='theredheadbak-20' marketplace='US' link_id='ad5cc1fe-8582-11e8-80bd-4769ad788315']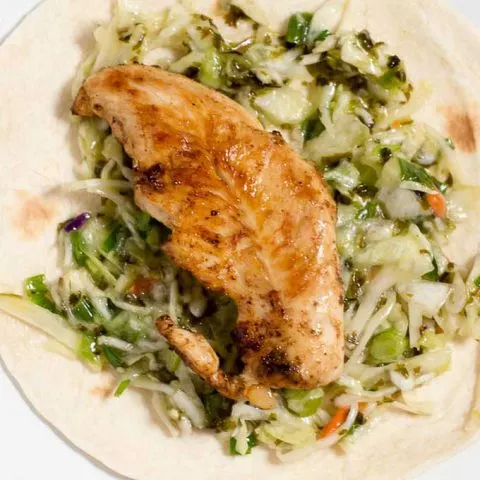 Ancho Chicken Tacos with Cilantro Slaw and Avocado Cream
Ingredients
For the chicken:
1 pound boneless, skinless chicken breasts, cut into ¼-inch strips
¾ teaspoon ancho chile powder
½ teaspoon garlic powder
½ teaspoon kosher salt
¼ teaspoon ground cumin
Canola oil
For the avocado cream:
⅛ teaspoon grated lime rind
1 tablespoon fresh lime juice
¼ cup light sour cream
1 ripe peeled avocado, diced
For the cilantro slaw:
2 cups packaged angel hair slaw
½ cup thinly sliced green onions
¼ cup chopped fresh cilantro
1 tablespoon canola oil
1 tablespoon lime juice
¼ teaspoon salt
For the tacos:
8 flour tortillas, 6-inch size
Instructions
Heat a large skillet over high heat. In a small bowl, mix the ancho chile powder, garlic salt, and cumin. Place the chicken in a plastic bag, and add the spice mix; shake to coat.
Coat the skillet with cooking spray. Add chicken to pan; cook 4 minutes, stirring frequently. Remove chicken from pan and keep warm.
Make the avocado crema: combine rind, lime juice, the sour cream, milk and avocado in a blender or food processor; process until smooth.
Make the cilantro slaw: combine the lime juice, slaw, onions, cilantro, oil, and salt, tossing to coat.
Place two tortillas on each of four plates. Divide chicken mixture evenly among tortillas. Top each tortilla with about 1 tablespoon avocado mixture and ¼ cup slaw mixture.
Recipe by Cooking Light