Rich, moist chocolate cupcakes are topped with decadent chocolate kahlua buttercream. These will satisfy even the biggest chocolate craving!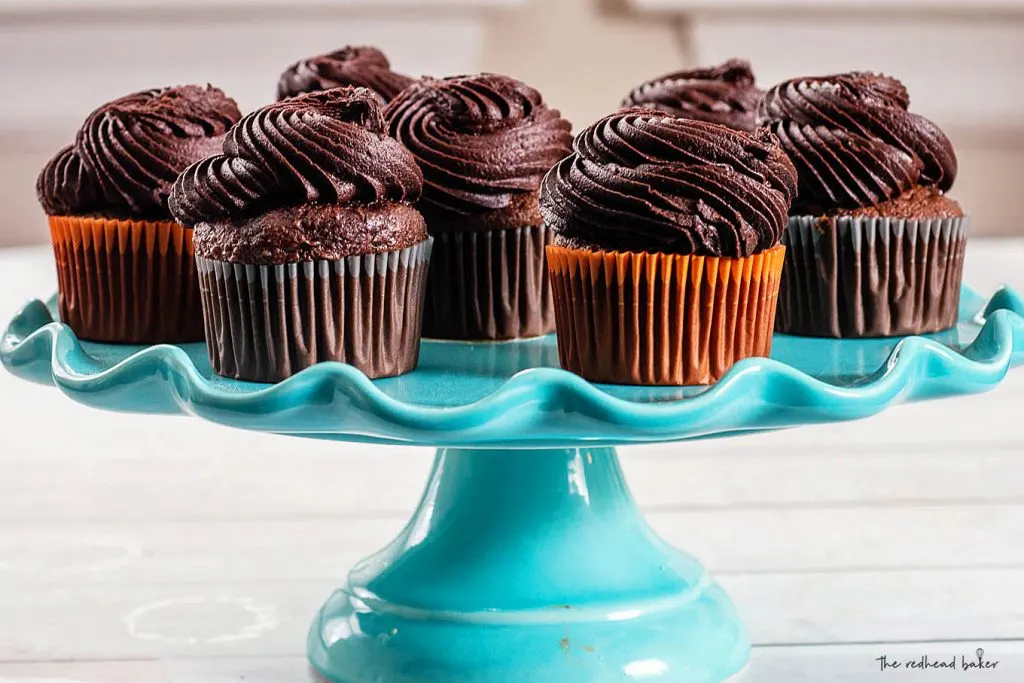 I have been a chocoholic for as long as I can remember. Give me a choice of any kind of candy or dessert, and I will choose chocolate. I love milk chocolate, white chocolate, and dark chocolate equally. So, it's no surprise that I'm participating #Chocotoberfest 2019!
Before we get to the chocolate cupcakes with chocolate kahlua buttercream, a bit about the event:
#Choctoberfest is an annual recipe-sharing event. I'm joining other food bloggers from around the world to create delicious chocolate recipes. This year, over 70 bloggers are joining together for a week full of chocolate cakes, pies, cookies, puddings, tarts, candies, and more. You can follow along by searching for the hashtag #Choctoberfest on Instagram, Pinterest, Facebook, and Twitter. Or, simply follow any of the participating bloggers listed at the bottom of this post.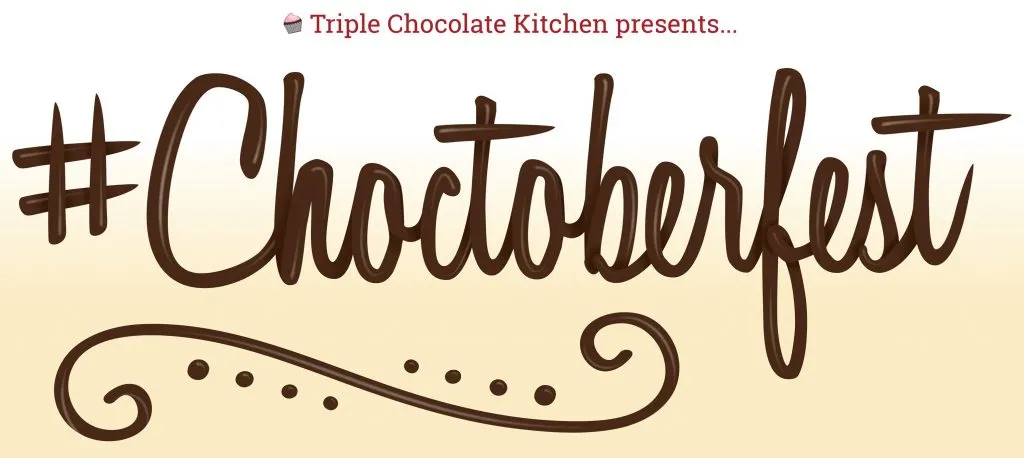 The Giveaway
We also have some awesome sponsors, who make #Choctoberfest possible every year. Our sponsors have banded together to put together a delicious prize pack worth over $400! Here's what you get if you win! (Scroll down to enter.)
Candy Gift Pack from blog host Triple Chocolate Kitchen, which includes 180-pack of Lindt LINDOR Chocolate Truffles (dark, milk, and white). Triple Chocolate Kitchen organizes #Choctoberfest, as well as posting chocolate recipes throughout the year.
Chocolate and Cocoa Gift Pack from Divine Chocolate, which includes a variety of high-quality fair trade chocolate bars, cocoa powder, and Divine Chocolate swag. Divine Chocolate's baking line consists of three premium quality flavors ranging from 55% to 100% cocoa for a wide variety of delicious desserts. Their chocolate products are made with 100% cocoa butter and are non-GMO and Vegan Society Certified.
$100 Nordic Ware Gift Card and 40 Pounds of Granulated Sugar from Imperial Sugar. They are currently hosting their annual Scary Scramble, featuring delicious fall-inspired recipes using Imperial Sugar's high-quality sweeteners. Imperial Sugar has been a kitchen staple for over 175 years!
Collagen Fuel™ Drink Mix Gift Pack from Primal Kitchen. The ingredients in these drink mixes help support hair, skin, and nails. Their chocolate version has organic, fair-trade cocoa and coconut milk powders, with no wheat, soy, or dairy ingredients.
Cracker Gift Pack from Mary's Gone Crackers. The lucky winner will get to try a variety of crackers, many of which pair well with chocolate (check their recipe page for ideas!). Mary's products are vegan, cruelty-free, and organic.
Fig Spread Gift Pack from Dalmatia Spreads. With flavors like sour cherry, plum, blackberry, and orange, you'll find that several of Dalmatia's fig-based spreads work well in chocolate recipes. Use as a filling for crépes, serve warm over ice cream, or spread onto toast. They even have a fig cocoa spread that uses fair trade cocoa.
Alkaline Water Pack from Perfect Hydration. Wash down all those delicious chocolate desserts with Perfect Hydration water. This 9.5+ pH alkaline water helps to effectively restore and rebalance the body to optimum pH levels. This water goes through a 9-stage filtration process, has no added sodium, chlorine, or fluoride, and is packaged in recyclable BPA-free bottles.
Kitchen Conversions Chart and Etsy Gift Card from Moonflower Mountain. Winner chooses the colors for this flower-adorned conversion chart, which makes it easy to double any recipe or convert from cups to tablespoons.
This is a prize pack worth over $400! Open worldwide, except where prohibited. Must be 18+ to enter (21+ in some locations). One lucky winner will be drawn randomly on October 20, 2019 and contacted via email. See terms and conditions for more details. Enter the giveaway now:
a Rafflecopter giveaway
Entries from spam or inactive accounts are invalid. #Choctoberfest bloggers, sponsors, and their immediate families/households are not eligible to win. This giveaway is not affiliated with or sponsored by Facebook, Instagram, Twitter, or Pinterest.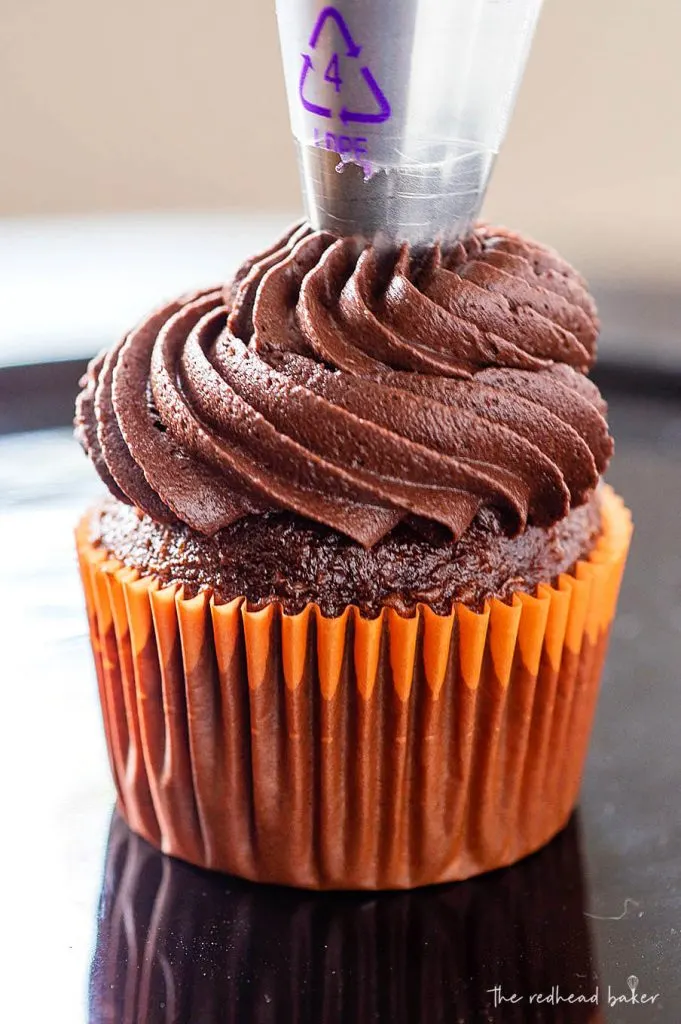 These chocolate cupcakes are just a smaller version of a three-layer chocolate cake I made recently. I reduced the amount of batter so I didn't end up with nearly 40 cupcakes. A lot of chocolate cake recipes come out dry, but not this one!
To evenly portion out the batter, I recommend using a large cookie scoop (just FYI: affiliate link). One scoop adds just the right amount of batter for a cupcake, and uniformly-sized cupcakes will bake evenly. If you have a mix of small and large cupcakes, you'll either end up with small cupcakes baked just right and large ones that are underbaked; or large cupcakes that are baked just right and small ones that are burnt.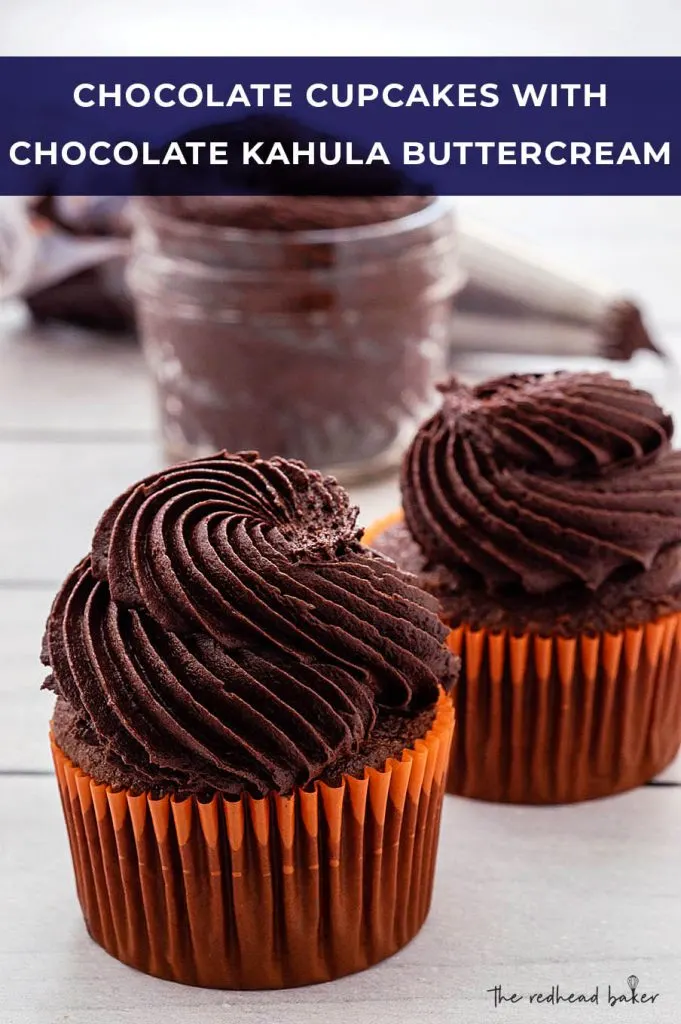 This chocolate kahlua buttercream is incredible. I could just eat it with a spoon. This frosting starts out very stiff, so I strongly recommend using a stand mixer over a handheld mixer. You can use either natural unsweetened cocoa powder, or "special dark" cocoa powder for a stronger chocolate flavor, but with the dark cocoa powder, you run the risk of overpowering the kahlua flavor.
This recipe makes enough to give 24 cupcakes a generous piped swirl of chocolate kahlua buttercream. If you plan to apply the frosting with a knife or spatula, you can probably cut the buttercream amounts in half.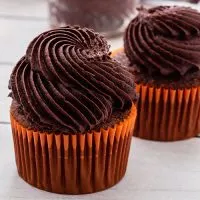 Chocolate Cupcakes with Chocolate Kahlua Buttercream
Total Time:
1 hour
40 minutes
Rich, moist chocolate cupcakes are topped with decadent chocolate kahlua buttercream. These will satisfy even the biggest chocolate craving!
Ingredients
For the cupcakes
2 cups (8.5 oz) flour
2 cups (14 oz) sugar
1 cup (3 oz) cocoa powder
2 teaspoon baking soda
1 teaspoon baking powder
1 teaspoon salt
3 large eggs
1 cup buttermilk
1 cup strongly-brewed coffee
⅓ cup vegetable oil
1 ¼ teaspoon vanilla
For the chocolate kahlua buttercream
1 cup (8 oz) unsalted butter, melted
1 ½ cups (4.5 oz) cocoa powder
1 tablespoon vanilla extract
Generous pinch of table salt
8 cups (2 lb) confectioners' sugar
6 tablespoon Kahlua liqueur
6 tablespoon heavy cream
Instructions
Make the cupcakes
Preheat oven to 350 degrees F. Line two cupcake pans with paper liners. Set aside.
In the bowl of a stand mixer, stir together the dry ingredients (flour, sugar, cocoa powder, baking soda, baking powder and salt).
In another mixing bowl, whisk together the eggs, buttermilk, coffee, vegetable oil and vanilla.
Pour the wet ingredients into the dry, and beat on medium speed for 2 to 3 minutes, until smooth and evenly mixed, occasionally scraping down the sides and bottom of the mixing bowl.
Portion the batter into each cupcake liner.
Bake for 20 minutes, or until a toothpick inserted in the center of a cupcake comes out clean.
Cool on a wire rack in the pan for 10 minutes, then remove cupcakes and cool them on the wire rack until room temperature.
Make the buttercream
In the bowl of a stand mixer, mix together the butter and cocoa powder until all of the cocoa powder is moistened.
Beat in the vanilla and salt.
In a measuring cup, combine the cream and kahlua.
Beat in the sugar, about a cupful at a time, on low speed, alternating with the cream/Kahlua mixture.
Once all of the sugar, cream and Kahlua is added, turn the mixer to medium-high and beat until fluffy. If too stiff, add more cream, a tablespoonful at a time, until it reaches desired consistency.
Fit a piping bag with a decorating tip, fill halfway with the buttercream, and pipe a generous swirl onto each cupcake. Refrigerate if not serving immediatley.
Recommended Products
As an Amazon Associate and member of other affiliate programs, I earn a small percentage from qualifying purchases.
Nutrition Information:
Yield:

24
Serving Size:

1
Amount Per Serving:
Calories:

78
Total Fat:

6g
Saturated Fat:

2g
Trans Fat:

0g
Unsaturated Fat:

4g
Cholesterol:

29mg
Sodium:

261mg
Carbohydrates:

4g
Fiber:

0g
Sugar:

4g
Protein:

1g
I am not a certified nutritionist. This nutrition information is automatically calculated by third party software and is meant as a guideline only.
Buttercream adapted from Food Network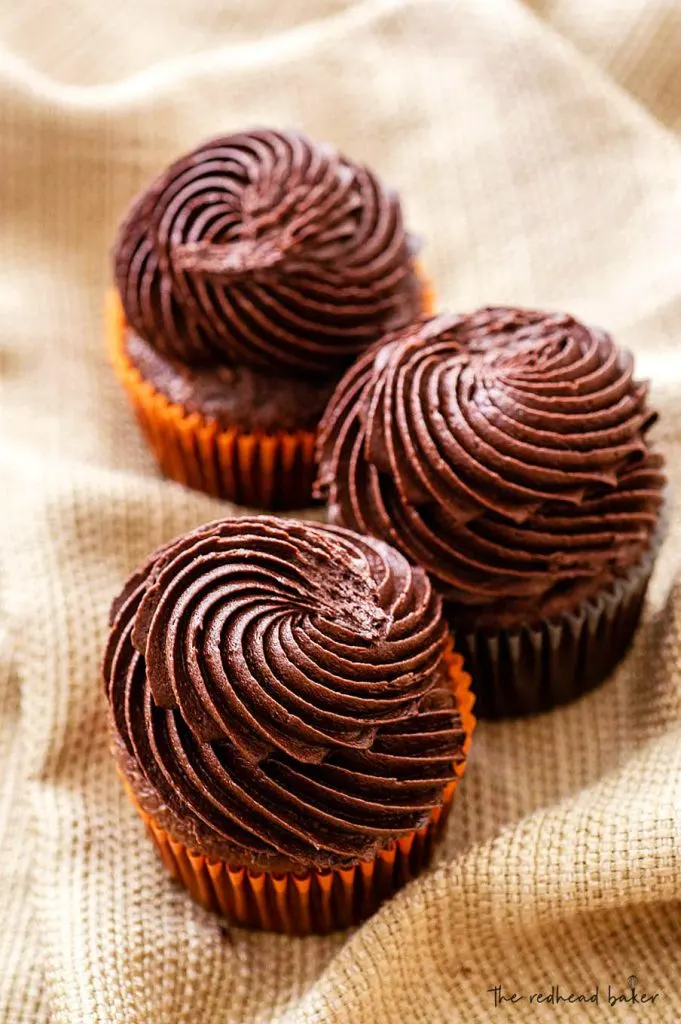 Make sure you check out the participating bloggers to see #Choctoberfest recipes throughout the week:
Triple Chocolate Kitchen
•
2 Cookin Mamas
•
A Day in the Life on the Farm
•
A Labour of Life
•
A Little Fish in the Kitchen
•
A Southern Fairytale
•
Amy's Cooking Adventures
•
An Affair from the Heart
•
Bottom Left of the Mitten
•
Broken Teepee
•
Bunsen Burner Bakery
•
Champagne and Coconuts
•
Cindy's Recipes and Writings
•
Cook with Renu
•
Cook's Hideout
•
Cookaholic Wife
•
Crafty Cooking Mama
•
Daily Dish Recipes
•
Dixie Chik Cooks
•
Everyday Eileen
•
Fairyburger
•
Family Breakfast Recipes
•
First Timer Cook
•
Fix Me a Little Lunch
•
Frugal & Fit
•
Fun Happy Home
•
Get the Good Stuff!
•
Glenda Embree
•
Hezzi-D's Books and Cooks
•
How Was Your Day?
•
I Can Cook That
•
Join Us, Pull up a Chair
•
Karen's Kitchen Stories
•
Kate's Recipe Box
•
Kelly Lynn's Sweets and Treats
•
Life & Medicine Blog
•
Life on Food
•
Long Distance Baking
•
Lynchburg Mama
•
Makes, Bakes and Decor
•
Making Miracles
•
Mama Needs Cake
•
Memories In The Kitchen
•
Our Good Life
•
Our Sutton Place
•
Palatable Pastime
•
Queenslee Appétit
•
Reviewz & Newz
•
Sarah Cooks the Books
•
Sarah's Bake Studio
•
Seduction In The Kitchen
•
Shockingly Delicious
•
Simple Family Crazy Life
•
Simply Inspired Meals
•
Sneha's Recipe
•
Style Island
•
Sumptuous Spoonfuls
•
Sweet Coralice
•
Sweet Dash of Sass
•
Take Two Tapas
•
That Recipe
•
The Awesome Muse
•
The Beard and The Baker
•
The Delicious Spoon
•
The Food Hunter's Guide to Cuisine
•
The Freshman Cook
•
The Redhead Baker
•
The Schizo Chef
•
The Spiffy Cookie
•
The Urben Life
•
Trampling Rose
•
Turnips 2 Tangerines
•
Who Needs A Cape?
•
Wildflour's Cottage Kitchen
•
Zesty South Indian Kitchen