Cranberry apple pie is a delicious, slightly variation on classic apple pie. Get a double dose of tartness from Winesap apples and cranberries.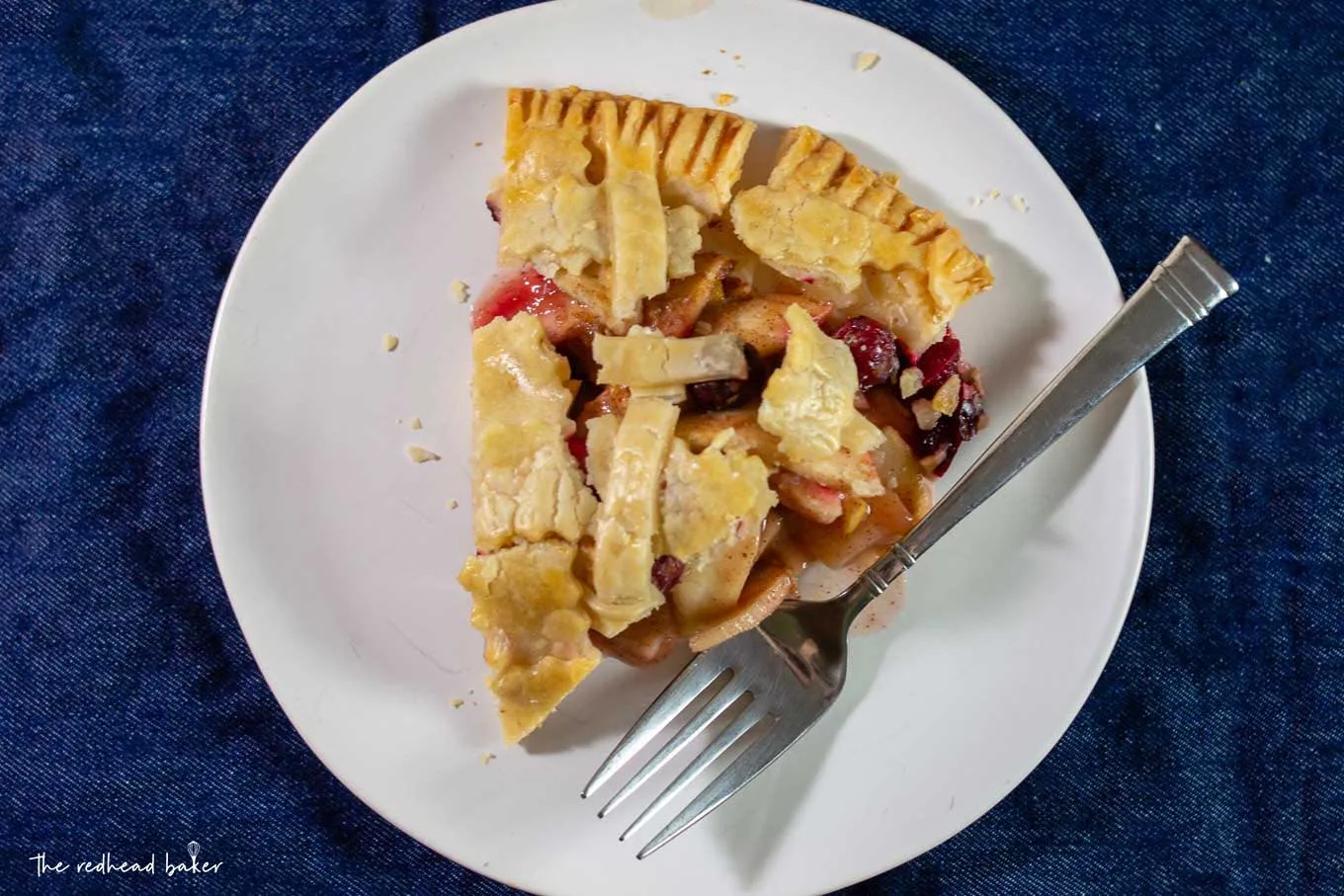 I'm participating in yet another themed week — Cranberry Week! I love cranberries. They are very versatile, and can be used in both sweet and savory recipes.
My first Cranberry Week recipe is cranberry apple pie. Apple pie is such a classic recipe, and one that my family enjoys every Thanksgiving. This one is just a slight variation on that classic pie.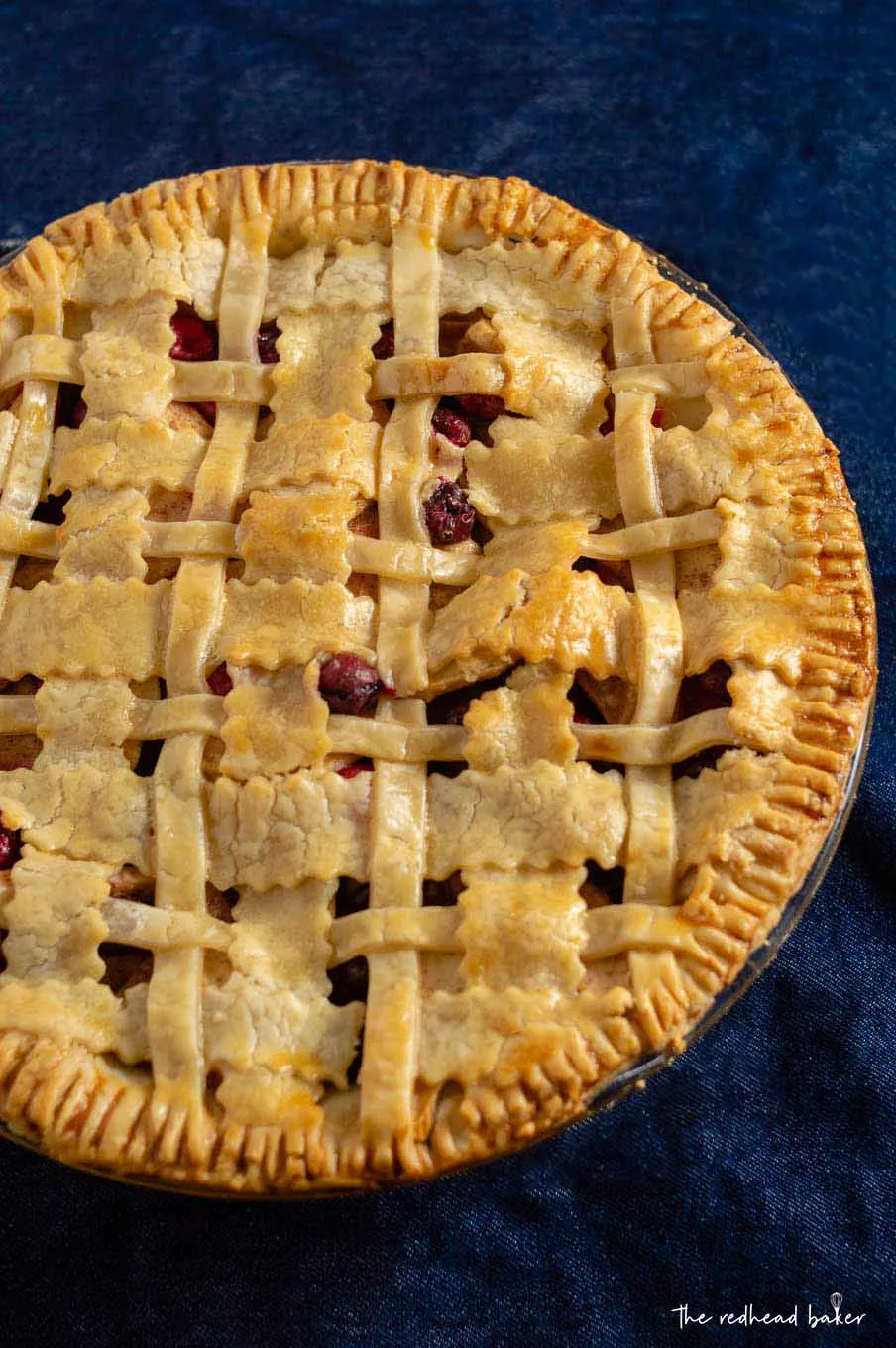 It uses tart apples called Winesap. We picked the Winesap apples used in this pie ourselves while on a school field trip to Styer Orchard in Langhorne, Pennsylvania. If you can't find Winesap apples, any tart baking apple (such as Cortland or Granny Smith).
The cranberries can be fresh or frozen, but if you use frozen, thaw them before beginning the recipe. You can either leave them whole, or chop them; it's entirely up to you. I left mine whole. I'm all for making things as easy as possible!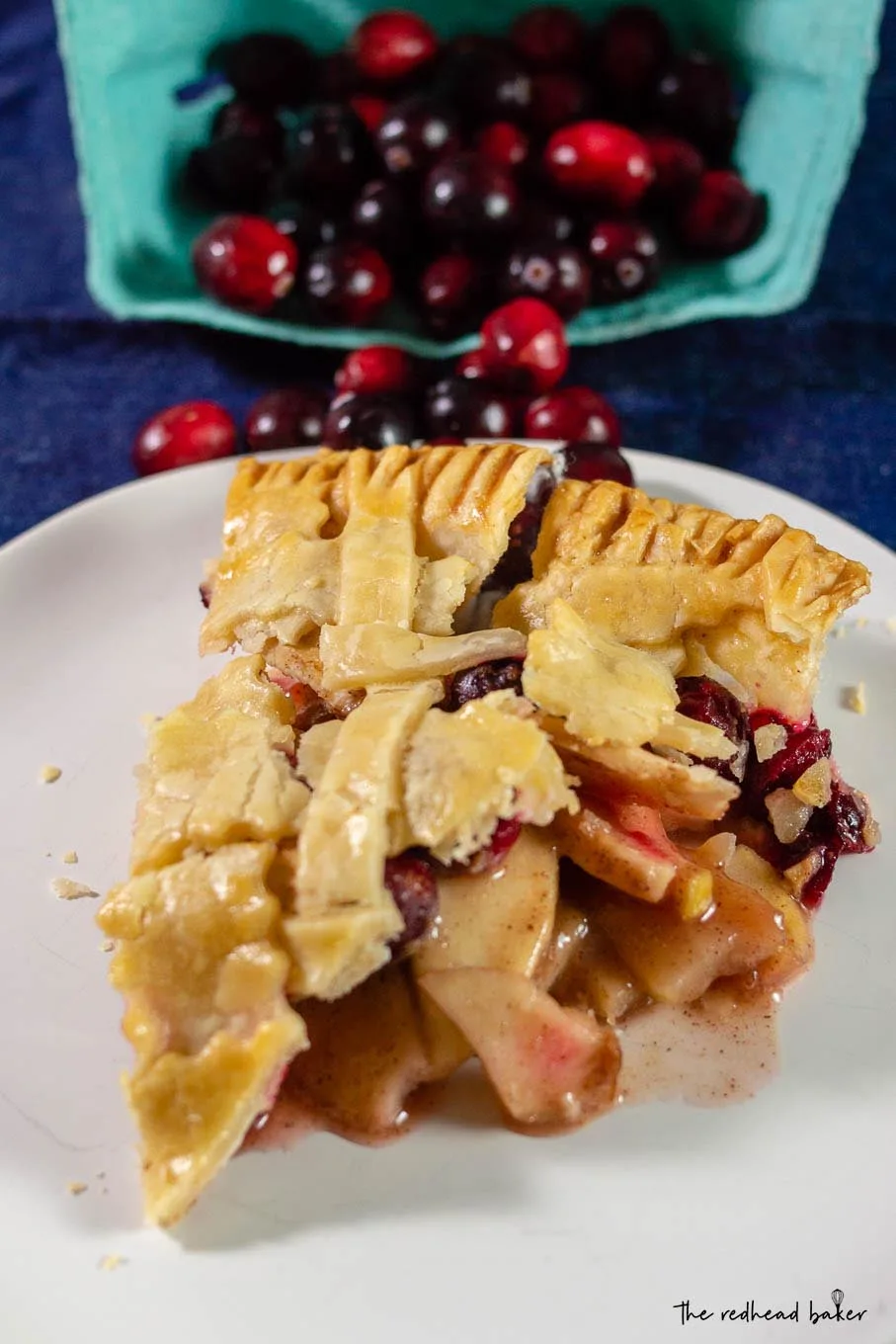 I put a lattice top crust on my pie, and I've included instructions on how I made my crust in the recipe below. If you prefer a visual tutorial, see my blueberry pie recipe. Alternately, you can use a simple whole upper crust, and simply cut slits (or cut holes with small shaped cookie cutters) and place it on top of your pie.
This pie can be served warm or at room temperature. You can serve it on its own, or with a scoopful of vanilla ice cream. It would be delicious at Thanksgiving or Christmas dinner.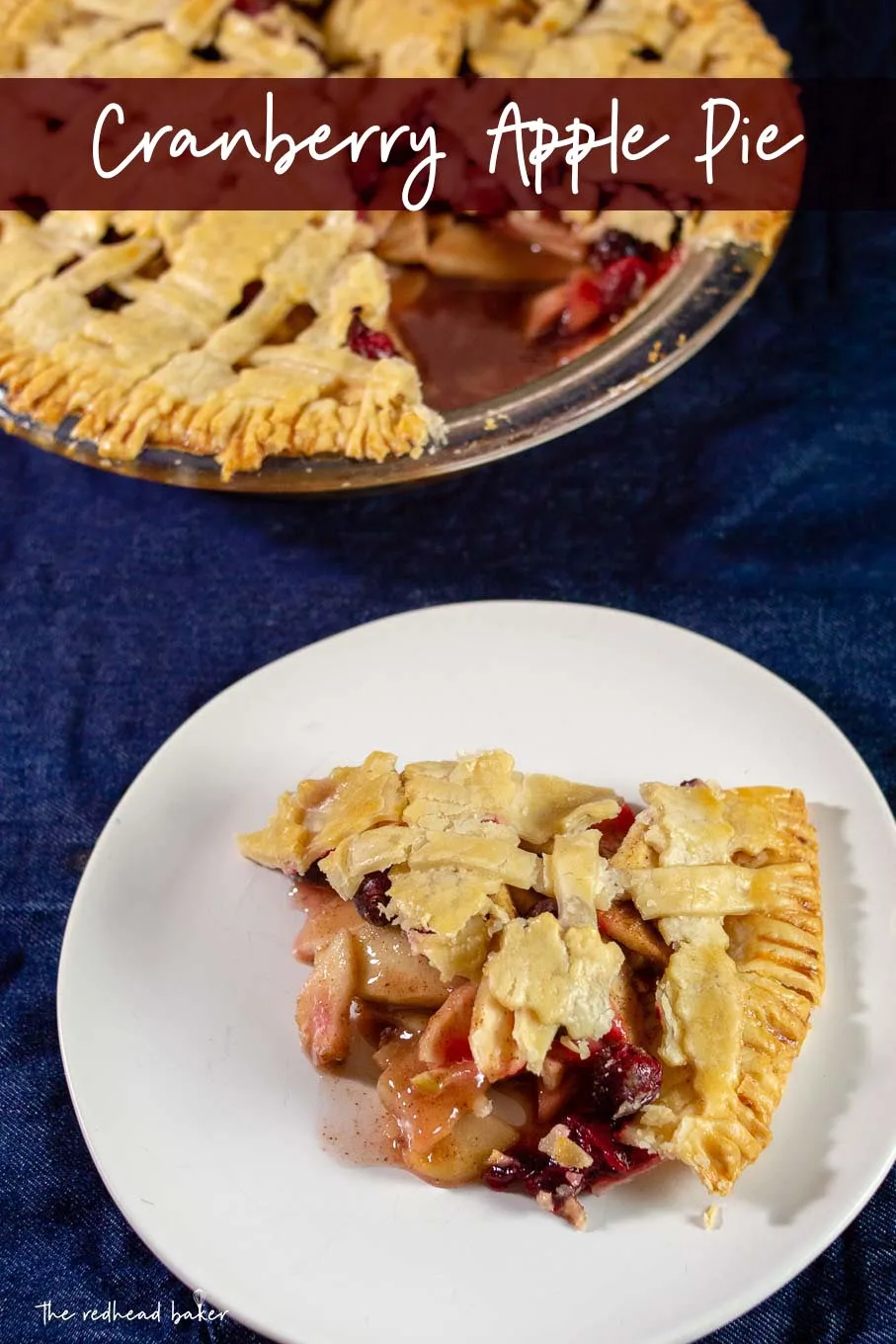 [amazon_link asins='B073WBS722,B075G5G97K,B000ARPJRM,B0000VLUEY,B000JPSI8C,B001DLTD1C' template='ProductCarousel' store='theredheadbak-20' marketplace='US' link_id='8046f163-e06d-11e8-a099-93a3995b97d6']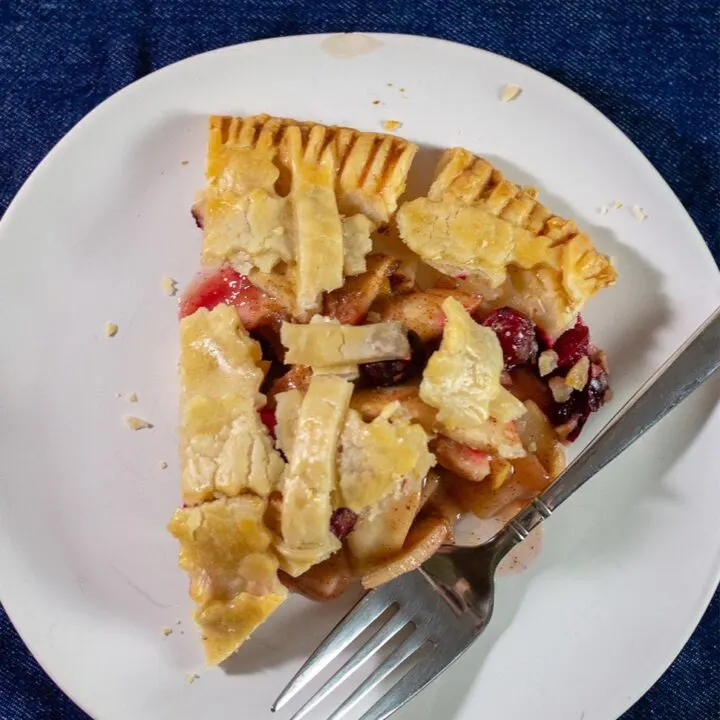 Cranberry Apple Pie
Total Time:
1 hour
10 minutes
Cranberry apple pie is a delicious, slightly variation on classic apple pie. Get a double dose of tartness from Winesap apples and cranberries.
Ingredients
3 pie crusts , (store-bought or homemade)
¾ cup packed brown sugar
¼ cup granulated sugar
⅓ cup all-purpose flour
1 teaspoon ground cinnamon
6 medium Winesap apples
2 cups fresh cranberries
1 large egg
1 tablespoon water
Instructions
Preheat oven to 375 degrees. On a lightly floured surface, roll out one pie crust to 9 inches. Fit into a 9-inch pie plate.
In a large bowl, toss together the brown sugar, flour, granulated sugar, and cinnamon. Add apples and cranberries; mix well. Scrape the mixture into the prepared pie plate.
Roll out another pie crust to 10 inches. Using the plain side of a double-wheeled pastry cutter, cut as many ½-inch strips as you can. Set aside. Roll out the third pie crust to 10 inches, and this time, using the fluted side of the pastry cutter to cut 1-inch strips.
Lay two fluted strips across the center of the pie, perpendicular to each other. Place plain strips on either side of each fluted strip, weaving them under the fluted strips. Repeat the weaving, alternating between fluted strips and plain strips. Once finished, seal the crust with the tines of a fork, and trim off any excess pastry.
Whisk together the egg and water, and gently brush onto the pastry. Place the pie plate on a baking sheet. Cover edge of pie with foil.
Bake for 25 minutes. Remove foil; bake 20 to 25 minutes more. Cool on a wire rack. Makes 8 servings.
Nutrition Information:
Yield:

1
Serving Size:

serving
Amount Per Serving:
Calories:

503
Saturated Fat:

5g
Cholesterol:

20mg
Sodium:

276mg
Carbohydrates:

83g
Fiber:

6g
Sugar:

41g
Protein:

5g
More #CranberryWeek Recipes