This isn't your mom's potato salad. It's loaded potato salad, with bacon, broccoli and cheddar — all the best parts of a loaded baked potato in a cool summer side dish.
Welcome to Progressive Eats, our virtual version of a Progressive Dinner Party. Our menu this month features all things Cookout! We have quite a spread for you this month, anchored by a fabulous burger and rounded out with apps, sides, and not one but three desserts. This month, Jenni from Jenni Field's Pastry Chef Online is hosting. She is especially pleased to see the abundance of dessert choices!
I decided to make one of my favorite cookout side dishes, potato salad. Not just any potato salad, though. LOADED potato salad. This salad has all of the flavors of a classic baked potato: sour cream, bacon, broccoli and chives.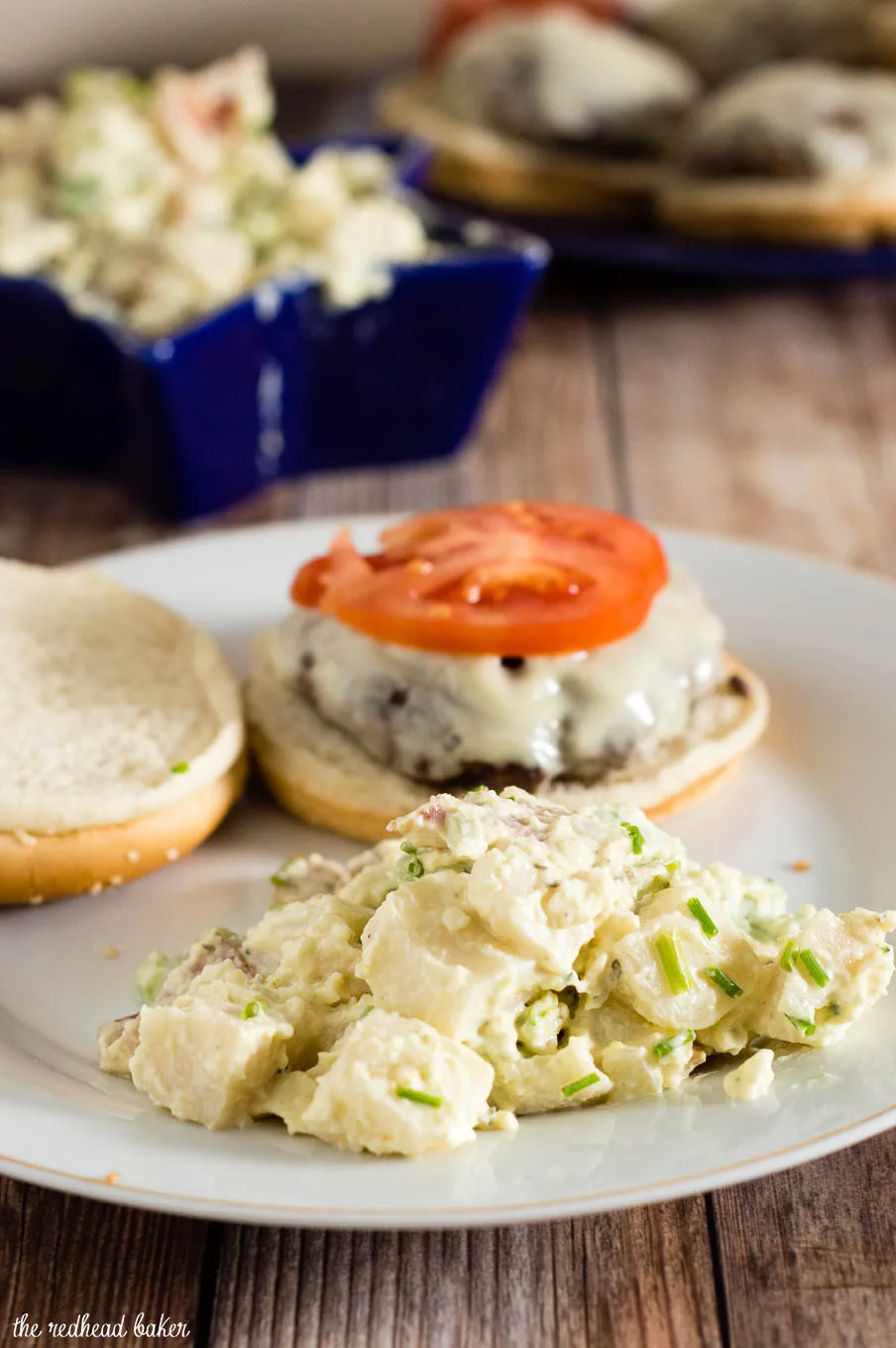 I love potato salad. It was one of the things I craved during my first pregnancy. That, and fresh fruit (good thing I was pregnant during the summer!). I was sending my then-fiance to the grocery store deli counter at least once a week for a big container of it.
After that grocery store chain shut down, I finally tried making it on my own. As with all things, when you make something at home, you can control the flavor (personally, the more tang, the better!), the salt content, and add in extra ingredients that you won't find in store-bought potato salad.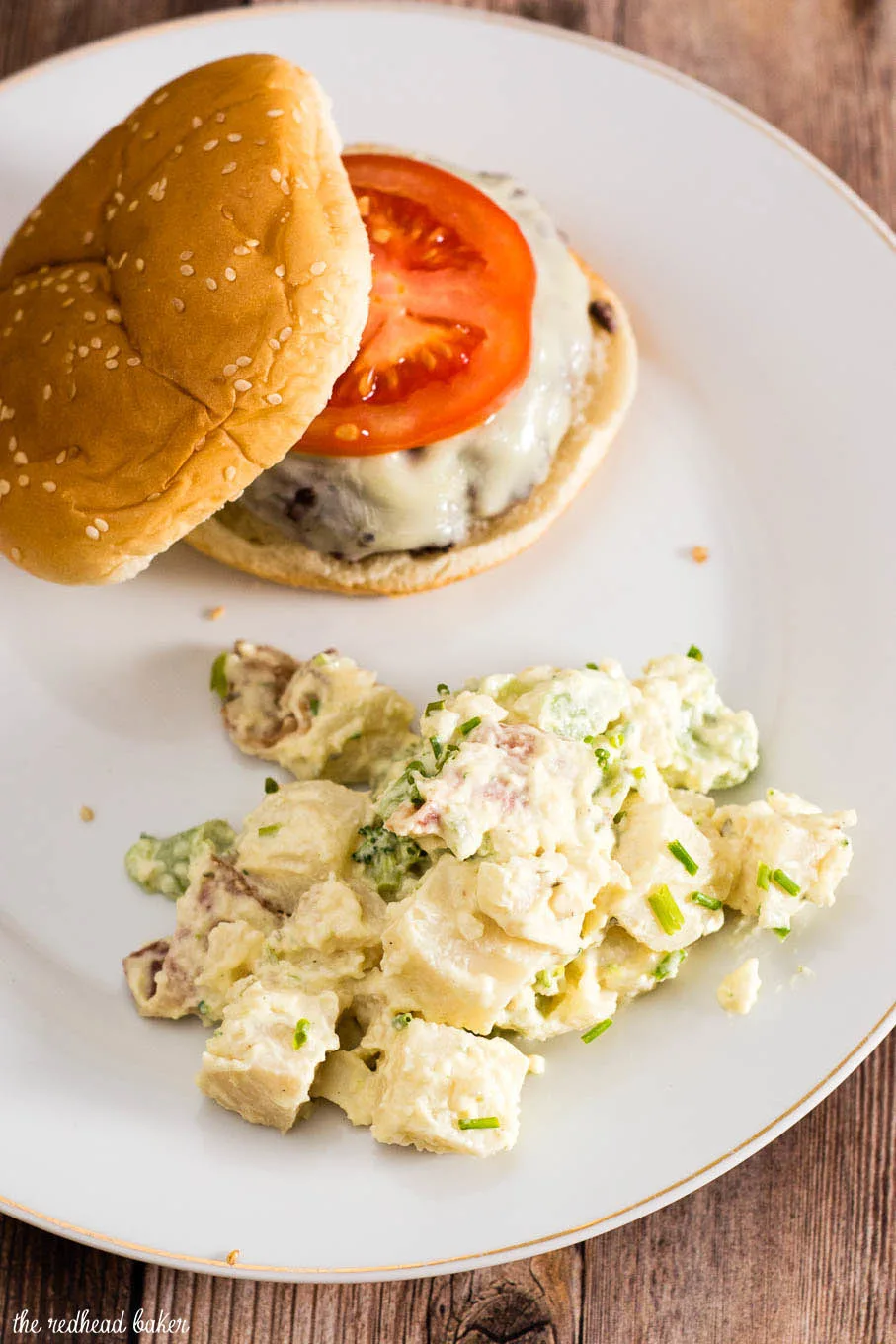 This is a delicious side dish for any cookout, barbecue or summer dinner at home, but I also enjoy it on its own as a light lunch.
I usually make this potato salad a day ahead of time. I think having the time to sit in the refrigerator allows the flavors to blend together, so it tastes even better the second day!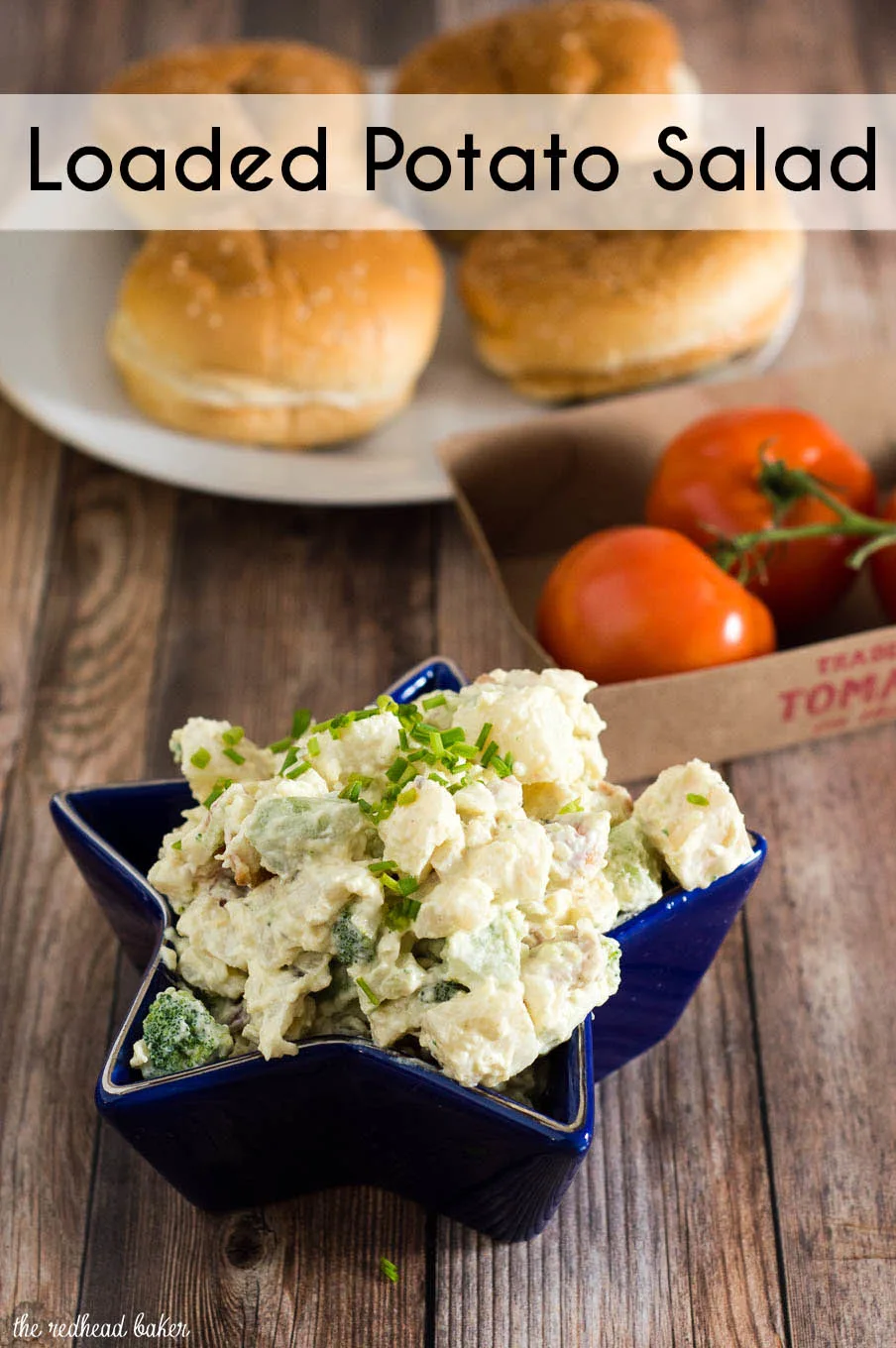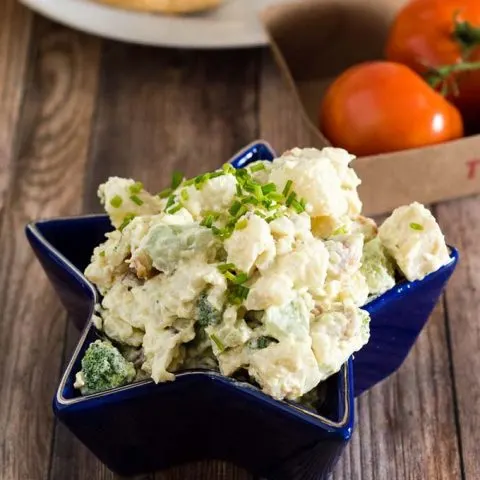 Loaded Potato Salad
Ingredients
½ lb bacon
1 head broccoli, chopped into florets
3 lbs Yukon Gold potatoes, peeled and diced into ½-inch chunks
1 tablespoon Kosher salt
4 hard-boiled eggs, chopped
¾ cup red onion, finely diced
1 cup chopped celery
⅔ cup mayonnaise
⅔ cup sour cream
1 ½ tablespoon apple cider vinegar
1 tablespoon Dijon mustard
½ teaspoon pepper
½ teaspoon celery salt
3 tablespoon milk, plus more as needed
Chives, for garnish
Instructions
Preheat oven to 400. Line one sheet pan with tin foil, then place a wire rack on top of the foil. Line a second sheet pan with foil and spray with nonstick spray.
Place the potatoes in a large pot. Cover with cold water that comes up an inch over the potatoes. Season with the tablespoon of kosher salt. Bring the water to a boil. Reduce the heat to medium-low, cover the pot, and simmer the potatoes for 10 to 15 minutes, until fork-tender.
Arrange the bacon on the wire rack, ensuring slices do not overlap. Arrange the broccoli florets on the second sheet pan and drizzle with olive oil and season with salt and pepper. Place both pans in the preheated oven, and cook for 20 minutes, flipping the broccoli halfway through.
Remove the sheet pans from the oven, transfer the bacon to a paper-towel-lined plate to drain and allow the broccoli to cool.
Drain the potatoes and transfer to a bowl. Cover the bowl with plastic wrap, and punch three or four holes in the top. Place the bowl in the refrigerator for 30 minutes.
Make the dressing: whisk together the mayonnaise, sour cream, apple cider vinegar, Dijon mustard, pepper, celery salt and milk. Season to taste with salt and pepper.
Chop the bacon and broccoli. Add those plus the chopped eggs, red onion, celery, and dressing to the bowl with potatoes. Toss everything to coat. Thin with more milk if needed 1 tablespoon at a time. Chill for at least 1 hour. Serve cold and sprinkle top with fresh chives just before serving.
Adapted from Cooking Classy
Cookout!
Appetizers
Main Course
Side Dishes
Desserts
If you're unfamiliar with the concept, a progressive dinner involves going from house to house, enjoying a different course at each location. With Progressive Eats, a theme is chosen each month, members share recipes suitable for a delicious meal or party, and you can hop from blog to blog to check them out.