With me back at a full-time, in-office job, our home life has basically been turned upside-down. When I worked at part-time at home, I was able to prep dinner during the day and pretty much have it ready to eat when Dave got home.
Now, I have an hour commute each way. I leave first and get home last, so Dave has been taking on not only more of the cooking, but even researching recipes as well.
We still struggle with getting Liam to eat what we are eating at dinner time. So Dave had the great idea to look at one of the baby food cookbooks I bought back when Liam first started eating solids. One of our favorites was Tyler Florence's Start Fresh. The book is full of healthy, flavorful recipes. The recipes are divided by stages: single-ingredient purees, flavor combos, foods with texture, and "everyone at the table" (for kids who are fully eating table food). The reason I love the book is that the later-stage recipes make enough to feed the whole family; other cookbooks offer dinner recipes, but only in single baby-size portions.
From the book, Dave chose One-Pot Lasagna. Our whole family loves lasagna, but not the effort that goes into making it, especially since I don't have the time at home to put it together.
The book says the recipe takes about 25 minutes to make, start to finish, which is perfect for a family with two working parents. There is very little prep work, like chopping vegetables. You could even make the sauce the night before, and refrigerate it until ready to use.
Our minor complaint was that our lasagna came out very watery, but that can easily be remedied by draining the can of tomatoes before adding them to the food processor, or reducing the amount of chicken stock.
Also, the recipe doesn't call for any salt, understandably, since these recipes are primarily geared toward young children. Yes, it's better to season as you go while cooking, but just be aware that you'll likely want to salt your portion at the table.
If you don't have an ovenproof skillet, you can combine the ground beef, tomato sauce, chicken stock, ricotta and spinach in a baking dish sprayed with nonstick spray, then continue with the recipe as written. It just won't be a one-pan dish.
Otherwise, this was a delicious take on lasagna, with fewer dishes to wash, and ready in less time!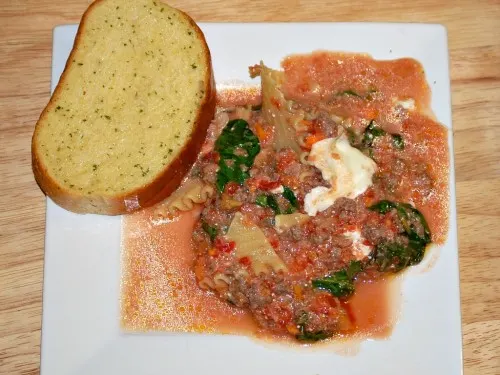 One-Pan Lasagna
Recipe from Tyler Florence's Start Fresh
Ingredients
1 (28-ounce) can whole peeled tomatoes, drained
4 baby carrots
1 small yellow onion, cut into 4 wedges
1 garlic clove, thinly sliced
2 tablespoon extra--virgin olive oil
1 lb lean ground beef
1 cup chicken stock
½ cup part-skim ricotta cheese
3 ounces fresh spinach leaves, stems removed, coarsely chopped
4 dry lasagna noodles, broken into 1 ½-inch pieces
4 ounces fresh mozzarella, cubes
Directions
In a food processor, combine the tomatoes, baby carrots, onion and garlic. Puree until chunky. If making ahead, scrape the mixture into a storage container and cover, and refrigerate until ready to use.
Preheat oven to 400 degrees.
In a large ovenproof skillet, heat the olive oil over medium heat. Add the ground beef and cook until fully browned, breaking up the meat with a wooden spoon or spatula while cooking.
Once browned, drain off any excess fat. Add the tomato sauce, chicken stock, ricotta and spinach. Combine with a wooden spoon or spatula.
Using tongs, work the pieces of lasagna noodle into the sauce, fully immersing them in the mixture.
Sprinkle the mozzarella evenly over the lasagna, and place the entire skillet in the oven. Bake until the cheese is melted and bubbly, 15 to 20 minutes.
Carefully remove the skillet from the oven, and let stand for 10 minutes so the sauce can thicken. Divide among plates and serve.
Number of servings (yield): 6