Apple empanadas are a delicious Latin American treat. These little hand pies are filled with chopped spiced apples, then air fried to cut down on the calories. Serve with caramel sauce for dipping!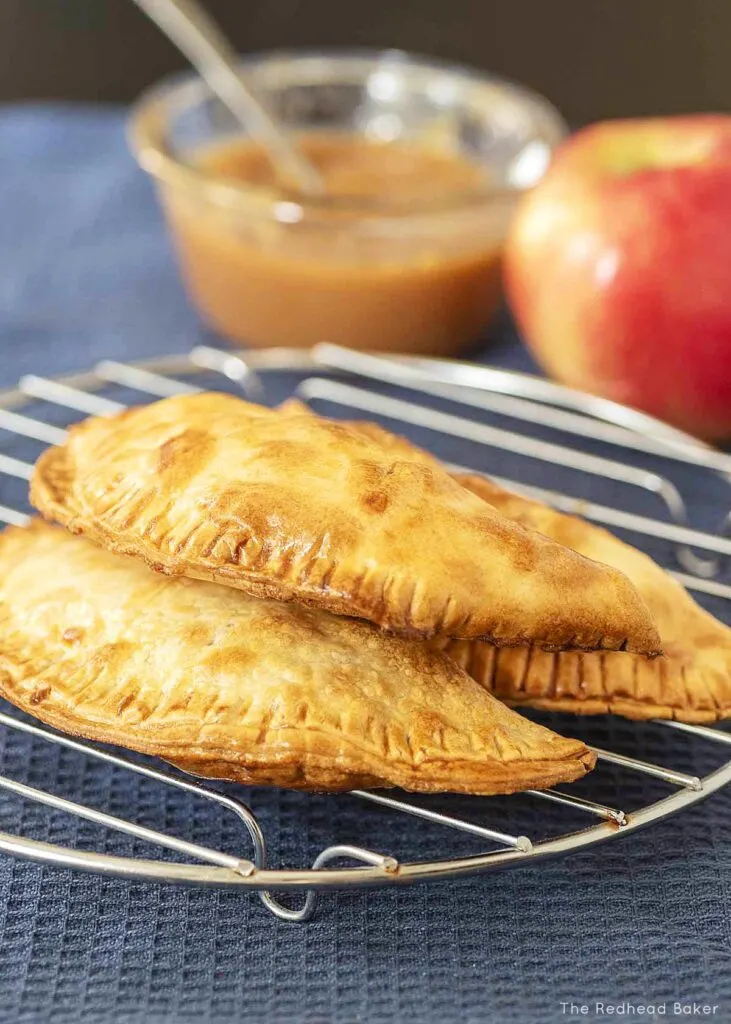 It's our monthly Progressive Eats party, and today we're having Tapas! Spain's tourism agency declared the third Thursday in June as World Tapas Day to celebrate Spain's tradition of miniature plates.
I love dining tapas-style because I get to try several different dishes. Empanadas are a Latin American dish, often seen in Mexican, Cuban, and other Latin American cuisines. These hand pies can have sweet or savory filling. They are typically fried in oil, but air frying them cuts down on the fat and calories.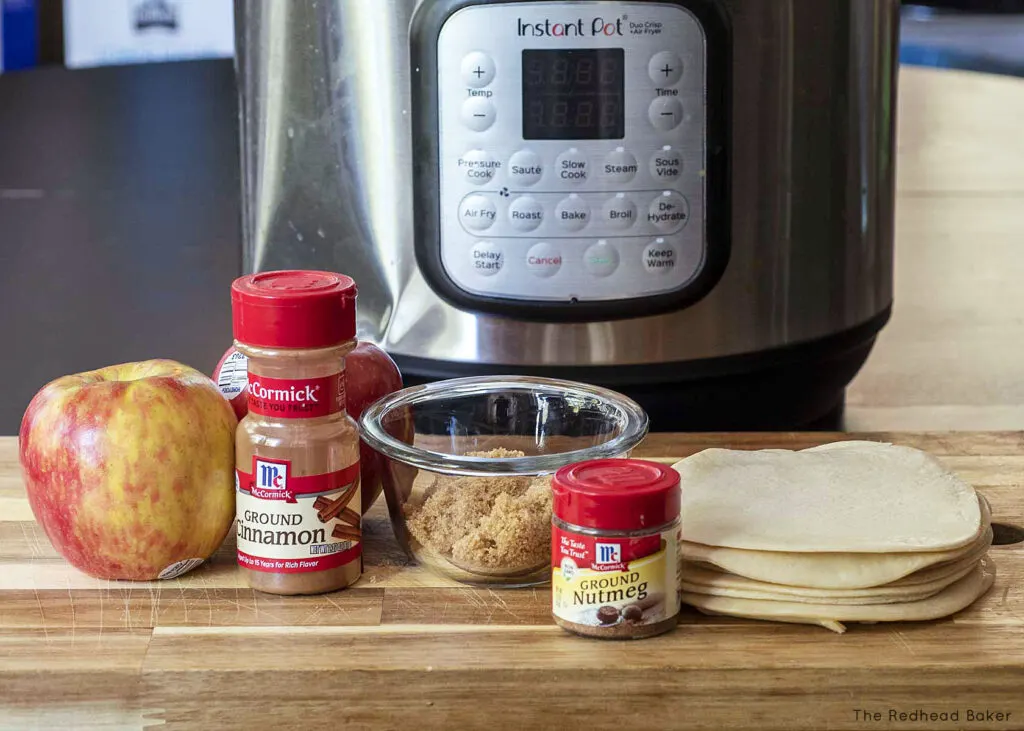 Ingredients to Make Empanadas
These empanadas can be made with store-bought or homemade empanada dough. Not all stores sell the pre-made discs, however, but several bloggers have shared their recipes for the dough.
However, empanada dough is very similar to traditional pie dough. Pie dough is a little flakier, and a little more absorbent of liquid from the filling (leading to sogginess), but it will work perfectly well in this recipe.
For the filling, you'll need apples: a good, firm baking apple. I used Honeycrisps, but Granny Smith, Braeburn or Pink Lady apples (or even a mix of these!) would also work well.
Spice up the filling with some ground cinnamon and nutmeg, and sweeten it with light brown sugar. The apples are sauteed in a little unsalted butter to tenderize them before going into the air fryer.
How to Assemble Empanadas
Assembling empanadas is very similar to making other hand pies, or even homemade ravioli. Roll out the dough and spoon on some filling. For a disc rolled out to about 4.5 to 5 inches in diameter, about two tablespoonfuls of filling is sufficient.
Fold one half of the dough over the filling and seal the ends together by pressing them together with the tines of a fork. Brush with egg wash for a nice, shiny finish, and cut slits for steam to escape during the frying.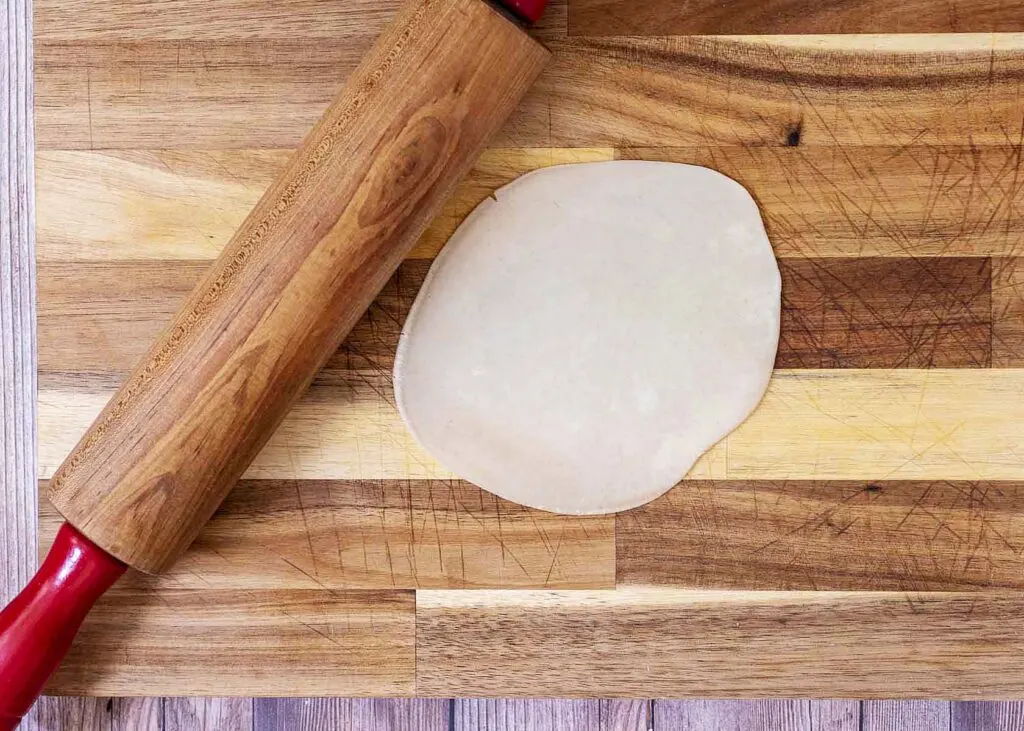 FAQs
Q: Can I make the filling ahead of time?
A: Absolutely. Allow the filling to cool to room temperature, then place in an airtight container and refrigerate until needed. It can be made a day ahead of time.
Q: Can I make these if I don't have an air fryer?
A: Yes, you can bake these in the oven at 375 degrees F for about 15 to 20 minutes.
Q: How do I store leftovers?
A: Place the cooled empanadas in an airtight container or zip-top plastic bag and refrigerate them. Reheat in the air fryer at 325 degrees for 5 minutes.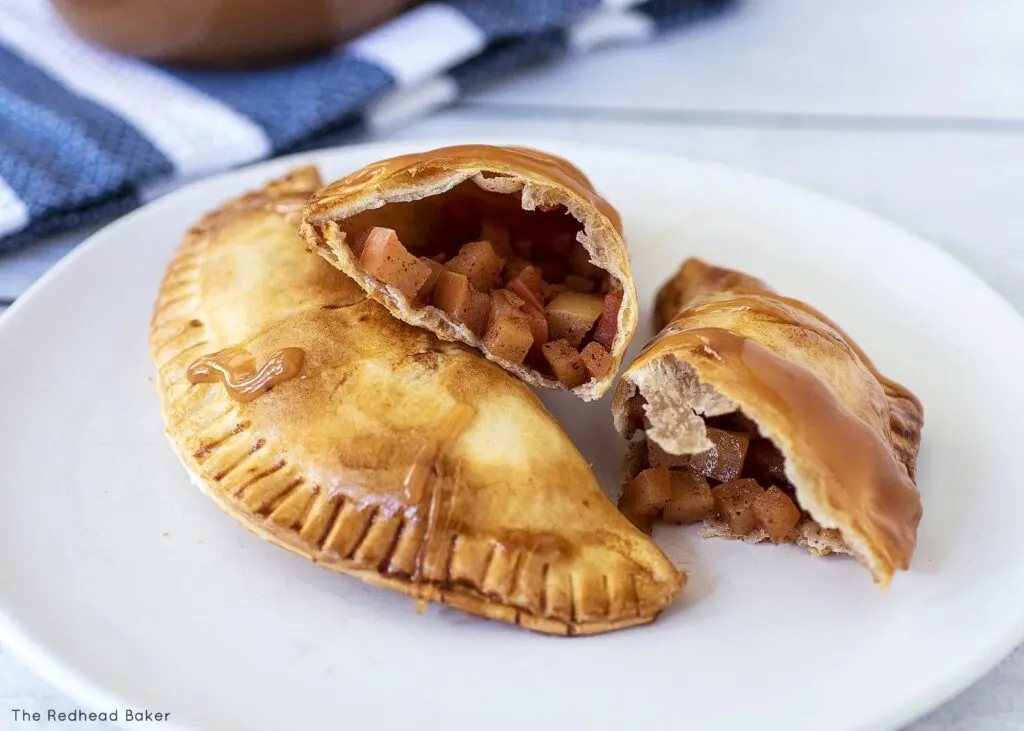 Depending on the size of your air fryer, you will likely need to cook these in batches. If you stack them and try to cook them all at once, they will stick together and won't cook through.
These are delicious served warm or at room temperature with caramel sauce for dipping.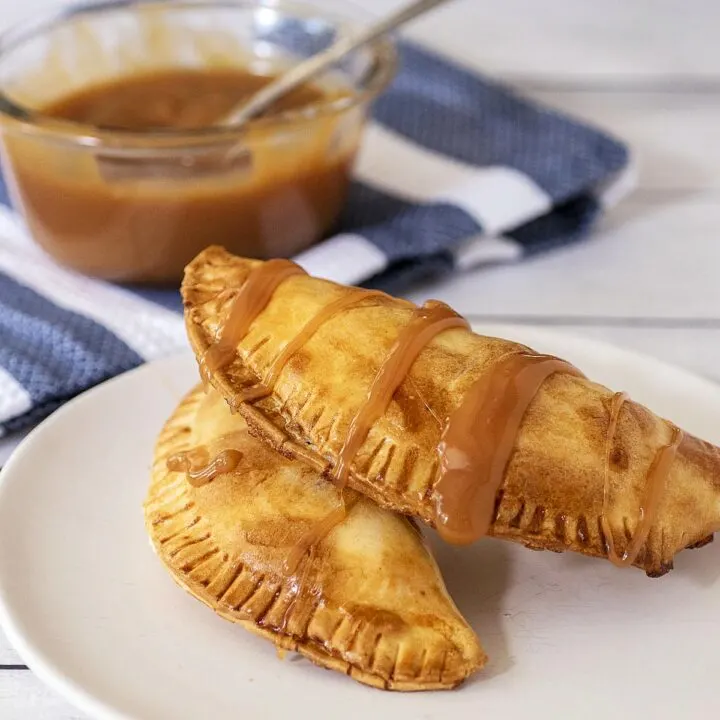 Air Fried Apple Empanadas
Total Time:
1 hour
15 minutes
Apple empanadas are a delicious Latin American treat. These little hand pies are filled with chopped spiced apples, then air fried to cut down on the calories. Serve with caramel sauce for dipping.
Ingredients
2 apples (a firm baking variety, such as Honeycrisp or Granny Smith), diced
¼ cup brown sugar
1 teaspoon cinnamon
¼ teaspoon nutmeg
2 tablespoon unsalted butter
Pinch of kosher salt
12 empanada dough discs, about 4 inches in diameter (see Notes)
1 egg
1 tablespoon water
Nonstick cooking spray
Instructions
Place the chopped apples, brown sugar, cinnamon, nutmeg, butter and salt in a saucepan. Cook to a simmer over medium heat, then cook at a simmer for 2 minutes.
Working with two discs at a time, and keep the others covered with a damp paper towel, roll the discs out to just slightly larger. Place about two tablespoons of the apple filling in the center of each disc.
Fold each disc in half, and use the tines of a fork to pinch the ends closed.
Whisk together the egg and the water. Use a pastry brush to brush a very light coating of the egg mixture onto each empanada. Use a paring knife to cut a few slits in each empanada for steam to escape.
Mist the air fryer basket with nonstick cooking spray, then place the empanadas in a single layer in the basket.
Air fry at 400 degrees for 8 to 10 minutes. Use a spatula to transfer the fried empanadas to a wire rack to cool. Repeat with remaining discs and filling.
Serve warm with caramel sauce for dipping.
Notes
Some stores sell frozen pre-made discs of empanada dough. You can also make it at home. If you can't find it in stores and you don't want to make it at home, you can substitute store-bought or homemade pie dough or puff pastry.
Recommended Products
As an Amazon Associate and member of other affiliate programs, I earn a small percentage from qualifying purchases.
Nutrition Information:
Yield:

12
Serving Size:

1 empanada
Amount Per Serving:
Calories:

185
Total Fat:

10g
Saturated Fat:

4g
Trans Fat:

0g
Unsaturated Fat:

5g
Cholesterol:

21mg
Sodium:

134mg
Carbohydrates:

23g
Fiber:

2g
Sugar:

8g
Protein:

2g
I am not a certified nutritionist. This nutrition information is automatically calculated by third party software and is meant as a guideline only.
Welcome to Progressive Eats, our virtual version of a Progressive Dinner Party. This month's theme is Tapas Party! Our host is Coleen who blogs at
The Redhead Baker
. If you're unfamiliar with the concept, a progressive dinner involves going from house to house, enjoying a different course at each location. With Progressive Eats it's a virtual party. A theme is chosen each month, members share recipes suitable for a delicious meal or party, and you can hop from blog to blog to check them out. Come along and see all of the delicious Spanish Tapas inspired dishes!
Tapas Party
Cocktail
Appetizer
Main Courses
Side Dish
Dessert
Air Fried Apple Pie Empanadas — The Redhead Baker (recipe above)