Peach cobbler is a classic, easy-to-make American dessert. Serve it with a scoop of decadent vanilla ice cream.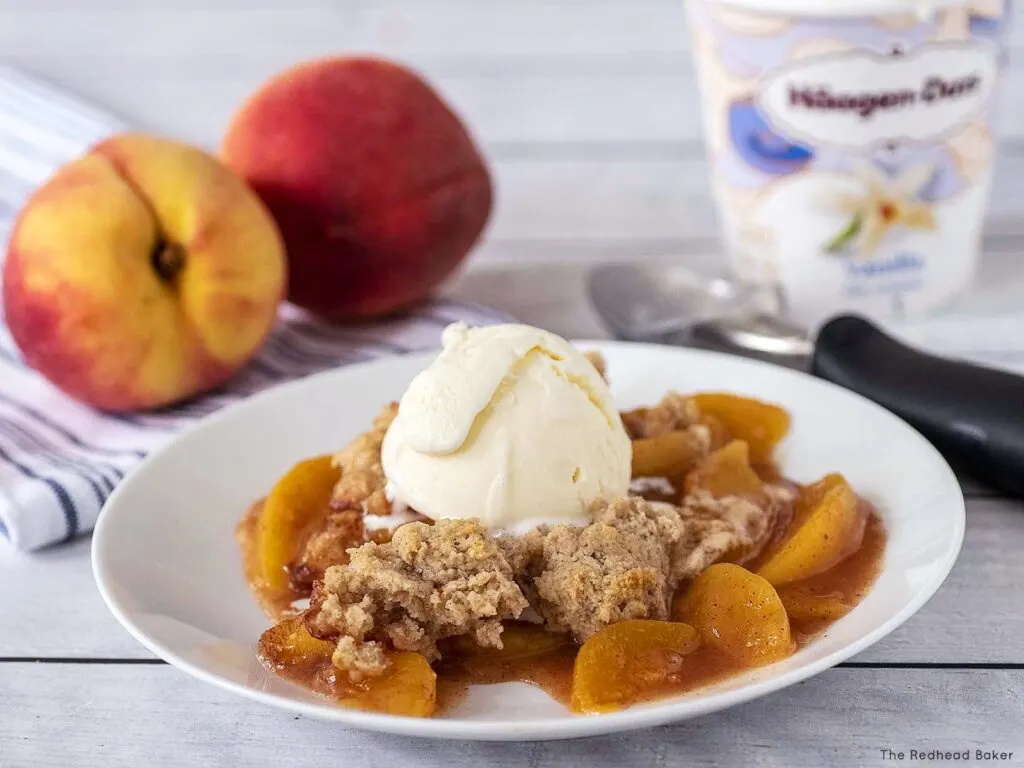 It's almost time for the start of the Summer Games! I love watching and rooting for the U.S.A. My favorites to watch are gymnastics, diving, and equestrian.
In honor of the start of the Games, a group of bloggers are getting together to share recipes inspired by the countries that participate in the Games, such as my recipe for today: All-American Peach Cobbler.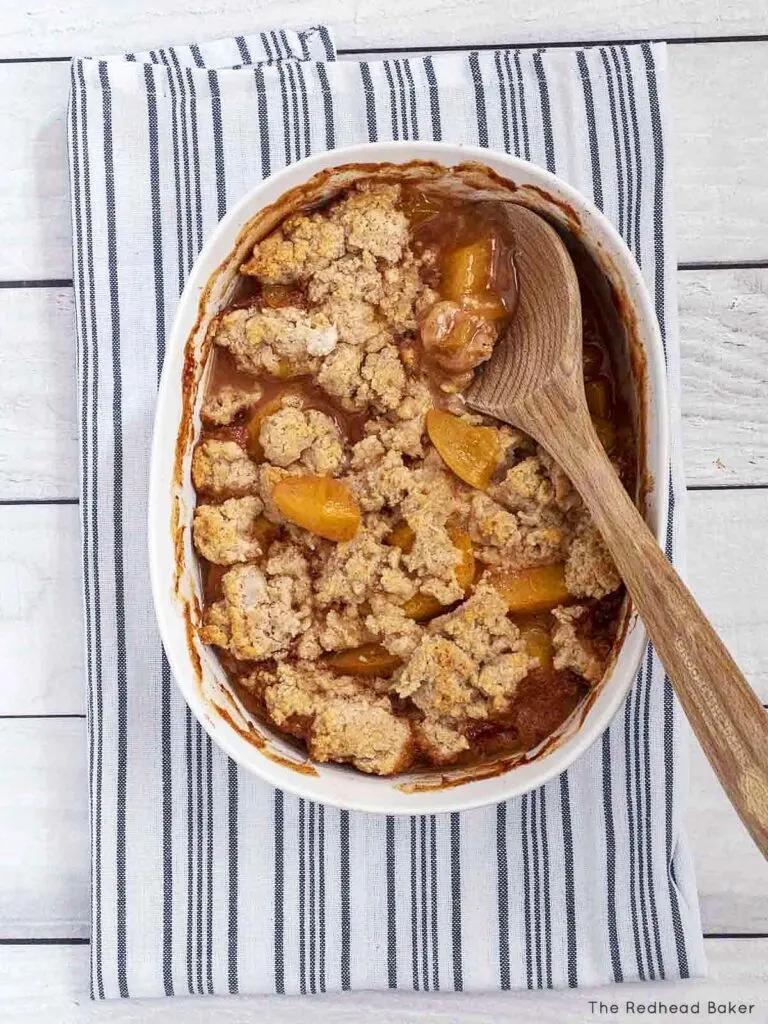 What is Cobbler?
Cobbler is a fruit-based dessert topped with biscuit-like pastry. It may or may not have originated in the United States, but it sure is the country people picture when thinking about it.
It probably got its name from the biscuit topping's resemblence to cobblestone streets, or it may have been related to an archaic term, cobeler, meaning "wooden bowl."
Cobblers are related to, yet different from, crisps, buckles, and betties. Crisps usually contain oats in the topping. Buckles are more cake-like, with the pastry and the fruit mixed together. Betties are very similar to cobblers, but the topping is layered with the fruit, rather than just on top.
You can use almost any fruit in a cobbler, or even mix and match. If you wanted to add more to this one, blueberries would go great with the peaches and cinnamon.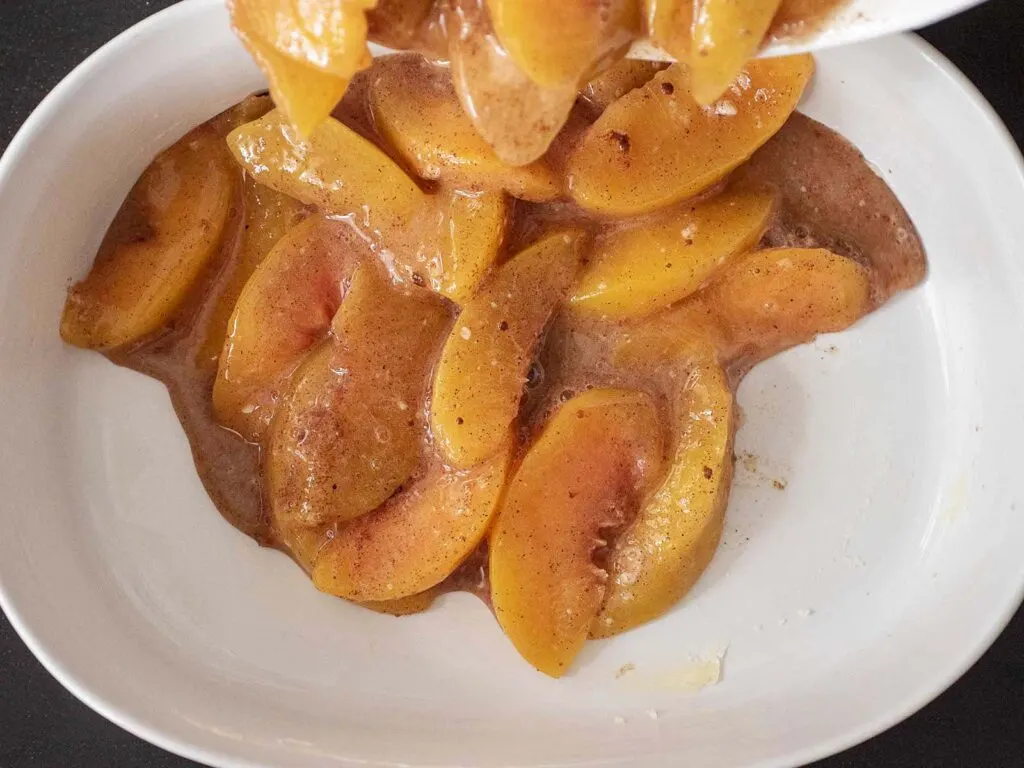 FAQs or Tips
Q: Do I need to peel my peaches?
A: No, you don't. You can if you want to, but the cobbler will be delicious even if you don't.
Q: Peaches aren't in season and I have a real craving. Can I use frozen?
A: Absolutely! Use two pounds of peach slices (NOT frozen in syrup), and thaw them prior to starting the recipe.
Q: How do I store the leftovers?
A: You can cover the baking dish with plastic wrap or tinfoil, and store in the refrigerator for up to 4 days. You can also wrap the entire dish in plastic, plus a layer of tinfoil, and freeze for up to 3 months. Reheat by unwrapping the dish and warming it in a 350-degree oven, though be aware the crust can become soggy.
Q: I don't have a food processor. Can I still make this recipe?
A: Absolutely! You can use whatever method you'd normally use to "cut" the butter into the flour mixture, whether that's using a pastry blender, two forks, or your fingers.
Q: I don't have a 1.5-quart baking dish. Can I use something else?
A: Yes, if you have a 2-quart baking dish, you can use that. Or, you can use a 9-inch square cake pan.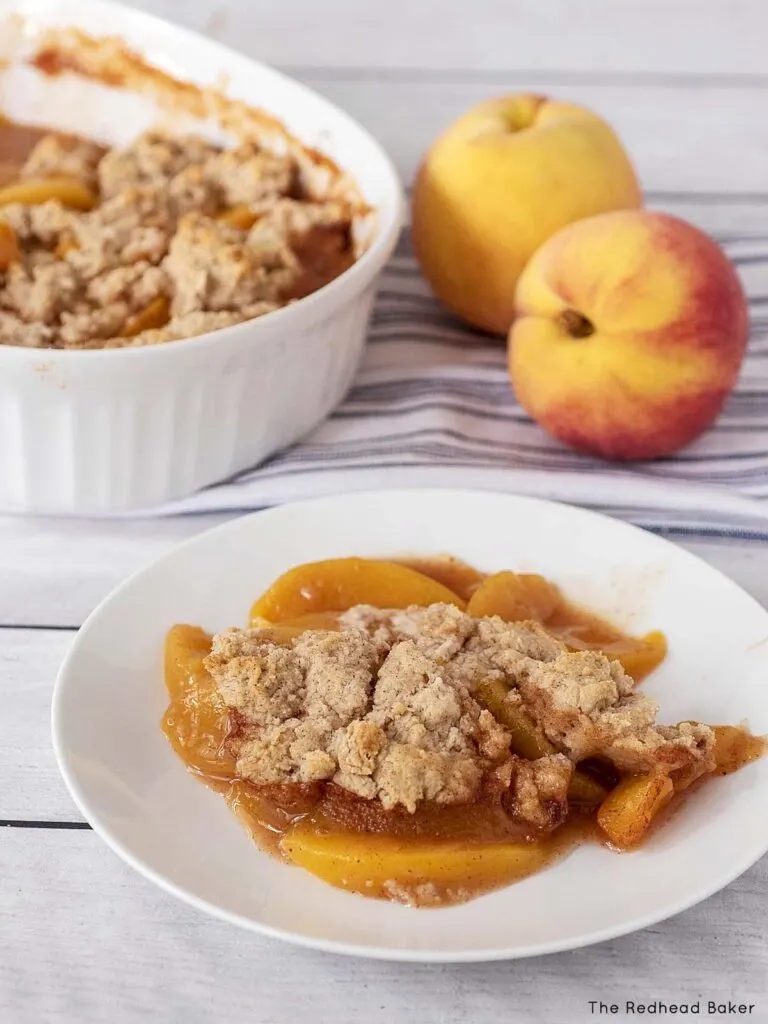 If you're trying to watch your weight, cobblers are a great choice for satisfying that sweet tooth, with less than 150 calories and only 5 grams of fat per serving (before adding a scoop of ice cream).
So, bake up a dish of this cobbler, put on a Team USA t-shirt, and cheer on our Olympians!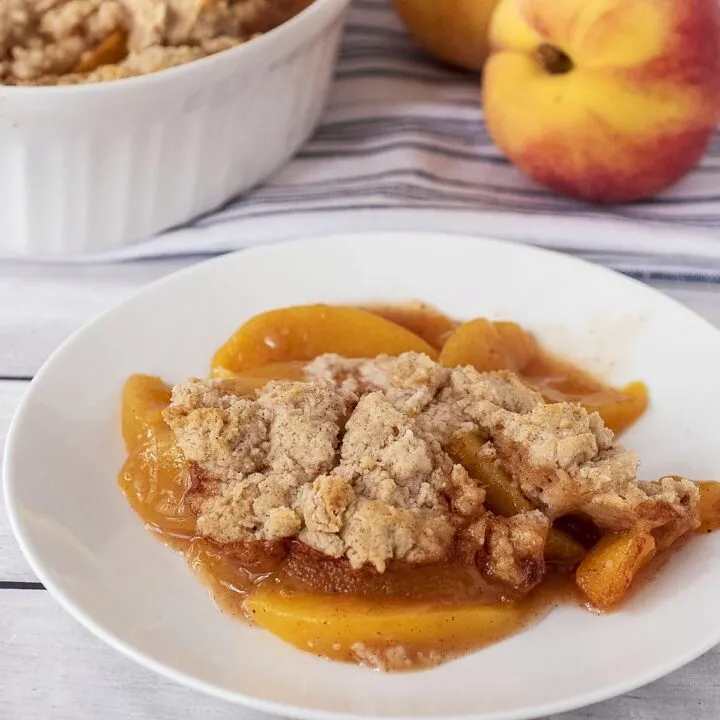 Peach Cobbler
Peach cobbler is a classic, easy-to-make American dessert. Serve it with a scoop of decadent vanilla ice cream.
Ingredients
For the filling
2 lbs (900 g) peach slices, fresh or frozen and thawed
¼ cup (50 g) sugar
2 tablespoon all-purpose flour
2 tablespoon freshly-squeezed lemon juice
1 teaspoon cinnamon
¼ teaspoon nutmeg
¼ teaspoon salt
For the topping
¾ cup (100 g) all-purpose flour
2 tablespoon sugar
1 teaspoon baking powder
¼ teaspoon cinnamon
¼ teaspoon sea salt
2 tablespoon (30 g) unsalted butter, cold, cut into cubes
⅓ cup (80 ml) half-and-half or whole milk
Instructions
Preheat your oven to 350 degrees F (177 degrees C). Grease a 1.5-quart baking dish with butter or non-stick cooking spray.
Place peach slices in a large mixing bowl. Add the lemon juice and gently mix.
In a small bowl, stir together the flour, sugar, cinnamon, nutmeg and salt. Sprinkle over the peach slices and gently stir to coat.
In a food processor, combine the flour, sugar, baking powder, cinnamon and salt. Pulse a few times to combine.
Add the cubed butter, pulse a few times, until the mixture resembles coarse crumbs.
Add the half-and-half or milk, and pulse until the mixture forms large clumps.
Pour the peach slices into the prepared baking dish. Using your fingers, pinch off bits of the dough and drop it over the peaches.
Bake for 40 minutes.
Serve the cobbler warm or room temperature. Top with vanilla or cinnamon ice cream, if desired.
Recommended Products
As an Amazon Associate and member of other affiliate programs, I earn a small percentage from qualifying purchases.
Nutrition Information:
Yield:

6
Serving Size:

1
Amount Per Serving:
Calories:

142
Total Fat:

5g
Saturated Fat:

3g
Trans Fat:

0g
Unsaturated Fat:

2g
Cholesterol:

15mg
Sodium:

376mg
Carbohydrates:

20g
Fiber:

1g
Sugar:

5g
Protein:

3g
I am not a certified nutritionist. This nutrition information is automatically calculated by third party software and is meant as a guideline only.
Monday #SummerGamesWeek Recipes