Mixed berry cobbler is a fruit dessert similar to pie but with much less work! Serve with whipped cream or a scoop of ice cream.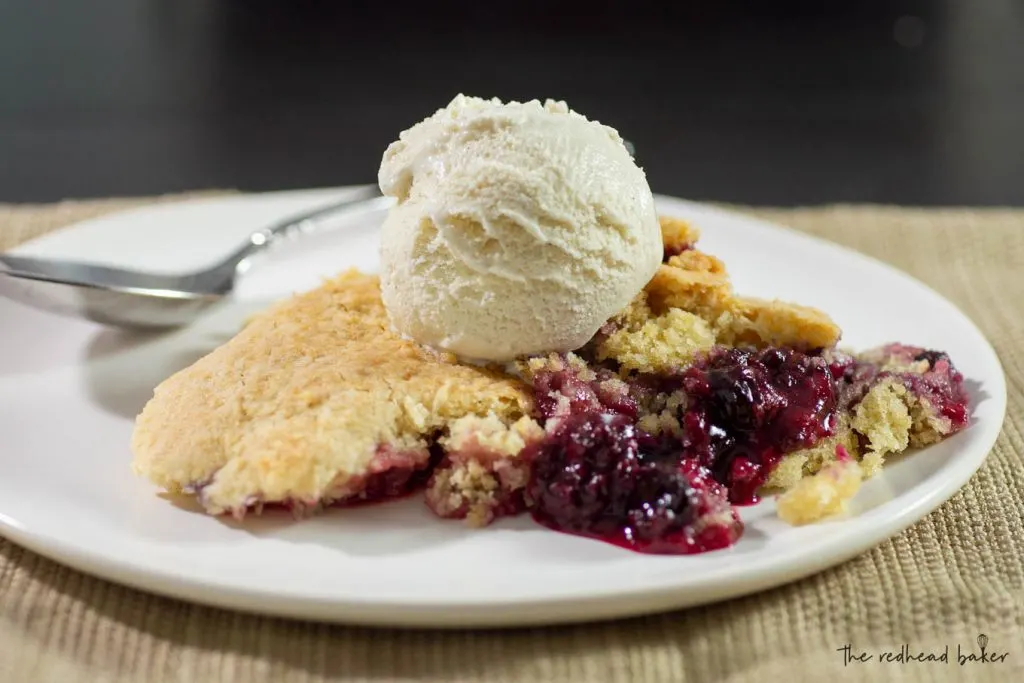 I knew I wanted to make something with berries for Farmers Market Week. The local markets always have a big, beautiful selection of berries because of our proximity to New Jersey, one of the leading growers of berries in the United States.
I didn't want to make another pie recipe. But I wanted to make a recipe where berries were the star, not just a mix-in.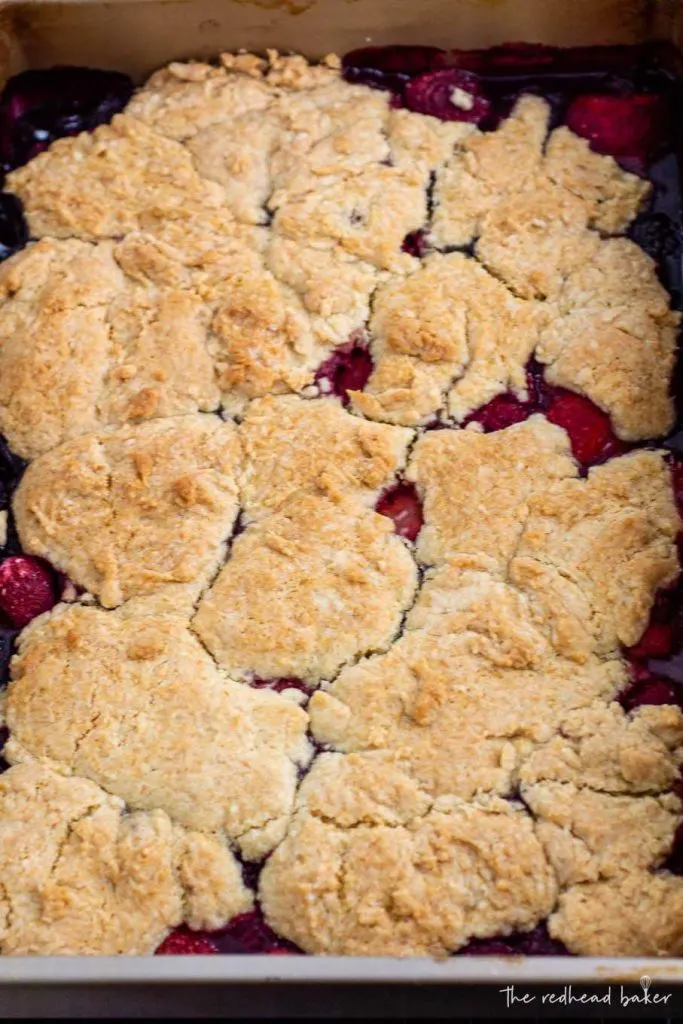 It was then that I realized that I've never actually made a cobbler. I've always thought they looked delicious. I'm a sucker for fruit covered in buttery crumble topping. And they seemed pretty easy!
I'm pretty sure I will turn to cobbler 9 times out of 10 from now on! While a nice flaky pie crust is good, this biscuit topping is even better! And yes, it IS easier! Honestly, you could probably just put a plate of the biscuit topping on front of me and I would eat it. You could slather it on an old shoe, and I'd probably eat it! LOL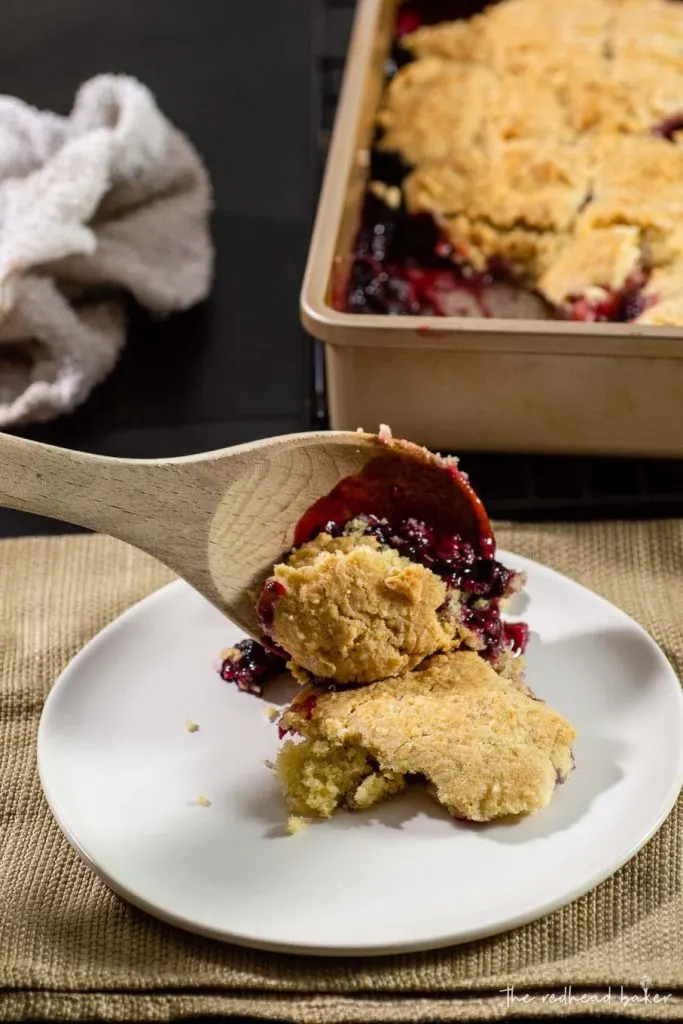 The berry filling is simple. Combine berries. Toss with sugar, lemon juice and vanilla. Pour in pan. It took longer to quarter the strawberries than anything else. Probably because my son was "helping" by eating some of the strawberries, and I had to run out and buy more.
I used two cups of each kind of berry, but you can use any configuration you like. Omit the blueberries, use more blackberries, whatever. You could probably even increase the filling to 10 cups of berries. Using 8 cups only barely covered the bottom of the baking pan.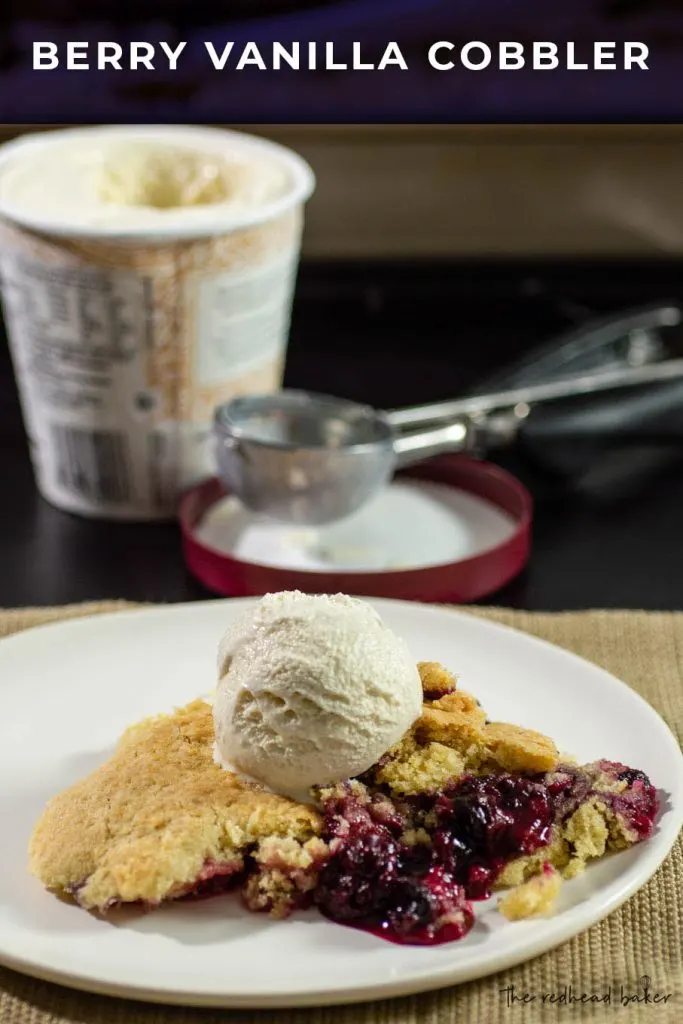 I use the same method for the biscuits that I use for my pie dough: a food processor. Pulse to combine the dry, then pulse to cut in the butter. Add in the buttermilk and pulse until large clumps form.
Then the messy fun begins! Just grab golf-ball sized clumps of dough, flatten them out, and lay them across the filling. Don't try to make them perfectly round, or fit them together perfectly. Cobbler is a rustic dessert, after all!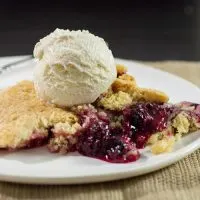 Mixed Berry Vanilla Cobbler
Ingredients
For the cobbler
2 cups fresh strawberries, hulled and quartered
2 cups fresh raspberries
2 cups fresh blackberries, halved
2 cups fresh blueberries
¼ cup sugar
2 tablespoon cornstarch
1 teaspoon lemon juice (freshly squeezed)
Seeds from one vanilla bean (or 1 teaspoon vanilla extract)
For the topping
2 cups all-purpose flour
½ cup granulated sugar
1 ½ teaspoon baking powder
¼ teaspoon baking soda
½ teaspoon salt
½ cup cold unsalted butter, cubed
½ cup cold buttermilk (plus more for brushing)
Instructions
Preheat oven to 350 degrees F and generously grease a 9x13 baking pan with butter.
In a large bowl, gently toss together the berries, sugar, cornstarch, lemon juice, and vanilla bean seeds (or extract) together until the berries are evenly dispersed and coated. Spread filling in an even layer in the prepared pan.
Place the flour, sugar, baking powder, baking soda and salt in the bowl of a food processor. Pulse a few times to combine.
Add the cold cubed butter and pulse a few more times until the mixture resembles coarse crumbs. Add the buttermilk and pulse until the mixture starts to form large clumps.
Remove the dough to a bowl. Take small handfuls and flatten them out between your palms, then lay them atop the berry filling. It won't cover the whole pan, which is fine. The more rustic-looking, the better.
Bake for 50 minutes, or until golden brown and biscuit topping is cooked through. Pierce one of the center biscuit pieces with a thin knife; if it comes out clean, the biscuit topping is cooked through and the cobbler can be removed from the oven.
Set the baking pan on a wire rack to cool for 5 minutes before serving.
Serve with vanilla ice cream, whipped cream and/or a sprig of mint.
Notes
Craving this cobbler out of season? Substitute 8 cups of frozen berries—no need to thaw!
Recommended Products
As an Amazon Associate and member of other affiliate programs, I earn a small percentage from qualifying purchases.
Nutrition Information:
Yield:

10 servings
Serving Size:

1
Amount Per Serving:
Calories:

295
Total Fat:

10g
Saturated Fat:

6g
Trans Fat:

0g
Unsaturated Fat:

3g
Cholesterol:

25mg
Sodium:

248mg
Carbohydrates:

49g
Fiber:

5g
Sugar:

23g
Protein:

4g
I am not a certified nutritionist. This nutrition information is automatically calculated by third party software and is meant as a guideline only.
Thanks Ellen from Family Around the Table and Christie from A Kitchen Hoor's Adventures for hosting our Farmer's Market Event!
Wednesday Farmer's Market Week Recipes