These blueberry scones are sweetened with lavender honey, whose floral sweetness is a delicious complement to the tangy berries.
Yesterday, I took my son to Johnson's Corner Farm in Medford, NJ, to pick peaches. We ended up picking 18 peaches, 3 lbs of blueberries, and 3 ears of sweet corn.
If you're in the South Jersey area, it's a fun place to go. You take a hayride out to the picking fields. They have different "pick your own" crops almost all year round. Strawberries and cherries in the spring; blueberries, peaches, and corn in the summer; apples and pumpkins in the fall. They have an on-site playground for the kids, an animal farm, and a bakery/farmers market.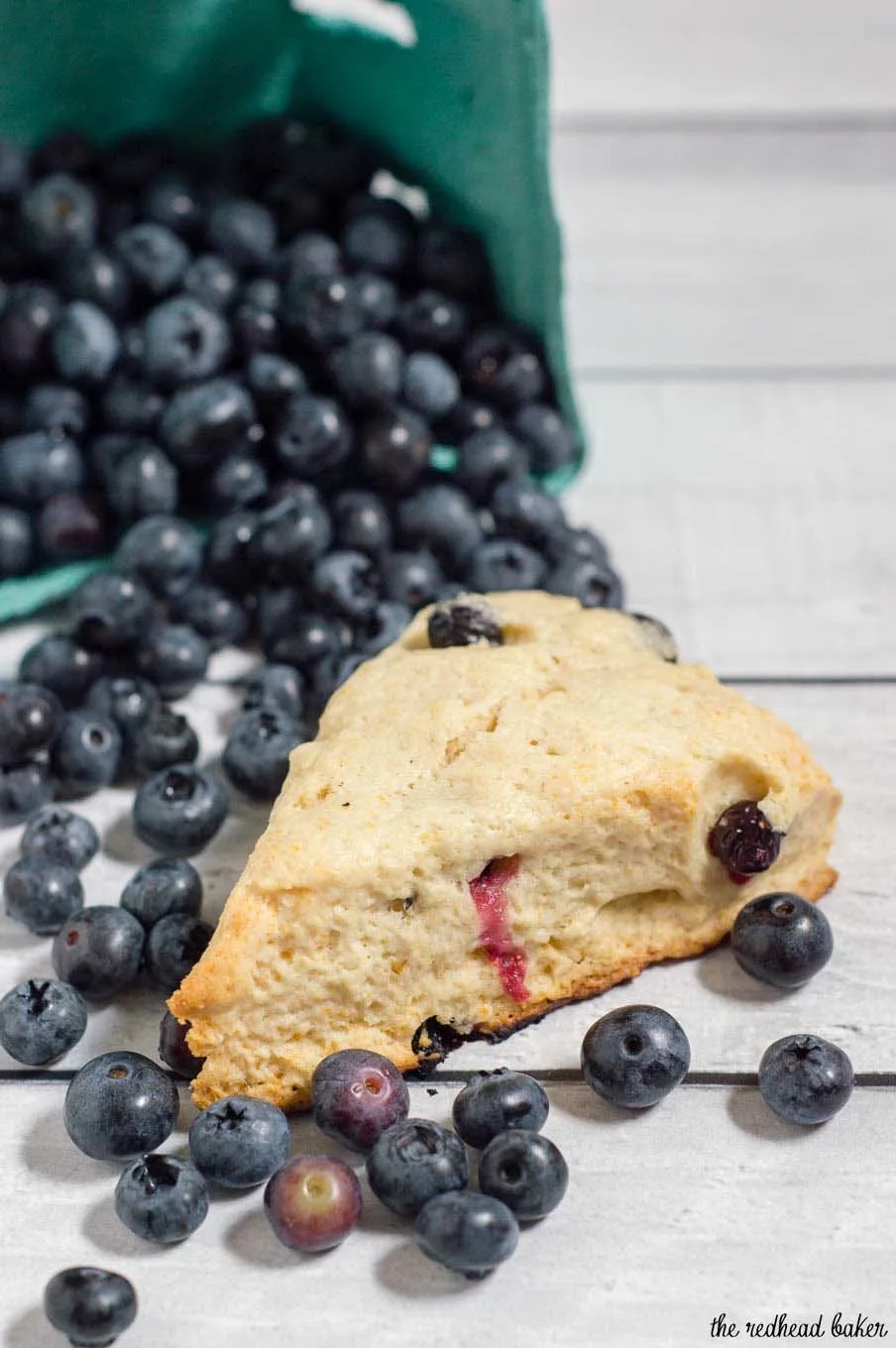 So, what to do with 3 pounds of peaches?? We set aside some to make blueberry jam. He wanted to set aside a pound for snacking. I used a cupful from the remaining pound to make these scones.
I based these on the cream scone recipe I got from a chef instructor from my culinary school. I also used the lavender honey I received during CookoutWeek to sweeten the scones. If you don't have lavender honey at home, you can get culinary-grade dried lavender buds and infuse it into your regular honey.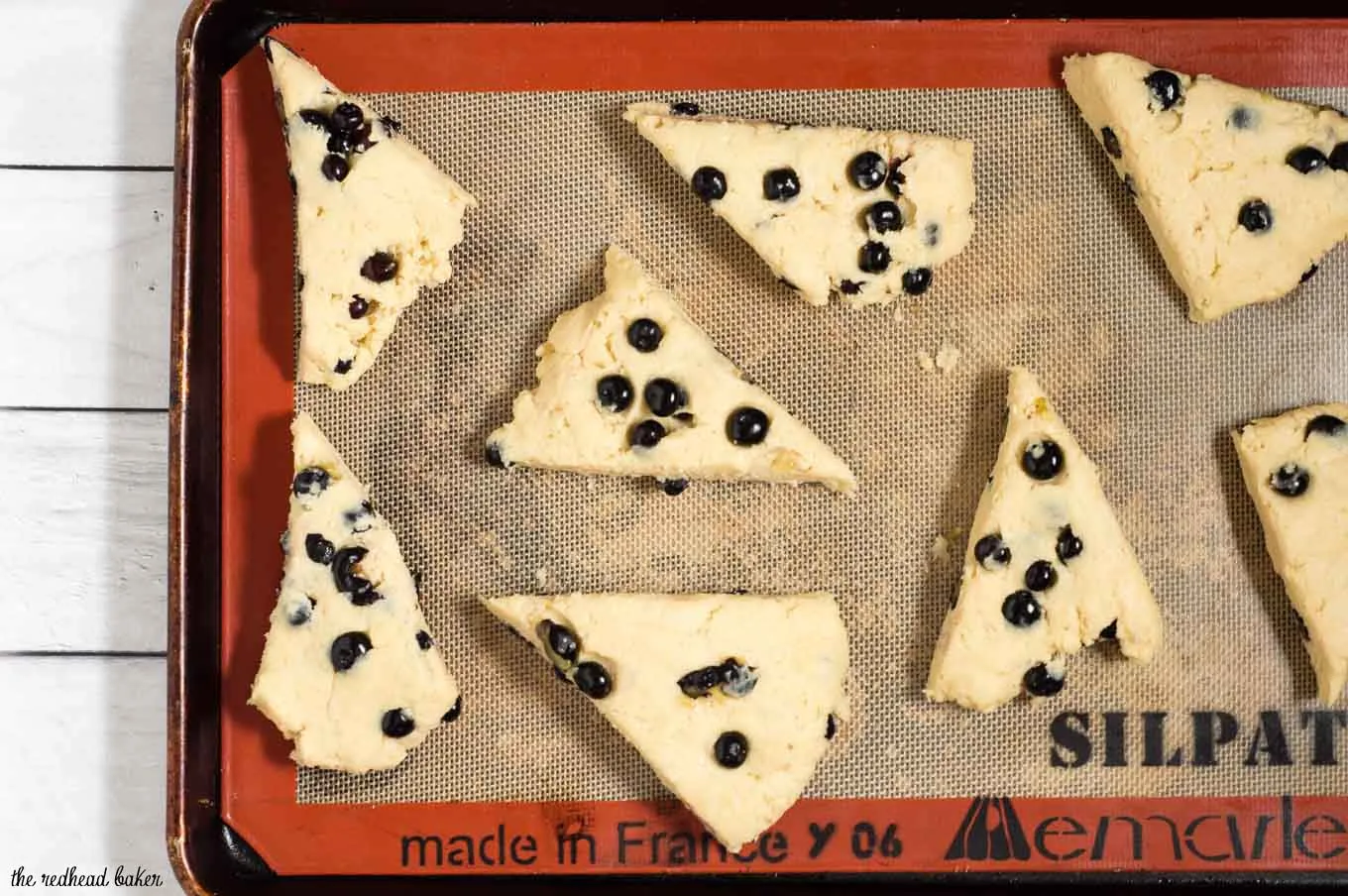 The result is a really tender, delicious scone with complex flavor: sweetness from the honey, floral notes from the lavender, and the tangy berries. Brushing the scones with cream is technically optional, but it has the same effect as brushing egg wash on pastry — it deepens the color of the final baked goods. Without it, the baked scones will come out pale.
If you're making these blueberry scones while the fruit is out of season, you can substitute an equal amount of frozen blueberries (not blueberries in syrup). You don't even need to thaw them before adding them to the scone dough. Just fold in, and bake as directed.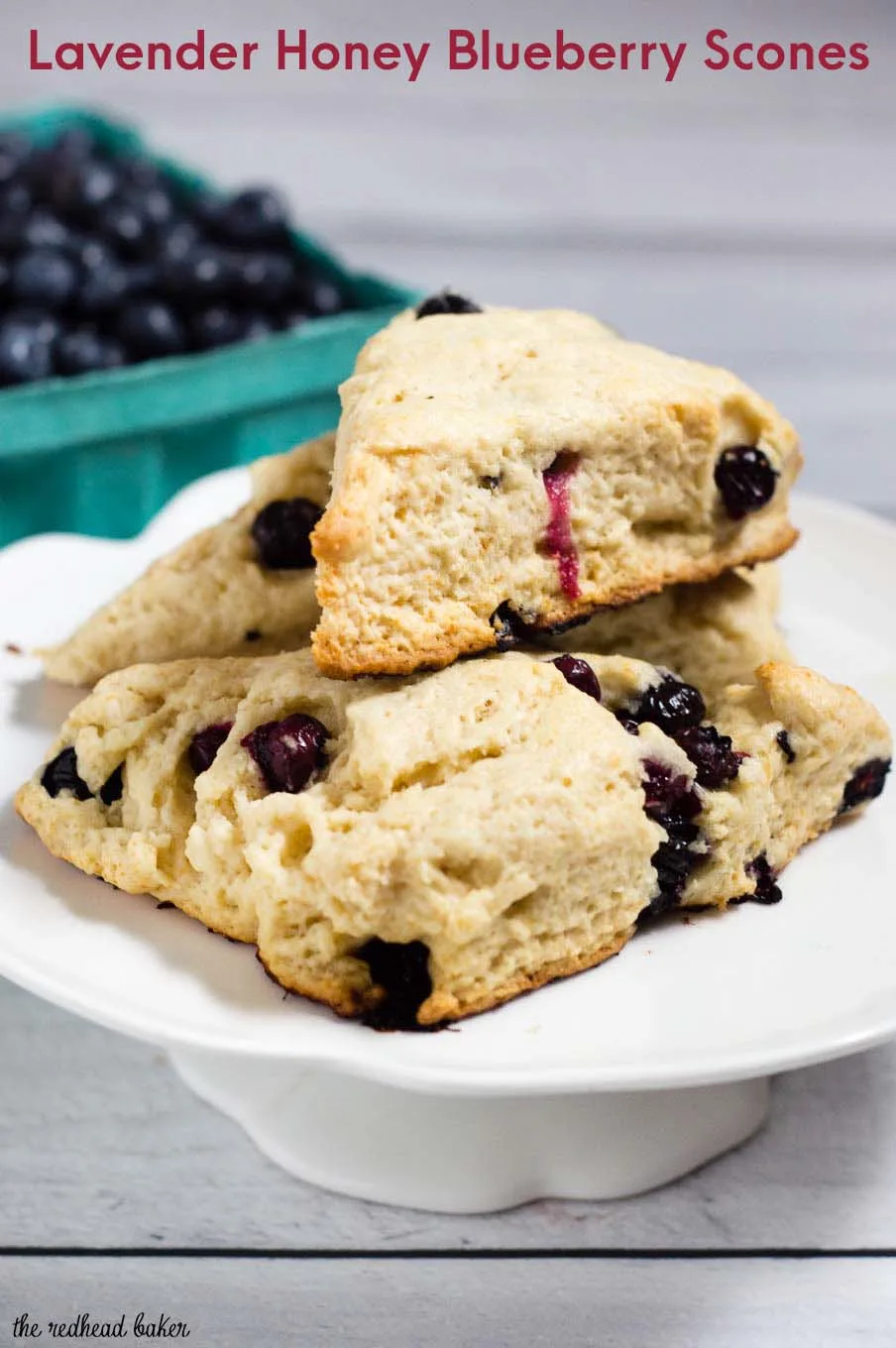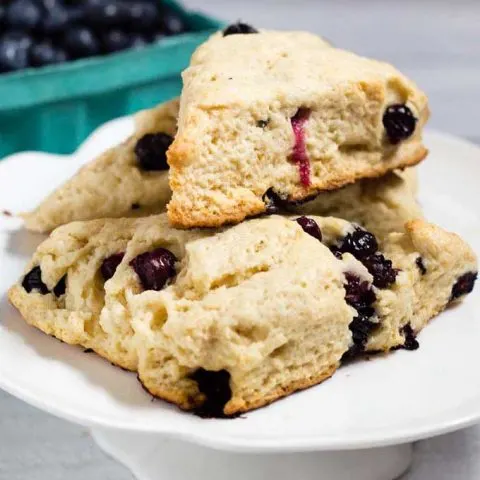 Lavender Honey Blueberry Scones
Ingredients
2 tablespoon lavender honey, see notes
¾ cup heavy cream
1 large egg
2 ½ cups all-purpose flour
1 tablespoon baking powder
¼ teaspoon salt
6 tablespoon cold unsalted butter, cut into small cubes
1 cup blueberries
Instructions
Preheat your oven to 400 degrees. Line a baking sheet with parchment paper or a silicone baking mat.
In a measuring cup, whisk together the cream, honey, and egg.
In the bowl of a food processor, pulse together the flour, baking powder and salt a few times to combine.
Add the cubed butter, and pulse several more times until the mixture resembles coarse crumbs.
Add the cream mixture to the food processor and pulse until the mixture starts to form large clumps.
Scrape the mixture into a mixing bowl, and carefully fold in the blueberries.
Scrape the mixture onto the prepared baking sheet and form in an 8-inch circle, approximately 1 inch high. Use a bench scraper (if using a silicone baking mat) or a knife (if using parchment) to cut the circle into 8 wedges. Carefully separate the wedges at least 1 inch apart.
Pour a little more cream into a bowl. Use a pastry brush to brush a thin layer of cream onto each scone.
Bake the scones for 13 to 15 minutes, just until they start to turn light golden brown at the pointed edge. Remove from the oven. Cool the scones on the pan for 5 minutes, then transfer to a wire cooling rack to cool until just warm to the touch. Serve with additional lavender honey, lemon curd, or clotted cream.
You might also like: