This post is a sponsored post on behalf of The French Farm who has kindly donated to the #CookoutWeek prize pack.
Like the classic strawberry version, peach shortcake combines a sweet biscuit with brandied brown-sugar peaches, and is topped off with a drizzle of salted caramel sauce.
Oh, salted caramel. I feel about you the same way Emeril feels about bacon fat: you could slather it on a car bumper, and it would taste delicious. But before you go pulling your bumper off of your car, try it on something like brownies first. They're even better than your bumper.
When The French Farm asked me what products of theirs I'd like to try, there was no way I could pass up the salted caramel sauce. It's smooth, the perfect balance of sweet and salty, and so very, very buttery. You could put it on ice cream, or fruit, or why waste the time, just eat it by the spoonful from the jar!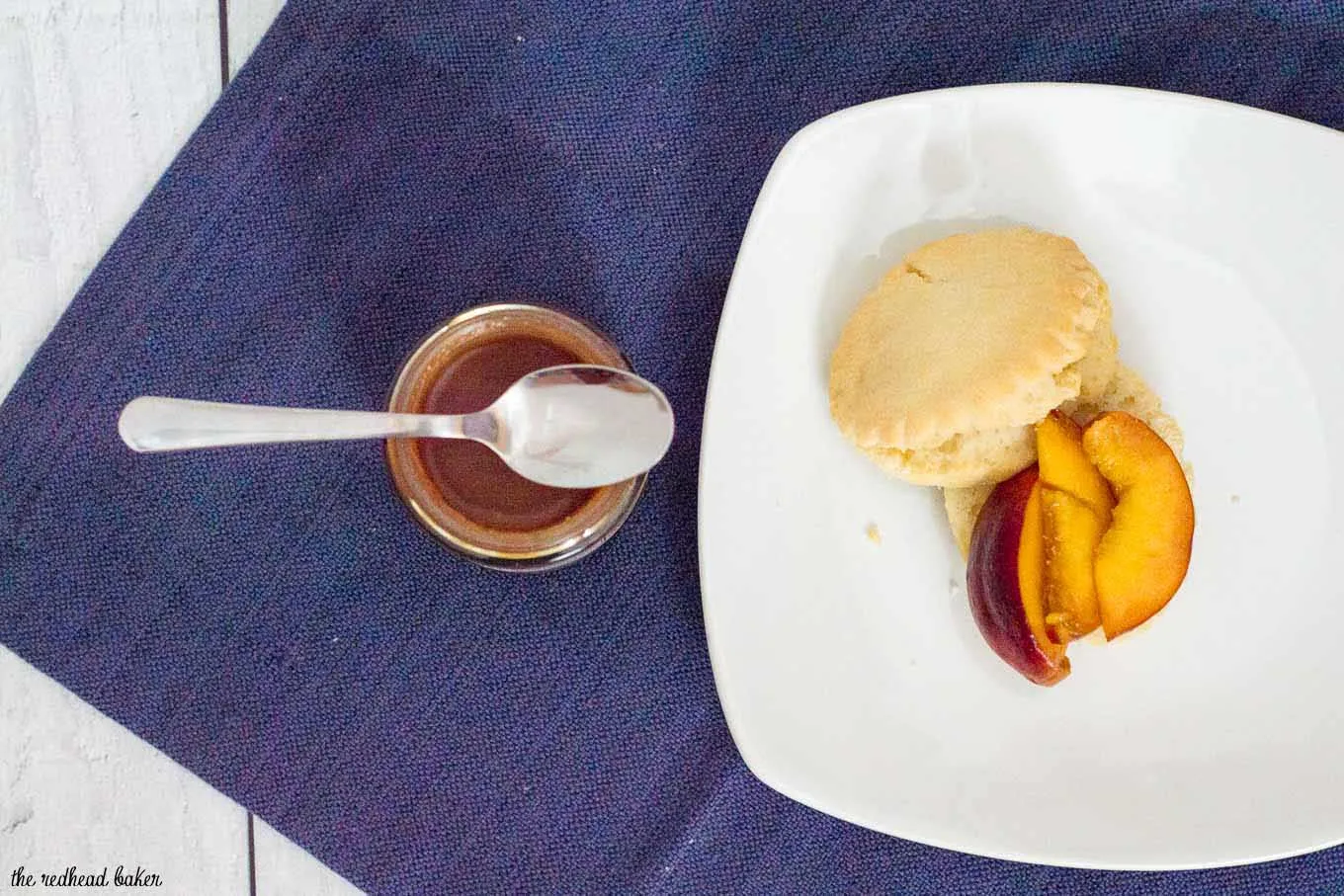 When I think back to summer cookouts at my grandmother's house, with enough food for twelve, even though there were eight of us eating, I always remember her favorite dessert: strawberry shortcake. As a child, I never opted for that one. As with the main food, there was always enough dessert for twelve, too. In addition to her favorite, there was always something chocolate as well.
This dessert is in memory of her, with a slight twist. I used peaches instead of strawberries, because while anything would taste good with salted caramel, I think peaches are the best fruit pairing. They are macerated in sugar and brandy to bring out the juices and create a syrup, though if you want to make this family-friendly, simply omit the liquor and macerate the peaches in sugar. It will produce the same effect.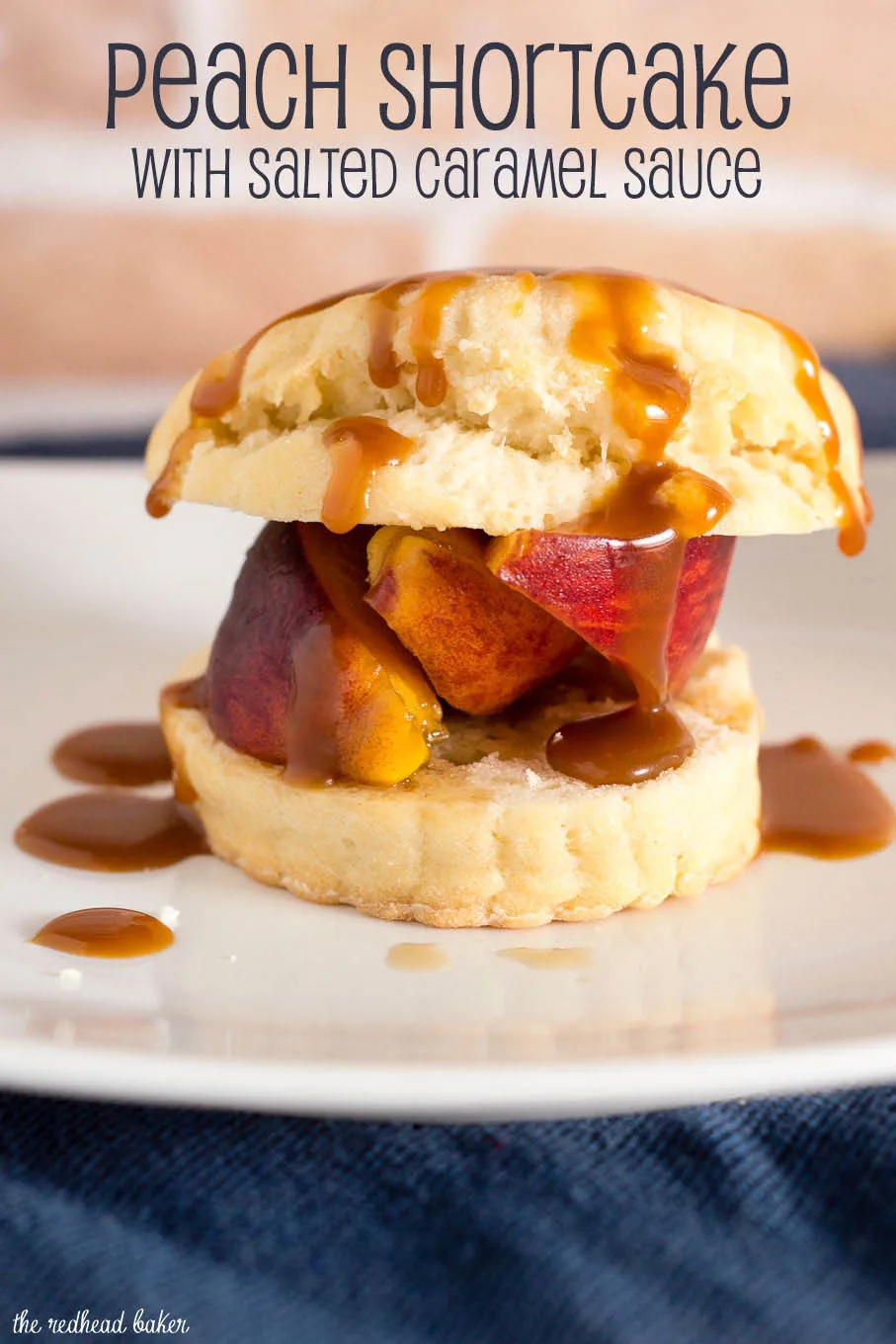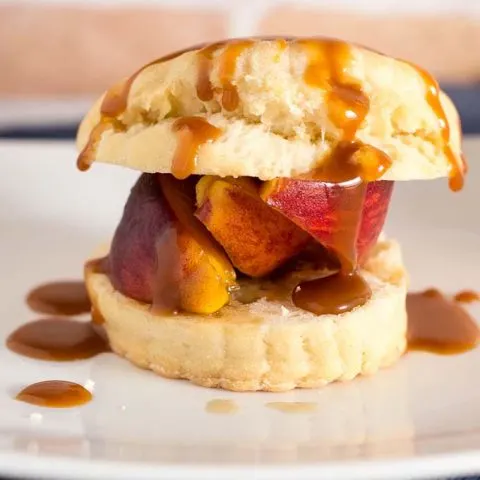 Peach Shortcake
Ingredients
For the peaches
6 ripe peaches, pitted and cut into 8 wedges
½ cup light brown sugar
½ cup brandy, bourbon or dark rum
For the shortcakes
2 cups all-purpose flour
2 teaspoon baking powder
¼ teaspoon baking soda
2 tablespoon sugar
¾ teaspoon salt
1 ½ cups heavy cream
For garnish
The French Farm salted caramel sauce
Instructions
For the peaches:
In a mixing bowl, combine the peaches, brown sugar and liquor. Toss to ensure that all peach slices are coated. Set aside for at least 30 minutes.
For the shortcakes:
Preheat the oven to 400 degrees.
Stir together the flour, baking powder, baking soda, sugar, and salt in a medium bowl. Add heavy cream and mix until just combined.
Divide the dough into six equal spoonfuls, and place them on an ungreased cookie sheet.
Bake 10 to 12 minutes or until golden brown, then remove to a wire rack to cool completely.
Split the shortcakes horizontally. Spoon some of the peach slices and their juices onto each bottom half, then sit the top shortcake half on the peaches. Drizzle with salted caramel sauce and serve.