Ina Garten's recipe for rich, fudgy brownies topped with salty caramel sauce will satisfy even the biggest chocolate craving.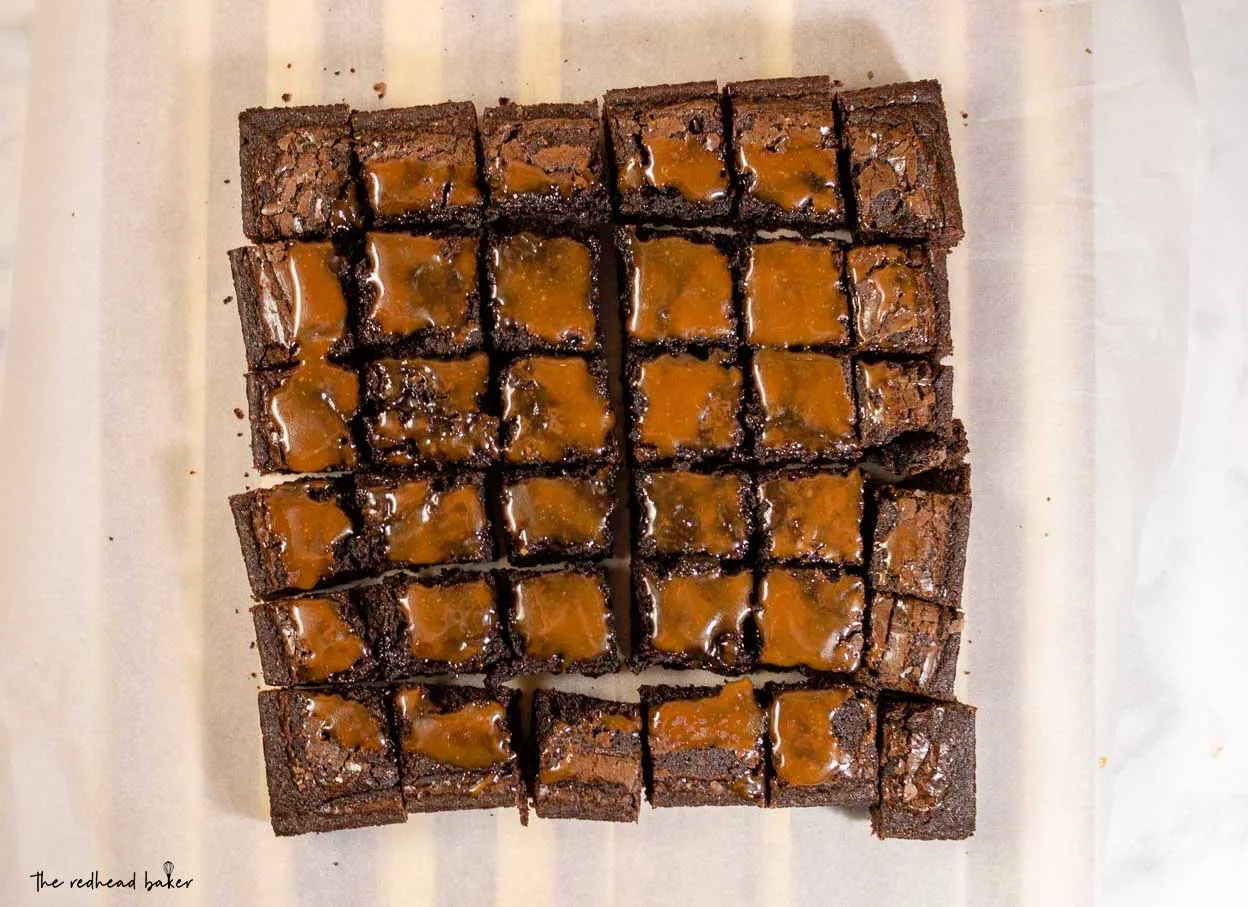 This post was updated on 6/28/2018.
Ina Garten, the Barefoot Contessa, released a cookbook some years ago called Foolproof, filled with recipes tested many times, with detailed instructions so that anyone, from novice baker to seasoned chef, can make the recipe successfully.
That is, as long as you actually read the ingredient list and ensure you have all of said ingredients on hand. Not like, um, well, someone. Someone whose name might be Coleen. (FYI: If you happen to realize that, no, you actually don't have 3 ounces of unsweetened chocolate in your baking cabinet, you can melt 3 tablespoons of unsalted butter and stir it into 9 tablespoons of unsweetened cocoa powder, then combine it with the melted butter and semisweet chocolate chips. You're welcome.)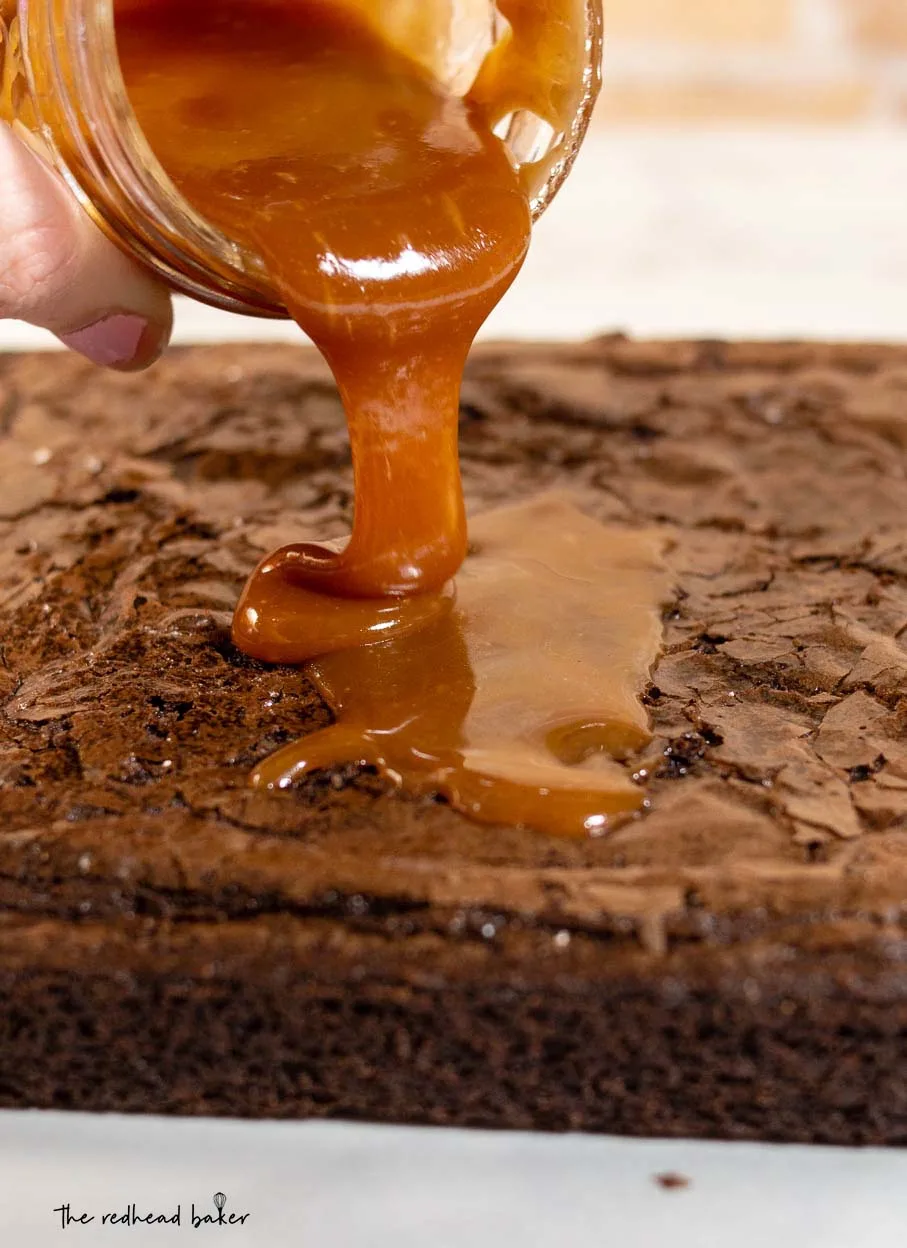 You don't even need fancy kitchen equipment for this recipe. A whisk, a few mixing bowls, a 9x9-inch baking pan, and an oven. If you don't have a 9x9-inch baking pan, you can use a 13x9 instead, or even get a disposable square pan from the grocery store.
If you don't keep instant coffee granules in the house (I can't stand instant coffee, so I get you), and don't want a big container of it going to waste, look in the international aisle for instant espresso granules. It's a much smaller jar, and bit more expensive for the amount you're getting, but you also get a richer chocolate flavor. You can, well, brew yourself some espresso, or add them to chocolate cookies, make homemade Irish cream liqueur, or tiramisu, for a start.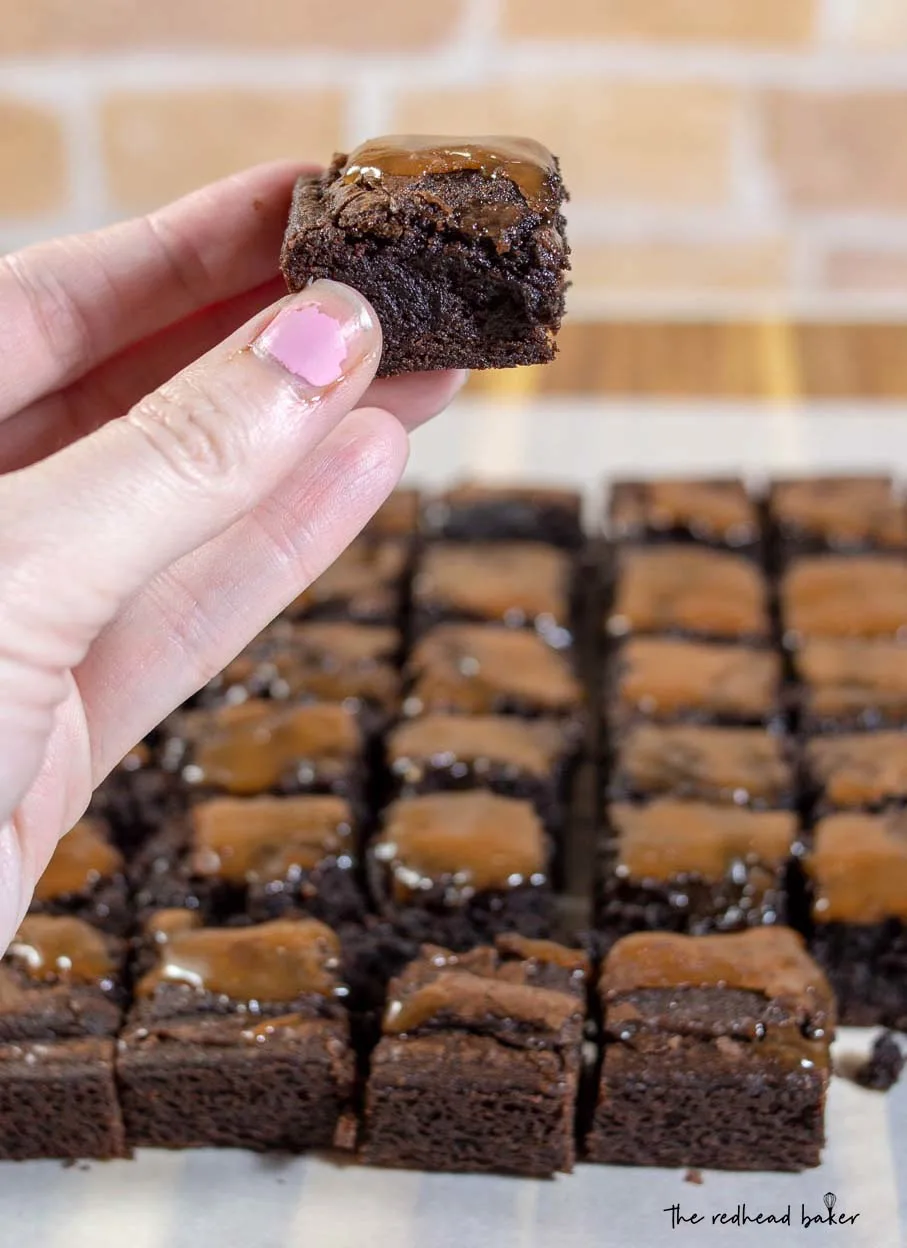 If you truly think you can't make brownies from scratch, or wonder why go through the effort when there are boxed mixes, let me tell you that, while I'm not a hater of boxed-mix brownies and cakes, these salted caramel brownies are miles better than boxed-mix brownies. They have a richer, fresher flavor that you can't get from a boxed mix.
The caramel sauce is a bit trickier for a novice, so if you want to purchase it, go right ahead. But steer clear of things labeled "caramel topping" or "sundae topping." Spring for the good stuff. These brownies are worth it.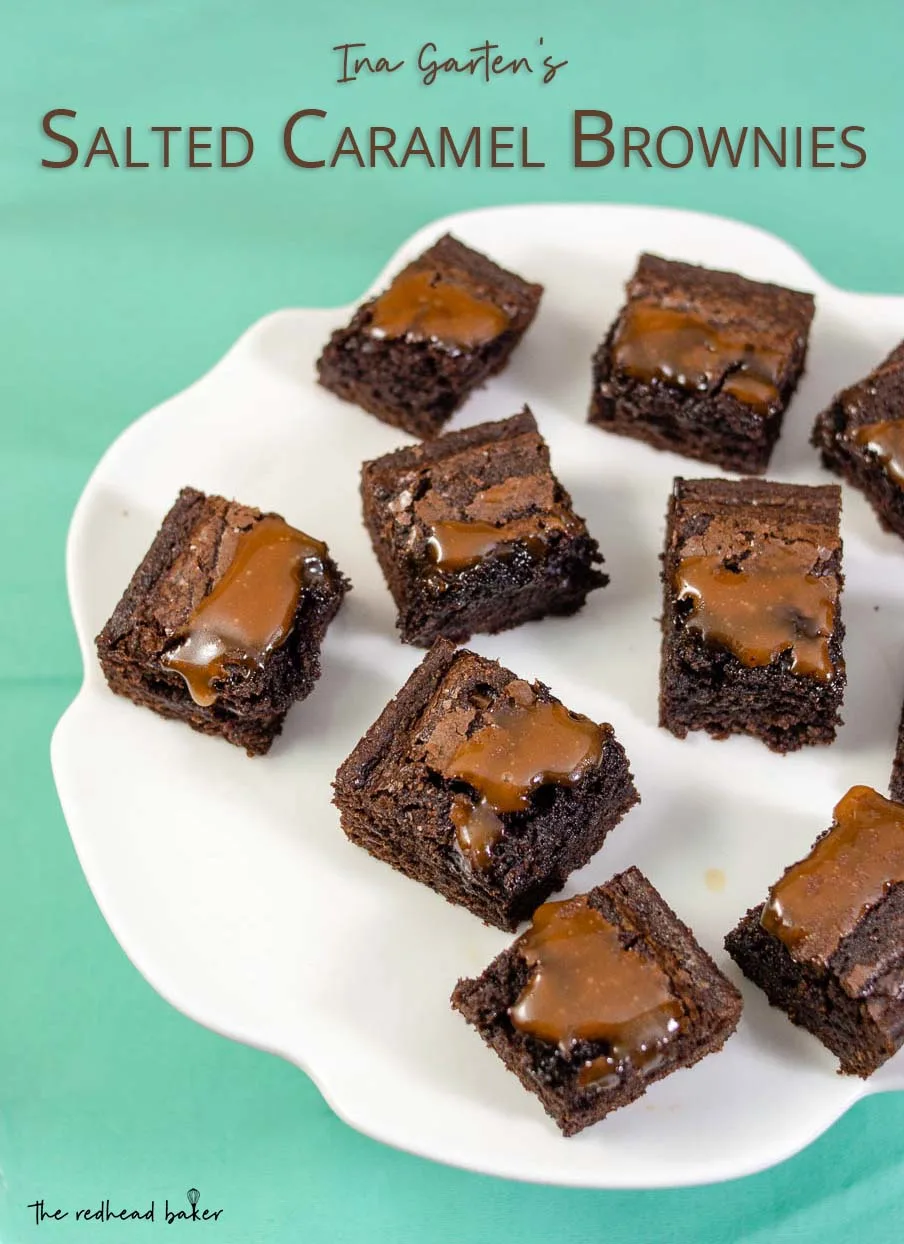 [amazon_link asins='B010TLTBDQ,B00004OCNS,B015CQZO0W,B00TB2WF1K,B00MWTWS2A' template='ProductCarousel' store='theredheadbak-20' marketplace='US' link_id='3421e1bf-bfc6-4c08-afb0-1f09e996f0cd']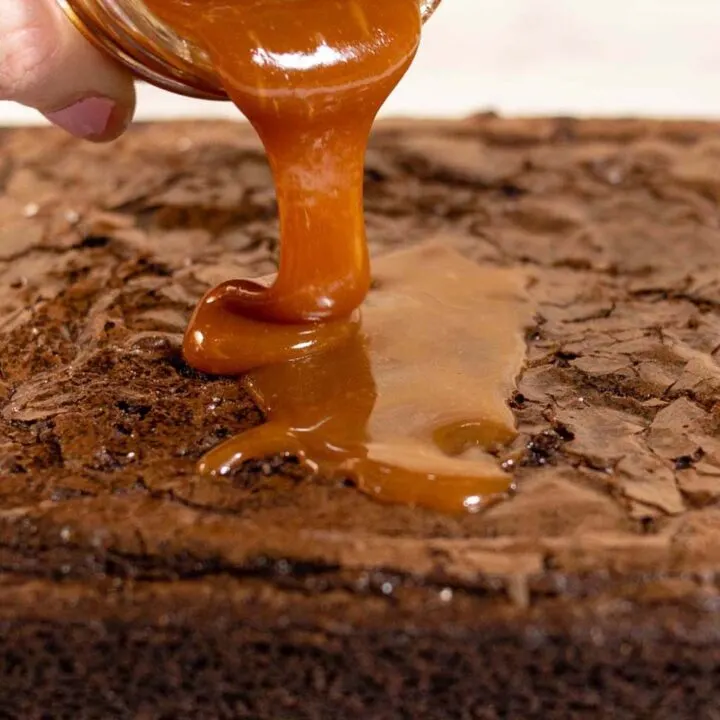 Ina's Salted Caramel Brownies
Ina Garten's recipe for rich, fudgy brownies topped with salty caramel sauce will satisfy even the biggest chocolate craving.
Ingredients
For the brownies
1 cup unsalted butter, (2 sticks)
8 oz semisweet chocolate chips
3 oz unsweetened chocolate, chopped
3 Extra-large eggs
1 ½ tablespoon instant coffee granules
1 tablespoon vanilla extract
1.125 cup sugar, (1 cup plus 2 tbsp)
½ cup all-purpose flour
1 ½ teaspoon baking powder
½ teaspoon kosher salt
For the caramel
1 cup sugar
6 tablespoons butter, cut into chunks
½ cup heavy cream
2 teaspoons flaked sea salt (such as Maldon)
Instructions
Make the brownies
Preheat your oven to 350 degrees. Line a 9x13 baking pan with tinfoil and spray with nonstick cooking spray.
Pour about an inch of water in a large saucepan, and bring to a boil over high heat. Reduce heat to low, and place a mixing bowl over (but not touching) the simmering water. Place the butter, 8 ounces of the semisweet chocolate chips and chopped unsweetened chocolate in the bowl, and melt, stirring frequently. Remove from the heat and set aside to cool for 15 minutes.
In a large mixing bowl, stir together the eggs, coffee granules, sugar and vanilla. Pour the melted chocolate mixture into the egg mixture and stir to combine. Cool to room temperature.
In a medium mixing bowl, combine ½ cup of the flour, baking powder and kosher salt. Stir with a spoon, then sift over the egg/chocolate mixture. Stir to combine, then scrape into the prepared pan.
Bake for 30 to 35 minutes, until a toothpick or cake tester inserted in the middle comes out clean.
Make the caramel
Place the sugar in a large, heavy-bottomed saucepan. Set the heat to medium. Once the sugar starts to melt, start to whisk slowly. Once the sugar has completely melted, stop whisking.
Once the sugar turns a light amber color, add the butter. The mixture will bubble furiously. Stir the butter into the sugar mixture to combine.
Remove the saucepan from the heat and pour in the heavy cream. Again, the mixture will bubble furiously. Once it calms down again, stir to combine. Pour into a heatproof bowl and cool to just warm to the touch.
Drizzle over the top of the brownies, then sprinkle with the sea salt flakes. Let cool to room temperature, then cut into 6 strips vertically, then 6 strips horizontally to make 36 squares.
Nutrition Information:
Yield:

1
Serving Size:

(1.5-inch by 1.5-inch) square
Amount Per Serving:
Calories:

180
Saturated Fat:

7g
Cholesterol:

37mg
Sodium:

186mg
Carbohydrates:

17g
Sugar:

14g
Protein:

1g
Brownie recipe slightly adapted from Ina Garten; caramel recipe from Homemade in the Kitchen
You might also like: