It's the What's Cooking Recipe Swap again, hosted by A Taste of Home Cooking! The theme of the swap was celebrity recipes. I submitted the salted caramel brownies I made from Ina Garten's book Foolproof. In return, I received a recipe for chicken pot pie, a Martha Stewart recipe, from Mary Ellen's Cooking Creations.
I was really excited about it. I made a chicken pot pie last year (in another round of the recipe swap). It was tasty, but it didn't have the thick, creamy sauce in the filling that I was used to. Also, looking at the ingredient list, the filling was chock full of colorful vegetables. And finally (please don't judge me), Pillsbury biscuits. I love them. I could eat an entire can by myself.
I also love that the recipe includes the step of cooking the chicken, rather than calling for pre-cooked chicken. Poaching the chicken in broth and herbs both cooks the chicken, and creates a base for the sauce that goes into the pot pie.
This will be my go-to chicken pot pie going forward. It was so easy to make, so colorful, so flavorful, so comforting. The only thing I might do differently next time would be to cut back on the second addition of thyme, or substitute with a different herb, like rosemary or sage.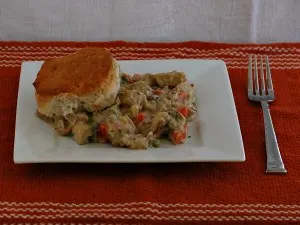 [gmc_recipe 2014]