The weather is turning colder. We're about to have the coldest weather in several years, with daily high temperatures not even reaching the freezing mark.
We live in an apartment that is partially below ground, with an ancient, inefficient heating system, so sweatshirts, fuzzy socks, and warm meals are in order this week.
I've been making an effort to expand my repertoire of soups beyond the standard chicken noodle. I've come to love cream of mushroom soup, and when I saw this Mushroom and Brie Bisque on the blog The Jey of Cooking, I was in love before I even tasted it. I mean, come on, Brie cheese! How can anything with Brie not taste great?
I actually ended up making this soup twice, since I made a few adaptations the first time, and wasn't quite satisfied with the results. See, I like the taste of mushrooms, but not the texture. So, I pureed the soup before adding the Brie, but I think because there was more liquid, the flavor of the Brie got lost. Also, I may have forgotten to defrost the sheet of frozen puff pastry to make the puff pastry square toppers.
So, the second time around, I remembered to make the puff pastry toppers, and doubled the amount of Brie, and all was right with the world. Or at least, with the soup.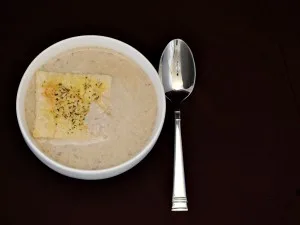 [gmc_recipe 2354]