Chocolate espresso cookies are rich and fudgy. Espresso powder enriches the flavor of the chocolate and adds coffee flavor, too.
Today is the final day of #Choctoberfest, and the last day to enter the giveaway. If you haven't entered yet, see my Chocolate Martini post from the first day of Choctoberfest to see the details of the prize package. After you've checked out my chocolate espresso cookies recipe, scroll all the way down to the bottom of the post to see links to the rest of the #Choctoberfest recipes.
I decided to close out the event with a twist on a classic cookie using sugar from our event's main sponsor, Imperial Sugar. I took my favorite chocolate cookie recipe, switched the regular cocoa powder to dark chocolate cocoa powder, and added espresso powder.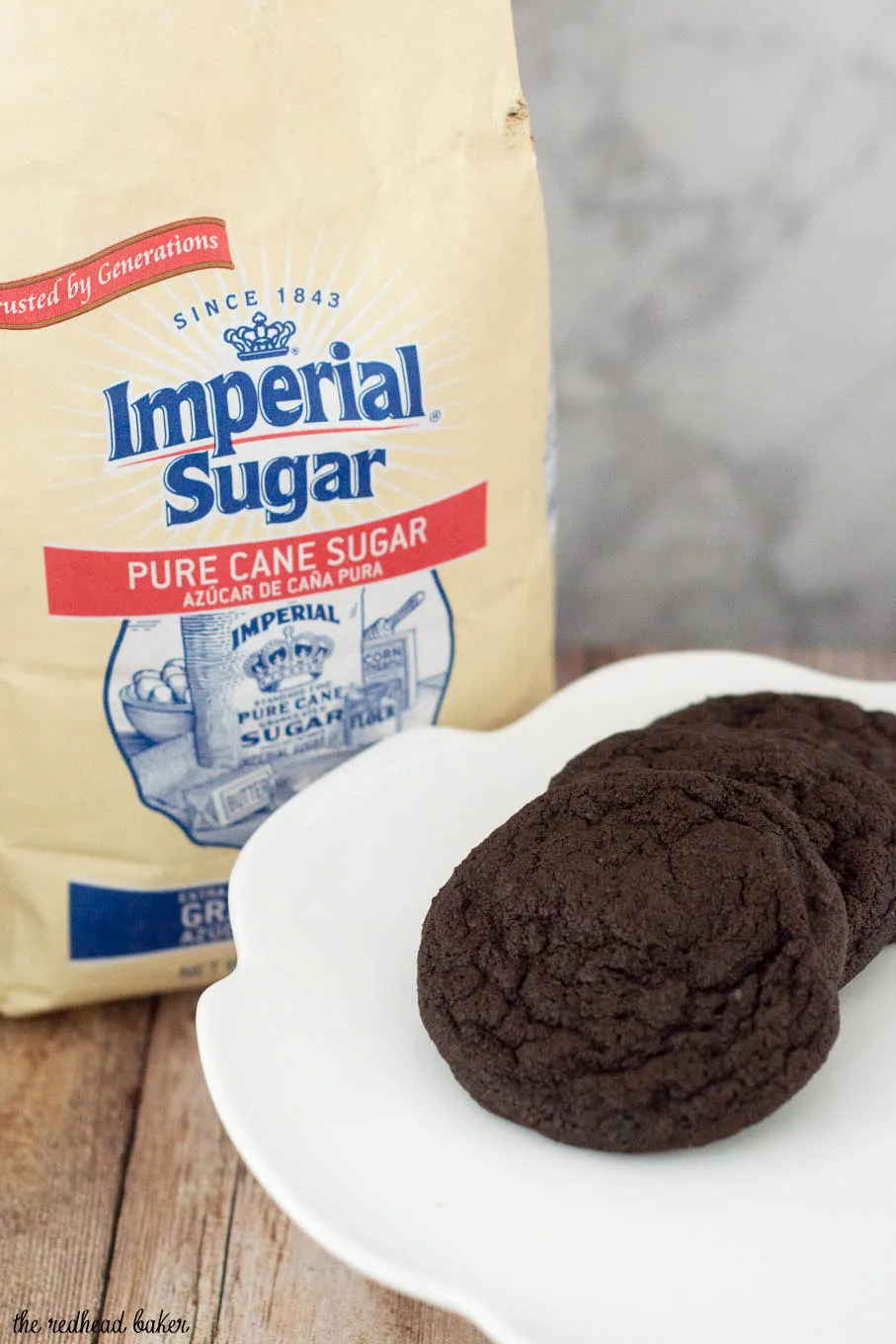 For some reason, coffee enhances the flavor of chocolate. No one is really sure why that is, but I'm not going to argue. In fact, coffee is an ingredient my favorite chocolate cake recipe. Just a small bit of coffee in a chocolate recipe will enhance the chocolatey-ness (it's a technical term, I swear) without adding the distinct flavor of coffee.
That's not the effect I wanted in this cookie. I wanted both flavors, so I added a heaping amount of espresso powder to the cookie dough. The result is a richly chocolate cookie with coffee flavor, almost like a mocha latte in cookie form.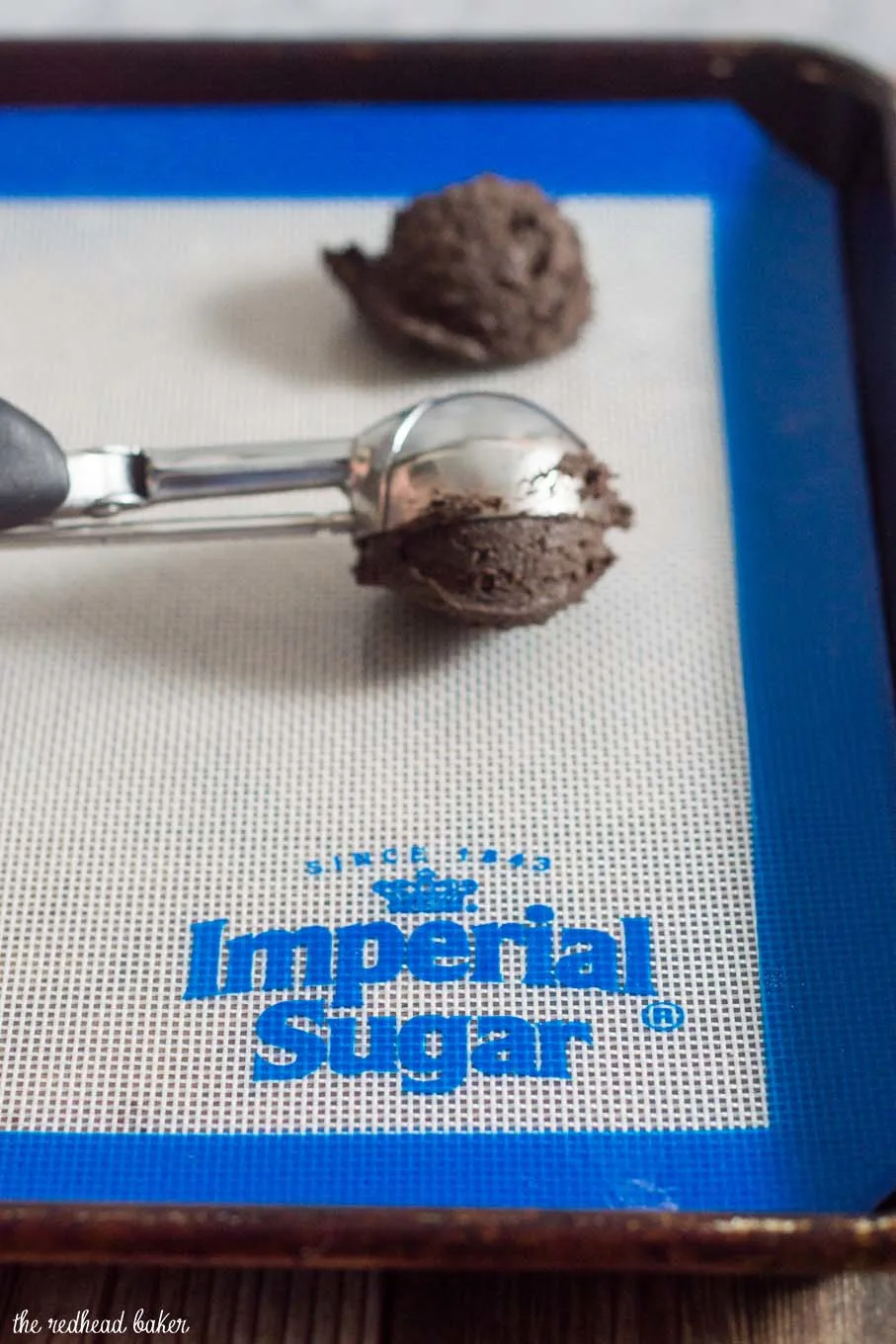 In a pinch, I've found instant espresso granules in the international aisle at my local grocery store. Not sure why, as it's really intended for making espresso. It's intended for use in baking, so it should really be in the baking aisle. But I greatly prefer espresso powder (available at places like Sur La Table or King Arthur Flour), which is more finely ground than granules.
With chocolate cookies, it's very difficult to tell when they're fully baked. I strongly recommend using a cookie scoop to portion the dough so you can ensure your cookies are evenly sized. When you have evenly sized cookies, you don't end up with some perfectly-baked cookies and some burnt cookies.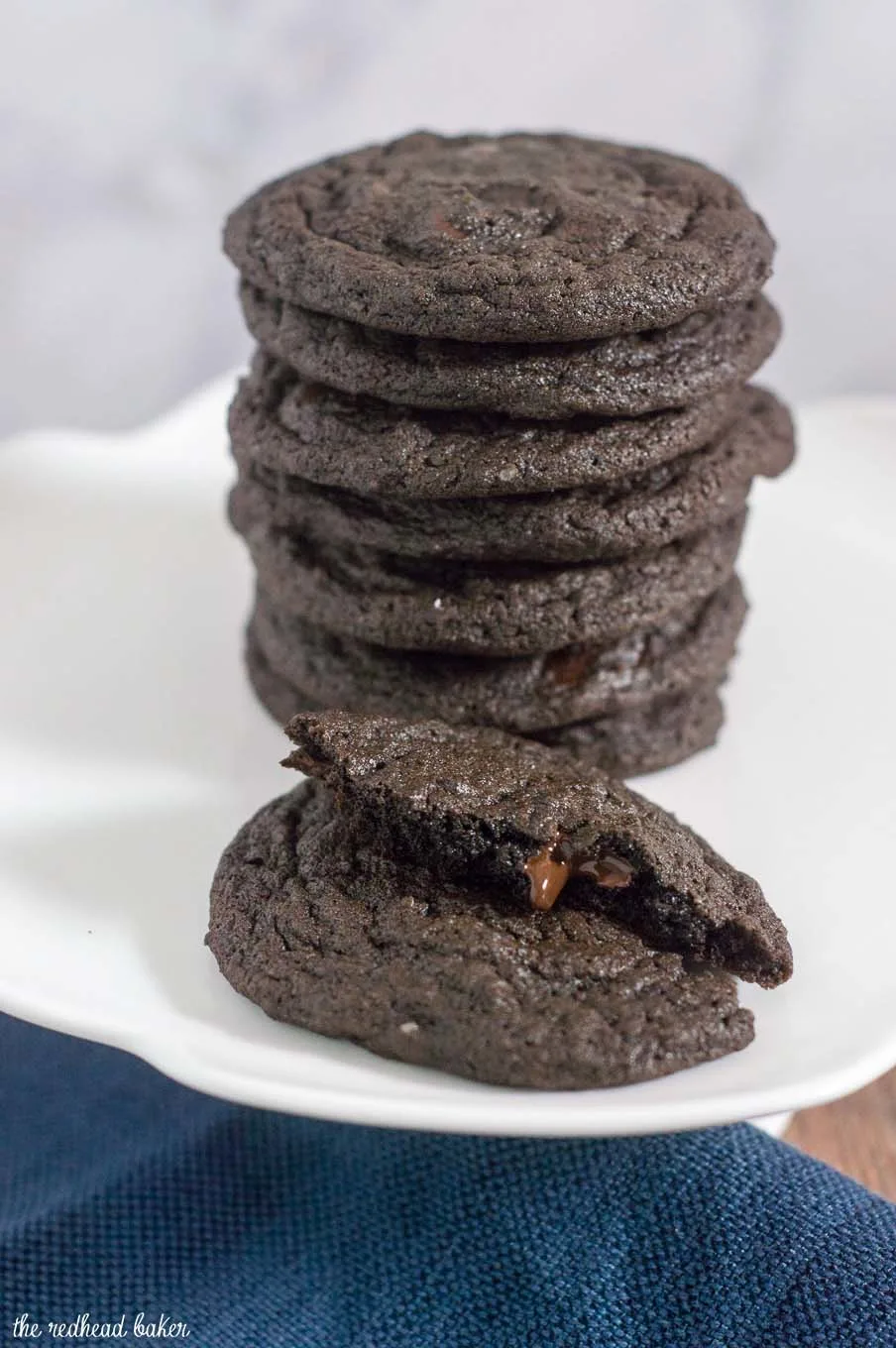 Espresso powder does retain caffeine, so chocolate espresso cookies are probably not the best for kids, especially before bed. In fact, I won't judge if you eat one (or two, or more) for your caffeine fix for breakfast.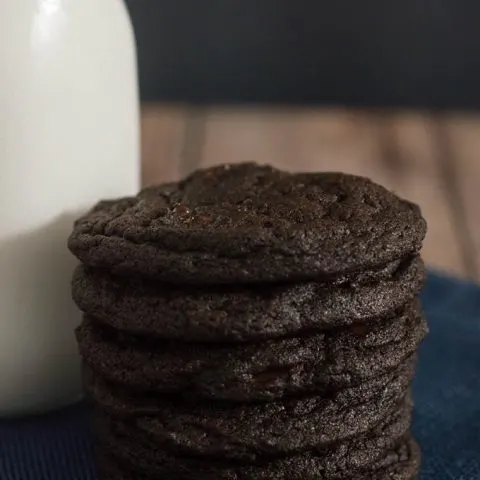 Chocolate Espresso Cookies
Ingredients
1 cup unsalted butter, softened, 2 sticks
1 cup Imperial sugar
1 cup dark brown sugar
2 large eggs
2 ½ cups all-purpose flour
¾ cup unsweetened dark cocoa powder
1 teaspoon baking soda
1 teaspoon salt
2 tablespoon espresso powder
12 oz bittersweet chocolate chips
Instructions
Preheat your oven to 350 degrees F. Line two sheet pans with parchment paper or silicone baking mats.
In the bowl of a stand mixer, cream together the butter and the sugars until light and fluffy.
Add the eggs, one at a time, beating until the egg is incorporated and scraping down the bowl before adding the second. After the second egg is added, scrape down the bowl again.
In a smaller mixing bowl, stir together the flour, cocoa powder, baking soda, salt and espresso powder. Add it to the stand mixer bowl, and stir on low speed until fully incorporated.
Stir in the chocolate chips.
Use a medium cookie scoop to portion the dough on the prepared baking pans, spacing the cookies at least 2 inches apart.
Bake for 10 minutes, then cool on the sheet pan for 5 minutes, then transfer the cookies to a cooling rack to cool completely. Store in an airtight container at room temperature for up to 2 weeks.
Adapted from King Arthur Flour
Disclosure: this post contains affiliate links.