Have you ever had a craving for a sweet treat, but just didn't want tons of leftovers hanging around, tempting you? After all, January is a time when a lot of people resolve to shed the holiday weight. I believe that even sweets can be included in a New Year's diet (all things in moderation). I think that might be why this round of What's Baking is "recipes for one or two people."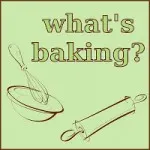 So, this is where recipes made for one or two people come in handy.
One of my favorite desserts is tiramisu. I love the combination of mascarpone, marsala, coffee and chocolate. But it's incredibly high in calories, so having just two servings with no leftovers is brilliant.
So, instead of a 9x9 pan of creamy, coffee-flavored amazingness, I made two 3 ½-inch tarlets with cream filling. Instead of espresso-soaked ladyfingers, you have a mocha shortbread crust, with a no-bake marsala-flavored filling.
One issue I had with this recipe is that in order to make the crust thick enough to stay in one piece when removing it from the tarlet pan, it would be too thick to accommodate any filling. Even after three attempts at making the crust, whenever I tried to take it out of the tartlet pan, it would crumble. So, I served these tartlets in the baking pans.
As an alternative, you could serve this filling in a store-bought mini chocolate graham cracker crust, you just wouldn't have the traditional coffee flavor in the crust. If you still want that flavor, reduce the marsala to the 1 tablespoon, and add a tablespoon of strongly-brewed coffee to the filling.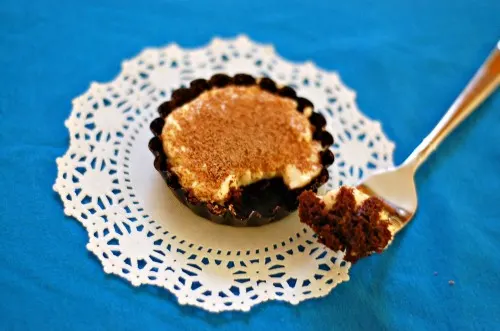 Tiramisu Tarts for Two
Recipe by The Redhead Baker
Ingredients
For the crust:
4 teaspoon powdered sugar
2 teaspoon Dutch-process cocoa powder
2 tablespoon all-purpose flour
½ teaspoon cornstarch
¼ teaspoon instant espresso powder
Pinch of salt
1 ½ tablespoon cold unsalted butter, cut into small cubes
Splash of vanilla extract
For the filling:
3 oz mascarpone cheese (or cream cheese), at room temperature
2 tablespoon sugar
1 ½ tbsp marsala
Splash of vanilla extract
For garnish:
Small bar of semisweet or bittersweet chocolate, or Dutch-process cocoa powder
Directions
Place the powdered sugar, cocoa powder, all-purpose flour, cornstarch, espresso powder and salt in a mini food processor. Pulse a few times to combine.
Add the cold cubes of butter and the vanilla, and pulse until small crumbs form.
Divide the filling between two 3 ½-inch tartlet pans, and use the back of a rounded tablespoon to press the crumbs onto the bottom and up the sides. Put in the freezer for at least 15 minutes.
Preheat the oven to 325 degrees.
Place the tartlet pans on a baking sheet and bake for 8 to 10 minutes. Place on a wire rack to cool completely.
In a small bowl, whisk together (with a whisk or hand-held mixer) the cream cheese, sugar, marsala and vanilla until smooth.
Divide the filling between the two cooled crusts.
To garnish, grate a little semisweet or bittersweet chocolate, or sift a little Dutch-process cocoa over each tartlet.
Number of servings (yield): 2