To be perfectly honest, I'm lazy. I get my showers at night, so I can sleep a little later in the morning. I will skip a recipe that sounds great if it will involve washing too many dishes. I often eat cold cereal or a bagel in the morning because it's faster. I definitely feel better in the morning when I have some protein, but I'm way too lazy to wake up early enough to cook myself some eggs in addition to getting myself ready for work in the morning.
I have had these breakfast taquitos on my Pinterest board for a while. I finally made a batch on a Sunday, had two for breakfast that day and froze the rest to eat throughout the week.
And I love that the taquitos can easily be adapted to suit your taste. I added sauteed bell pepper to the original recipe, and changed the bacon to chorizo. You could also use hot or mild Italian sausage, and change up the variety of cheese.
I think the chipotle-lime dipping sauce makes these even better, but you can also just dip them in salsa.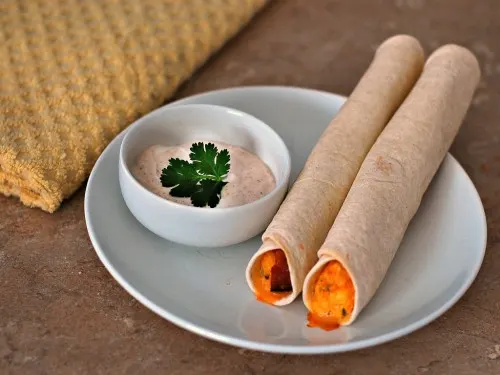 Chorizo and Egg Breakfast Taquitos
Adapted from Pink Parsley
Ingredients
Taquitos:
4 oz fresh Mexican chorizo, casings removed
1 medium green or red bell pepper, diced
12 large eggs
¾ cup Greek yogurt
½ teaspoon kosher salt
¼ teaspoon black pepper
1 clove garlic
¼ teaspoon ground cumin
1 ½ cup grated cheese - cheddar, Colby jack, pepperjack, etc
½ cup salsa (thick and chunky preferred over a thinner salsa)
¼ cup minced green onions
¼ cup chopped cilantro
Juice of half a lime
12 to 16 8″ flour tortillas
Cooking spray or olive oil
Dipping Sauce:
1 cup Greek yogurt
Juice of half a lime
¼ teaspoon chipotle chili powder
½ teaspoon kosher salt
Directions
Line a 9x13 baking sheet with tinfoil and spray with nonstick cooking spray and set aside.
Set a large skillet over medium heat. Add the fresh chorizo and diced bell pepper. Cook until the peppers are soft and the chorizo is browned. Remove the chorizo and peppers with a slotted spoon and drain on a paper-towel lined plate. Drain all but 1 tablespoon of the rendered fat from the chorizo.
Place the eggs, Greek yogurt, salt, pepper, and cumin in a medium mixing bowl. Use a microplane to grate the clove of garlic into the egg mixture. Whisk to combine.
Set the pan back over medium heat. Add the egg mixture to the skillet, and cook, stirring often, until the eggs are nearly completely scrambled. Remove the skillet from the heat.
Add the shredded cheese, bell pepper, chorizo, salsa, green onions, cilantro and lime juice to the skillet and fold everything together.
Preheat the oven to 425 degrees.
Place the tortillas on a plate and cover with a dampened paper towel. Microwave for 20 to 30 seconds (warm tortillas are less prone to cracking when rolled). Working quickly, place one tortilla on a clean surface. Spoon about ⅓ of a cupful of the egg mixture in the center of the tortilla, and tightly roll it up. Place it in the prepared baking pan, seam-side down.
Repeat with the remaining tortillas (re-heating for 5 to 10 seconds as needed if they cool down) and egg mixture.
Place the baking pan in the oven and bake for about 15 minutes, until the tortillas are lightly browned and crisp.
While the taquitos are baking, whisk together the cup of Greek yogurt with the lime juice, chipotle chili powder and salt.
When the taquitos are done baking, let them rest for a few minutes, then serve two per person with a few tablespoonfuls of the chipotle-lime sauce for dipping.
Number of servings (yield): 6