Lisa Huff of Snappy Gourmet has published a cookbook for kids ages 8 to 13, including these blueberry muffin tops with cheesecake drizzle.
I'm so excited for my friend and fellow food blogger, Lisa Huff of Snappy Gourmet, for publishing her first cookbook! It's aimed toward kids between the ages of 8 and 13. My son isn't quite there yet (he'll turn 6 in a few weeks), but we can still make these recipes together. My son and I have already made the Snickerdoodle Bites, and he wants to make the Pepperoni Pinwheels next.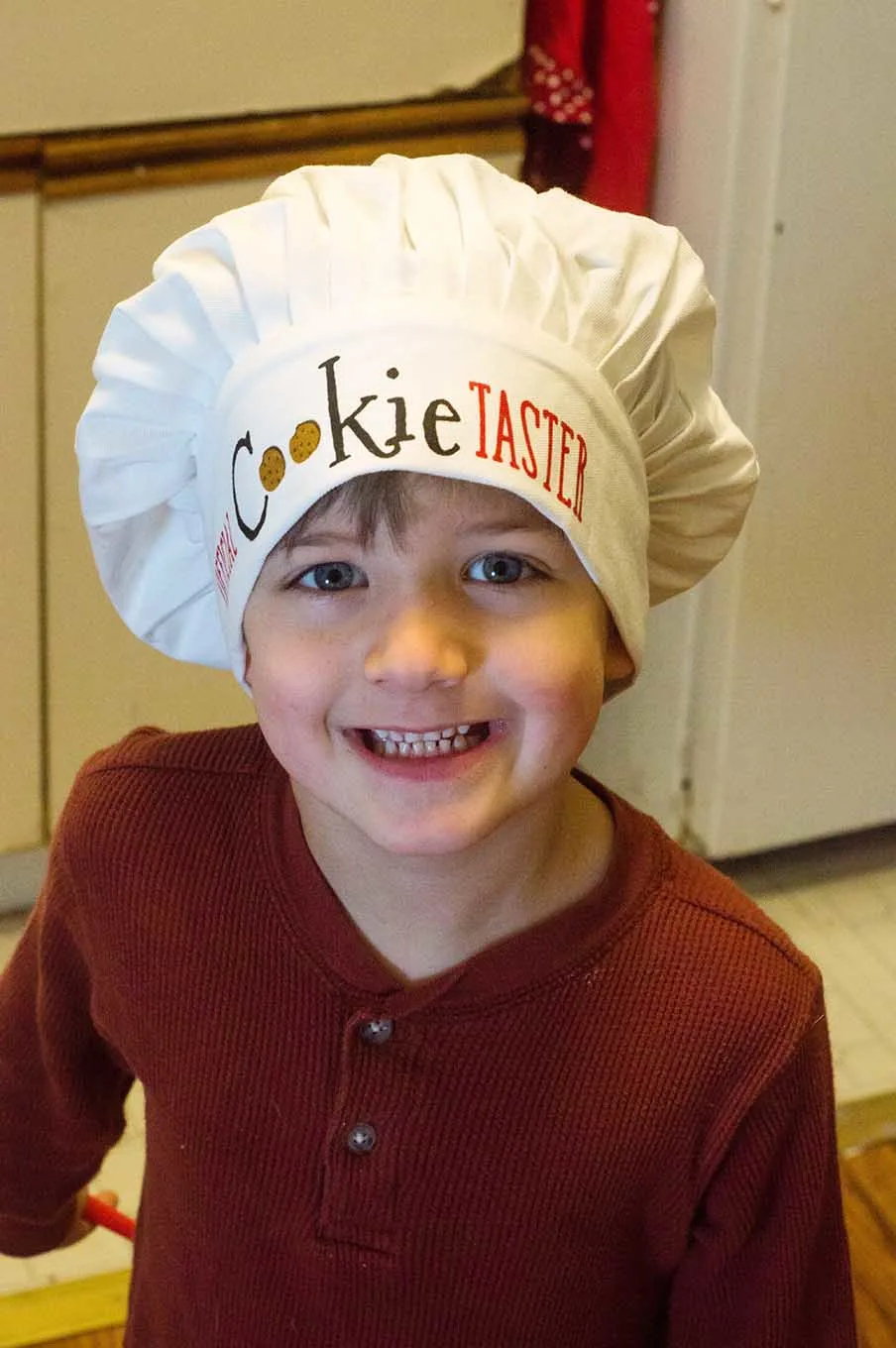 It's available on Amazon in soft cover and Kindle formats. Over 75 recipes are included, separated into five chapters: muffins and breads, cakes, cookies, pastries, and savory baked goods. Each recipe includes troubleshooting tips and helpful hints. There are also over 65 gorgeous color photos, including how-to shots and finished dishes, by famed food photographer Hélène Dujardin.
Lisa also includes tips for prep and set-up, including descriptions of common baking equipment, ingredients and essential safety tips like safely using a knife, and how to use the stove and oven. There are also hands-on lessons for developing basic skills like measuring liquids vs. solids, separating eggs and more.
Many recipes are nut-free, and labeled as such. This is the only allergy that is mentioned.
This would make a great Christmas gift for the budding cook or baker in your family! Not convinced yet? Below is one of the recipes from the book, Blueberry Muffin Tops with Cheesecake Drizzle.
Want to win a copy for your own aspiring chef? I'm giving one away! Limited to entrants with a U.S. mailing address age 18 or older. For complete giveaway terms and conditions, see my Giveaway Rules page.
[amazon_link asins='B000G0KJG4,B00K282KY4,B002BFQR3G,B00004OCNS,B00030CGKY' template='ProductCarousel' store='theredheadbak-20' marketplace='US' link_id='76d12452-c266-11e7-833c-b1ec5fef04db']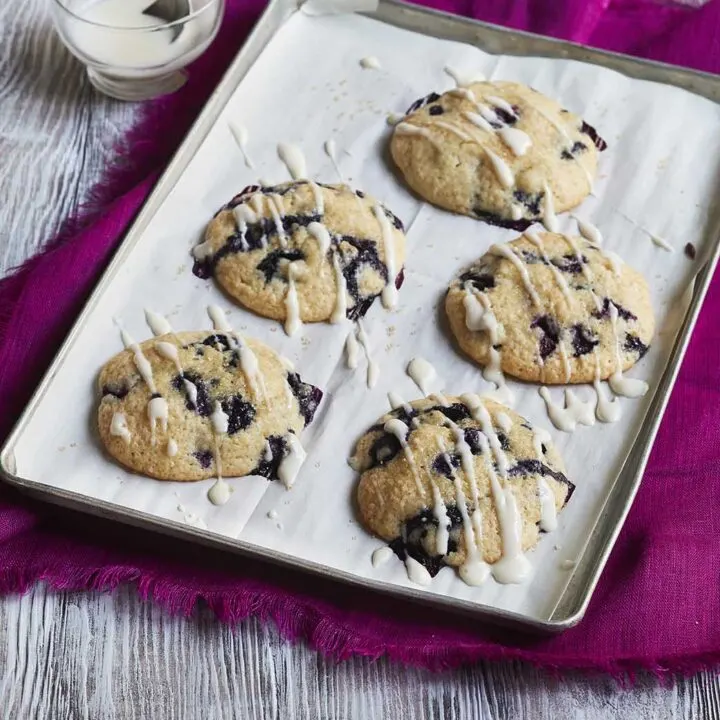 Blueberry Muffin Tops with Cheesecake Drizzle
Ingredients
For the muffin tops
Butter, for greasing the baking sheets
1 ½ cups all-purpose flour
¾ cup sugar
1 ½ teaspoon baking powder
½ teaspoon table salt
⅓ cup milk (2% or whole)
⅓ cup vegetable or canola oil
1 large whole egg
1 large egg yolk only
1 teaspoon vanilla extract
2 cups fresh blueberries
For the cheesecake drizzle
4 oz cream cheese, at room temperature
½ cup confectioners sugar
¼ teaspoon vanilla extract
3 tablespoon milk (2% or whole), plus more, as needed
Instructions
Preheat the oven to 375 degrees F. Grease 2 large baking sheets, or line with parchment paper.
Mix the dry ingredients: in a medium bowl, stir together the flour, sugar, baking powder and salt.
Mix the wet ingredients: in another medium bowl, whisk together the ⅓ cup of milk, oil, egg and egg yolk, and 1 teaspoon vanilla until well combined.
Combine the ingredients: Make a well in the center of the dry ingredients. Add the wet ingredients, to the middle of the dry ingredients, and stir until nearly blended. Some lumps are okay. Gently fold in the blueberries until everything is just combined.
Bake the muffins: Using a large ice cream scoop or spoon, spoon about 3 tablespoons of the batter onto the prepared pans for each top, leaving about 2 inches of room between each. Bake for 10 to 14 minutes, or until a toothpick inserted into the middle comes out clean and muffins are slightly browned around the edges. Cool slightly, then remove muffin tops from the pans and cool on a wire rack.
Make the drizzle: meanwhile, in a small bowl, mix together the cream cheese, confectioners sugar and ¼ teaspoon vanilla. Slowly stir in the milk, a little at a time, until well blended and a thin consistency. With a fork, drizzle over the cooled muffins.
Recipe by Lisa Huff, as seen in her cookbook Kid Chef Bakes