Cider-sage brined turkey has delicious fall flavor, making it the perfect Thanksgiving bird. The brine ensures the turkey stays moist, and sage compound butter crisps the skin.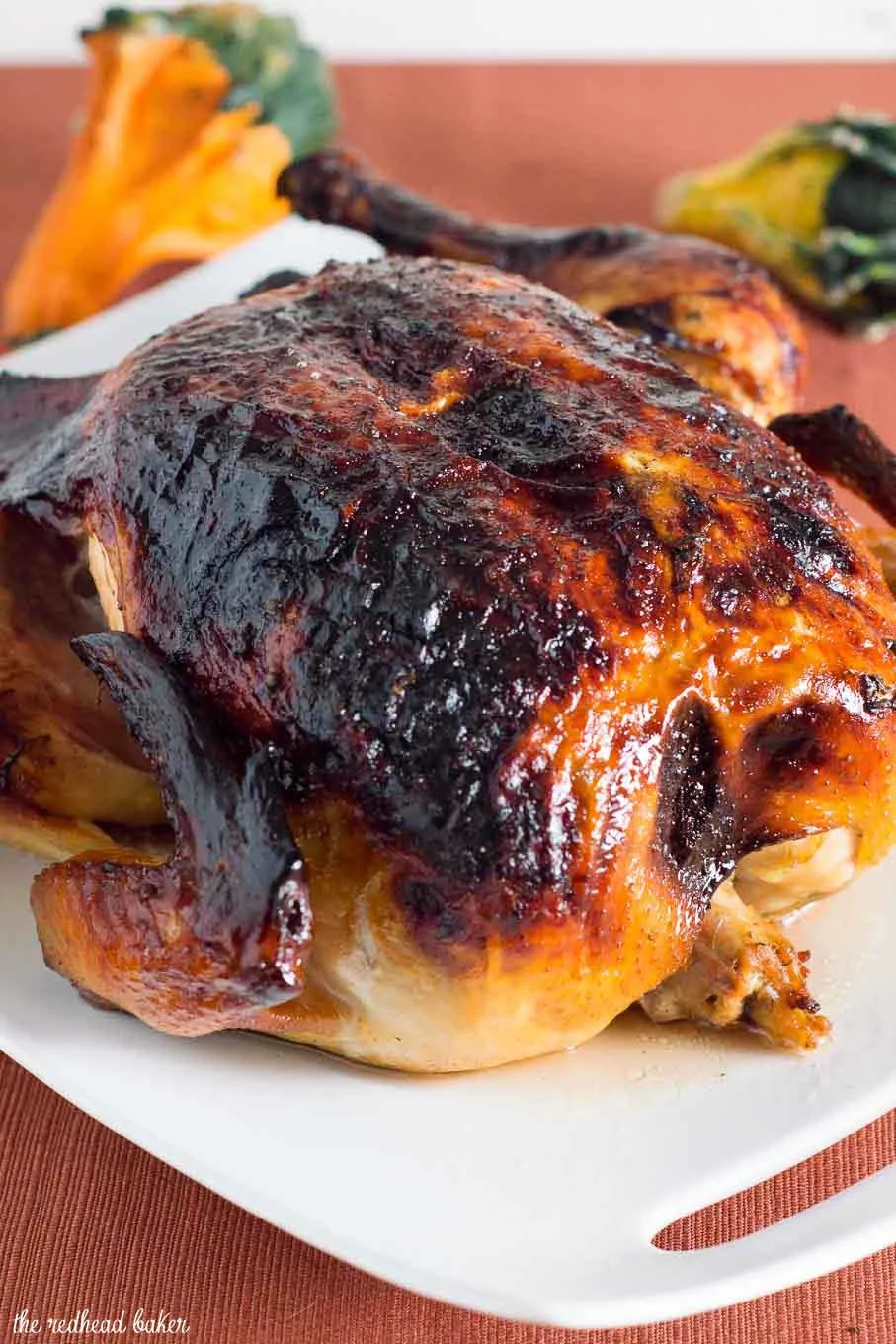 Halloween is over — I hope you all had a fun holiday! My son was Darth Vader, and we trick-or-treated all over our neighborhood. The sugar rush will last quite! But now it's time to focus (in the United States, at least) on Thanksgiving. It's probably my second-favorite holiday after Christmas. So much delicious food!
This cider-sage brined turkey has been my go-to for the past several years. I've experimented with other wet brines and dry brines, but even though dry brines are easier, I still love the flavor of this turkey the best.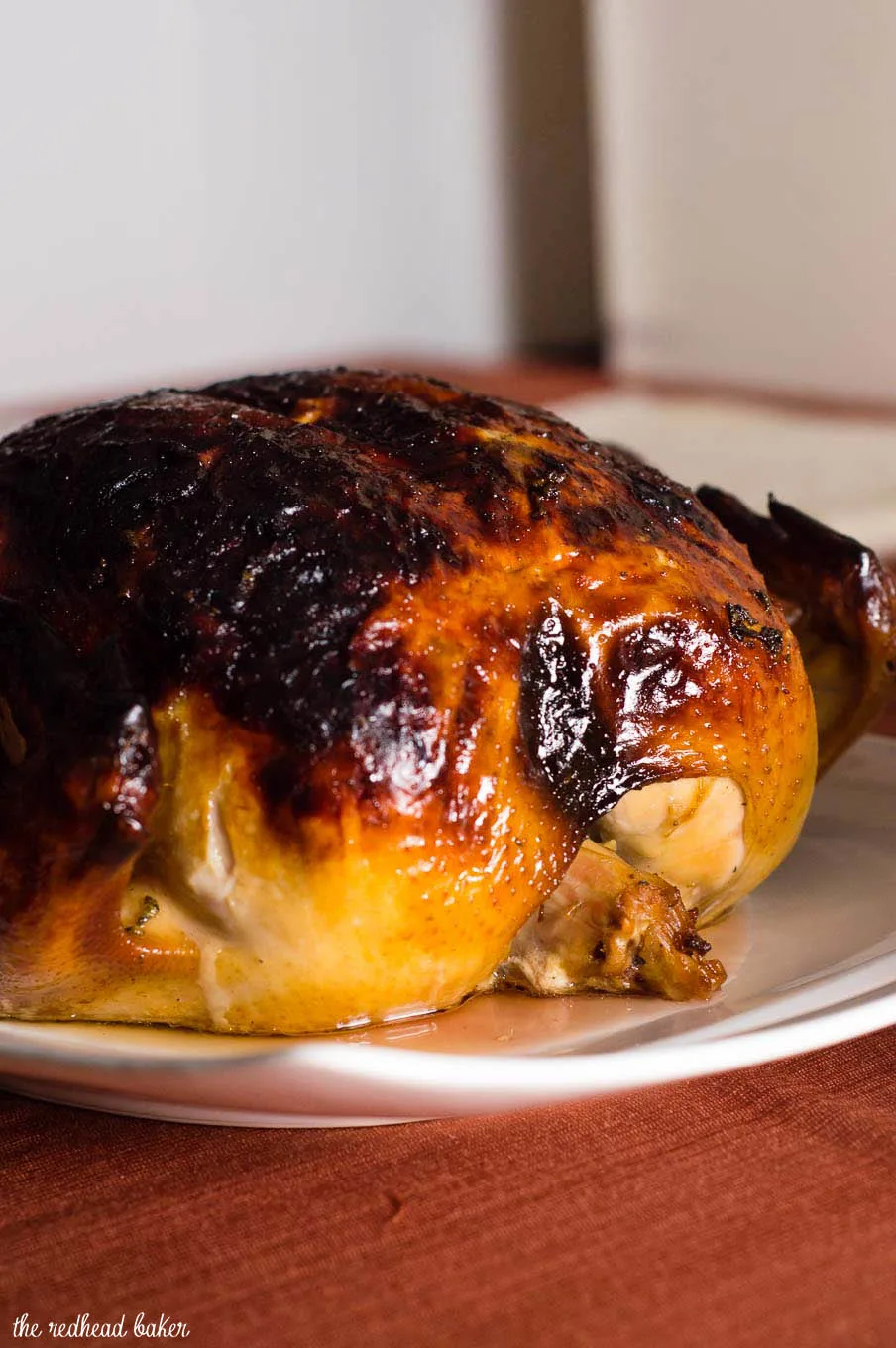 I"m sure you've heard recommendations to brine your bird, and maybe you've seen brining kits in stores, but if you're not sure WHY to brine, let me give a brief explanation. All meat loses some liquid while cooking. Brining adds liquid to the meat before the cooking process begins. Go ahead, weigh your turkey before and after brining. The weight after brining should be a few ounces higher.
First, clear out your fridge. Seriously. Or, if you live in an area where it gets pretty cold for Thanksgiving, you can get yourself a cooler and some ice. You'll need to reduce the water in your brine depending on how much ice you add. Ice weighs the same amount of water — 1 cup equals 8 ounces. Store your cooler in a screened-in porch, or somewhere else that wildlife can't get to it.
I brine my turkey in my refrigerator. I make my brine in a 20-quart stock pot. Then I place the brining bag in my largest mixing bowl, place the turkey in, then pour the brine in. After I seal up the bag, I place it back in the stock pot, and place the whole thing in the refrigerator. The pot is extra insurance in case the bag starts to leak.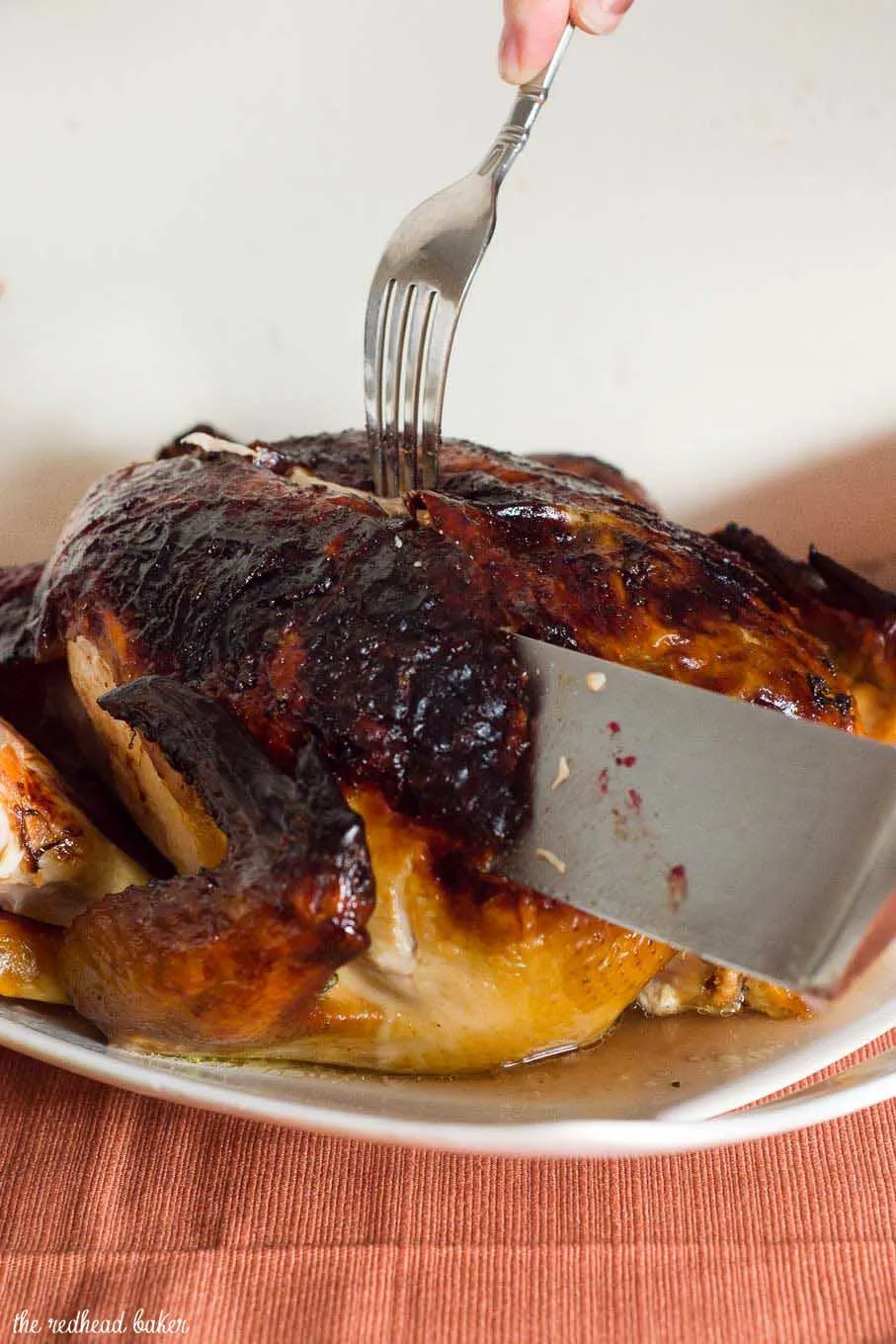 As the turkey sits in the brine solution, it absorbs the flavors of the brine, so not only does it add moisture, it adds flavor, too. The drippings from a brined turkey are generally too salty to make a gravy, but later on this week, I"ll be sharing a recipe for a make-ahead turkey gravy that doesn't require pan drippings.
Another way flavor is added is through the sage compound butter rubbed between the skin and the meat. The butter under the skin and the cider glaze on top work together to crisp the skin of the turkey as it roasts.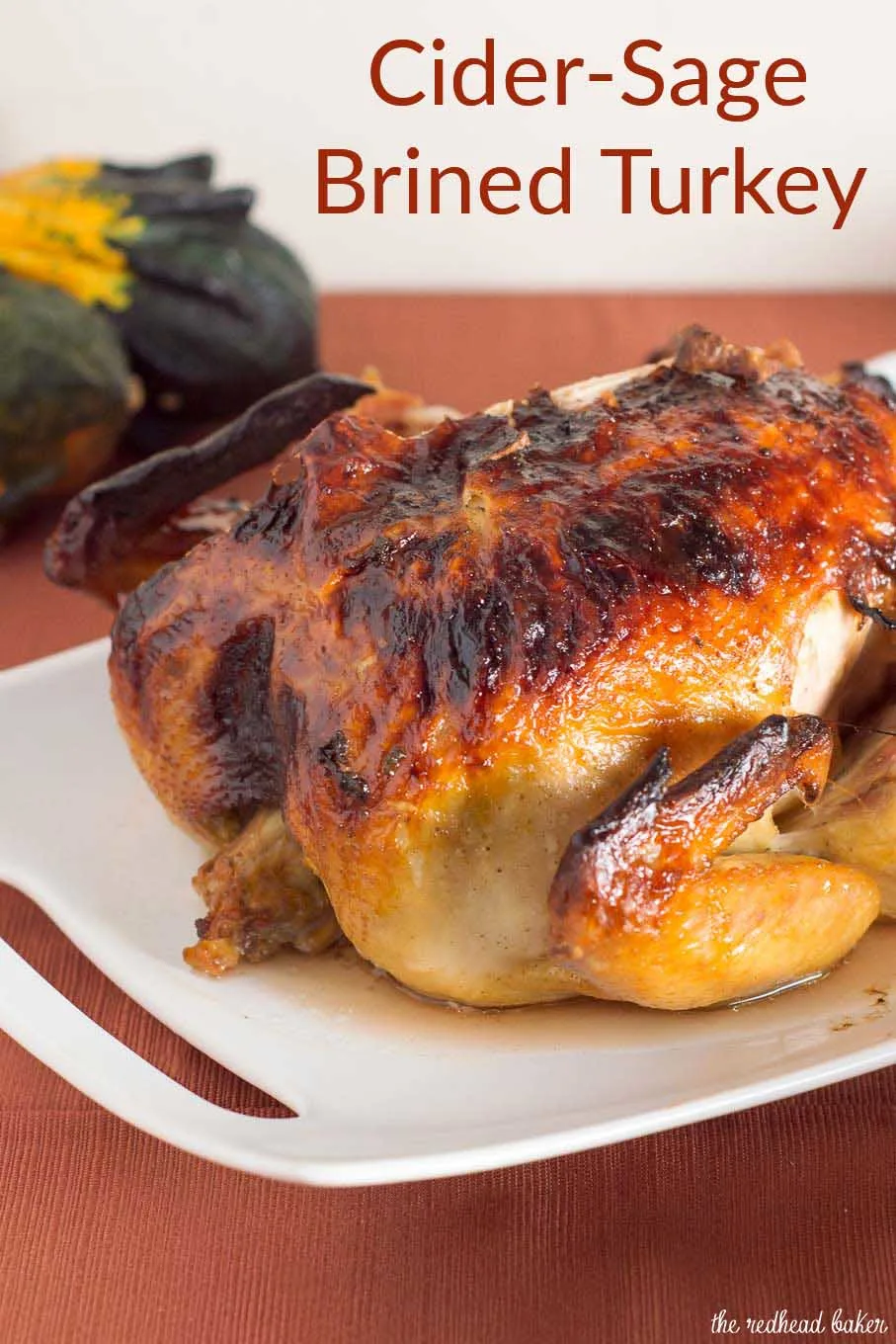 [amazon_link asins='B000X1JO6W,B00FW6CA6E,B0009W7EC6,B017613C3C,B00L9X1IRG,B000JPSI8C,B00004RFO0' template='ProductCarousel' store='theredheadbak-20' marketplace='US' link_id='a92f0b88-c1c5-11e7-bb4b-fb2ac15b99c3']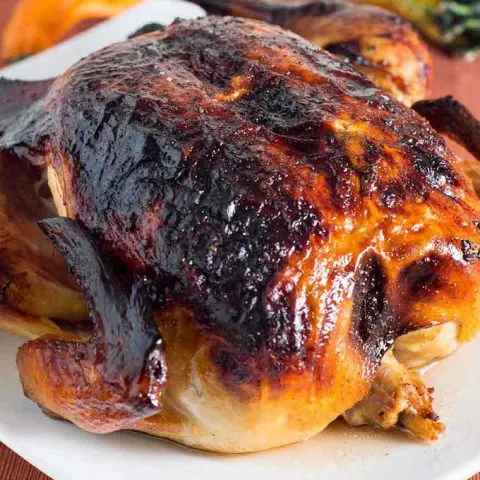 Cider-Sage Brined Turkey
Ingredients
Brine
4 quarts apple cider, divided
1 ½ cups kosher salt
2 sprigs fresh sage leaves
8 bay leaves
4 quarts cold water
20 pound turkey, neck and gizzard removed
Sage Compound Butter
½ cup salted butter, very soft
3 tablespoon fresh sage leaves, finely minced
Glaze
2 cups apple cider
½ cup unsalted butter
Instructions
For brine:
Place 1 quart apple cider, salt, sage leaves, and bay leaves in 20-quart pot. Bring to a simmer over medium-high heat, then cook at a simmer for 5 minutes, stirring often. Cool completely. Add the remaining 3 quarts of cider and 4 quarts of water. Place turkey in brine. Cover and refrigerate overnight.
Place a large brining bag inside a large empty bowl. Place the turkey in the bag, then carefully pour the brine over the turkey. Seal the bag, removing as much air as possible. Place in the refrigerator overnight.
The next day, drain the turkey and rinse. Place several layers of paper towels in a roasting pan, then place the turkey on top, breast-side up. Refrigerate uncovered overnight.
For sage compound butter:
Mix the very soft butter and the minced sage leaves until the leaves are evenly distributed throughout the butter. Set aside.
For glaze:
Boil the cider in a medium saucepan until reduced to ¼ cup, about 15 minutes. Whisk in the butter. Transfer to a measuring cup or other vessel with a spout. Cool completely.
Cooking the turkey:
Set rack at lowest position in oven; preheat to 350°F. Remove paper towels from roasting pan. Pat main and neck cavities of turkey dry. Place turkey back in the pan, tuck wings under, and tie legs together loosely with butcher's twine. Gently separate the skin from the meat, and rub the sage compound butter under the skin.
Roast turkey 1 hour. Brush with some of glaze. Roast until beginning to brown, about 1 hour. Cover with foil. Roast until thermometer inserted into thickest part of thigh registers 175°F, brushing with glaze every 30 minutes and adding up to 1 cup water to pan if drippings begin to burn, about 3 hours longer. Transfer turkey to platter; tent with foil. Let stand 30 minutes before carving.
Adapted from Epicurious