Last year, I wrote a post about meal planning, which has by far been one of the most popular non-recipe posts on the blog. I've gotten follow-up questions about "must-have" pantry items and kitchen tools, so I thought I'd start a series of "Stocking Your Kitchen" posts.
Why keep a stocked kitchen? Believe it or not, it will save you money. Forgot to defrost something for dinner? If you have a stocked pantry, you can throw something else together, saving you the cost of an extra trip to the grocery store, or ordering takeout.
I'm going to start with dry pantry staples — basically, anything that's not refrigerated or frozen. This isn't an authoritative list. It's based on our taste preferences and cooking style. It would be pointless for me to keep dried beans in my pantry, since I don't like them and would never cook with them.
Here's what we always keep on hand (note this list does not list my baking pantry items; that will be a separate post):
Pasta: I like to keep at least three different kinds on-hand: spaghetti or fettuccine; bow ties or shells; penne or ziti (I usually stock up when grocery stores have boxes for $1 or less)
Bread crumbs: Plain, seasoned, Panko
Other grains like couscous, rice, quinoa and rolled oats
Oils: Olive oil, extra virgin olive oil, canola oil
Vinegars: Distilled, balsamic vinegar, red wine vinegar, white wine vinegar, apple cider vinegar
Canned items: tomatoes (whole peeled plum tomatoes, diced tomatoes)
Spreads: Peanut butter, hazelnut butter
Sweeteners:

Honey; maple syrup

Other sauces: Soy sauce, Worcestershire sauce, Tabasco sauce
Dried herbs and spices: (see this post for my storage method) thyme, sage, cumin, parsley, red pepper flakes, paprika, smoked paprika, cinnamon, nutmeg, allspice, cloves, ginger, garlic powder, chili powder, chipotle chili powder, bay leaves, coriander seeds, and fennel seeds.
Salts: Table salt, kosher salt, sea salt
Peppers: Black pepper, white pepper, cayenne pepper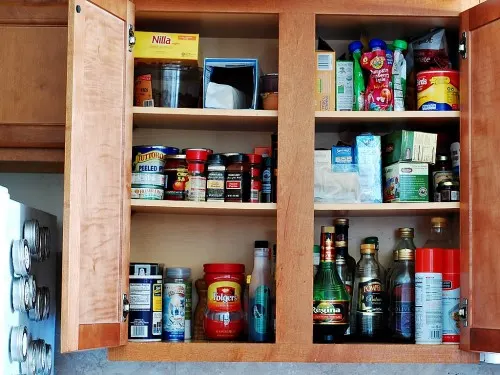 The photo above is an over-the-counter cabinet, just to the left of my stove. On the bottom shelf, beginning on the right-hand side, I have my oils, vinegars, other sauces, sweeteners, and salts. And the instant coffee. Because it fits there.
If you look to the left of the cabinet, you'll my most-used herbs and spices in metal tins attached to the fridge with magnets.
On the middle shelf, I have my cans (canned tomatoes and tuna fish), my less-often-used spices, my tea bags and hot cocoa mixes, and my spreads.
And then on the top shelf, snacks: cookies, crackers, puree pouches, applesauce, etc.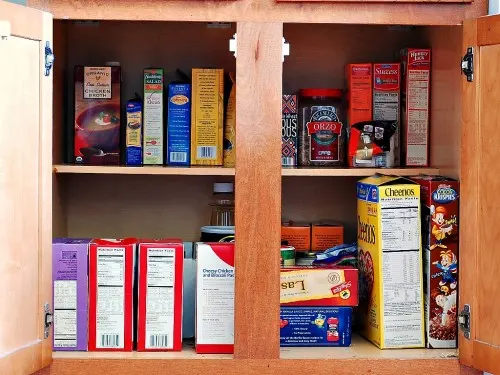 This photo above is the under-the-counter cabinet just to the left of the stove. This is where I keep my unopened broth and stock, pasta, rice, grains, pancake mix, cornbread mix, and cereal (no comments on my Cocoa Krispies addiction — we all have our vices!). Behind the pasta boxes on the left, there is a cardboard box where I keep my onions, potatoes and sweet potatoes.
I'll do refrigerator and freezer staples next Monday!