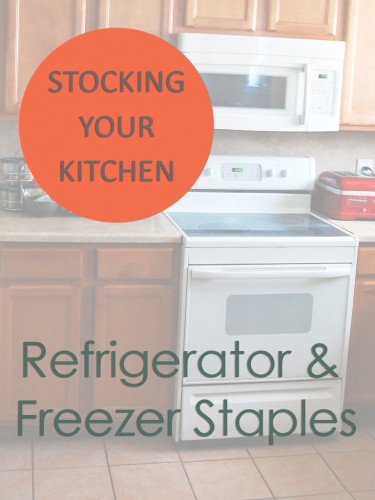 Wow! Based on the pageviews for Stocking Your Kitchen: Dry Pantry Staples, you really like this series idea!
As I mentioned last week, having a well-stocked pantry helps save money. If you have the staples needed to throw together a last-minute meal, it saves you from ordering take-out, or making an extra trip to the grocery store (and the impulse buying that goes along with it!).
Now, unlike the dry pantry staples, you can't really "stock up" the way you can with boxes of pasta, or jars of peanut butter. But there are certain things I like to keep on-hand in the refrigerator.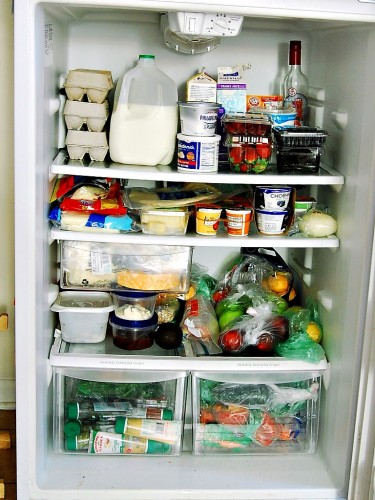 Top shelf, on the right, are the eggs. Yes, 3 dozen eggs. Actually, 2 ½ dozen (one carton is half-empty). I'm making more breakfast taquitos.
Then the dairy: two gallons of milk (the toddler loves his milk), half-and-half for coffee, buttermilk, salted butter for toast and dinner veggies, cream cheese for bagels, Greek yogurt. Plus Liam's berries. And a bottle of wine.
Then the middle shelf has Liam's string cheese, other cut fruit, flavored yogurt for snacking, and containers of chopped veggies as part of my meal prep. Chopping veggies ahead of time makes cooking go faster when we get home from work during the week.
The drawer has deli meat, more cheese (LOTS of cheese), and bacon. The bottom shelf has dinner leftovers, and more fruit. Keeping it in plain sight makes it more likely that we'll reach for it as a snack.
The bottom drawer on the right has both fresh herbs and Gourmet Garden herb-in-a-tube that I received when I attended the Big Summer Potluck. Have you ever bought a packet of fresh herbs, used about a teaspoonful, and the rest went bad? Gourmet Garden's herbs and spices in a tube aim to prevent that. The organic herbs and spices are grown, chopped and blended and sealed in a tube. You simply squeeze out the amount you need. The tubes last three months after opening. (Disclosure: Gourmet Garden provided samples of each of their herb and spice tubes at the Big Summer Potluck. The opinions expressed here of their products are my own.)
The drawer on the left contains our fresh veggies, which will vary depending on our meal plan. Currently, there are sweet bell and poblano peppers, celery, carrots, zucchini and butternut squash.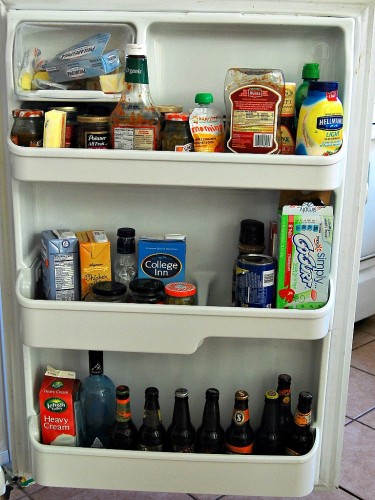 On the door, we keep our condiments, sticks of butter and blocks of cream cheese for baking, open boxes of stock and broth, Liam's yogurt tubes, and beer.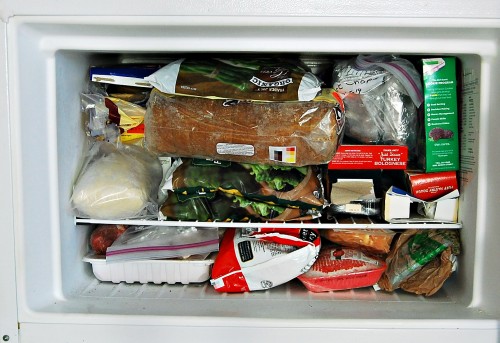 Ahh, the freezer. Or as I call it, Real Life Tetris. On the top shelf, you can see a frozen ball of pizza dough. I always have at least one ball in there. Behind the pizza dough are the frozen waffles that Liam takes to daycare for breakfast. In the middle are frozen veggies (broccoli, green beans, corn, carrots, etc.), and a loaf of bread. Our grocery store occasionally has buy one, get ones sales, so we'll buy two, but we don't go through a loaf very quickly, so we'll freeze the second. On the right, I have frozen puff pastry dough, frozen Girl Scout cookies, and behind that is my stash of Ben & Jerry's.
On the bottom are our frozen meats, poultry and seafood, and Liam's chicken nuggets.
We try to moderately stock up on meats/poultry/seafood when they go on sale. I say moderately because, obviously, we don't have a ton of freezer space. And sometimes we go to my parents' for dinner, and my mom surprises us with pork chops, or steaks, or chicken breasts that she bought in bulk at Sam's Club and split between themselves, my brother and sister-in-law, and us.
What's the point of having a well-stocked freezer for throwing together a last-minute meal? After all, it takes time to defrost something that's frozen.
Obviously, defrosting in the refrigerator is the preferred method. But that can take 24 hours or more, and if you need the frozen item faster than that, there are two methods you can try:
Placing the frozen meat/poultry/seafood in a ziploc bag, placing it in a container in the sink, and placing it under a steady stream of cold water (you can submerge it in cold water, but you need to change out the water every 30 minutes). Not exactly FAST, but faster than thawing in the fridge.
Thawing in the microwave. This is the fastest method, though there is a greater chance that bacteria could begin to grow. The meat will not thaw evenly, so some spots will be warmer than others. Only use this method if you will cook the meat immediately after you defrost it.
Next week, my baking pantry staples!