I believe I have confessed before that I was rather picky as a child. For a period of time, I boycotted tomatoes in all forms (even pizza). For nearly two decades, I refused to touch any kind of fish or shellfish. The most "exotic" cuisine I would eat was Americanized Chinese takeout.
I'm happy to say, I've branched out. I've discovered new ingredients and ethnic cuisines. I've hesitated when offered something new, but quickly resolve to at least taste something before saying I don't like it.
And though I've tried several new ethnic cuisines, there are many more I have yet to try. So, I was thrilled when Cooking Light sent me an advance copy of their newest cookbook, Global Kitchen by David Joachim.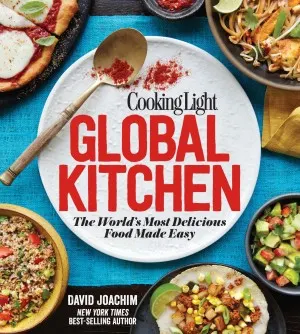 The book contains 150 iconic recipes from cuisine all around the world, from Chinese steamed pork buns to Lebanese baba ghanoush, a Moroccan tagine to Greek moussaka, and Argentinian pork with chimichurri to American blueberry cobbler.
As I flipped through the book, trying to decide what to make first, I knew it had to be the empanadas. I've had them each time I've gone to a local Cuban restaurant, trying a different filling each time: beef, pork, chorizo. Delicious!
This is a time-consuming recipe, but it's totally worth it. It's very make-ahead friendly, so you can spread the steps out over a day or two, then freeze until you're ready to eat them.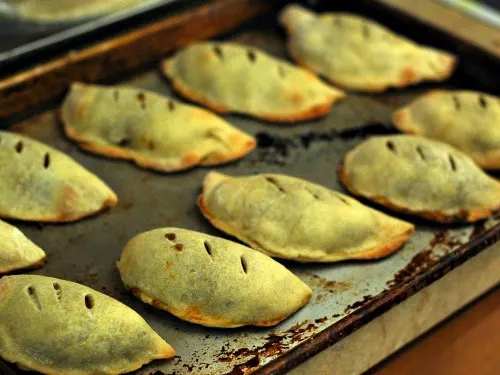 We loved these empanadas — there's a lot of flavor and spice, but not a lot of heat. If you like mouth-burning spiciness, roast a jalapeño along with the poblano, leave in a few seeds, and add it to the filling mixture.
I served two empanadas per person with a side of Mexican rice and tomatoes, and was more than satisfied. Between the sweet potatoes and the black beans, this recipe has a lot of filling fiber!
Don't forget to scroll to the bottom of this post to enter to win your very own copy of Global Kitchen!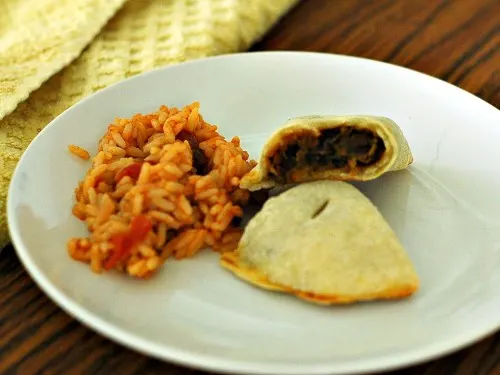 Sweet Potato and Black Bean Empanadas
Slightly adapted from Global Kitchen by David Joachim
Ingredients
2 scant cups (9 ounces) all-purpose flour
¾ teaspoon kosher salt
⅓ cup canola oil
¼ cup cold water
1 tablespoon apple cider vinegar
1 large egg, lightly beaten
1 medium sweet potato
1 poblano chile
1 ½ teaspoon ground cumin
1 cup canned low-sodium black beans, rinsed and drained
5 green onions, white and light green parts only, chopped
2 tablespoon chopped fresh cilantro
1 teaspoon ancho chile powder
½ teaspoon kosher salt
1 egg, lightly beaten
Cooking spray
Directions
Measure flour by weight, or by lightly spooning flour into dry measuring cups, and level with a knife. Pour the flour into a medium mixing bowl. Add the ¾ teaspoon of kosher salt, and stir with a whisk. In a large measuring cup, combine the canola oil, cold water, vinegar and 1 egg. Whisk to combine. Gradually pour the wet ingredients into the dry, stirring just until the dry ingredients are moist. Turn the dough out onto a clean work surface and knead until smooth. Shape the dough into a ball, wrap in plastic, and refrigerate for at least one hour, or up to 24 hours.
Peel and dice the sweet potato. Bring a pot of salted water to a boil. Add the sweet potato and boil for 10 to 15 minutes, until the potato pieces are easily pierced by a fork. Drain, and return the potatoes to the hot pot. Mash until smooth. Set aside.
Preheat the broil to high heat. Place the poblano chile on a baking sheet and roast for 6 minutes; flip with tongs, and roast another two minutes. Immediately place the pepper in a paper bag and fold to seal tightly. Let sit for 15 minutes. This steams the pepper and will make the waxy skin easier to peel off.
Peel the skin off and discard. Slice the pepper in half, remove and discard the seeds; chop the chile pepper. Set aside.
Combine mashed sweet potato, chopped poblano, cumin, black beans, chopped green onions, cilantro, ancho chile powder and ½ teaspoon kosher salt in a large mixing bowl. (NOTE: At this point, the filling can be stored in an airtight container and refrigerated up to 24 hours before proceeding.)
Preheat oven to 400 degrees.
Divide dough into 10 portions (~1 ½ oz each, if you choose to weigh portions). Roll each portion out on a floured suface into a circle 5 inches in diameter. Place two to three tablespoons of filling in the center of each circle. Moisten the edges of the dough circle with some of the beaten egg, then fold the dough over the filling and press the edges together to seal.
Spray a large baking sheet with nonstick cooking spray, and place the empanadas on the baking sheet. Cut three diagonal slits in each empanada to allow steam to escape.
Bake for 16 minutes or until lightly browned around the edges.
Diet type: Vegetarian
Number of servings (yield): 10
Calories: 209
Fat: 8.4 g
Protein: 51 g
Win a copy of Global Kitchen by David Joachim!
Disclosure: Cooking Light provided me with one copy of Global Kitchen to review and keep, and another copy to give away. I was not compensated financially for this post. All opinions contained in this post are my own.
Giveaway Terms & Conditions
* Odds of winning depend on total number of entries received
* Giveaway ends at 11:59 p.m. Eastern Time on Wednesday, March 19, 2014
* Winner will be selected at random by the Rafflecopter widget
* Winners will receive one (1) hardcover copy of "Global Kitchen" by David Joachim (valued at $29.95)
* Prize must be claimed within 7 days or it will be forfeited
* Prize can only be shipped to a US address
* Official giveaway rules can be found here