Pumpkin croissants take the traditional buttery, flaky French dough and wrap it around a spiced pumpkin-cream cheese filling. Dust with powdered sugar for an autumn morning treat!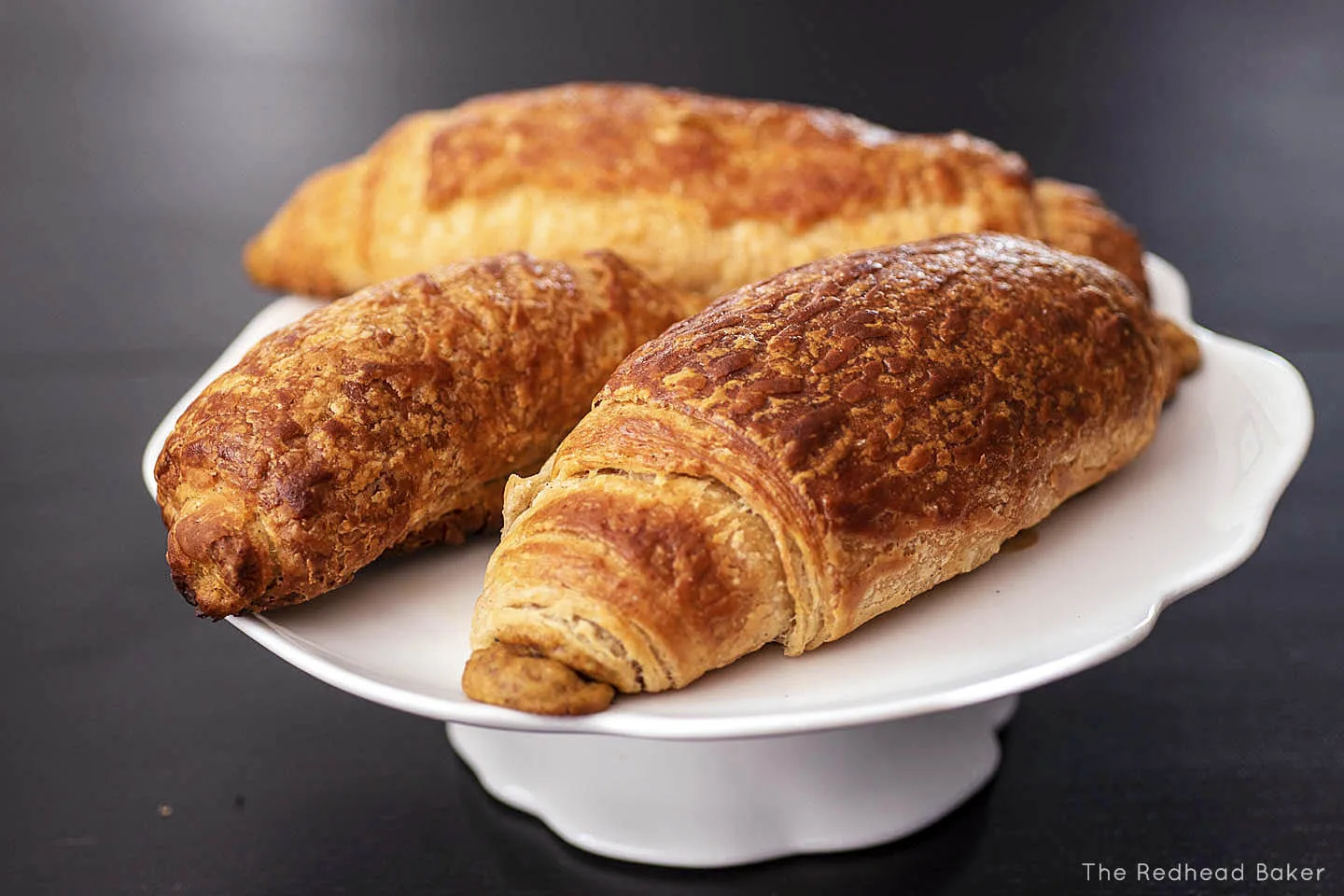 Pumpkin season is here, and we are celebrating our love of pumpkin with #PumpkinWeek hosted by Terri from Love and Confections and Christie from A Kitchen Hoor's Adventures. All week-long 26 bloggers will be sharing over 80 pumpkin-filled recipes for all your Autumn celebrations, including breakfasts, baked goods, savory pumpkin recipes, desserts, and drinks.
One of my favorite breakfast pastries is a warm, flaky croissant. The best ones are crisp on the outside, and tender on the inside. I learned how to make croissants when I was in culinary school.
The flaky texture is achieved through "lamination." Much like a piece of laminated paper, the butter is laminated between layers of yeasted bread dough. The dough is folded around the butter repeatedly, making those flaky layers.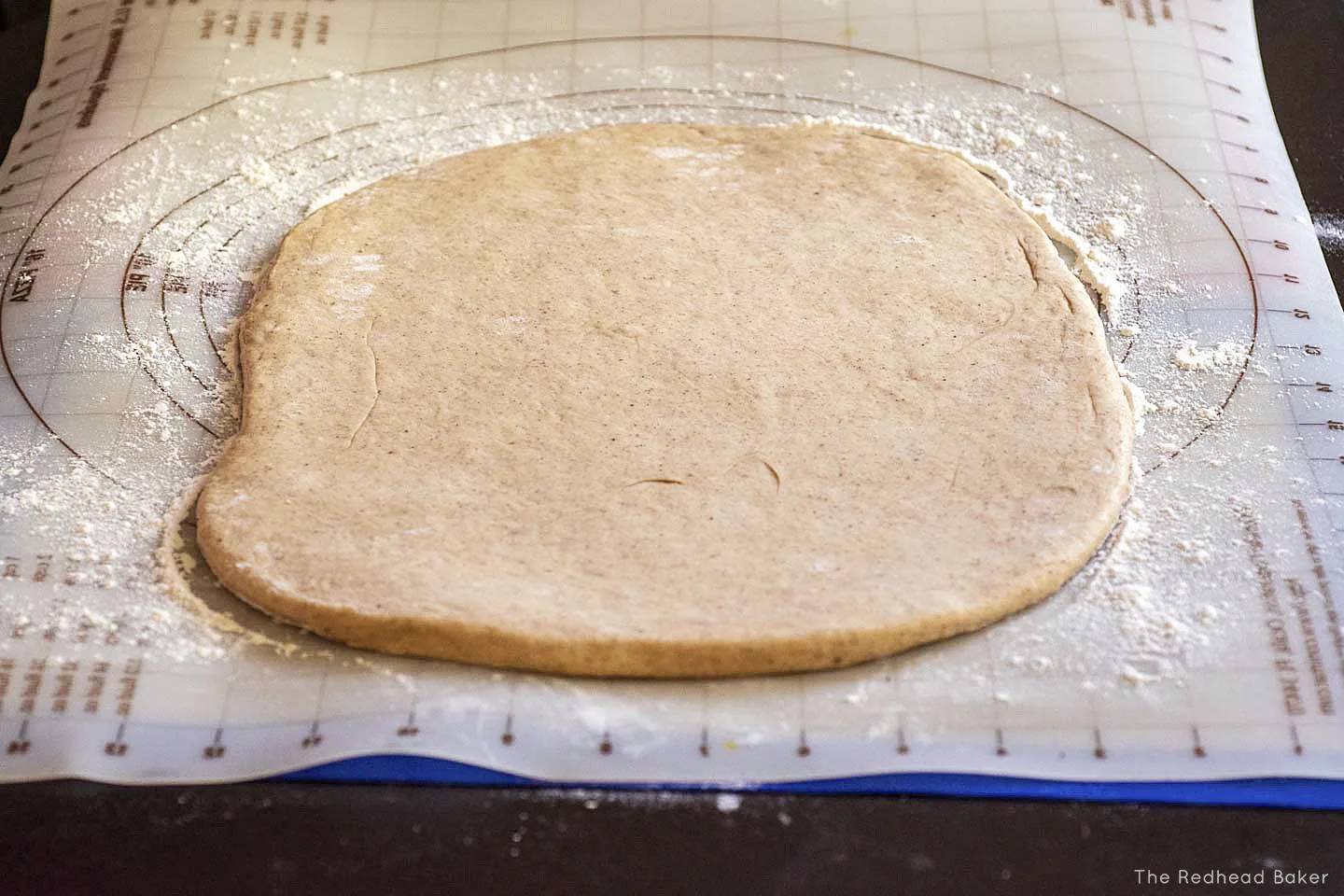 When I make croissants, I usually splurge and get European-style butter like Plugra, or Kerrygold Irish Butter. It's more workable at colder temperatures (ideal for croissants!), and makes for a richer pastry.
I've shared my favorite recipe for homemade croissants on the blog before, and adapted it slightly for Pumpkin Week. I added a small amount of pumpkin pie spice to the dough, and created a pumpkin/cream cheese filling.
Much like other yeasted breads, croissant dough needs time to rise, and time to proof before baking. Like brioche dough, croissant dough needs to be kept chilled to prevent the butter from being incorporated into the bread dough.
You'll notice that these croissants are not, well, crescent-shaped. Filled croissants usually aren't, because the straight shape does a better job of keeping the filling inside the pastry.
And oh, the filling. What a delicious, warmly-spiced pumpkin flavor! It's like cheese danish filling, but pumpkin-spice flavored. It combines cream cheese, sugar, pumpkin, spices, and a little bit of flour to thicken the filling during baking.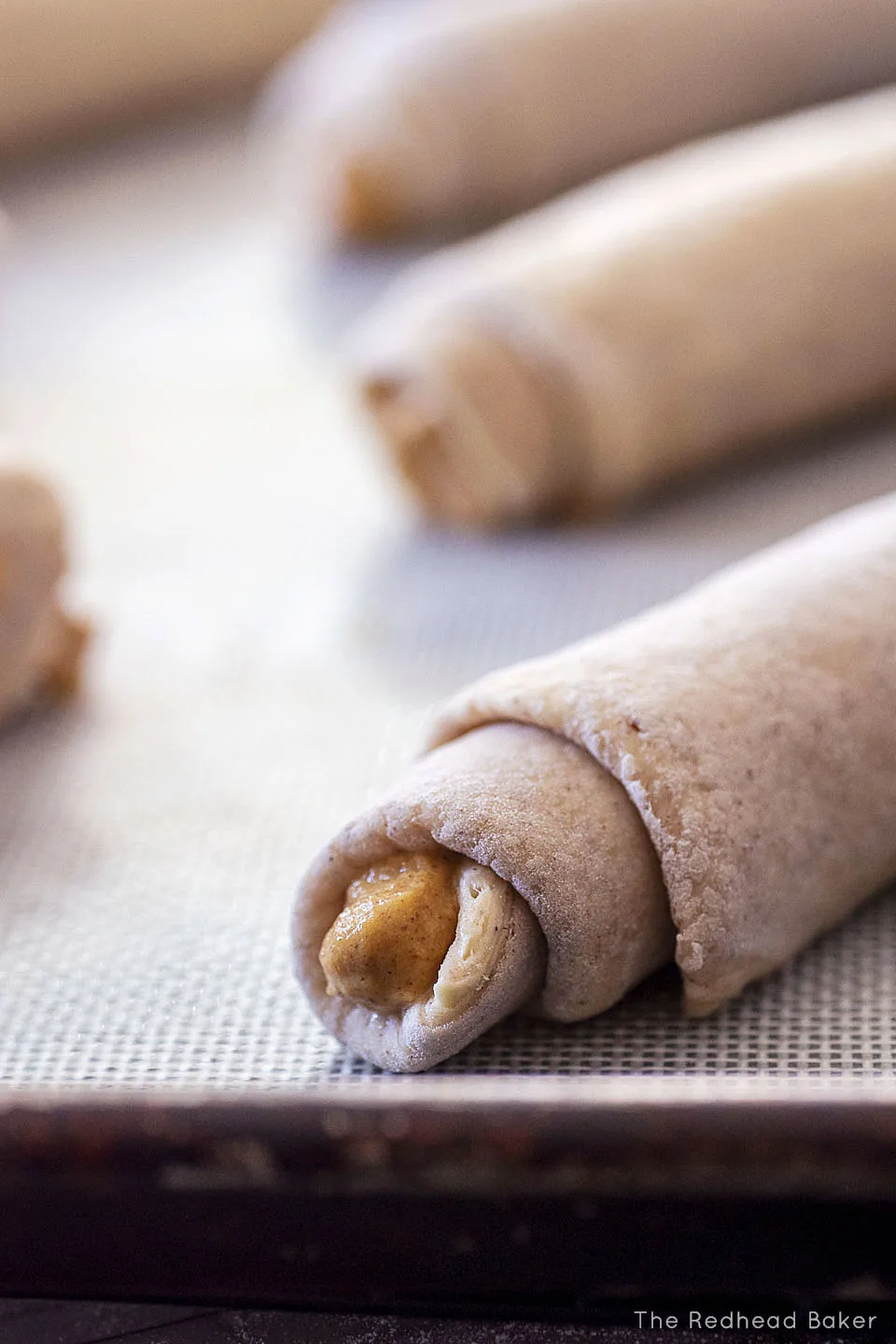 As you can see, this recipe takes at least two days to make. I usually stretch it over three days, leaving just the final proofing and baking for the last day. Yeast dough loves a good, long rest in the refrigerator, and if anything, makes the flavor of your baked bread even better.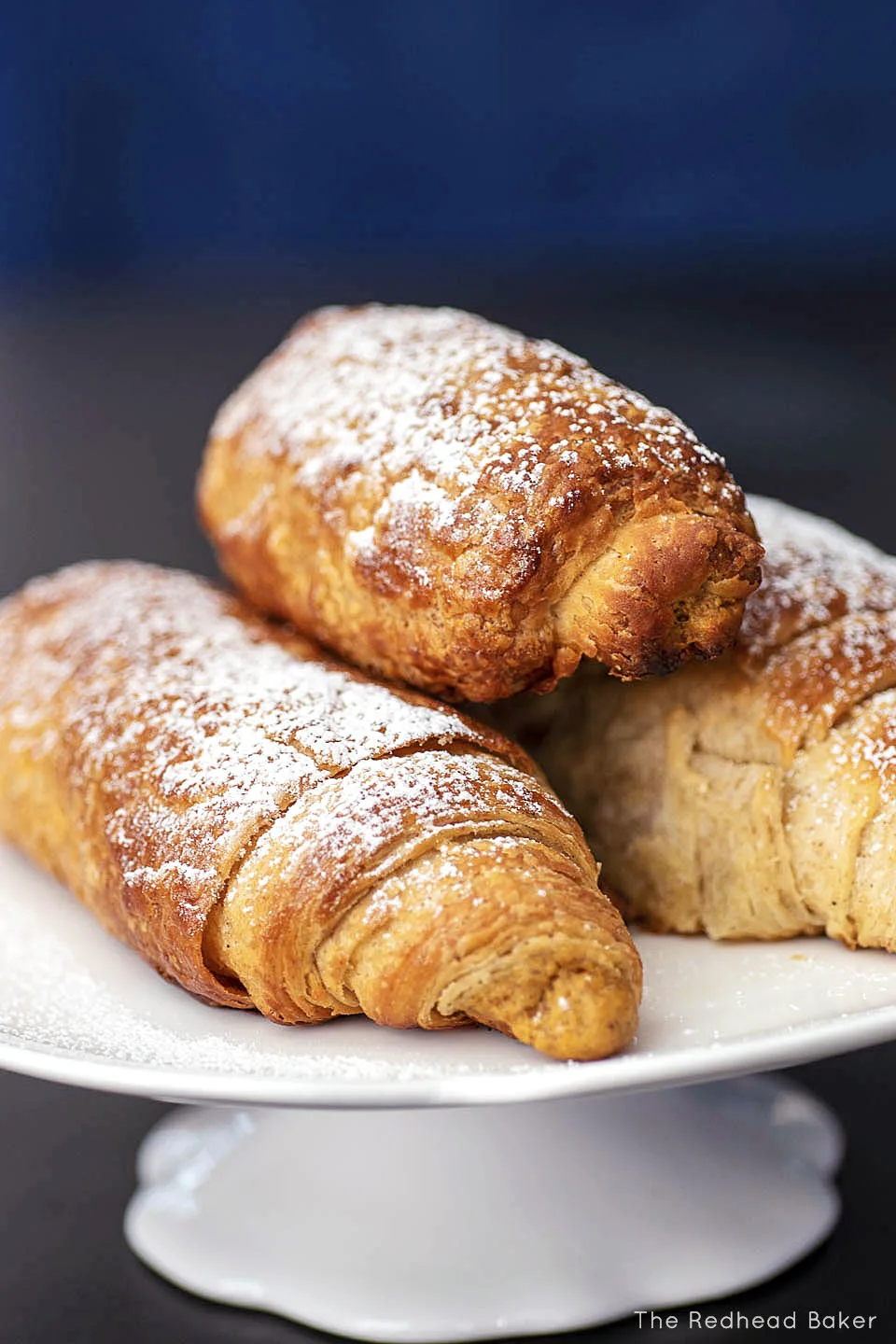 If you only need a few croissants, you can freeze some after shaping, or after baking. If you freeze them after shaping, set the frozen croissants on a baking sheet and let them sit out overnight to thaw and proof.
If reheating baked, frozen croissants, place the unthawed croissants directly on the oven rack in a preheated 350 degree oven for about 15 minutes.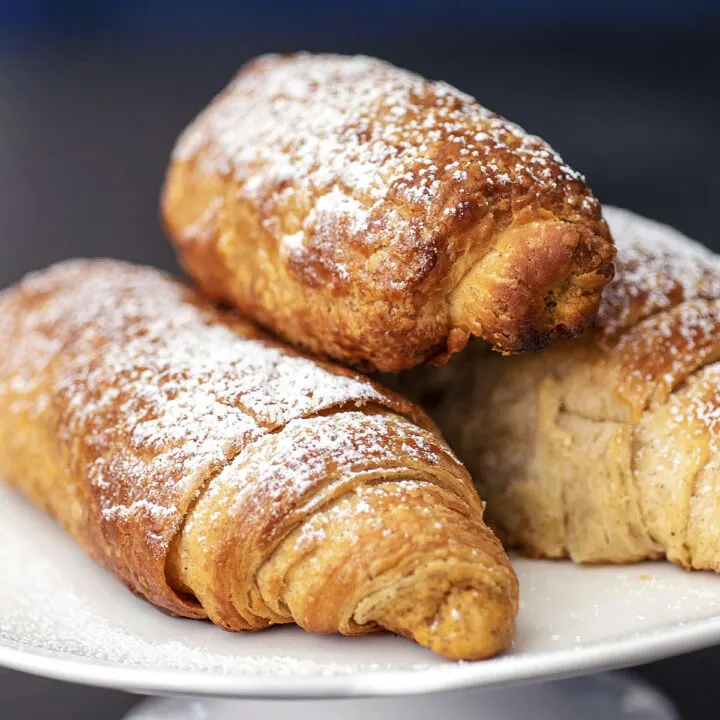 Pumpkin Croissants
Total Time:
1 day
2 hours
18 minutes
Pumpkin croissants take the traditional buttery, flaky French dough and wrap it around a spiced pumpkin-cream cheese filling. Dust with powdered sugar for an autumn morning treat!
Ingredients
For the croissants
7 teaspoon instant yeast
⅓ cup water, at room temperature
4 cups cake flour
¼ cup sugar
1 tablespoon kosher salt
1 cup whole milk, at room temperature
1 cup unsalted butter, European-style is preferred, cool but not hard
For the filling
¼ cup sugar
1 teaspoon pumpkin pie spice
1 tablespoon + 1 teaspoon all-purpose flour
Pinch of kosher salt
⅓ cup pumpkin puree
For the egg wash
1 egg, beaten
1 tablespoon water
Instructions
Mixing the dough: In a small bowl, gently stir together the water and the yeast. Set aside for 5 minutes.
In the bowl of a stand mixer, stir together the flour, sugar, salt and pumpkin pie spice. Fit the mixer with the dough hook attachment, and add the milk and the yeast mixture. Mix on medium-low speed just until the ingredients form a ball.
Transfer the dough to a lightly-floured work surface. Knead for about 5 minutes, until the dough is smooth and a bit firm.
Primary fermentation: Grease a large bowl with nonstick cooking spray, and place the ball of dough inside. Cover in plastic wrap and let rise for one hour at room temperature, then transfer to the refrigerator to rise for at lesat another 30 minutes, and up to 24 hours.
Lightly dust a work surface with flour. Roll the dough out to a rectangle roughly 9 by 15 inches (23 by 38 cm). Let the dough rest for 5 minutes.
Laminating: While the dough is resting, form the butter into a flat rectangle roughly 5 by 7 inches (8 by 12 cm). If your butter comes in sticks, cut each into 4 long strips, then place them on their sides, long sides touching. Place them between two sheets of wax paper and roll them together. If the butter becomes too warm, chill for several minutes before continuing.
Facing one short end of the bread dough, place the rectangle of butter on the third of the dough closest to you. Bring the third of the dough furthest from you down into the middle, then bring the lower third with the butter and fold it up on top, as if you were folding a business letter (see image). Press the sides and seam to seal, then roll the dough lengthwise into a rectangle roughly 10 inches by 14 inches (25 by 35 cm). Fold it in thirds again. Cover loosely with plastic wrap and chill uncovered in the refrigerator for 10 minutes.
Repeat the rolling and folding again, then chill the dough another ten minutes. Repeat the rolling and folding for a fourth time. Dust the dough with flour, then wrap in plastic wrap and place inside a gallon-size zip-top plastic bag, and refrigerate for at least 2 hours, and up to 24 hours.
Make the filling: place all of the filling ingredients in a small mixing bowl and cream with a mixer until smooth and uniform. Transfer the filling to a disposable piping bag. Close the bag by twisting the larger end and securing with a rubber band. Snip off the tip to create a ½-inch opening. Place the piping bag, tip-side-up, in a drinking glass until ready to use.
Shaping: When ready to cut the croissant dough, line two baking sheets with silicone baking mats or parchment paper.
Remove the dough from the refrigerator and its wrappings. Divide the dough in half. Rewrap one half and return it to the refrigerator. Roll the remaining half of the dough to a rectangle 12 inches by 15 inches.
Cut the dough with a pizza cutter or sharp chef's knife into 6 rectangles, each one 5 inches by 6 inches. Gently stretch each rectangle to lengthen it to 5 inches by 8 inches. Pipe a line of pumpkin filling at one end of the dough, then roll up the rectangle around the filling. Place seam-side down on one of the prepared baking sheets. Repeat with remaining rectangles.
Repeat cutting, filling and rolling with the second half of the dough, placing the croissants on the second prepared baking sheet.
Proofing: Set the baking sheets aside to let the croissants rise, uncovered, for 2 hours.
Twenty minutes before baking, preheat your oven to 425 degrees F.
Baking: Beat the egg with the tablespoon of water. Use a pastry brush to gently brush each croissant with the egg mixture. Place the croissants in the oven, and lower the temperature to 400 degrees. Bake the croissants for 15 to 20 minutes, until golden brown all over. Cool on a wire rack, and serve warm or at room temperature with a dusting of powdered sugar, if desired.
Recommended Products
As an Amazon Associate and member of other affiliate programs, I earn a small percentage from qualifying purchases.
Nutrition Information:
Yield:

12
Serving Size:

1
Amount Per Serving:
Calories:

378
Total Fat:

19g
Saturated Fat:

11g
Trans Fat:

0g
Unsaturated Fat:

6g
Cholesterol:

63mg
Sodium:

626mg
Carbohydrates:

47g
Fiber:

2g
Sugar:

10g
Protein:

6g
I am not a certified nutritionist. This nutrition information is automatically calculated by third party software and is meant as a guideline only.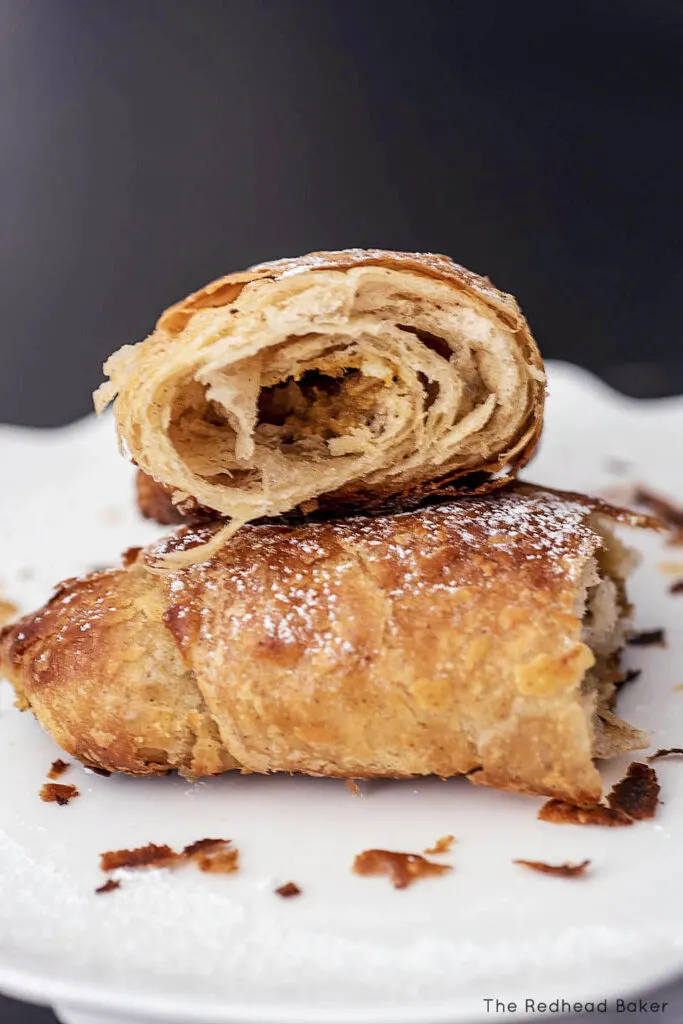 Drink Recipes
Breakfast and Baked Goods
Savory Recipes
Dessert Recipes