Flaky butter croissants are a classic French breakfast pastry. They take time, but need only 7 ingredients, and are sure to impress your friends and family.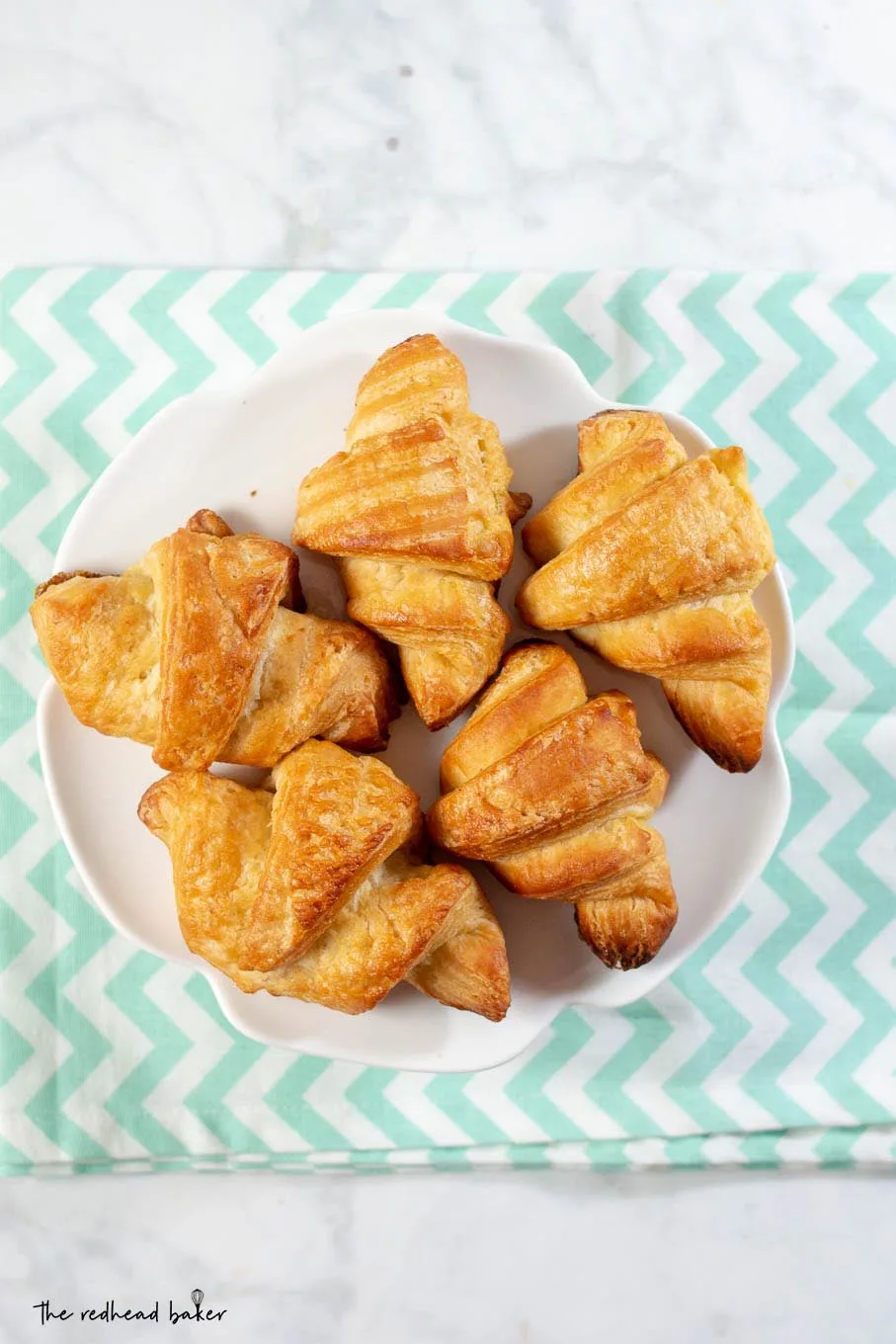 Most people can picture croissants: crescent-shaped, flaky texture, buttery flavor. Some people will pay a lot of money for good croissants. But they can be made at home for a fraction of the cost.
Sure, they take time and some physical labor. If you don't have lipped baking sheets, you could set your oven on fire (not that I, uh, know from experience). But this is one of those recipes that takes longer to describe in words than it does to actually do.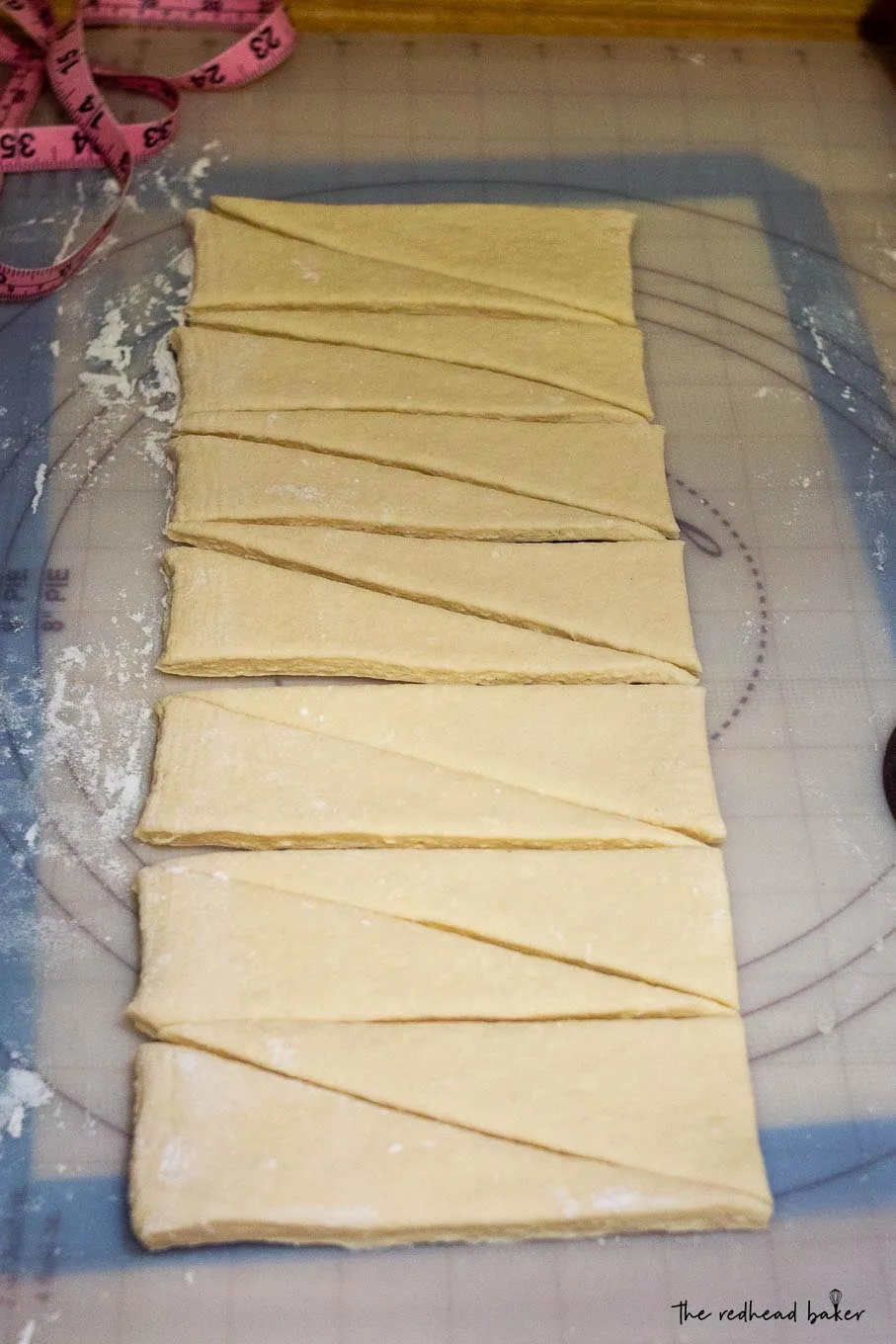 So, yes, lipped baking sheets are a must. As the butter between the layers of dough melts, it runs off of non-lipped baking sheets and catches fire. Not good. Especially not good when your parents just spent a lot of money remodeling the kitchen and that oven is brand-new. Thankfully, that oven was electric and the flames went out as soon as the oven was turned off. Not much damage done.
But it's been well over 10 years since I attempted to make them again. Partly due to fear of starting another fire, even though I know that I only have lipped baking sheets now. Partly due to the fact that I love, love, love croissants and portion control just flies out of my mind when I have them in my house.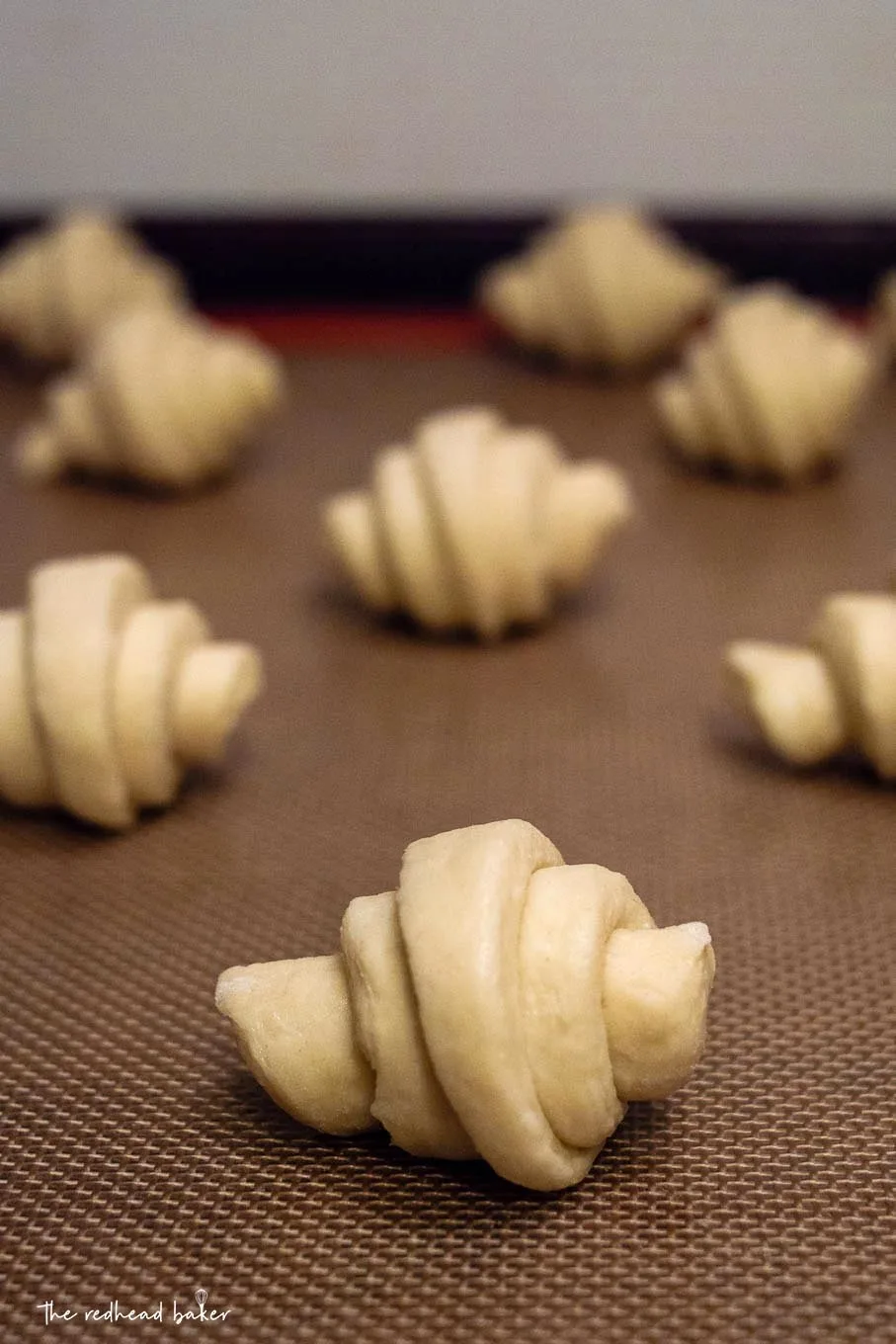 But, it's Bastille Day (vive la France!), and I was invited to contribute a French recipe to this blogging event, and I was up for the challenge. So, give yourself a couple of days, get yourself a good, sturdy rolling pin, some top-quality ingredients (important in recipes with few ingredients, since the flavor can't hide), and go on a kitchen adventure.
One tip: turn your air-conditioner on, even if it's a relatively cool day. You want to keep the dough as cool as possible so that the butter doesn't melt inside your dough. If you don't have an air conditioner, give your dough frequent breaks in the refrigerator to rest.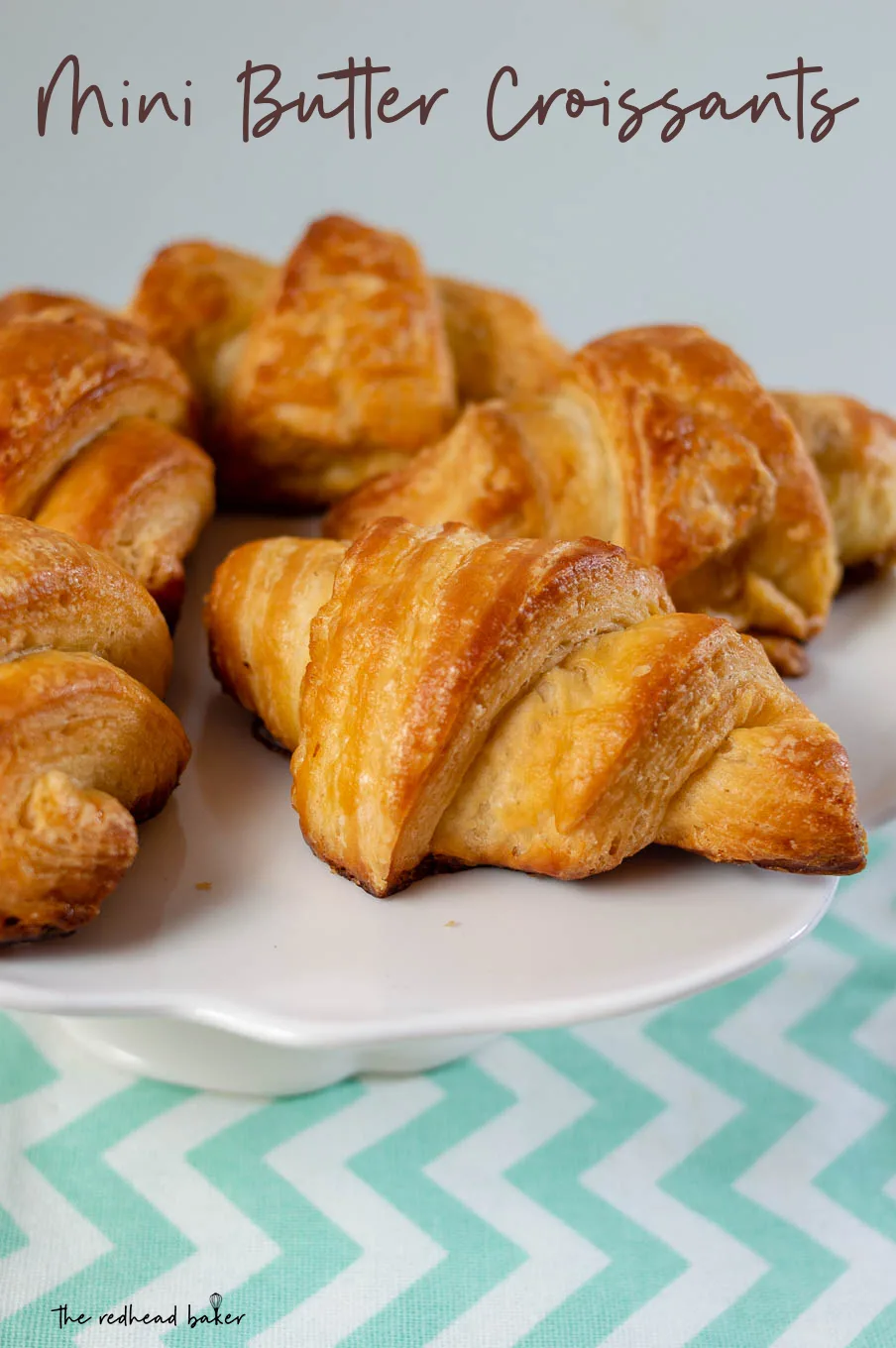 [amazon_link asins='B01LYV1U30,B000KEUKO2,B01LJCVW9K,B005D6GFFA,B00004OCJN,B00Y5VO7F4,B0049C2S32,B000JPSI8C' template='ProductCarousel' store='theredheadbak-20' marketplace='US' link_id='6ac2caae-83da-11e8-8004-8152f4467569']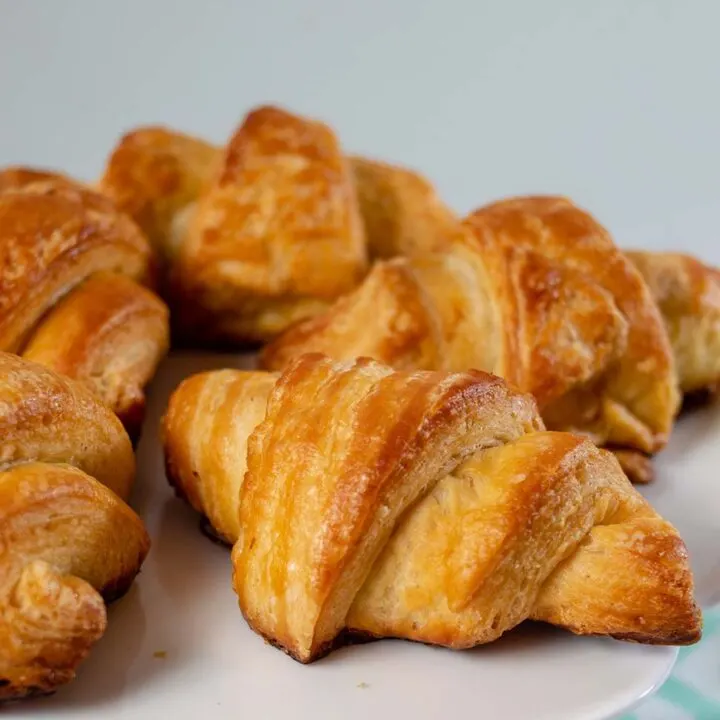 Mini Butter Croissants
Yield:
60 mini croissants
Total Time:
1 day
1 hour
10 minutes
Flaky butter croissants are a classic French breakfast pastry. They take time, but need only 7 ingredients, and are sure to impress your friends and family.
Ingredients
7 teaspoon instant yeast
⅓ cup water, at room temperature
4 cups cake flour
¼ cup sugar
1 tablespoon kosher salt
1 cup whole milk, at room temperature
1 cup unsalted butter, European-style is preferred, cool but not hard
1 egg, beaten
1 tablespoon water
Instructions
In a small bowl, gently stir together the water and the yeast. Set aside for 5 minutes.
In the bowl of a stand mixer, stir together the flour, sugar, and salt. Fit the mixer with the dough hook attachment, and add the milk and the yeast mixture. Mix on medium-low speed just until the ingredients form a ball.
Transfer the dough to a lightly-floured work surface. Knead for about 5 minutes, until the dough is smooth and a bit firm.
Grease a large bowl with nonstick cooking spray, and place the ball of dough inside. Cover in plastic wrap and let rise for one hour at room temperature, then transfer to the refrigerator to rise for another 30 minutes.
Lightly dust a work surface with flour. Roll the dough out to a rectangle roughly 9 by 15 inches (23 by 38 cm). Let the dough rest for 5 minutes.
While the dough is resting, form the butter into a flat rectangle roughly 5 by 7 inches (8 by 12 cm). If your butter comes in sticks, cut each into 4 long strips, then place them on their sides, long sides touching. Place them between two sheets of wax paper and roll them together. If the butter becomes too warm, chill for several minutes before continuing.
Facing one short end of the bread dough, place the rectangle of butter on the third of the dough closest to you. Bring the third of the dough furthest from you down into the middle, then bring the lower third with the butter and fold it up on top, as if you were folding a business letter (see image). Press the sides and seam to seal, then roll the dough lengthwise into a rectangle roughly 10 inches by 14 inches (25 by 35 cm). Fold it in thirds again. Cover loosely with plastic wrap and chill uncovered in the refrigerator for 10 minutes.
Repeat the rolling and folding again, then chill the dough another ten minutes. Repeat the rolling and folding for a fourth time. Dust the dough with flour, then wrap in plastic wrap and place inside a gallon-size zip-top plastic bag, and refrigerate for 24 hours.
Remove the dough from the refrigerator and its wrappings. Divide the dough in half. Rewrap one half and return it to the refrigerator. Roll the remaining half of the dough to a rectangle 12 inches by 15 inches (30 by 38 cm). Trim all sides so that the edges are straight.
Using a sharp chef's knife or pizza cutter, cut the dough in half lengthwise, then cut each half in half, so you have four strips. Cut each strip into triangles that are 3 inches from tip to base and 5 inches across at the base. The triangles will alternate base and tip along the length of the dough.
When all triangles are cut, roll them into crescents, starting with the base, and rolling toward the tip.
Line two baking sheets with silicone baking mats. Arrange each croissant so that the point is on the bottom of each roll.
Beat the egg with the tablespoon of water. Use a pastry brush to gently brush each croissant with the egg mixture. Set the baking sheets aside to let the croissants rise, uncovered, for 2 hours.
Repeat with the second half of the dough in the refrigerator.
Twenty minutes before baking, preheat your oven to 400 degrees F (220 degrees C). Bake the croissants for 10 to 15 minutes, until golden brown all over. Cool on a wire rack, and serve warm or at room temperature.
Nutrition Information:
Yield:

1
Serving Size:

mini croissant
Amount Per Serving:
Calories:

65
Saturated Fat:

2g
Cholesterol:

11mg
Sodium:

119mg
Carbohydrates:

7g
Sugar:

1g
Protein:

1g
Recipe from Paris Boulangerie Patisserie: Recipes from Thirteen Outstanding French Bakeries by Linda Dannenberg
More French #BastilleDayRecipes