This easy peach upside-down cake is a delicious way to eat enjoy the summer fruit. Enjoy warm with a scoop of ice cream.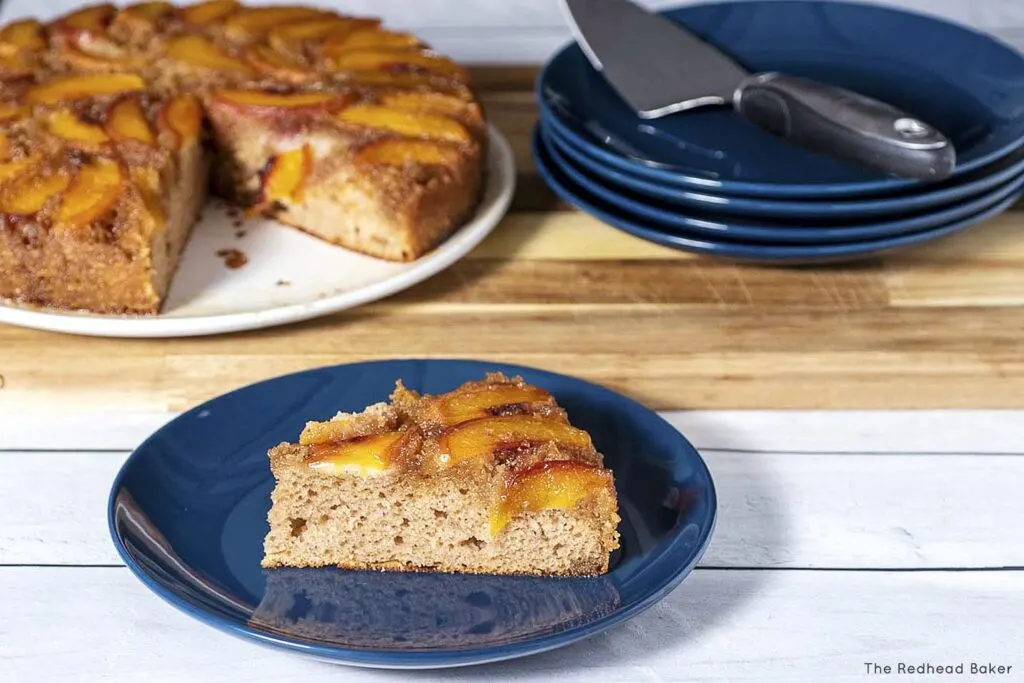 There may not be a single 80-degree day in the 10-day forecast, and there might be pumpkin beer in my fridge, but it is still technically summer, and I still have loads of fresh peaches.
When I was invited to participate in an event celebrating peaches, I wanted to make something really simple and easy. But I also wanted cake. When I think of easy cakes, I think of upside down cake.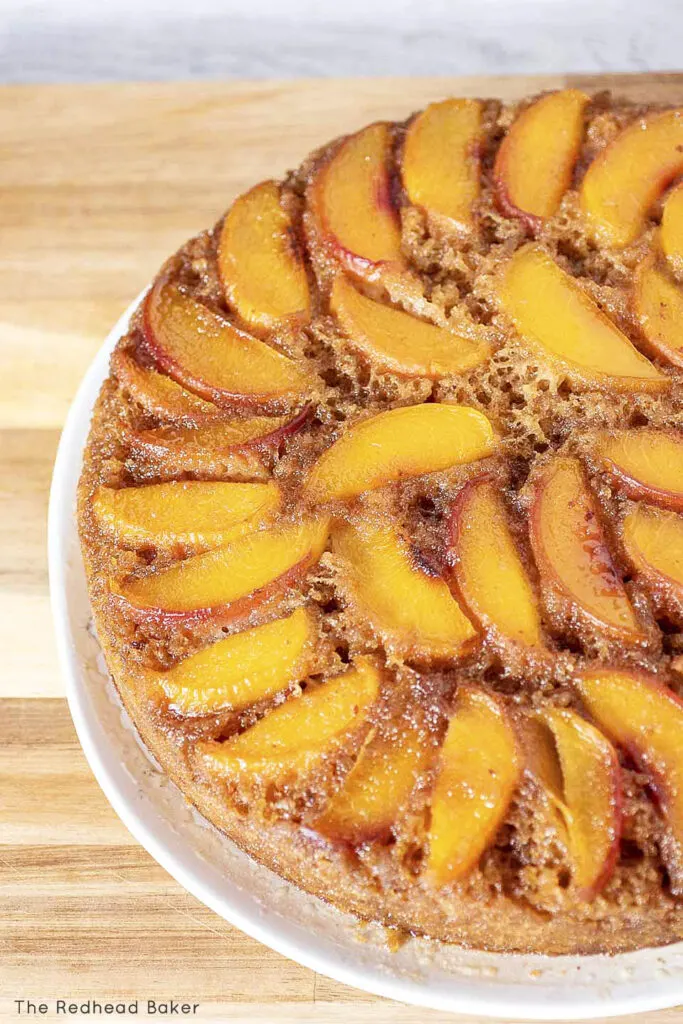 What is an upside-down cake?
Quite simply, upside-down cake is a cake with fruit that is baked fruit-side down, and served fruit-side up. Most people probably picture pineapples but many different kinds of fruit can be used.
The fruit is typically layered on top of a butter/sugar mixture that creates a syrup. Once the cake is baked and turned fruit-side up, the syrup soaks down into the cake. Yum!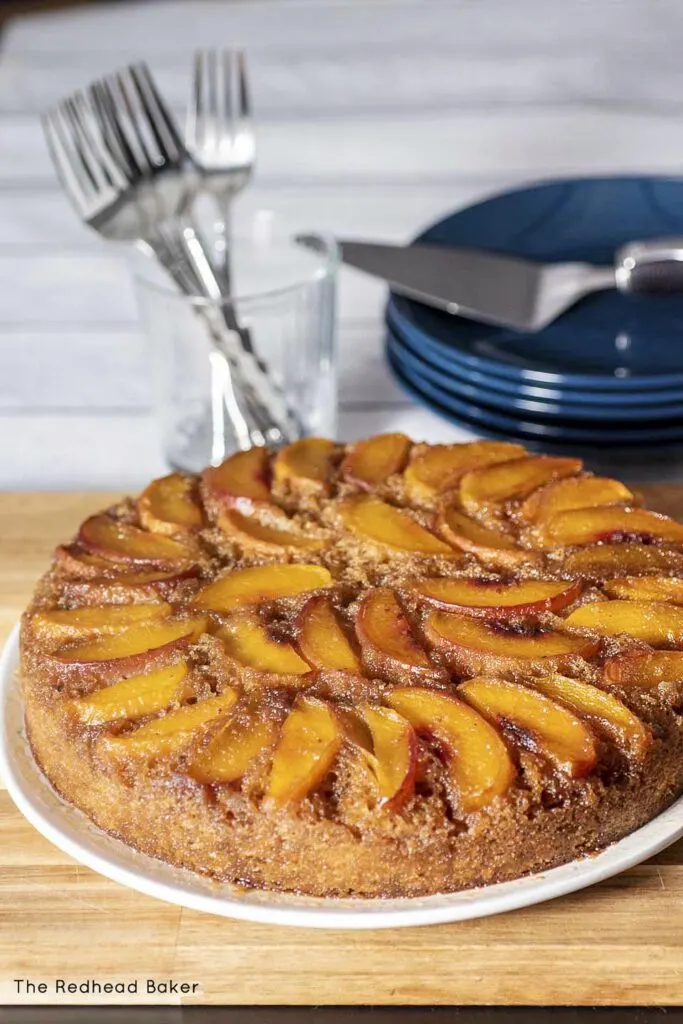 Why brown the butter?
Butter is composed of butterfat and milk solids. When butter melts, the heavier milk solids fall to the bottom. If you continue to heat the melted butter, the milk solids will start to brown and give off a nutty aroma.
Browning butter on the stovetop can be tricky. Once the milk solids start to brown, they can go from pleasantly toasted to burnt in a split second so it is essential to keep a very close eye on them.
However, I recently started browning my butter in the microwave and it's practically foolproof. Just remember to never use a plastic container—the superhot butter will melt it! And put a second bowl, or a plate, on top, to keep hot butter from splattering all over the inside of your microwave.
I love using browned butter in baking because those cooked before mixing it with the brown sugar that goes on the bottom of the cake pan because I love the nutty aroma and the flavor of browned butter goes so well with peaches.
You can skip browning the butter if you choose, though I strongly recommend you do it, just for the incredible flavor it gives. If you choose to skip it, you can simply melt the butter, then mix it with the brown sugar.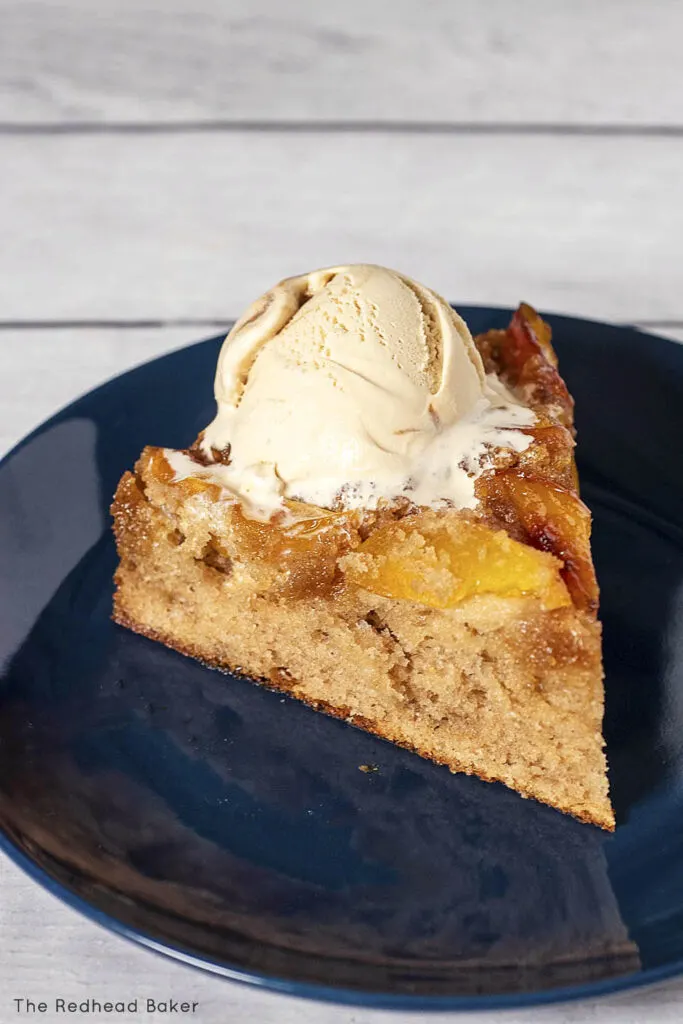 How to Bake an Upside-Down Cake
Most home bakers have 8- or 9-inch round pans, and those pans are typically about 1 ½ inches deep. That's too small for this cake! I used a 10-inch round, 2 inches deep cake pan and the baked cake came right to the top of the pan when it was finished.
You can get 2- or 3-inch deep cake pans at craft stores that have a baking section, at restaurant supply stores or online. You could also try baking this cake in a springform pan, but I recommend wrapping the bottom in tinfoil, in case the butter mixture leaks out.
How to Serve Peach Upside-Down Cake
This cake is absolutely delicious served warm, topped with a scoop of vanilla ice cream, or caramel ice cream. It can also be served at room temperature, plain or with a light sprinkle of confectioners sugar.
To store any leftovers, loosely cover the cake with tinfoil (covering too tightly will cause the syrupy peaches to stick), and store in the refrigerator. The cake is best when eaten within two or three days.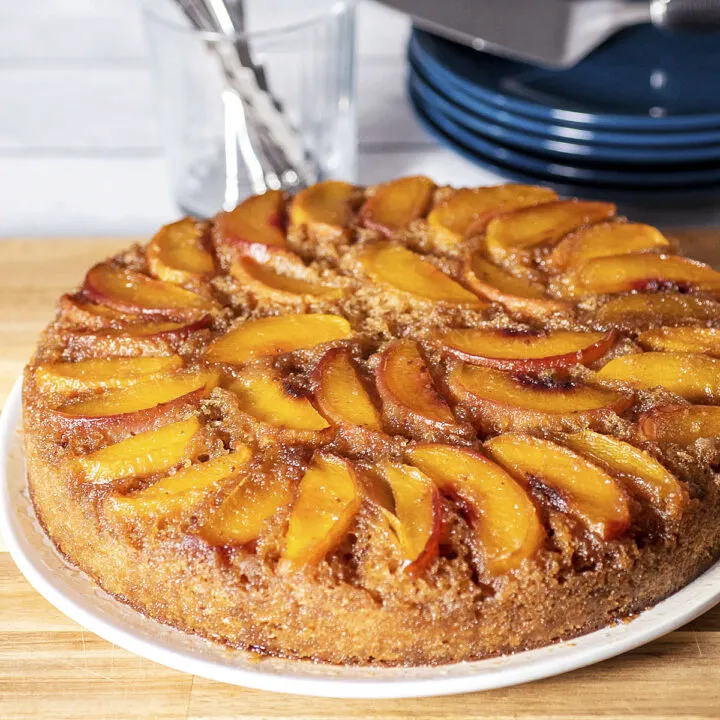 Peach Upside Down Cake
Total Time:
1 hour
5 minutes
This easy peach upside-down cake is a delicious way to eat enjoy the summer fruit. Enjoy warm with a scoop of ice cream.
Ingredients
For the peaches
3 tablespoon unsalted butter
¾ cup brown sugar
2 large peaches, pitted and cut into ½-inch slices
For the cake
½ cup unsalted butter, softened
1 cup sugar
2 large eggs
1 cup buttermilk
1 teaspoon vanilla extract
2 cups all-purpose flour
1 ½ teaspoon baking powder
½ teaspoon baking soda
¾ teaspoon cinnamon
¼ teaspoon nutmeg
½ teaspoon salt
Instructions
Preheat your oven to 375 degrees F. Spray a 10x2 round cake pan with nonstick spray. Set aside.
Place the 3 tablespoons of butter in a microwave-safe bowl. Top with a microwave-safe plate (to prevent splatter). Microwave on high for 3 minutes to brown the butter.
Place the brown sugar in a small mixing bowl. Add the browned butter, and stir to moisten all of the sugar.
Spread the brown sugar mixture in the bottom of the prepared cake pan. Arrange the peach slices over the brown sugar mixture.
In another small mixing bowl, combine the flour, baking powder, baking soda, spices and salt.
In a larger mixing bowl, cream together the butter and sugar until fluffy and lightened in color.
Add the first egg, and beat well and scrape the sides of the bowl with a spatula. Beat in the second egg and the vanilla.
Add a third of the flour mixture to the batter and stir just until combined. Add half of the buttermilk and stir just until incorporated.
Repeat with another third of the flour, the second half of the buttermilk, and the remaining third of the flour.
Spread the cake batter over the peaches in an even layer.
Bake for 45 minutes, or until a toothpick inserted in the center of the cake comes out clean. Immediately run a paring knife around the edge of the cake to loosen it from the pan. Place a heatproof serving plate upside down on the cake pan; turn the pan and plate over. Leave the pan over the cake for 5 minutes so the syrup created by the brown sugar/butter mixture can drizzle over the cake.
After removing the pan, cool the cake another 30 minutes uncovered.
Slice and serve warm with a scoop of vanilla or caramel ice cream.
Recommended Products
As an Amazon Associate and member of other affiliate programs, I earn a small percentage from qualifying purchases.
Nutrition Information:
Yield:

8
Serving Size:

1
Amount Per Serving:
Calories:

453
Total Fat:

17g
Saturated Fat:

10g
Trans Fat:

0g
Unsaturated Fat:

6g
Cholesterol:

88mg
Sodium:

341mg
Carbohydrates:

70g
Fiber:

2g
Sugar:

45g
Protein:

5g
I am not a certified nutritionist. This nutrition information is automatically calculated by third party software and is meant as a guideline only.
More Peach Recipes