Antipasti pasta salad — say that three times fast.
Antipasti is typically thought of as a first course, or even an hors d'oeuvre, since the translation means "before the meal." It's normally served before the pasta course.
Combing antipasti and pasta in this salad version could be served as a first course, but it could also be served as a side, or even the main course of a lunch or light dinner.
You can adapt this salad to your taste by adding in anything typically included on an antipasti plate: cubes of provolone, capers, artichoke hearts, marinated mushrooms, anchovies, etc.
We ate this pasta salad warm, but it can also be served room temperature, or cold. It's a great option to bring to a potluck any time of year.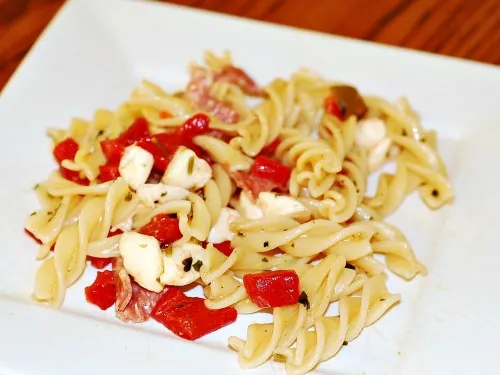 Antipasti Pasta Salad
Adapted from Martha Stewart
Ingredients
1 lb twisted pasta, such as fusilli, campanelle or rotini
4 ounces bocconcini (mini mozzarella balls), quartered
2 jarred fire-roasted red peppers, drained and chopped
8 pitted green olives, sliced crosswise into rounds
2.5 ounces sliced genoa salami, cut into quarters
3 tablespoon red wine vinegar
2 tablespoon extra virgin olive oil
Salt and pepper to taste
1 tablespoon chopped fresh parsley
1 tablespoon chopped fresh oregano
Directions
Bring a large pot of salted water to a boil. Add the pasta and cook according to package instructions to al dente.
Drain the pasta, and return it to the pot. Add the mozzarella, roasted red peppers, olives, salami, vinegar, and oil.
Season to taste with salt and pepper. Top with parsley and oregano and serve warm or at room temperature.
Preparation time: 15 minute(s)
Cooking time: 10 minute(s)