Long, thin, brown and wrinkly: vanilla beans don't look all that special, or even appetizing. And they are expensive! But are they worth it?
In some recipes, yes. If you are making a recipe where vanilla is the primary flavor (vanilla pound cake, vanilla shortbread, vanilla ice cream, etc.), using a vanilla bean instead of vanilla extract is well worth it. So, this blog post is all about that shriveled bean.
What kind of vanilla beans should I get?
There are three varieties of vanilla bean: Tahitian, Madagascar (Bourbon), and Mexican. There's no right or wrong answer to this question. All three are good quality, if you get fresh beans. Each has its own subtle differences in flavor. It's all about personal preference. I like Madagascar.
If you can, buy in bulk. Buying single beans in a grocery store is very expensive. A single vanilla bean can cost $5 apiece or more. Stored in an airtight container in a cool, dark area, vanilla beans can be kept for a very long time. I buy my beans in bulk from Amazon.com, from JR Mushrooms. A quarter-pound of vanilla beans (25 to 30 pods) costs $18.95, and they're Amazon Prime eligible — free shipping!
How do you use a vanilla bean?
You'll need your vanilla bean, a small cutting board, and a sharp paring knife. There are two ends: one short and stubby end, and the other end has a slight curl. There's no "wrong" way to cut a vanilla bean, but I prefer to place the vanilla bean parallel to me on the cutting board so that the curled end is on the left. I hold the curled end with two fingers on my left hand, and place the tip of the paring knife just to the right of my fingers, in the center of the bean, and cut to the right, splitting the bean down the middle.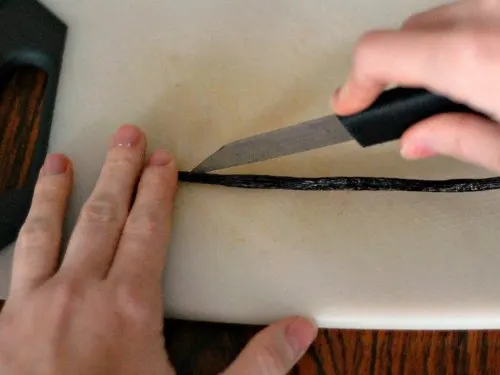 Still holding the vanilla bean the same way, use the flat of the blade to scrape the tiny seeds out of each half of the bean and add them to your recipe.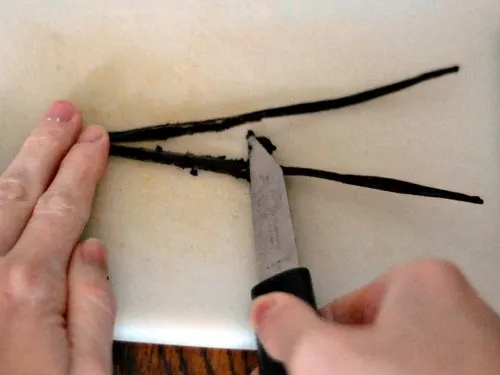 In 99% of recipes, you will not need the pod once the seeds are scraped out. But don't throw it away! I'll get to that in a minute.
How do I substitute vanilla beans for vanilla extract?
You may have a favorite vanilla recipe that calls for vanilla extract, but you want to use a vanilla bean instead. After all vanilla beans provide fresher, more intense vanilla flavor. Extracts vary in flavor intensity, as do vanilla beans (fresher beans have more intense flavor). I use one vanilla bean in place of one teaspoon of vanilla extract.
When to add the vanilla bean seeds will depend on what type of recipe you're making. If you're making cookies, I would add the vanilla bean seeds at the beginning, beating them with the butter and sugar. If you're making something like ice cream, you would need to steep the vanilla bean in the cream first before even starting the recipe. If you're unsure, feel free to contact me with your question.
What can I do with spent vanilla beans?
1) Make vanilla sugar: place two cups of granulated sugar in a container. Bury the spent vanilla bean in the sugar, and cover the container tightly. Let sit for one to two weeks. Use it like regular sugar: add it to coffee, use it in recipes to add extra vanilla flavor.
2) Make your vanilla extract: you'll need a clean glass bottle with a cap or stopper. Pour 8 ounces of vodka in the bottle. Mid-quality vodka is fine, you don't need top-shelf stuff. Add one or two split vanilla beans to the vodka, and seal the bottle tightly. Let sit in a cool, dark place for four to six weeks, giving the bottle a good, vigorous shake every two to three days. After six weeks, use in any recipe that calls for vanilla extract.