So, I got a little sidetracked and missed a few days of cookies. I'm sorry! All of a sudden it was a week before Christmas and I hadn't done a bit of Christmas gift shopping, we hadn't seen Santa, didn't have a tree, Dave's car stopped working, and Liam was sick. Ahhhh!
I was feeling rather Grinchy, moreso since Christmas is my favorite time of the year, and it all just seemed so ... rushed this year. So, I figured, whatever I get done is fine. We actually did get to see Santa (Liam was NOT a fan), and got a tree. We think Dave fixed his car, and Liam is healthy again.
So! Back to cookies! Eggnog is one of my favorite Christmas flavors (funnily enough, I'm not a fan of drinking it straight out of a glass). I had made iced eggnog cookies many years ago, but haven't been able to find the recipe I used. So, I decided to use this one from Babble.com.
It is definitely NOT the same as the one I made years ago. Those were more chewy, these are more cakelike. In all honesty, I prefer the chewy-texture cookies, but that's not to say that these are bad — these cakelike ones do have great nutmeg-y eggnog flavor!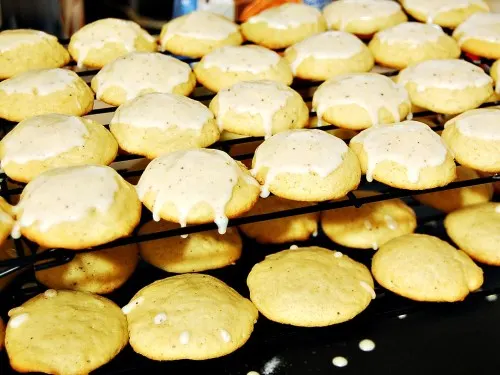 Iced Eggnog Cookies
Recipe from Babble.com
Ingredients
For the cookies:
8 ounces (2 sticks) unsalted butter, at room temperature
1 cup sugar
1 large egg
1 cup eggnog
3 cups all-purpose flour
1 teaspoon baking powder
1 teaspoon baking soda
½ teaspoon salt
¾ teaspoon nutmeg
Icing:
2 cups powdered sugar
4 to 5 tablespoon eggnog
½ teaspoon nutmeg
Directions
Line two baking sheets with parchment paper and set aside.
In the bowl of a stand mixer, cream together the butter and sugar with the paddle attachment until light and fluffy. Add the egg and beat well. Scrape down the sides of the bowl. Then add the eggnog and mix again. The mixture may look curdled.
In a separate mixing bowl, whisk together the flour, baking soda, baking powder and nutmeg. Then add one third of the flour mixture to the wet ingredients and stir on low speed until almost incorporated. Add another third and stir until almost incorporated. Add the final third and stir just until incorporated. Cover the bowl with plastic wrap and chill it for at least two hours.
Preheat the oven to 350 degrees. Use a small cookie scoop to portion dough by the teaspoonful onto the baking sheets, spacing 2 inches apart. Bake for 10 to 12 minutes, or until the tops are lightly golden. Cool cookies on a wire rack.
Once cookies are fully cool, make the icing. In a small bowl, whisk together the powdered sugar and nutmeg. Add 4 tablespoons of the eggnog. Stir with the whisk, adding a little more eggnog as needed if the icing is too thick.
Ice the cookies by dipping the tops into the icing, gently shaking off the excess and letting them sit on a wire rack until the icing sets.
Number of servings (yield): 5 dozen cookies