Ah, Nutella. I know I'm not the only one obsessed with it. Right? Admit it.
Spreads like peanut butter, but the taste, oh, the taste! I don't even need a recipe, I'm content to eat it straight from the jar.
But some people don't agree that a spoon and a jar of Nutella can be called dessert. Haters.
So, here are some Nutella cookies to shut those haters up. Rich and chewy, flavored with hazelnut and a LOT of chocolate. You'd better double this recipe. These will disappear quickly!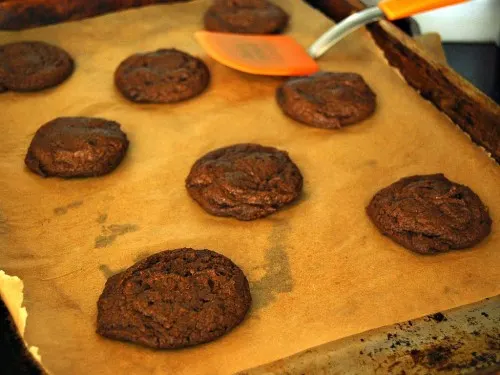 Nutella Chocolate Chip Cookies
Recipe barely adapted from Our Best Bites
Ingredients
1 ¼ cups all-purpose flour
1 teaspoon baking powder
¼ teaspoon salt
⅔ cup cocoa powder (Dutch-process is best, but you can sub natural unsweetened if you can't find it)
½ cup unsalted butter
½ cup sugar
½ cup dark brown sugar
2 teaspoon vanilla
⅓ cup Nutella
⅓ cup milk
12 oz semisweet chocolate chips
Directions
Preheat oven to 325 degrees. Line two baking sheets with parchment paper.
Whisk together the flour, cocoa powder, and baking powder in a small mixing bowl; set aside. In the bowl of a stand mixer, beat together the butter, sugar, and brown sugar with the paddle attachment on medium speed for about 2 minutes or until smooth. Add the extract and beat for another 30 seconds or so. Add the Nutella and beat until well-combined.
Add half of the flour mixture and mix on low speed until combined. Add the milk, mixing until combined completely, then add the remaining flour mixture and mix completely. Stir in the chocolate chips. Cover tightly with plastic wrap and refrigerate the dough for at least 15 minutes.
Scoop tablespoons of dough and roll them into balls and place them on the lined cookie sheet, leaving about 2″ between the dough balls.
Lightly flatten the dough balls with your palm or the bottom of a drinking glass and then bake for 10-12 minutes or until the cookies are crackly on top and soft, but starting to set. Remove from the oven and allow them to sit on the baking sheet for about 5 minutes and then transfer the cookies to a cooling rack and allow them to cool completely.
Number of servings (yield): 3 dozen