Browned butter chocolate chip cookies have a subtle, nutty flavor from the browned milk solids in the butter. They're Christmas cookies with a kick!
Some things just make everything else butter. Some say bacon. Some say chocolate.
I say browned butter.
What is browned butter? Well, butter contains tiny particles called "milk solids." When you heat butter long enough, these milk solids get all toasty and brown. This causes the butter to take on a warm, nutty flavor. When used in baking, browned butter lends a subtle nutty flavor to the final product.
How do you make browned butter? Simply melt the butter in a small saucepan over medium-high heat. Let it come to a boil and continue cooking until it begins to brown. How long it takes will vary depending on how cold your butter is to begin with, the level of heat under the saucepan, and how evenly your saucepan heats. It could take 5 minutes, or 15 minutes — or longer. The butter will bubble and foam, just let it keep cooking. No need to stir. Just keep a close eye on it, because once it begins to brown, it will go from brown to black very quickly.
Once your butter has browned and cooled, continue with the cookie recipe the same as you would any other chocolate chip cookie recipe.
Oh, did I mention the bonus about these cookies? It's a Cooking Light recipe, so they're low fat — only 4 grams of fat per cookie!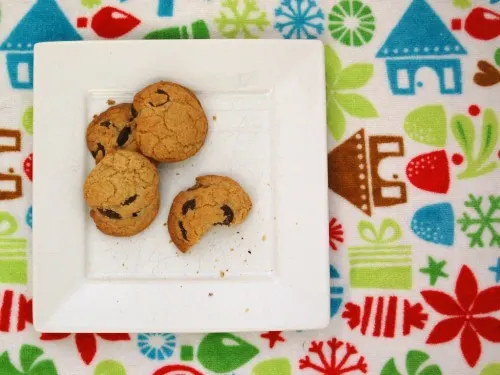 Recipe: Browned Butter Chocolate Chip Cookies
Recipe barely adapted from Cooking Light
Ingredients
6 tablespoon unsalted butter
2 tablespoon canola oil
1 ¼ cups all-purpose flour
¾ cup whole-wheat flour
1 teaspoon baking powder
½ teaspoon kosher salt
¾ cup packed light brown sugar
⅔ cup granulated sugar
½ teaspoon vanilla extract
2 large eggs, lightly beaten
1 cup semisweet chocolate chips
Directions
Preheat oven to 375 degrees.
Place the butter in a small saucepan and set over medium heat. Cook until browned. Remove from the heat and pour into a heatproof measuring glass to stop the cooking; add the oil. Set aside to cool.
In a medium mixing bowl, combine the all-purpose and whole wheat flours, baking powder, and salt, stir with a whisk to aerate.
Place the butter/oil mixture and sugars in the bowl of a stand mixer; beat with a mixer at medium speed until combined. Scrape down the bowl. Add the vanilla and eggs; beat until well blended. Scrape down the bowl.
Add the flour mixture, beating at low speed until just combined. Stir in chocolate chips.
Drop tablespoonfuls of dough 2 inches apart onto baking sheets lined with parchment paper. Bake for 12 minutes or until bottoms of cookies just begin to brown. Cool slightly on the baking pan, then remove to a wire rack to cool completely.
Diet tags: Low calorie, Reduced fat
Number of servings (yield): 3 dozen cookies
Calories: 96
Fat: 4 grams