It's recipe swap time again! This swap round was Blogger's Choice, hosted by A Taste of Home Cooking, which meant I could choose any recipe I wanted from the blog I had been assigned.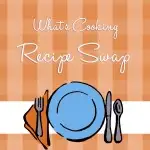 I knew I was going to do a "12 Days of Cookies" series in December, so how perfect was it that I was assigned a blog called "Cookies on Friday"?! I knew I wouldn't have to break the series to fit in my swap recipe.
Nicole had SO MANY cookie recipes to choose from. Drop cookies, slice-and-bake cookies, brownies, bars, biscotti and shaped cookies. I didn't know how I was going to choose just one!
Then I saw a recipe called White Chocolate Custard Cookies. These cookies called for 3 ounces of custard powder. I was instantly transported back to my childhood. On holidays, my mom would make an apple pie. Some ate their slices with vanilla ice cream, and others ate theirs with a hot custard that my grandmother made from a mix, by a brand called Bird's. Not being a fan of apple pie myself, I'd just eat a bowl of the hot custard.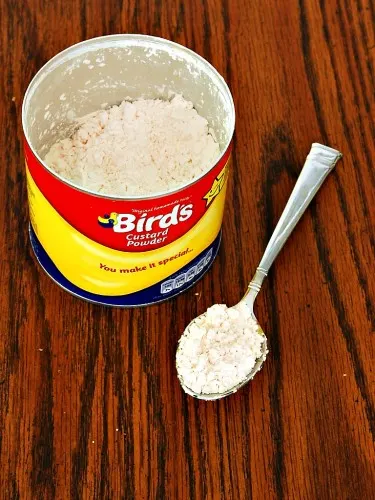 My grandmother used to bring the mix back home with her whenever she went back to visit family in Scotland. But now, you can buy it here in the U.S., on Amazon, and in stores like World Market and Wegman's.
Bird's was the first powdered, eggless custard. It's mostly made up of cornstarch, with salt and some flavoring. You add sugar and milk, and cook either on the stovetop or in the microwave. Until now, I had no idea that some people used the powder in other ways.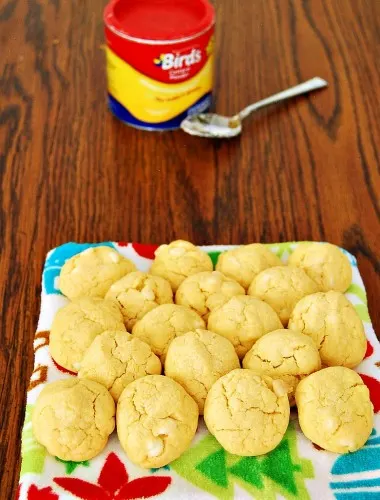 These cookies are made the way most drop cookies are made: cream together butter and sugar, add the dry ingredients, stir in the chips. It makes a crumbly dough that is rolled into balls and baked. The resulting cookies are typically British, in that they are not as sweet as typical American cookies. But they do taste just like the custard my grandmother made. I cannot stop eating them!
White Chocolate Custard Cookies
Recipe barely adapted from Cookies on Friday/BBC Food
Ingredients
10 tablespoon butter, softened
1 cup sugar
1 egg
½ teaspoon vanilla extract
2 cups all-purpose flour
2 teaspoon baking powder
½ teaspoon baking soda
½ teaspoon salt
¾ cup Bird's custard powder
⅔ cup white chocolate chips
Directions
Preheat the oven to 350 degrees. Line two baking sheets with parchment paper.
In the bowl of a stand mixer, cream together the butter and sugar until light and fluffy. Beat in the egg and vanilla, until combined.
In a small mixing bowl, combine the flour, baking powder, baking soda, salt and custard powder.
Add the flour mixture to the butter mixture and stir on low speed until combined. Add the white chocolate chips and stir to incorporate.
Shape the dough into 1-inch balls and place on the prepared baking sheets. Bake for 12 to 15 minutes, until just barely browned. Allow to cool on the baking sheets for several minutes before removing to a wire rack to cool completely.
Number of servings (yield): 3 dozen cookies
Don't forget to check out the other recipes from the swap! Get the recipes by clicking on the thumbnails below.
[inlinkz_linkup id=350465]