When I was putting together my list of cookies for this series, I knew I wanted to make all different varieties of cookies: one oatmeal, one biscotti, one citrus flavor, one eggnog flavor, a brownie, etc. I definitely wanted to include a shortbread recipe, since they are a traditional Scottish Christmas cookie.
I was browsing around, looking for different flavored shortbread ideas, and I stumbled upon a New York Times Magazine blog post, featuring a "master shortbread" recipe, with a graphic of a dozen different flavor suggestions. At the bottom of the graphic were three ideas for savory shortbread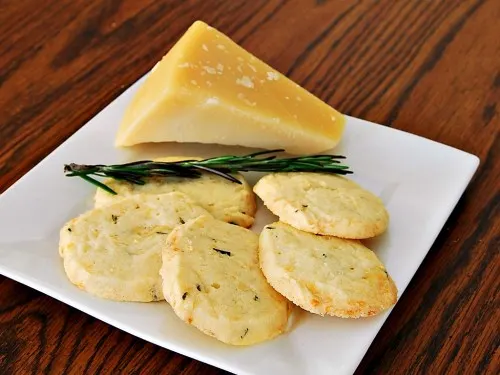 I'd tasted a savory shortbread cookie once before, back in the summer, at the Big Summer Potluck. They included Abby's savory shortbread in the dessert parfaits we enjoyed.
I mixed up the shortbread dough (it's SO easy!) and decided to roll it into a log, then slice and bake. I only sliced 12 cookies off the log to bake at first, just in case I didn't like the cookies.
These cookies are SO ADDICTING. I almost didn't have any left to snap a few photos. The flavor is a balance of both sweet and savory. The texture is tender and crumbly, just as shortbread should be. They are sweet enough to eat as dessert, and savory enough to serve as an appetizer.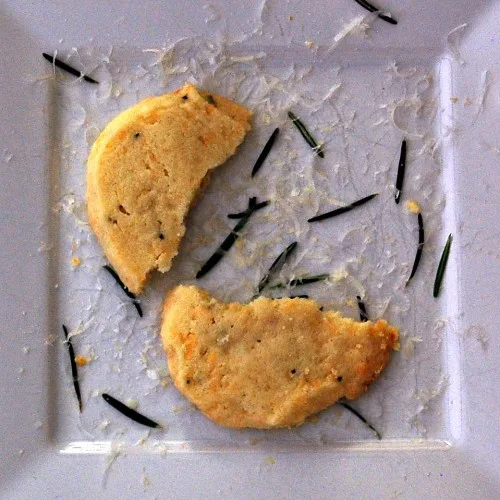 Rosemary-Parmesan Shortbread Cookies
Recipe by Mark Bittman, NYTimes Magazine food columnist
Ingredients
½ pound unsalted butter, softened
¾ cup sugar
½ cup grated Parmesan cheese
1 egg yolk
1 ½ cups all-purpose flour
½ cup cornstarch
¼ teaspoon salt
1 teaspoon minced fresh rosemary
Directions
Use an electric mixer on low speed to combine the butter and sugar, about 30 seconds. Keeping the speed on low, beat in the Parmesan cheese, then the egg yolk, then the flour, cornstarch, salt and rosemary, until the mixture barely holds together. Don't overbeat.
Scrape the dough out of the bowl and onto a sheet of plastic wrap. Shape the dough into a log at least an inch thick and refrigerate or freeze until firm, at least 30 minutes.
Preheat the oven to 275. Slice ¼-inch cookies and put on the baking sheet.
Bake the cookies until just firm but still quite tender and not at all brown, about 30 minutes. Cool for a minute on the sheet before using a spatula to transfer the cookies to a rack to finish cooling.