This is my third year baking for the Great Food Blogger Cookie Swap. It started with a thought by Lindsay from Love and Olive Oil and Julie from The Little Kitchen, and has turned into a huge cookie swap event, raising thousands of dollars for Cookies for Kids Cancer.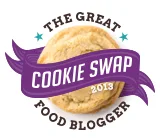 Each year, the swap gets bigger and better. This year, not only is OXO partnering with the swap, but Dixie Crystals, Gold Medal Flour, and Grandma's Molasses have joined up, too. Between the blogger entry fee to participate in the swap, and the matches pledged by the partners, we raised nearly $14,000 for Cookies for Kids Cancer!
As part of the swap, I received Cranberry White Chocolate Cookies from Solid Gold Eats; Mini Dark Chocolate Peppermint Truffle Brownies from The Chocolate Cult; and Sparkling Lemon Pillow Cookies from The Monday Box.
The cookie recipe I chose was in part because of the amount of apple cider I had left over from Thanksgiving. I found these apple cider snickerdoodle cookies on FoodNetwork.com, and decided to adapt them slightly by placing a chewy caramel candy in the center of each cookie.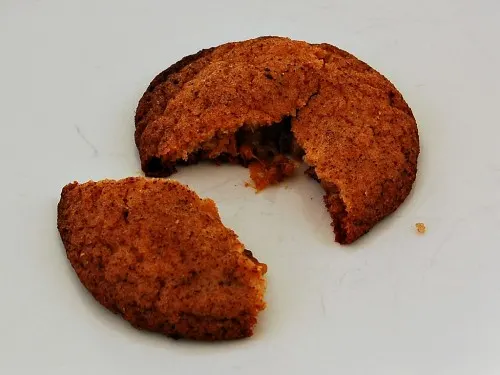 Keep a close eye on the cider while it boils, particularly near the end, so that you don't boil too much away. This part can be done up to a day ahead; store the cider syrup covered in the refrigerator. It will solidify while chilled, so heat it in the microwave just enough to make it liquid again before adding to the cookie dough.
One issue I had with the first batch of these cookies was that the melted caramel would fall out of the bottom of the cookies as they cooled on the rack. I tried cooling them on wax paper instead, but found that the cooled caramel would make the cookies stick (and here I thought nothing stuck to wax paper!). So finally, I cooled the cookies upside down on the cooling rack, which worked well.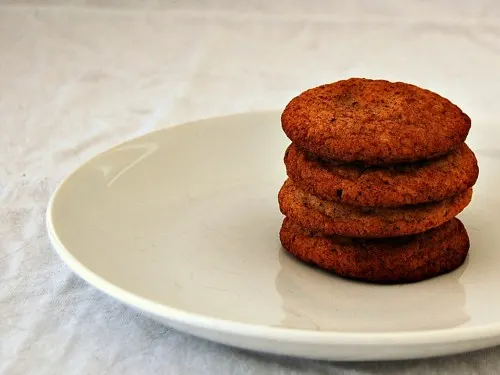 Don't forget to visit Love & Olive Oil and The Little Kitchen on Monday to see ALL of the Great Food Blogger Cookie Swap recipes!
Are you a food blogger who missed this year's swap? Fill out this form to be notified when sign-ups are open for next year's swap!
Caramel-Stuffed Apple Cider Snickerdoodle Cookies
Adapted from FoodNetwork.com
Ingredients
2 ½ cups apple cider
3 cups all-purpose flour
2 teaspoon cream of tartar
1 teaspoon baking soda
1 teaspoon ground cinnamon
1 teaspoon kosher salt
1 cup unsalted butter, at room temperature
1 cup granulated sugar, plus 6 tablespoons for rolling
½ cup packed light brown sugar
2 large eggs
4 teaspoons apple pie spice*
1 (11-oz) bag chewy caramel candies, unwrapped
* I didn't have cardamom, so I just left it out.
Directions
Heat the cider in a medium saucepan over medium-high heat until it comes to a boil. Continue to cook until syrupy and reduced to about ¼ of a cup, 25 to 30 minutes. Set aside to cool slightly, store covered in the refrigerator for up to a day.
Preheat the oven to 400 degrees.
Cut each caramel in half, and form each half into a ball. Set aside.
Whisk the flour, cream of tartar, baking soda, cinnamon and salt in a medium bowl until aerated and evenly distributed.
Cream the butter with 1 cup of the granulated sugar and the light brown sugar in the bowl of a stand mixer on medium-high speed until fluffy and smooth, 2 to 3 minutes. Scrape down the bowl.
Beat in eggs one at a time, beating well and scraping between additions, then beat in the cider.
Stir in the flour mixture on low speed just until combined.
In a shallow dish, stir together the remaining 6 tablespoons of granulated sugar and the apple pie spice.
Scoop golf ball-sized balls of dough. Press a caramel ball into the center of each dough ball, and using lightly moistened hands if the dough is too sticky, roll the dough ball until the caramel candy is completely encased. Then roll in the spiced sugar mixture. Place the dough balls 3 inches apart on parchment-lined baking sheets.
Bake until the edges are just set but centers are still soft, about 9 minutes, rotating the pans halfway through the baking time to ensure even baking.
Cool 2 to 3 minutes on the baking sheet, and then transfer to a wire rack, placing cookies upside down, to cool completely.
Number of servings (yield): 3 dozen cookies