Biscotti are a relatively new type of cookie in my home. I'd seen them around for years, and they've always contained nuts, most of which I can't eat (not allergic, they just make me sick).
Then I bought the King Arthur Flour Cookie Companion, which had a whole chapter dedicated to biscotti. Two recipes (Italian-style and American-style), endless flavor combinations. Most of which DON'T contain nuts!
Biscotti are very easy to make, too. They take a little longer than the typical drop-style cookie, but they are well worth it.
Besides, what other kind of cookie are you encouraged to eat for breakfast?? They are perfect for dipping into your morning coffee, or eating alongside a cup of tea. And this particular flavor has fruit in it! Totally a breakfast food, right?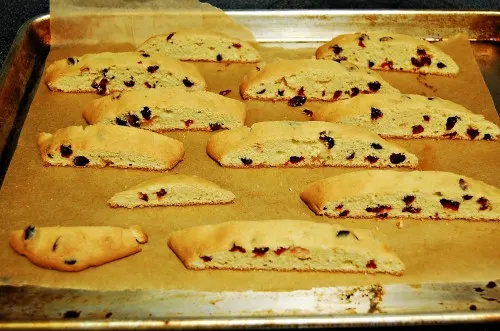 I prefer American-style biscotti, which is lighter and crunchier, and just a tad more moist than Italian-style, thanks to the addition of butter. Since American-style is a tad more moist, it's easier to add dry flavorings, such as chocolate chips, dried fruit, or nuts. Italian-style is better suited for the addition of spices, maple syrup, espresso, etc.
Some tips: let your butter sit at room temperature for about 30 minutes before beginning this recipe. Any longer, and your butter will be too soft, and your biscotti log will spread too much during the first bake.
To help ensure the log is the correct length and width, cut two pieces of parchment. One one piece, use a ruler and a permanent marker to draw two rectangles 9 ½ inches long by 2 inches wide. Then, set another piece of parchment on top of that. Scrape your dough onto this top piece of parchment and shape the dough so it sits inside each rectangle. Then slide the top piece of parchment with the dough log onto your baking pan and discard the bottom piece of parchment.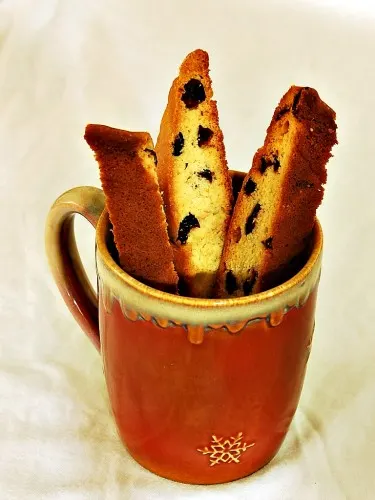 Cranberry-Orange Biscotti
Recipe from King Arthur Flour Cookie Companion
Ingredients
6 tablespoon unsalted butter, at room temperature
⅔ cup sugar
½ teaspoon salt
1 teaspoon vanilla extract
1 ½ teaspoon baking powder
2 large eggs
1 tablespoon fresh orange zest
2 tablespoon freshly squeezed orange juice
2 cups all-purpose flour
1 cup dried cranberries
Directions
Preheat your oven to 350 degrees and line a baking sheet with parchment paper; set aside.
In the bowl of a stand mixer, cream together the butter, sugar, salt, vanilla extract, and baking powder until smooth and creamy.
Scrape down the sides and bottom of the mixing bowl. Add the eggs, and beat for a minute. The mixture may not look uniform.
Add the orange zest and orange juice, and beat another 30 seconds.
Add the flour to the mixing bowl and stir on low speed until incorporated. Stir in the dried cranberries.
Scrape the dough out of the bowl onto the parchment lined baking pans. Divide dough in half, and shape each half into a log 9 ½ inches long by 2 inches wide by ¾ of an inch tall. Use a damp spatula or bowl scraper to smooth the tops and sides of each log. Bake for 25 minutes.
Let the logs cool on the baking pan for about 5 to 10 minutes. Spritz the top of the logs with water from a spray bottle, then wait 5 more minutes and using a serrated bread knife, cut the logs into ½ to ¾ inch slices. Cutting diagonally will yield longer biscotti, cutting straight across the log will yield shorter biscotti. Either way, make sure to slice straight up and down or else the slices may become top-heavy and fall over during the second bake.
Carefully arrange the sliced cookies standing up the baking pan — the cookies are still soft and the longer pieces could break.
Reduce the oven temperature to 325 degrees and carefully return the baking pan to the oven. Bake for another 25 minutes.
Remove the biscotti from the baking pan and let them cool on a wire rack. Once completely cool, store in an airtight container at room temperature for up to 2 weeks.