When you think of food at Christmas, what comes to mind? Turkey? Something peppermint-flavored? Egg nog?
Me, I think of cookies. All different kinds of cookies. So, from now until Christmas Eve, I'll be posting nothing but cookie recipes!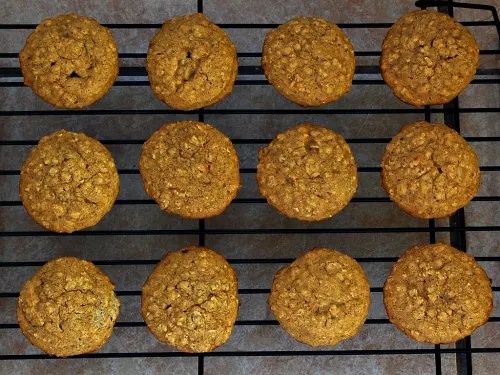 These are a different take on traditional oatmeal cookies, with the addition of pumpkin and extra spices. The pumpkin puree gives these cookies somewhat of puffy, cake-like texture.
These easy cookies would hold up well to shipping, and make a great addition to any Christmas cookie tray!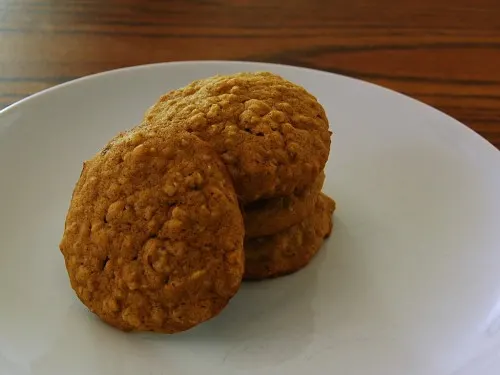 Ingredients
2 cups all-purpose flour
1 ⅓ cups quick-cooking oats (not instant)
1 ¼ teaspoon baking powder
1 ½ teaspoon ground cinnamon
1 teaspoon ground ginger
1 teaspoon salt
½ teaspoon ground nutmeg
2 sticks (8 ounces) unsalted butter, at room temperature
1 cup packed dark brown sugar
1 cup granulated sugar
1 large egg
1 teaspoon vanilla extract
1 (15-ounce) can pumpkin purée
Directions
Preheat your oven to 350°F. Line 2 baking sheets with parchment paper; set aside.
In a medium mixing bowl, whisk together the flour, oats, baking powder, cinnamon, ginger, salt, and nutmeg; set aside.
Cream together the butter, sugar and brown sugar in the bowl of a stand mixer with a paddle attachment until light tan in color and fluffy, about 5 minutes. Scrape down the paddle and the sides of the bowl with a rubber spatula.
Add the egg and vanilla and beat until incorporated, about 30 seconds. Scrape down the paddle and the sides of the bowl.
With the mixer on low speed, add one third of the reserved flour mixture and mix until just incorporated. Add half of the pumpkin and mix until just incorporated. Repeat with another third of the flour mixture, the second half of the pumpkin and finally the last third of the flour mixture.
Scoop cookie dough with a medium cookie scoop (about 2 tablespoonfuls of dough) and drop onto the cookie sheets, staggering them 2 inches apart on the prepared sheets.
Bake for 12 minutes, then rotate baking sheets top to bottom and back to front to ensure even baking, then bake another 12 minutes.
Let cookies sit on the baking pans for 3 minutes, then use a spatula to remove cookies to a wire rack to cool completely. Store in an airtight container at room temperature.
Number of servings (yield): 3 dozen cookies