This baked ziti casserole is loaded with fresh summer vegetables. With so many veggies, less pasta is needed. Part-skim cheese thickened with egg holds everything together.
A little while ago, I was contacted by Cooking Light, inviting me to join the Cooking Light Blogger's Connection. I was really honored to get the invitation, because I was already familiar with some of the bloggers in the group, and really admire them. My bio page should be sometime next week.
In the spirit of full disclosure, one of the perks of being a member of the group is that I get a free subscription to the magazine. However, any opinions expressed about Cooking Light, the magazine, or any recipes will be my own. At point, several years ago, I paid for a subscription to the magazine, and greatly enjoyed it. I don't remember why I let the subscription lapse, but I look forward to receiving the magazine again.
I love the recipe round-ups they post on their site. For example, they have a slideshow of 75 healthy casseroles — 75!! We've had failure after failure using our crockpot to prepare meals while we are working, so we decided to try making casseroles ahead of time, and heating them up when we get home.
I bookmarked at least 5 different recipes from that slideshow, and the first one we tried was Baked Ziti and Summer Veggies. I ended up being home the whole day with a sick toddler, so it wasn't "made ahead." But let me tell you, it was delicious. To be honest, I thought it would be good, but I didn't think I'd enjoy it as much as I did. But I had a helping and a half, and filed the recipe with my other "standard rotations." This will be making many appearances on our table!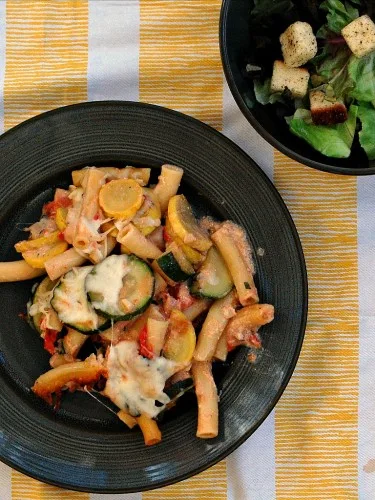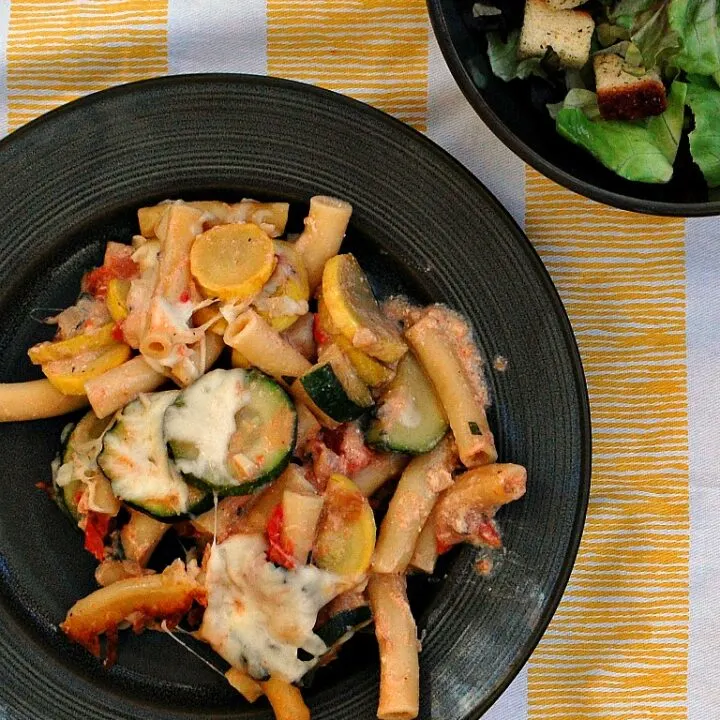 Baked Ziti and Summer Vegetable Casserole
Ingredients
4 ounces uncooked ziti, penne or rotini
Cooking spray
1 tablespoon olive oil
1 medium yellow squash, cut into rounds
1 medium zucchini, cut into rounds
¼ of a small yellow onion, chopped
3 small tomatoes, seeded and diced
2 garlic cloves, minced
1 cup shredded part-skim mozzarella cheese, divided, 4 ounces
2 tablespoon fresh basil, chopped
2 teaspoon fresh oregano, chopped
¾ teaspoon kosher salt, divided
¼ teaspoon freshly ground black pepper pepper
¼ cup part-skim ricotta cheese, 2 ounces
1 large egg, lightly beaten
Instructions
Bring a large pot of water to a boil, and cook the pasta according to package directions (omitting the salt) for al dente. Drain the pasta.
Preheat the oven to 400 degrees. Lightly spray a 1 ½-quart glass or ceramic baking dish with nonstick cooking spray and set aside.
Heat a large skillet over medium-high heat. Add the oil, let it heat for about 30 seconds, then add the yellow squash, zucchini and onion. Cook for about 5 minutes, stirring frequently.
Add the tomato and garlic to the pan, and cook another 3 minutes or so, stirring frequently.
Remove the skillet from the heat, and add the pasta, ½ of the mozzarella, the basil, oregano, ½ teaspoon of the salt, and the black pepper. Stir until evenly distributed.
In a small bowl, combine the ricotta, the egg and the remaining salt. Whisk until smooth. Add the mixture to the skillet and stir until evenly distributed.
Scrape the contents of the skillet into the baking dish. Sprinkle the remaining mozzarella evenly over the top, and bake the casserole for 15 minutes, until the cheese is melted and bubbly.
Nutrition Information:
Yield:

1.5
Serving Size:

cups
Amount Per Serving:
Calories:

301
Saturated Fat:

5.3g
Cholesterol:

65mg
Sodium:

640mg
Carbohydrates:

32.8g
Fiber:

4.1g
Protein:

16.5g
Slightly adapted from Cooking Light