My toddler is being a little backwards.
I tried introducing purees when he was about six months old. He wanted none of it: no purees, no spoon-feeding. I later discovered that his issue was, he didn't want ME feeding him purees. Mommy was for milk only. Even then, though, he showed a much greater preference for finger foods over being spoon-fed, and we quickly moved on to sliced fruits, steamed veggies, and tiny baby-sized meatballs.
Now, at nearly age 2, he is OBSESSED with fruit/veggie combo puree pouches and containers of applesauce. His favorite is the berry-applesauce blend sold at Trader Joe's. And while grocery store applesauce containers are sold in packs of six, these are only sold in packs of four. Considering Liam has been known to frequently each two in one sitting, I was buying them constantly. Did I mention he also insists that I spoon-feed him his applesauce?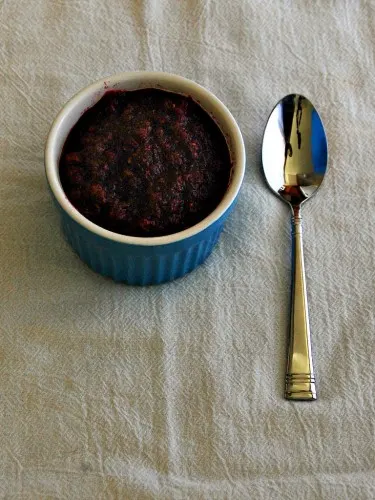 Anyway, I browsed around online, and found that one of my favorite bloggers, Josie from Pink Parsley, developed her own berry-applesauce recipe for her daughter.
The best part was that I already had all of the ingredients necessary to make it. It's so simple to make, though coring, peeling and chopping all of the apples can get a little tedious. I miss this apple-coring-peeling-and-slicing gadget that I had access to when I worked in a fine-dining restaurant.
The finished applesauce is a gorgeous shade of deep purplish-red, thanks to the berries, and is sweet without adding any additional sugar. I spooned about half a cup into three tupperware containers to store in the refrigerator, and froze the rest.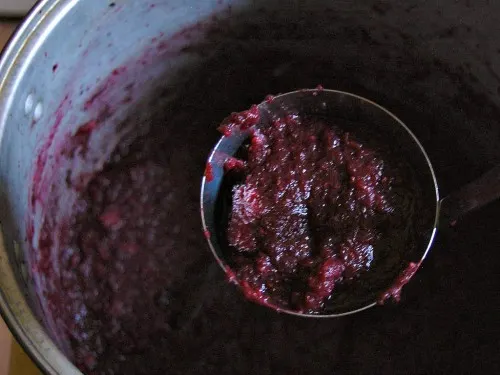 Berry Applesauce
Barely adapted from Pink Parsley
Ingredients
3 large Gala apples
3 large Fuji apples
generous splash of lemon juice
1 (16-oz) bag of frozen mixed berries
1 teaspoon ground cinnamon
pinch of salt
¼ cup apple cider
Directions
Core, peel and roughly chop the apples. Sprinkle with the lemon juice.
Place the apples and the bag of frozen berries in a very large pot (I used a 20-quart stock pot). Set on the stovetop over medium heat.
Let the apples and berries cook, stirring occasionally, for 20 minutes.
Use an immersion blender to puree the mixture.
Cool to room temperature before portioning and storing in either the refrigerator or the freezer.