I have a few addictions: chocolate; coffee; shoes; and cookbooks.
Considering the number I have, I really should cook from them more often. I have cooking cookbooks and baking cookbooks, and two cookbooks with nothing but chocolate recipes. I have a cookie cookbook and several bread cookbooks.
I recently received another as part of my membership in Cooking Light's Blogger Connection. It's called "Lighten Up, America!" and it just recently released to the public.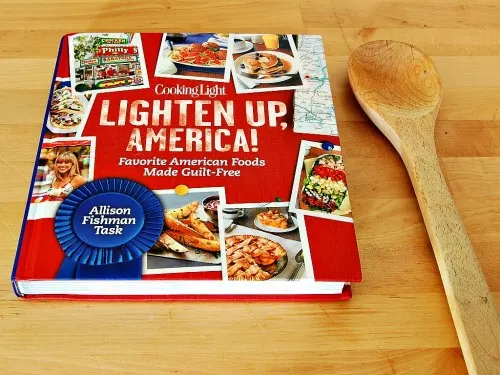 I love the premise: author Allison Fishman Task collected recipes for regional specialties from all over the country, from New Orleans gumbo to Georgia peach pie to the Philly cheesesteak, and revamped them to cut calories, fat and sugar.
Among the more than 150 recipes included in the book is a lightened-up pumpkin pie, which is very timely with the approaching holidays. Task replaces the regular evaporated milk with fat-free evaporated milk, and the results are indistinguishable from the traditional recipe. The lightened-up pie contains 255 calories per slice and 10.7 grams of fat, down from 280 calories and 11 grams of fat. Not a huge difference, but when you're trying to watch your weight, you save calories wherever you can, right?
And guess what? Cooking Light sent me a second copy for me to giveaway to one of my readers! Here's how to enter: replay to this post by 11:59 p.m. Eastern Time on Sunday, November 10th, 2013, telling me what regional dish (your region, or any region in the U.S.) you'd like to see lightened up.
Want to increase your chances? Like The Redhead Baker on Facebook (leave a separate comment telling me you did so or that you're already a fan), and/or like Cooking Light on Facebook (leaving a separate comment telling me you did so or that you're already a fan).
See the end of this post for full contest rules and disclosures.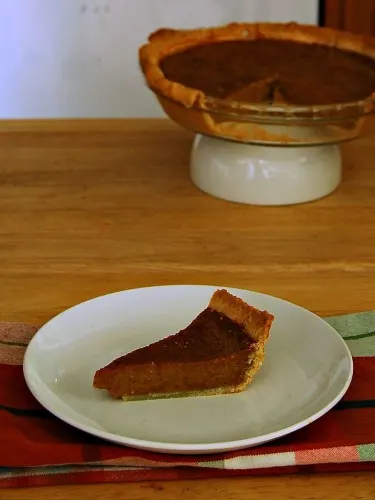 Recipe: Lighter Pumpkin Pie
Recipe from "Lighten Up, America!"
Ingredients
1 cup + 2 tablespoon sugar, divided
1 teaspoon ground cinnamon
½ teaspoon kosher salt
½ teaspoon ground ginger
¼ teaspoon ground cloves
2 large eggs
1 (15-oz) can pumpkin puree
¾ cup evaporated fat-free milk
1 store-bought or homemade 9-inch pie crust
½ cup heavy whipping cream, chilled
½ teaspoon vanilla extract
Directions
Preheat oven to 425 degrees. Spray a 9-inch pie plate with nonstick spray, and fit pie crust into the plate. Gently prick all over with a fork. Set aside.
In a large mixing bowl, whisk together 1 cup of the sugar, the cinnamon, kosher salt, ginger and cloves until evenly distributed.
Add the eggs and pumpkin and whisk thoroughly. Gradually add in the evaporated milk as you continue whisking.
Pour the pumpkin mixture into the pie plate, and finish the edges of the pie crust as desired (crimp, pleat, etc.).
Place the pie plate on a baking sheet, and bake for 15 minutes. Reduce the oven temperature to 350 and continue baking for another 45 minutes. If the edges of the crust brown before the filling is set, cover them with a foil ring or pie shield. The pie is done when the filling still jiggles slightly in the middle.
Move the pie to a wire rack to cool for at least 90 minutes. Store in the refrigerator until ready to serve.
Beat the chilled whipping cream with a mixer at high speed until foamy. Gradually add vanilla extract and 2 tablespoon sugar, continue beating until soft peaks form.
Slice pie into 10 wedges, topping each with some of the whipped cream.
Preparation time:
Cooking time:
Diet tags: Reduced fat
Number of servings (yield): 12
Calories: 255
Fat: 10.7 grams
Disclosure: Cooking Light provided me with one copy of "Lighten Up, America!" to review and keep, and another copy to give away. I was not compensated financially. All opinions contained in this post are my own.
Giveaway Terms & Conditions
* Odds of winning depend on total number of entries received
* Giveaway ends at 11:59 p.m. Eastern Time on Sunday, November 10, 2013
* Winner will be selected at random by the random number generator on Random.org
* Winners will receive one (1) hardcover copy of "Lighten Up, America!" by Allison Fishman Task (valued at $29.95)
* Prize must be claimed within 7 days or it will be forfeited
* Prize can only be shipped to a US address
* Official giveaway rules can be found here