It's recipe swap time again, hosted by A Taste of Home Cooking. Our host changed up the themed swaps a little — instead of being assigned a particular recipe, we're assigned a blog (similar to the Bloggers' Choice swaps), and we get to choose any recipe that fits the theme.
I was assigned one of my favorite blogs, Life and Kitchen. I love Lindsay's recipes, photographs, and the stories she tells in her posts.
She had over 2 dozen vegetarian recipes from which to choose, but her creamy corn and pepper taquitos immediately caught my eye.
These are a great weeknight meal because you can make the filling ahead of time and refrigerate it, then fill the taquitos and bake whenever you're ready to eat.
Taquitos are traditionally made with corn tortillas, but I've had bad luck with them breaking every single time I've used them, so I used flour tortillas — you can use whichever you prefer.
Serve one or two of these as an appetizer or snack, or serve three per person as a main dish (accompanied by your favorite Mexican sides).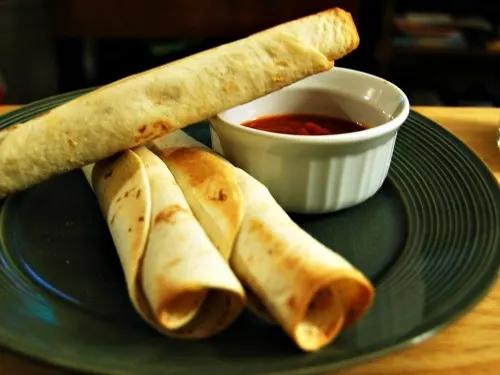 Creamy Corn and Pepper Taquitos
Barely adapted from Life and Kitchen
Ingredients
1 tablespoon olive oil
½ of a small yellow onion, finely diced
½ cup each red, green and yellow bell pepper, diced
½ cup frozen corn
5 oz lower-fat cream cheese
¼ cup reduced fat shredded cheddar cheese
¼ teaspoon chili powder
¼ teaspoon cumin
8 small flour tortillas
Cooking spray
Salt and pepper
Directions
Preheat oven to 425 degrees. Line a 9x11 baking pan with foil and spray with non-stick cooking spray.
Heat the olive oil in a small skillet over medium-high heat. Add the onion and bell peppers and saute until soft. Add the corn and spices and saute for another minute.
Add the cream cheese and stir until melted. Add the cheddar cheese and stir until melted. Taste and season with salt and pepper to taste.
Spoon some of the mixture onto the center of each tortilla. Roll the tortilla tightly around the mixture and put in the baking pan, seam side down. Continue until you have filled all of the tortillas. If you are preparing these ahead of time, cover the pan tightly with plastic wrap or tinfoil and refrigerate.
When ready to cook, spray the taquitos lightly with cooking spray and sprinkle with salt.
Bake until the tortillas are crisp and lightly browned, about 12 minutes.
Diet type: Vegetarian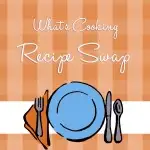 To see more recipes for the vegetarian swap, click the links below!