Happy Mardi Gras! Happy Day to Indulge in All Your Favorite Fattening Foods!
How did this day come about? Well, tomorrow marks the first day of Lent, a season of 40 days observed by most denominations of Christians, when they repent and atone for their sins. When I was growing up, my parents asked my brother and I to give up something we found enjoyable in observance of Lent, whether it be chocolate, ice cream, video games, etc. This idea is practiced by many Christian denominations as well.
It became customary, then, that the day before the start of Lent, people would over-indulge in their favorite rich, fattening foods, one last hurrah before the season of abstinence. Hence the name "Mardi Gras," which is French for Fat Tuesday.
One of my favorite indulgent foods is donuts. Now, if you're going to indulge, go big or go home, right? I'm not sure about the rest of you, but when I think "indulgent," I think chocolate. Baked chocolate donuts are essentially an excuse to eat cake for breakfast. Isn't that what indulgence is all about?
Adding a Nutella icing is just, well, pardon the expression, but "icing on the cake." It's rich, sweet, and the best part? The icing dries in about 10 minutes, so you can indulge all the faster. Or eat the donut with wet icing. I won't tell.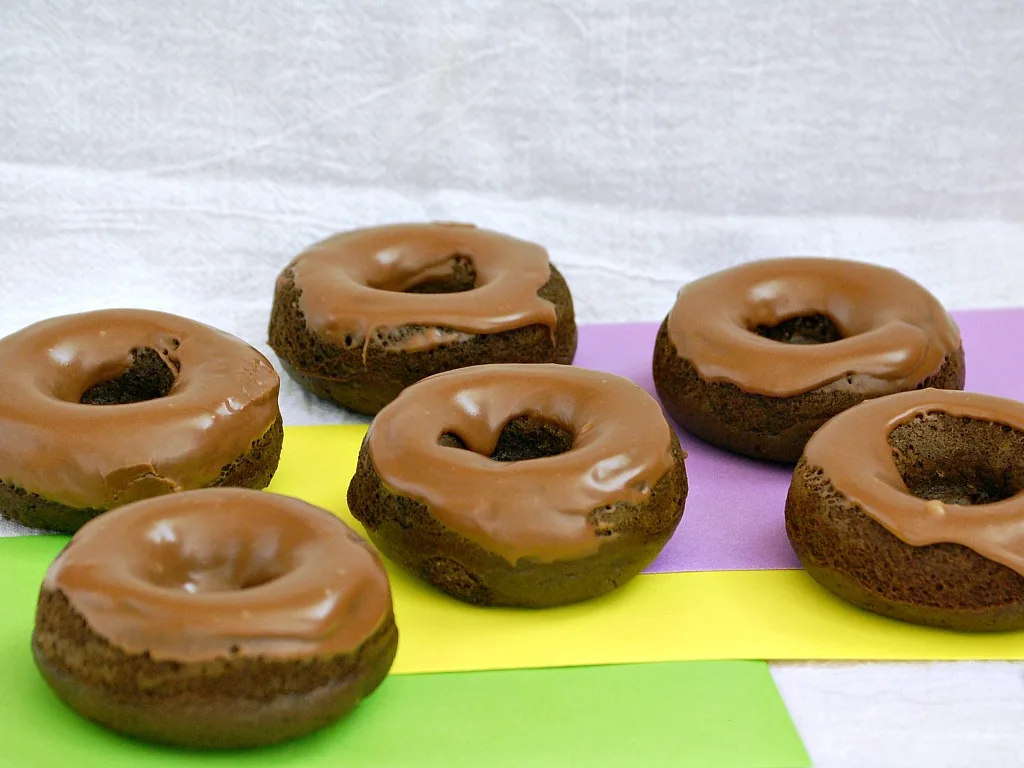 Recipe: Chocolate Donuts with Nutella Icing
Donut recipe: Shugary Sweets, as seen on Tracey's Culinary Adventures
Nutella Icing recipe: Crazy Adventures in Parenting
Ingredients
For the donuts:
2 cups all-purpose flour
¾ cup sugar
½ cup unsweetened cocoa powder
1 teaspoon baking powder
1 teaspoon baking soda
1 teaspoon salt
¾ cup plus 2 tablespoon whole milk, at room temperature
2 large eggs, at room temperature
1 teaspoon vanilla extract
2 tablespoon unsalted butter, melted and cooled
For the Nutella Icing:
1 cup confectioners' sugar
2 tablespoon hot water, plus more as needed
2 tablespoon Nutella
½ teaspoon vanilla extract
Directions
Preheat your oven to 325 degrees. Spray two donut pans with nonstick cooking spray.
In a large mixing bowl, sift together the flour, sugar, cocoa powder, baking powder, baking soda and salt. In a small mixing bowl, whisk together the milk, eggs, vanilla and butter until combined. Pour the wet ingredients over the dry, and mix just until uniform. The batter will be very thick, like brownie batter.
Transfer the batter to a large pastry bag or heavy duty resealable plastic bag with one corner cut off. Fill each well of the pan about ½-full.
Bake for 9-10 minutes, or until the donuts spring back when lightly pressed. Cool the donuts in the pans on a wire rack for 2 minutes, then turn the donuts out of the pans to cool on the wire rack completely.
To make the glaze, place the confectioners sugar in a medium mixing bowl. Add the vanilla and 1 tablespoon of the hot water. Stir, adding a little more hot water as needed if the mixture is too stiff. Stir until thick, but smooth. Add the nutella, and stir until combined, adding a little more hot water if needed to make a thick glaze.
Dip the top of each donut into the icing, then set upright on a wire rack until the icing hardens.
Preparation time: 10 minute(s)
Cooking time: 12 minute(s)
Number of servings (yield): 12 (3-inch) donuts