This decadent chocolate peanut butter tart has a sweet chocolate crust, a custardy peanut butter filling, and a rich chocolate glaze. It uses just a few ingredients, and requires almost no baking!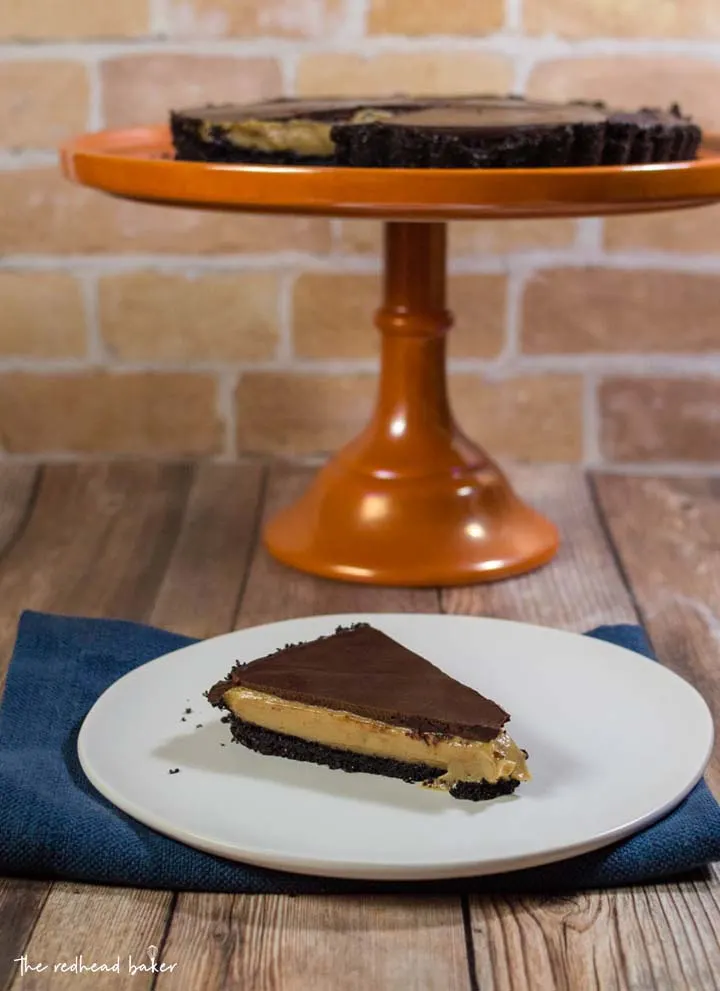 Happy Pi(e) Day! In honor of 3.14, a group of bloggers got together with me to post some pie recipes. Once you're done checking out this chocolate peanut butter tart, there are links to more pie recipes at the bottom of the post.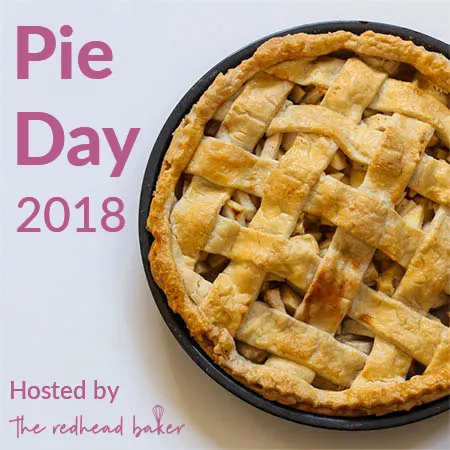 OK, yes, I made a tart, not a pie. There isn't too much difference. Pies have sloped sides, tart sides are straight up-and-down. Pie crusts are usually tender and flaky, while tart crusts are firm and crumbly. But they are close enough that I hope you'll forgive me. I made this peanut butter tart for Thanksgiving dessert last year, and I've been thinking about it ever since.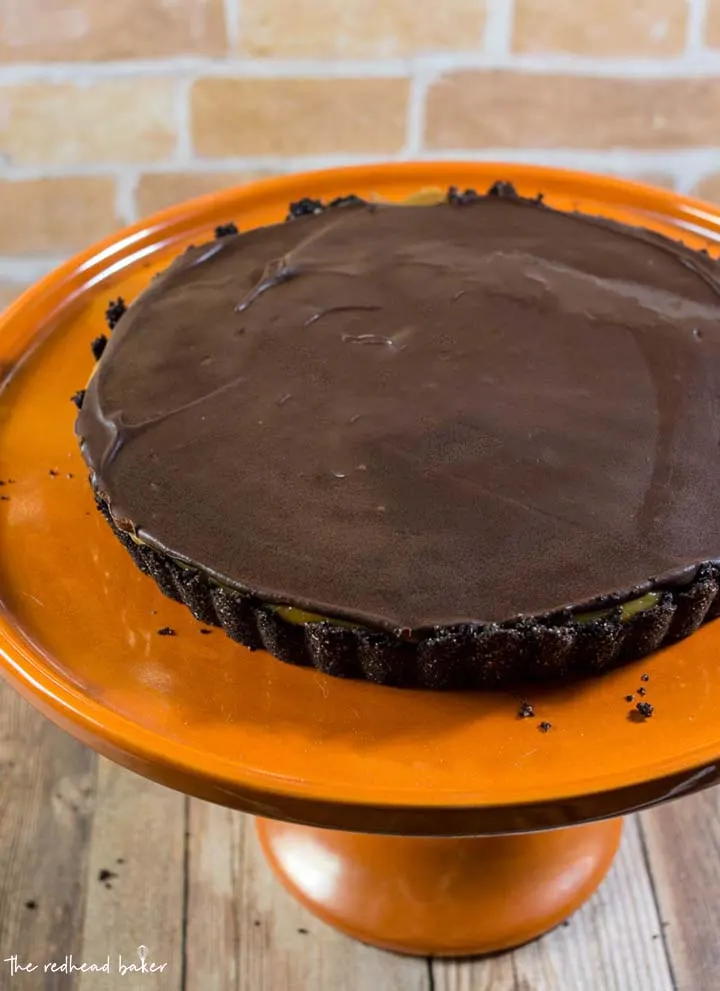 This tart is like a giant peanut butter cup. Chocolate crust, peanut butter filling, and a chocolate glaze on top. The crust is the only portion that requires baking. I used Nabisco Famous Chocolate Wafers (about 25 of them) to make my crust. My local grocery store doesn't always have them in stock, so if you can't find them at yours, you can use Oreos (15 of them, twist them apart and scrape out the filling), or chocolate graham cracker sheets (12 of them).
I use a food processor to crush the cookies to fine crumbs. If you don't have one, or don't want the bother of dragging it out, you can put the cookies in a heavy-duty zip top bag and go to town on them with a rolling pin. Very cathartic, if you need to get some anger or stress out. It can cause scaredy-dogs to run and hide in the closet, though. Not that I know from experience.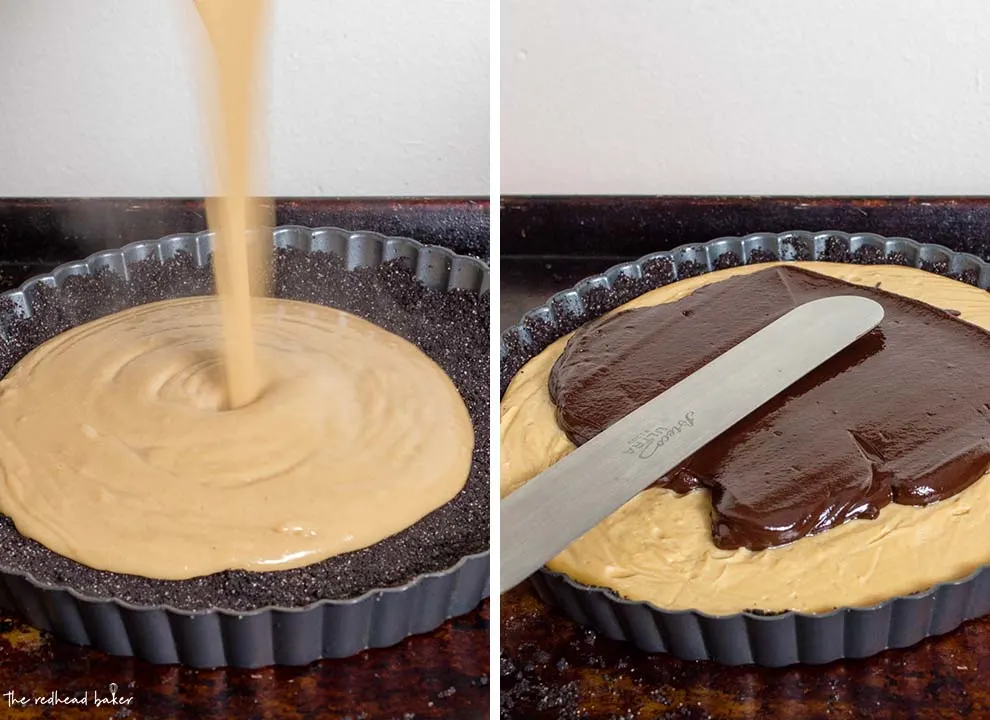 The filling is a cooked custard, similar to an ice cream base, but thicker. I don't recommend using natural peanut butter in this custard. I don't quite understand the science, but I attempted this custard with natural peanut butter first, and it didn't come thicken properly. It does work with regular peanut butter, though.
A ganache is a simple mixture of cream and chocolate, but it adds richness and elegance to anything you pour it over. You may think that just 4 ounces of chocolate and a quarter cup of cream isn't enough, but you don't want the glaze to be too thick. This makes just enough ganache to lightly glaze the peanut butter custard, barely reaching the edges of the tart.
This peanut butter tart is just the right blend of down-home, comfort dessert with a touch of elegance for an upscale meal. Anyone who loves the combination of chocolate and peanut butter will love this dessert.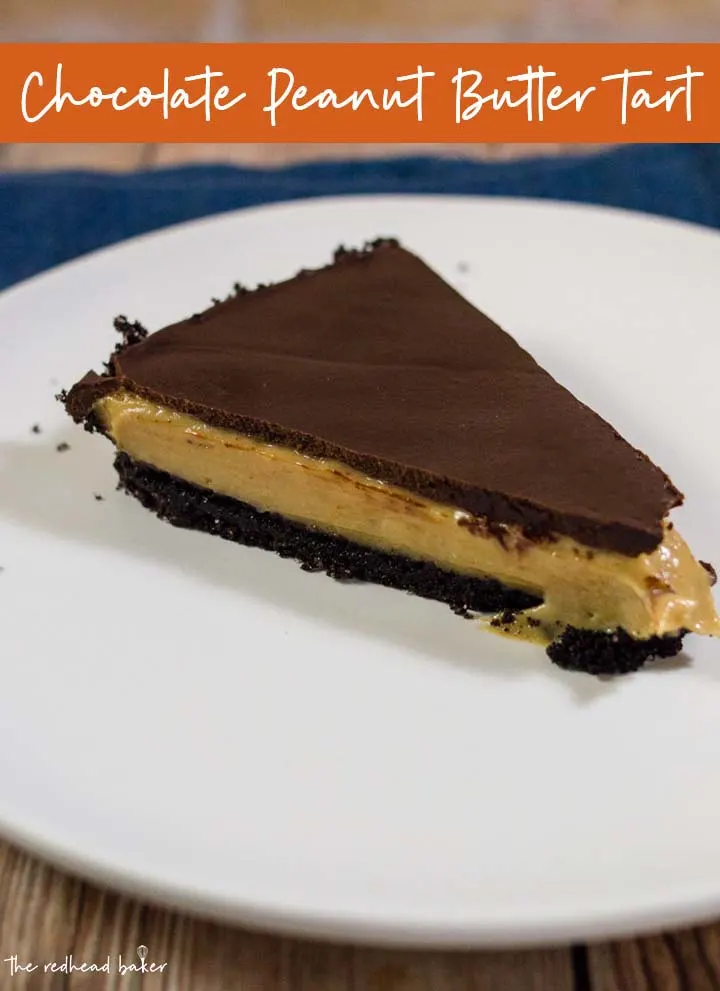 [amazon_link asins='B008J8MJIQ,B0000DIX7K,B00008W70E,B075HQY627,B00WHZIFH6,B007UEA0I6' template='ProductCarousel' store='theredheadbak-20' marketplace='US' link_id='977c151c-2546-11e8-a6f6-f1500f58c16a']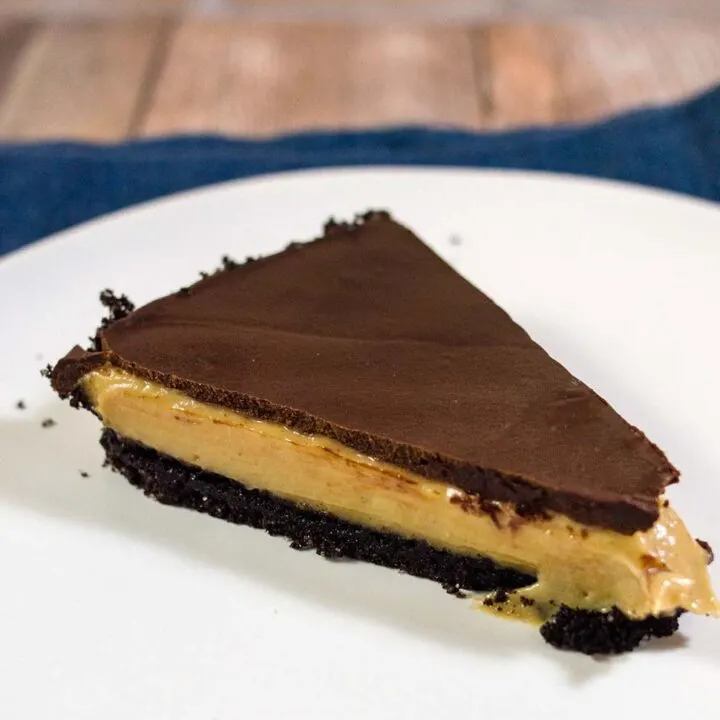 Chocolate Peanut Butter Tart
Total Time:
4 hours
30 minutes
This decadent chocolate peanut butter tart has a sweet chocolate crust, a custardy peanut butter filling, and a rich chocolate glaze. It uses just a few ingredients, and requires almost no baking!
Ingredients
For the crust
1 cup finely ground chocolate cookie crumbs, from 25 chocolate wafer cookies
2 tablespoon sugar
3 tablespoon unsalted butter, melted
For the filling
1 ½ cups whole milk
¼ teaspoon salt
3 large egg yolks
⅓ cup light brown sugar
4 teaspoon all-purpose flour
½ cup creamy peanut butter (not natural-style)
½ teaspoon vanilla extract
For the chocolate glaze
4 oz bittersweet chocolate
¼ cup heavy cream
Instructions
Make the crust
Position a rack in the center of the oven and heat the oven to 350°F. Have ready an ungreased 9-½-inch fluted tart pan with a removable bottom.
In a medium bowl, mix the cookie crumbs and sugar with a fork until well blended. Drizzle the melted butter over the crumbs and mix with the fork or your fingers until the crumbs are evenly moistened. Put the crumbs in the tart pan and use your hands to spread the crumbs so that they coat the bottom of the pan and start to climb the sides. Use your fingers to pinch and press some of the crumbs around the inside edge of the pan to cover the sides evenly and create a wall a scant ¼ inch thick. Redistribute the remaining crumbs evenly over the bottom of the pan and press firmly to make a compact layer. (I like to use a metal measuring cup with straight sides and a flat base for this task.)
Bake the crust until it smells nutty and fragrant (crusts made with lighter-colored cookies will brown slightly), about 10 min. Set the baked crust on a rack and let cool. The crust can be made up to one day ahead of filling, and stored at room temperature, wrapped well in plastic.
Make the filling
In a medium saucepan, bring the milk and salt to a simmer over medium heat, stirring occasionally. Meanwhile, in a small bowl, whisk the egg yolks, brown sugar, and flour until well blended. Slowly add the hot milk, whisking constantly. Pour the mixture back into the saucepan. Cook over medium heat, whisking constantly, until it thickens and comes to a full boil, about 3 min. Continue to cook, whisking constantly, for 1 min. Remove the pan from the heat and add the peanut butter and vanilla; whisk until well blended.
Pour the hot peanut butter mixture into the crust and spread evenly with a rubber or offset spatula. Gently press a piece of plastic wrap directly on the filling's surface to prevent a skin from forming. Refrigerate the tart until cold, about 2 hours, before proceeding with the recipe.
Make the glaze
Place the chopped chocolate in a small bowl.
Place the cream in a heavy-bottomed saucepan. Heat over medium heat just until scalding.
Pour the hot cream over the chocolate and let stand for 1 minute, then stir until smooth.
Pour the glaze over the peanut butter filling. Refrigerate until the glaze is set. Keep chilled until ready to serve.
Nutrition Information:
Yield:

1
Serving Size:

serving
Amount Per Serving:
Calories:

338
Saturated Fat:

8.5g
Cholesterol:

76.8mg
Sodium:

234mg
Carbohydrates:

37g
Fiber:

2g
Sugar:

23g
Protein:

6.5g
Pi Day Pie Recipes
Disclaimer: nutrition information is an estimate only. For complete nutrition information, please consult a registered dietitian.